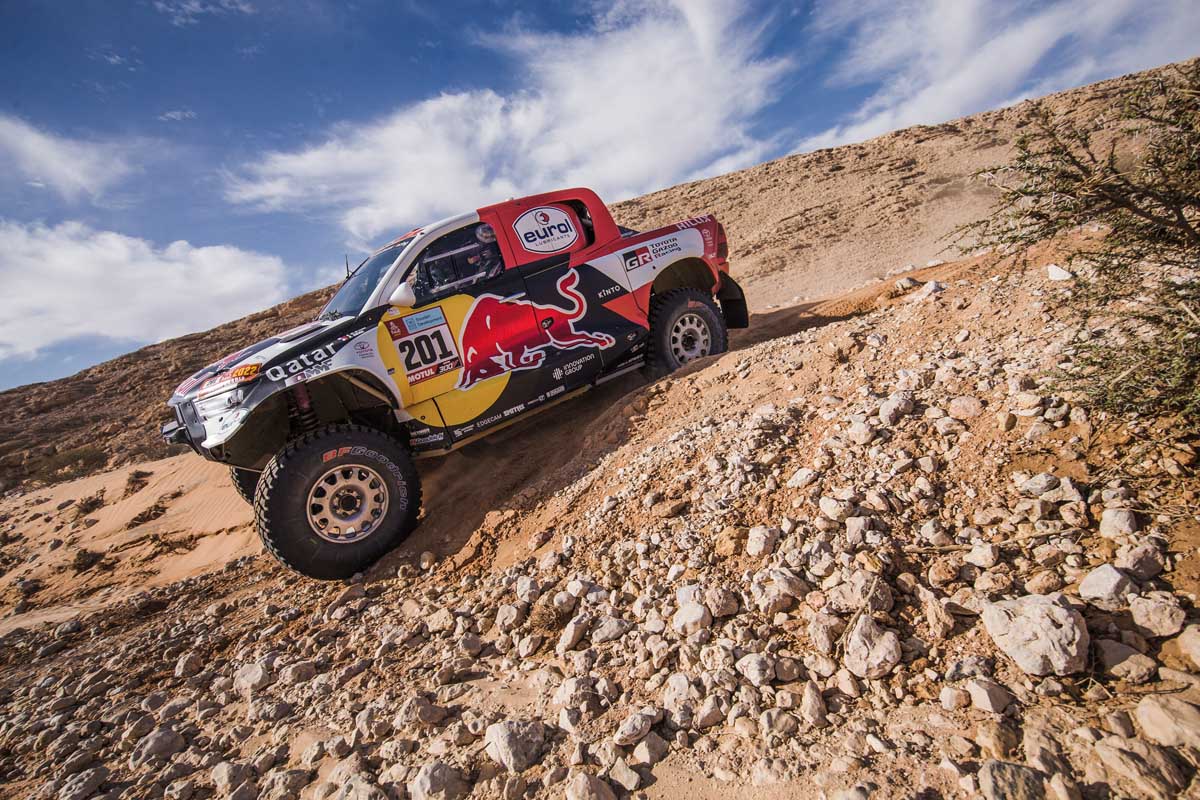 Karginov, Quintero and Sanders pick up valuable Stage 6 victories on Friday.
One week down and one week to go at the 2022 Dakar Rally as the main category leaders fortified their advantage on Friday's Stage 6 heading into the well deserved Saturday Rest Day, while Daniel Sanders and Seth Quintero picked up stage victories. Here is all you need to know:
– After navigating over 2,000km of off-road terrain against the clock, the 2022 Dakar Rally has arrived at its midpoint Rest Day with Nasser Al-Attiyah (QAT) extending his car lead to 48m 54s.
– The three-time Dakar champion holds a healthy lead with the Toyota Gazoo Racing driver and his co-driver Mathieu Baumel (FRA) barely putting a foot wrong during the opening six stages.
– Sébastien Loeb (FRA) has done everything he can to exert maximum pressure on Al-Attiyah, however the nine-time WRC winner still trails the Qatari by over 50 minutes following Stage 6.
– Breathing down Loeb's neck and looking to take his place on the overall podium is Kuba Przygoński (POL) with the biker turned car driver inching up the standings to sixth overall after a tricky start.
– The bikes were racing on the 423km stage used by the cars and trucks yesterday, who had churned up the terrain to such an extent that today's bike stage was halted after 100km due to safety concerns.
– Australian Sanders of GasGas Factory Racing came out on top and he is 5m 35s back from his team-mate and race leader Sam Sunderland (GBR), with Red Bull KTM Factory Racing's Matthias Walkner (AUS) second.
– American teenager Quintero of the Red Bull Off-Road Junior Team picked up his fifth T3 win in six days and he is now eyeing the record for Dakar stage wins held by Pierre Lartigue (FRA), who won 10 in 1994.
– Chilean Chaleco Lopez maintains his T3 overall lead into the Rest Day, while Quintero's team-mate Cristina Gutiérrez (ESP) is up to third overall 2hr 20m 16s behind as she targets a podium finish.
– It was another 1-2-3 result for Team Kamaz Master to wrap up an imperious week for the Russian truckers as Andrey Karginov won on the day and Dmitry Sotnikov extended his overall lead to 10m 29s.
– There will be no racing on Saturday as the convoy enjoy a well deserved Rest Day, then there's another 2,000km against the clock to be navigated in the second week of motorsports' toughest test of endurance.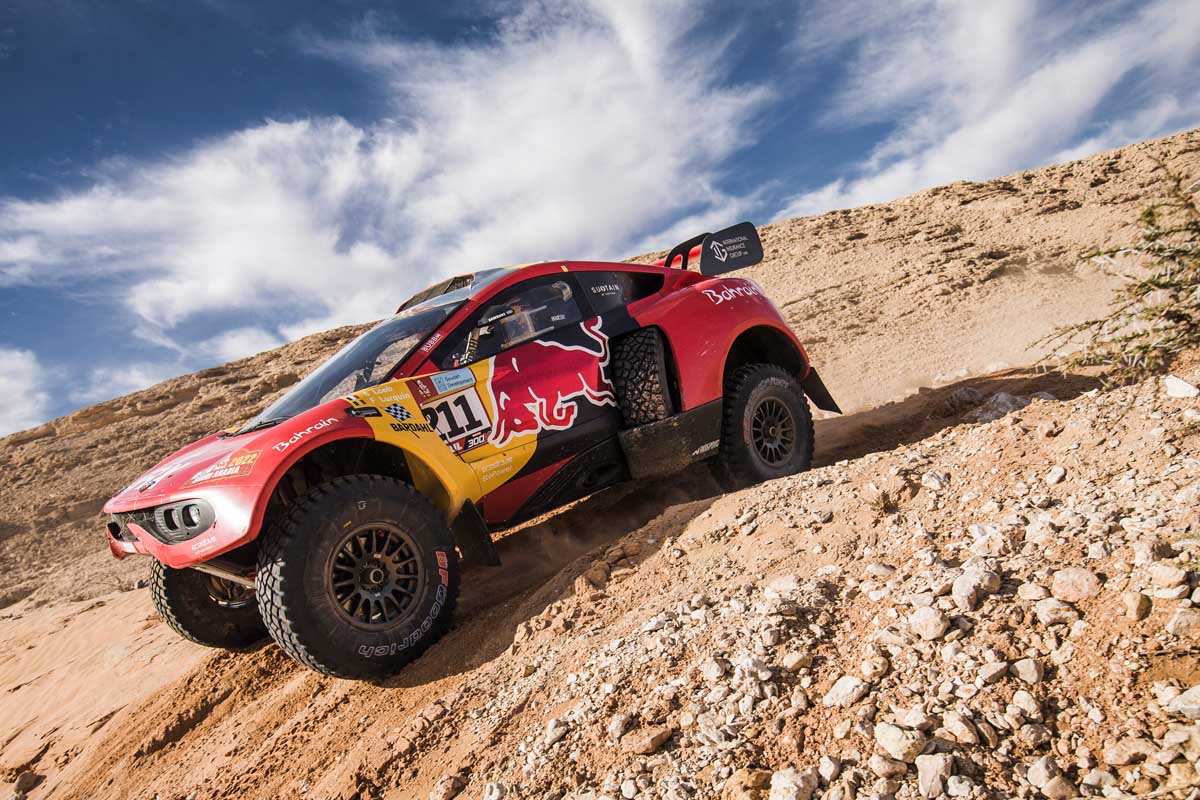 QUOTES
Sébastien Loeb: "It was a complicated day. We got lost after about 100km and that cost us quite a lot of time. After that we did everything we could to close the gap in front."
Kuba Przygoński: "In one place we got the navigation just right and that allowed us to overtake the guys in front. The last part was really nice. We were five cars together in the dunes, jumping and having fun."
Mattias Ekström: "We had a small problem at the beginning, but after that we had a nice stage. We're happy to finish the stage in second place because that's big progress compared with yesterday."
Daniel Sanders: "There were a few riders who were complaining and wanting to stop the race because it was too dangerous. I disagreed with it, but the decision was taken to stop it."
Sam Sunderland: "We were a little bit concerned before the start .The mix of the all the rain that has fallen and the cars and trucks going through the stage, it was like a minefield out there."
Matthias Walkner: "It was very technical and physical riding and I enjoyed this a lot. It was dangerous so you always had to take care. I feel healthy and motivated and it's cool that we have the rest day tomorrow."
Seth Quintero: "That was some of the scariest driving I've ever done. A few kilometres after the refuelling we ended up losing the brakes. So we did the last 180km with absolutely no brakes. Somehow we managed and we might have even got the win, that's nuts!"
Cristina Gutiérrez: "The day was good, driving and navigation both perfect. Our only problem was one puncture close to the end. A smooth day like this helps to recover some energy for what's still to come."
Chaleco Lopez: "I needed to control my speed close to the end to avoid any big problems. We have our overall lead to protect going into the second week."
Dmitry Sotnikov: "There was lots of rough ground, rocks and dust today. We tried to look after our tyres and do a good job with the navigation. We hope to have good luck in the second week."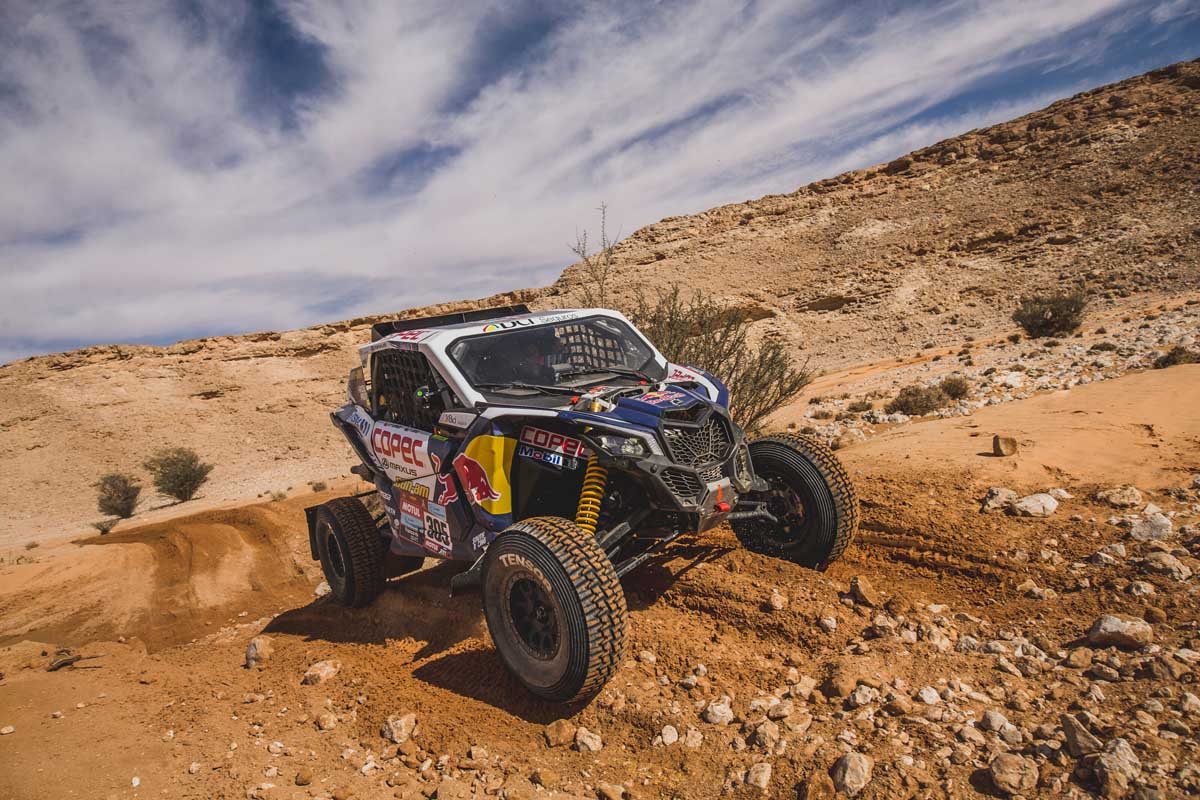 2022 Dakar Rally Standings after Stage 6
CAR RACE TOP 5
1. N. AL-ATTIYAH (QAT) TOYOTA 20:37:24
2. Y. AL RAJHI (SAU) TOYOTA +48:54
3. S. LOEB (FRA) BRX +50:25
4. G. DE VILLIERS (RSA) TOYOTA +51:56
5. L. ALVAREZ (ARG) TOYOTA +1:06:58
BIKE RACE TOP 5
1. S. SUNDERLAND (GBR) GAS GAS 19:55:59
2. M. WALKNER (AUT) KTM +02:39
3. D. SANDERS (AUS) GAS GAS +05:35
4. A. VAN BEVEREN (FRA) YAMAHA +07:43
5. P. QUINTANILLA (CHL) HONDA +17:44
TRUCK RACE TOP 5
1. D. SOTNIKOV (RUS) KAMAZ 22:25:45
2. E. NIKOLAEV (RUS) KAMAZ +10:29
3. A. SHIBALOV (RUS) KAMAZ +38:17
4. J. VAN KASTEREN (NLD) IVECO +1:04:54
5. A. LOPRAIS (CZE) PRAGA +1:06:20
LIGHTWEIGHT PROTOTYPE (T3) TOP 5
1. F. LOPEZ CONTARDO (CHL) CAN-AM 24:19:17
2. S. ERIKSSON (SWE) CAN-AM +23:09
3. C. GUTIERREZ (ESP) RED BULL +2:20:16
4. F. ALVAREZ (ESP) CAN-AM +2:30:22
5. P. PINCHEDEZ (FRA) CAN-AM +2:30:24