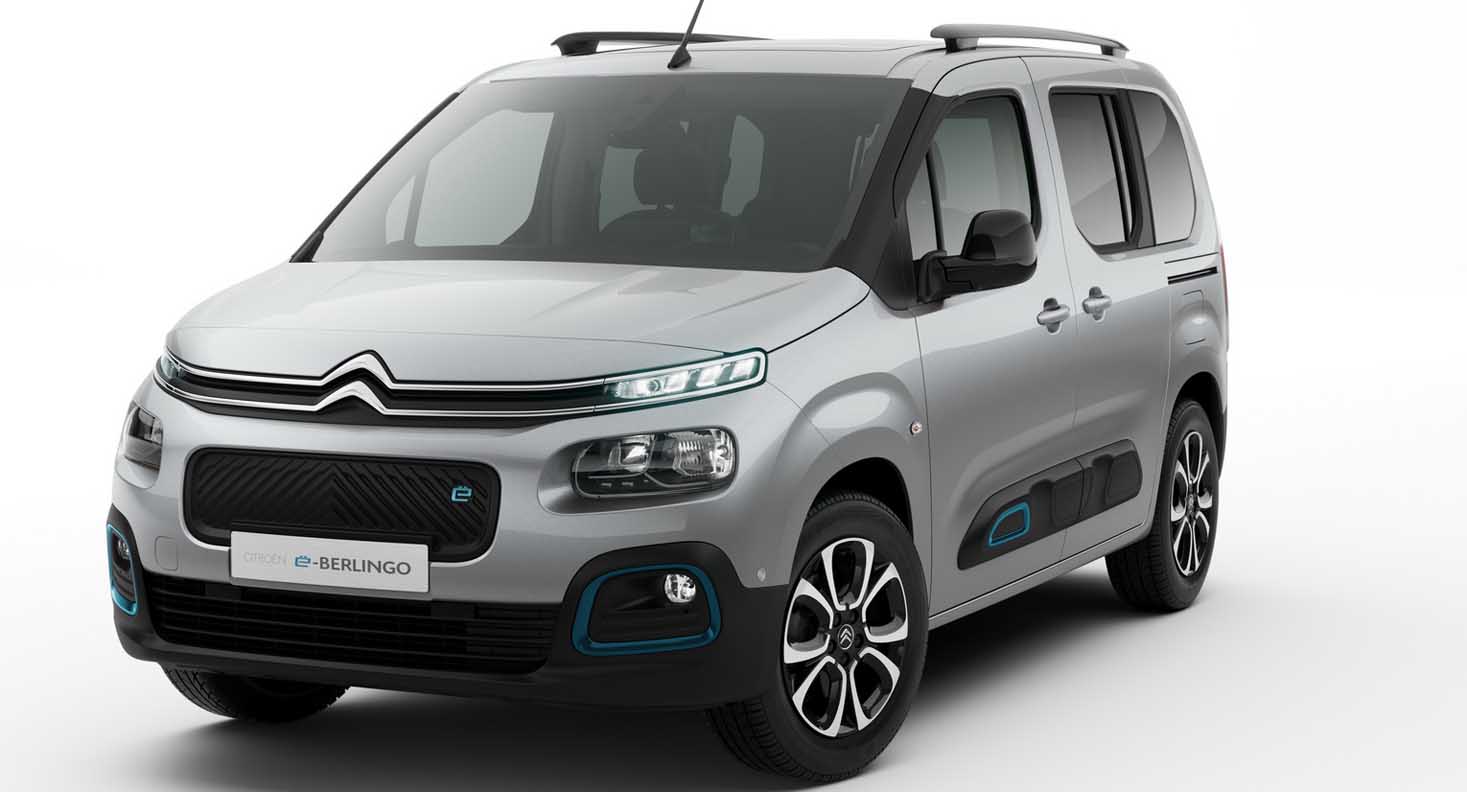 With a 275km* range offered by its 50kWh battery, ë-Berlingo Van guarantees a relaxed day of work. The installation of the batteries under the floor does not affect the loading volume (up to 4.4m³) or the useful length, which allows objects up to 3.09m to be loaded with the size M body shape and 3.44m with the size XL. The 800kg payload and the towable load of 750kg are weight characteristics across all versions. Beyond its functional services and its modularity, ë-Berlingo Van is appreciated for its comfort, safety and driving pleasure.
The professionals targeted tend to be small and medium-sized fleets. 41% are tradesmen or companies in the construction or delivery sector often operating in urban environments. Although 58% of these professionals rarely use fast roads and only do around 72km/day on average, they still need versatility in order to be able to occasionally cover distances of 250km (maximum distance) in a day. 88% travel locally and charging is only needed during the day for 1.6% of journeys, with the vast majority of uses allowing charging in the evenings after work.
*approval value in WLTP cycle – Range varies depending on the version, a number of factors such as driving mode, outside conditions, type of route and heating use.
Easy to charge, it will only take 30 minutes to fill the battery up to 80% at a fast public charging terminal. With a Green'Up socket, ë-Berlingo Van will be the one in its segment that recharges its battery from 0 to 100% in just one night to be fully operational for work the next day.
TWO PRACTICAL MOBILE APPS FOR DRIVING ELECTRIC WITH PEACE OF MIND
My Citroën can be used to remotely manage battery charging (status and range of the vehicle, delayed charging* via smartphone) and thermal pre-conditioning of the passenger compartment.
*Delayed charging can also be configured from the "Energy" menu on the touch screen. This operation is only available for domestic (mode 2) or rapid (mode 3) charging.
Charge My Car, an app developed by Free2Move Services, facilitates charging and parking (in France) by offering access to more than 220,000 charging stations and planning the best route depending on the vehicle's range and stations along the way (incorporating charging breaks, total charging time, socket type, means of accessing the station, etc.) and to save time, customers can pay for their consumption directly through the app.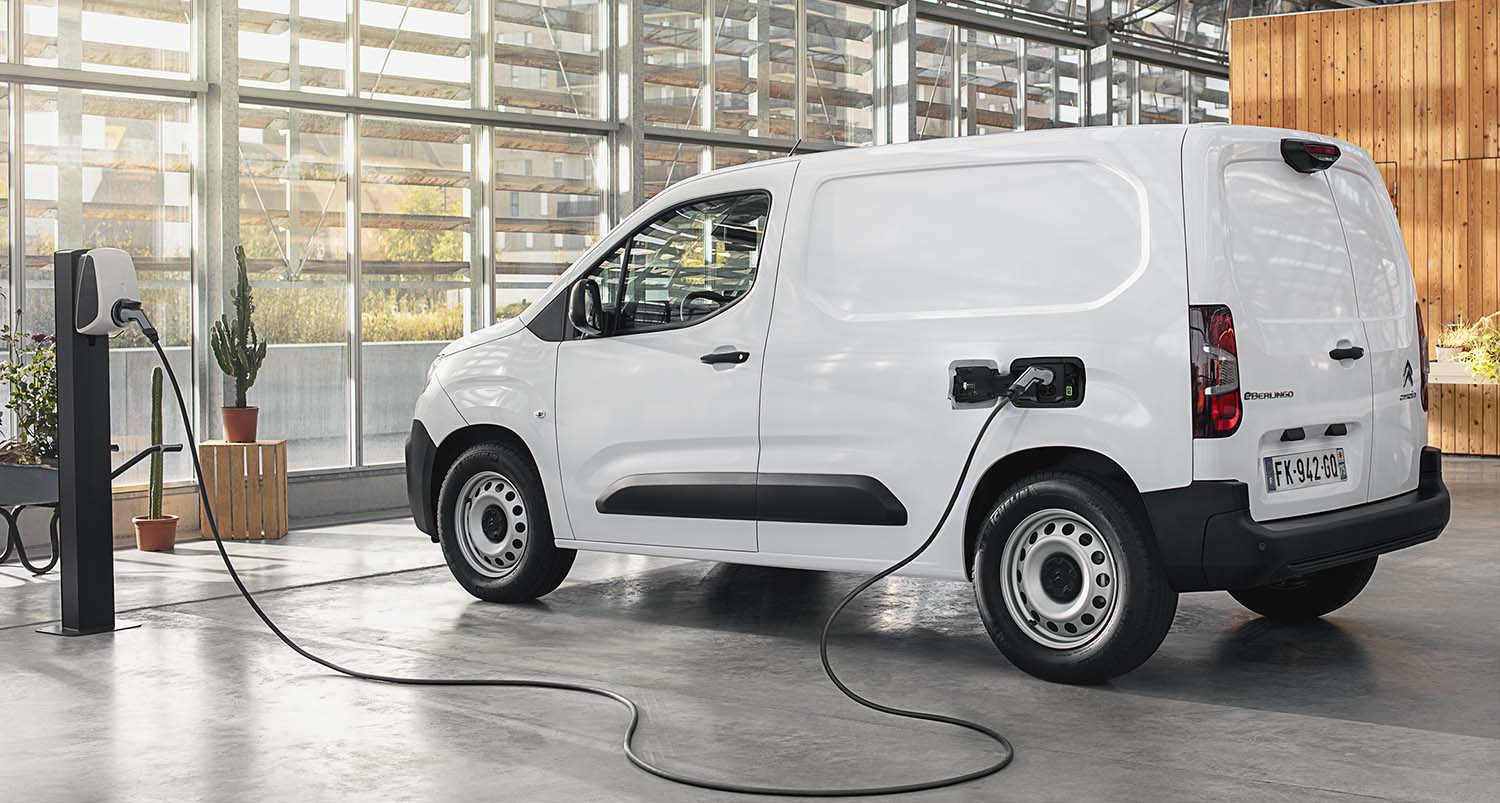 FUNCTIONAL ABILITIES AND FEATURES THAT MAKE BERLINGO VAN A SAFE BET IN ITS SEGMENT
With worldwide sales of nearly 1,900,000 since its launch in 1996, Citroën Berlingo Van occupies 2nd place in the small van segment in Europe with a market share of 17% in 2020, and is continuing its rise by adapting to changing customer needs.
Ë-BERLINGO VAN, AN ECOLOGICAL AND ECONOMICAL SOLUTION
The cost of use is lower with ë-Berlingo Van: the cost of electricity consumption is five times lower than the cost of fuel for a traditional van and because its maintenance is simpler, it is estimated to be 30% less expensive. Since it does not have an oil filter, a gearbox or a clutch, mechanical stresses, wear and breakage are significantly reduced and the brake pads suffer less wear as a result of the regenerative braking system.
Furthermore, to educate business owners in how to transfer their fleets and encourage them to buy electric vehicles, a number of aids have been introduced. There are tax incentives in most European countries. For instance, in France, since the end of July 2021, the incentive for purchasing or renting a new electric LCV is €5,000 inclusive of tax (for a new electric LCV <= €45,000) and, in addition, some municipalities offer significant support to very small enterprises and SMEs (Paris 92, 93 and 94: up to €6,000 for the purchase of an electric LCV under 3.5 tonnes). VAT is also recoverable on the vehicle and on the electricity it consumes in accordance with the legislation in force (bofip.impots.gouv.fr) and any company wishing to install terminals for its fleet may be entitled to claim the "Advenir" subsidy to cover up to 30% of costs and installation, capped at €960 excluding tax per charge point. In addition, a number of cities offer free or reduced-rate parking.
THE Ë-BERLINGO VAN RANGE: 5 CUSTOM-MADE VERSIONS
It features the same equipment as the combustion engine version (with the exception of the adaptive regulator and additional heating). All electric versions are fitted in addition with a 7kW on-board charger and come with an 8A mode 2 charging cable, manual air conditioning and an electric parking brake, 16″ grey wheels with hubcaps and a uniform spare wheel. ë-Berlingo Van is available in 5 versions defined according to use.
The Control version boasts enhanced equipment: manual air conditioning, automatic headlights, hill start assist, remote central locking with Plip system, Citroën Connect Box with SOS & Assistance Pack included, digital DAB MP3 sound system, 5″ monochrome touch screen, Bluetooth hands-free kit, 12V socket and a USB port. In terms of architecture, ë-Berlingo Van Control features 60/40 rear swing doors for 180° opening, optimised width of 675mm and a height of 1,072mm, a sliding right side door (in size XL) facilitating loading and unloading regardless of where the vehicle is parked, and a solid fixed partition. With regard to storage space, there is an overhead compartment within easy reach to avoid cluttering up the passenger compartment, perfect for storing everyday items such as tools or documents, making them easy to access at all times. The TopBox glove box is large enough for a computer, for example, and the passenger seat offers a large storage space under its lift-up seat cushion. For the driver's comfort, the Control version has a height-and-depth adjustable steering wheel, heated electric rear-view mirrors and electric windows. ë-Berlingo Van Control is available from €30,500 excluding tax (size M, increased load 800kg, 136hp/100kW electric motor, 50kWh battery).
The Club version, available in sizes M and XL, is the most versatile. Practical for tradesmen and delivery firms, it has all the equipment of the Control version plus rear parking sensors, cruise control with speed limiter, under-inflation detection and fog lights, which play a role in driving comfort and safety. The driver's height-adjustable "comfort" seat with armrest and storage compartment under the seat cushion also has lumbar adjustment. The high position of the seat allows the driver to overlook the road. To protect and facilitate cleaning of the passenger compartment, the floor is trimmed with a TPO plastic coating. ë-Berlingo Van Club is available from €31,350 excluding tax (size M, increased load 800kg, 136hp/100kW electric motor, 50 kWh battery) and from €32,200 excluding tax in size XL.
The Driver version is specifically designed for companies and their employees who need to make longer journeys, sometimes over the whole day, or multiple deliveries in urban areas. Comfort equipment and technology have therefore been prioritised, with the Acoustic Pack and its laminated windscreen that filters out outside noise, giving a feeling of serenity on board thanks to the remarkable sound insulation, in line with the philosophy of the Citroën Advanced Comfort® programme. Driving comfort is guaranteed by the driver's comfort seat with multifunction steering wheel, fog lights, automatic front wipers and electric folding wing mirrors. Safety equipment has also been reinforced, in particular with Surround Rear Vision technology, making it possible to view the immediate surroundings of the vehicle on the 5″ screen, located in place of the rear-view mirror, thanks to two cameras, not to mention the speed limiter-cruise control and the under-inflation detection. ë-Berlingo Van Driver is available from €32,550 excluding tax (size M, increased load 800kg, 136hp/100kW electric motor, 50kWh battery).
The Crew Cab version, available in size XL, has been developed from the Control version. It comes as standard with 60/40 glazed rear doors with windscreen wiper (left door) and fixed glazed sliding side doors. Inside, everything has been done to optimise modularity: a mesh partition with a hatch accommodates long loads, and the 3-seater 60/40 2/3-1/3 split-fold backrest can be folded down in row 2 to increase loading volume. The back of the front seats is fitted with a tray table, and for the driver, the crew cab also features a "comfort" seat and a multifunction steering wheel. In terms of safety, it has front side airbags and a front passenger airbag, an interior rear-view mirror, manual child safety locks, speed limiter-cruise control and tyre under-inflation detection. There is a carpet on the floor in rows 1 and 2 with TPO mats, and the loading area is covered with a 9mm non-slip wooden floor.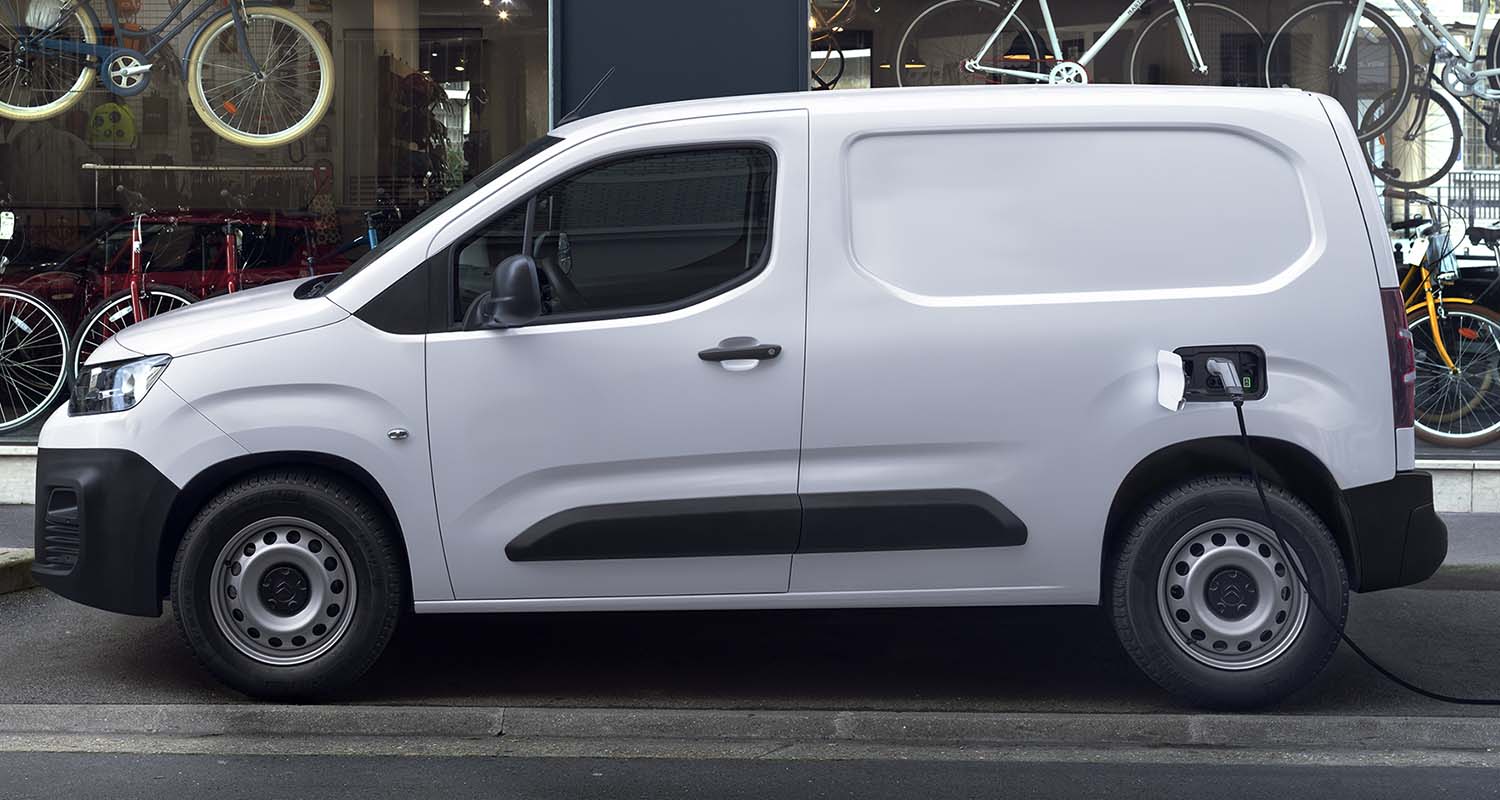 OPTIONS TO ENHANCE LAYOUT, COMFORT AND SAFETY
The ë-Berlingo Van catalogue offers a number of layout, comfort and safety options.
The exclusive Extenso® cab, available from the Control* version and approved by 77% of customers in Europe, accommodates three people in the front, its modular 2-seater bench seat offers the possibility of converting the central space into a mobile office and the side seat allows long objects up to 3.09m in size M and 3.44m in size XL to be loaded.
The Loading pack with LED reinforced lighting, 4 mid-height lashing hooks and a 12V socket, wooden floor covered with 9mm non-slip coating, or even the hitch pre-equipment (13-way harness and crossmember) allowing the customer to choose which attachment to use (simple hook to tow a small compressor, double hook compatible with all types of equipment, swan-neck, or collar for single trailers) are all useful equipment available on all levels* designed to simplify everyday business tasks.
*Control, Club and Driver, excluding Crew Cab
The 10″ digital instrument panel, available on the Club and Driver versions, adds a real modern touch and gives an easy-to-read display for driving information and specific electrical data.
The 8″ touch screen, as standard on Driver version, can be ordered as an option for the other versions.
And to charge ë-Berlingo Van, equipped as standard with a 7kW on-board charger, customers can choose from a range of cables: Mode 2 for 8-14A Green'Up type E/F sockets or the 6-metre long Mode 3 for Type 2 charge points compatible with a three-phase 16A Wallbox (11 kW on-board charger required) or 32A single-phase.
DRIVING AIDS
ë-Berlingo Van features 18 useful technologies giving professionals safe, stress-free driving on a daily basis. For easier driving, ë-Berlingo Van offers hands-free access and starting*, colour head-up display*, hill start assist**, rear parking assist** (standard on Club), front parking assist (Club), reversing camera*, Surround Rear Vision*, automatic headlights*, electric parking brake** and overload indicator*** (unprecedented in the segment). For enhanced safety, it incorporates Active Safety Brake**, active lane departure warning system**, driver attention alert*, collision risk alert**, tow hitch stability control***, Grip Control with Hill Assist Descent (Club), extended limit signs recognition and recommendation** and blind spot monitoring system (Club).
* Club and Driver versions, ** all versions, *** all versions with the exception of Crew Cab
Designed and equipped to simplify use but also to improve comfort while working, Citroën ë-Berlingo Van is intended to reduce stress and fatigue for professionals in order to improve productivity. Driving pleasure, already felt on the combustion engine version as a result of the smoothness of the contacts and meticulous acoustics from multiple sound absorption systems, is further reinforced in electric mode by the absence of noise and jolts. ë-Berlingo Van abilities and features are at the best level in the segment and it has the required driving range for all daily trips.