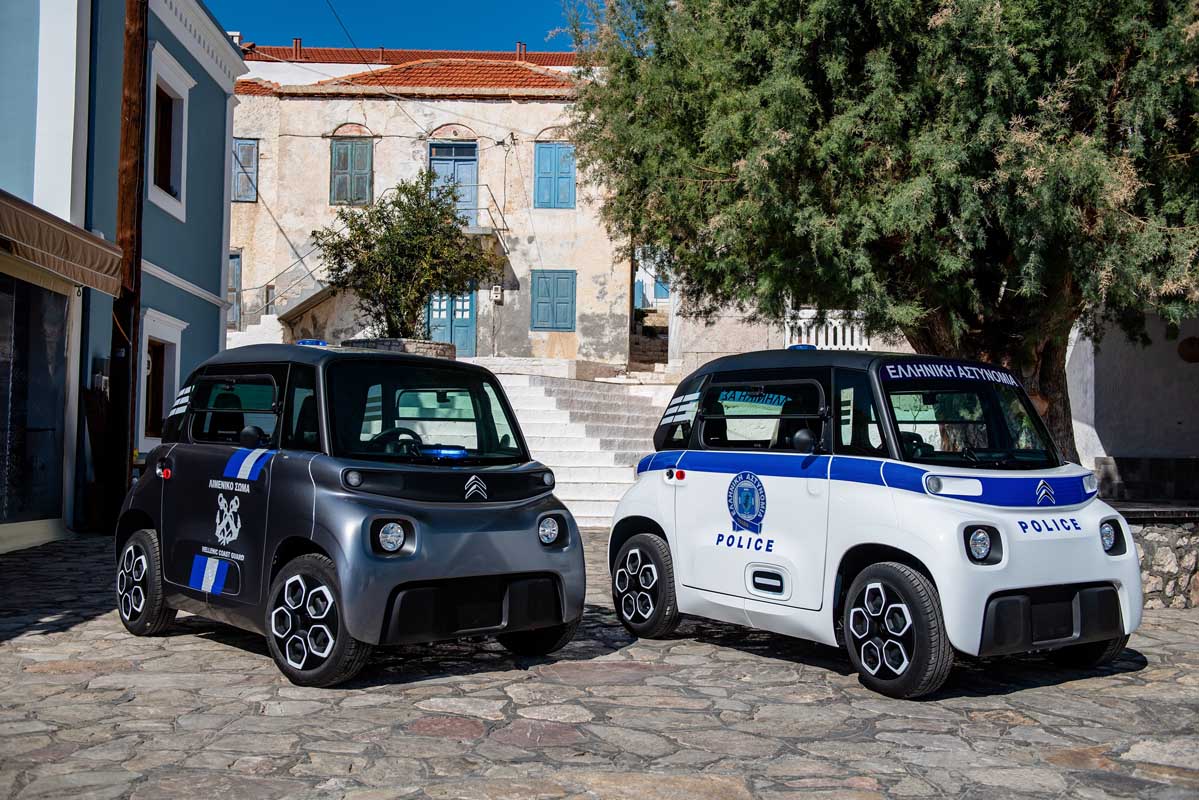 Since its launch in April 2020, Citroën is something of a surprise to the micro-mobility market thanks to its conception thought out to design an affordable object, its online purchase journey like any other current consumer goods and its extended distribution via the Fnac and Darty networks. Popular and community maker, it's at the heart of many events.
such as Milan Design Week and the International Youth Games, which took place this year in Brussels. Already marketed in 9 countries in Europe, Citroën Ami is now available in the United Kingdom and in Turkey since June. Adopted by private individuals, liberal professions, large industrial and service groups, with more than 23.000 counter orders, including the very exclusive "My Ami Buggy", Citroën's success knows no borders.
Ami is the true embodiment of the Citroën spirit closely linked to its customers' daily lives and mobility. We are committed to bringing electric driving to all and we are extremely proud that Ami has been such a success both in Europe and beyond," says Vincent Cobée, Citroën CEO.
1. AMI, A SUCCESS THAT IS GAINING GROUND
Since its launch in April 2020, more than 22,400 orders have been placed in Europe, with additional orders from Morocco and Turkey, making a total of more than 23,000 units.
France is the largest market with more than 13,300 orders, of which 83% are from private customers and 17% from business customers. Ami is number 1 in the electric quadricycle market and number 2 in the market for all energies combined, with a market share of 26% at the end of May. Between May 2021 and May 2022, the quadricycle market grew by 9.7%, driven by the arrival of Ami. Registrations have increased by 47% in only one year.
In Italy, Ami is a real success. The second country deployed is also the second largest market after France, with over 6,700 orders. In the first quarter of 2022, Ami is the market leader in quadricycles with 31% of registrations, and a market share that rises to more than 65% for electric quadricycles alone. Ami has won over many private individuals, who represent 94% of buyers.
Spain and Belgium are neck and neck with 780 and 724 orders respectively. The Spanish market is driven by 75% private customers while the Belgian market has 42% business customers, and Ami is already the leader in the quadricycle segment at the end of May 2022.
In the Portuguese market, Ami sells to both private and business customers, with 476 orders to date. It is number 1 for quadricycles with a 35% market share at the end of May.
Ami is preparing to cross the English Channel. The launch in the UK has a unique story to tell. Despite the steering wheel is mounted on the left, the public interest was so strong that everything has been put in place to propose Ami to British customers. As soon as the prices were announced, on last 24 May, 2,000 pre-orders have already been received, which bodes well for a very promising start to the market. Overseas versions of Ami are still left-hand drive. There are several advantages to this: there is no increase in the cost of Ami, something that would have been unavoidable in the event of industrial conversion to right-hand drive, and the driver is able to get out of the vehicle safely on the pavement side when parked.
In Turkey, orders were opened to business customers from September 2021. Nearly 400 orders were recorded on the dedicated selling website. In the Turkish market, Ami is the most affordable offering and is particularly appreciated for the protection it provides compared to other two-wheelers on the roads. On 20 June, individuals were able to access the online sale of 50 Ami and, to our great surprise, they sold out in just 25 minutes, demonstrating the strong interest in the little quadricycle whose presence in Turkey is expected to increase in the coming months! These first buyers will take delivery in August.
The 641 orders from Morocco and Turkey came almost exclusively from business customers, as Ami was marketed primarily at entrepreneurs who see this mobility object as an economical, agile and safe means of running their errands.
2. A SMART SOLUTION THAT APPEALS TO PROFESSIONALS
For companies, Ami complements their fleet, helping to reduce their carbon footprint and offering the advantage of a very low cost of ownership.
It is particularly well suited to companies whose activities require them to make short, frequent daily trips around town, companies that are, like individuals, affected by city traffic. Tradespeople, professionals, craftsmen, local authorities, service companies and industrial sites that need to make deliveries or provide services will find Ami or Ami Cargo the ideal partner for conducting and develop their business because of its practicality and agility.
FRANCE
Some companies see the pragmatic side, adorning their Ami in company or brand colours and using them as a means of communication. This is particularly the case in France with Darty Royan's Ami Cargo, which, thanks to their loading area of over 400 litres in place of the passenger seat, can be used to deliver small electrical appliances to its customers while advertising on the move around the city and its suburbs. Using the "Custom My Ami" system developed by Citroën with its partner Faab Fabricauto, bespoke covering can be created, from an image or logo.
SPAIN
Ami is also a hit in Spain. After delivering one to Parc Warner, Citroën has just delivered 9 units to an Arcelor-Mittal plant in Sagunto. Committed to sustainable development, the steel group has chosen Ami, which has zero CO2 emissions, to operate the routes between its plant's various warehouses.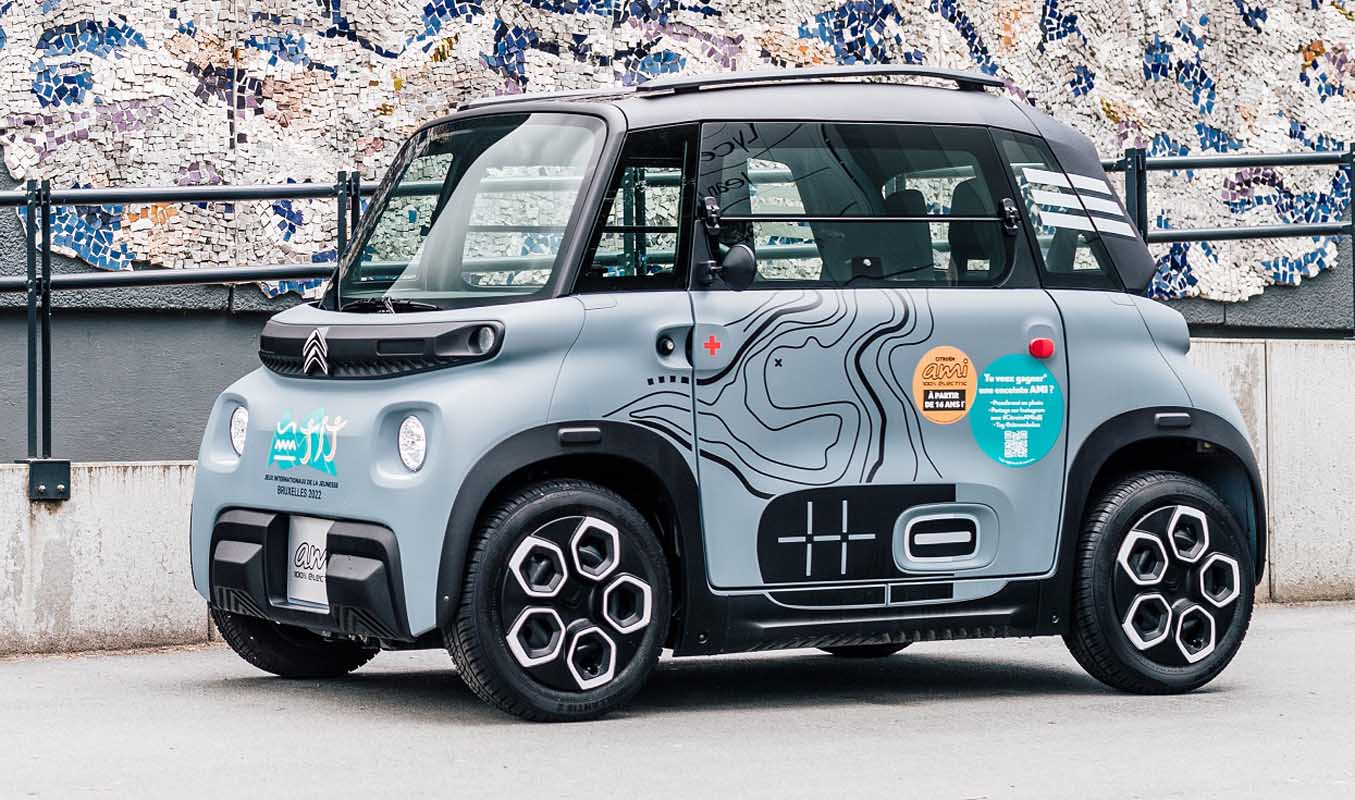 BELGIUM
In Belgium, 15 Ekoservices-branded Ami vehicles hit the road last February. This company, the leading local services operator in Wallonia and Brussels, is committed to providing constant support to its workers. This is demonstrated by its investment in the development of model homes dedicated to training for the home help profession. It was therefore natural for the group to respond to another need, the mobility issues encountered by its employees. The 15 Ami were made available to them for commuting.
On 13 April, 50 Amis were delivered to ADS Carsoft, the car diagnostics specialist. This choice was guided by the practical, economical and ecological benefits of the quadricycle, which will be used for employee car-sharing in the Group's establishments and in the cities in which they operate.
PORTUGAL
In Portugal, 160 My Ami Cargo joined the fleet of the CTT postal distribution group. "My AMI Cargo has a loading space that suits our activities and the short trips we need to take. It has enough range and its speed is perfect for getting around the urban centres. Its ultra-compact dimensions make it easier to navigate the particularly narrow Portuguese streets, allowing postmen to manoeuvre and park easily," says Joao Bento, CEO of CTT.
A most original idea. A partnership has been formed with Habitat Invest, with a view to a potential order for over 400 Ami as part of the promotion of a real estate programme in Lourès, which includes a house and an Ami in each sales agreement. "From the outset, our aim was to provide something different for the Aurya programme, incorporating the environmental and sustainable aspect while at the same time providing a useful service for our customers. Ami fits perfectly with our initial vision as it represents an urban mobility solution that will allow our future residents to enjoy a clean vehicle for their short daily journeys," says Luis Corrêa de Barros, Founder and CEO of Habitat Invest.
Portway, an air cargo ground handling company operating at Portuguese airports, has purchased 11 My Ami Cargo and 2 Amis. These quadricycles are equipped with a solar panel that generates electricity to power an on-board socket and connect a PDA, a printer and a beacon. This fleet of Ami is currently working at Lisbon airport and will soon reach Porto, Faro and Funchal airports. According to Helena Franca, CEO of Portway, "Ami is very well suited to Portway's operations, especially for driving on the smaller roads adjacent to airports where speed is limited. Its compact size makes it very agile on the runways, which is essential for our activities."
MOROCCO
In Morocco, following an agreement signed in 2020, with the support of the Ministry of Industry and Commerce, between Barid Al Maghrib – Morocco's postal service – and Stellantis, a version of Ami was specially developed to modernize and expand its mail and parcel delivery network. Since 14 June, 225 Moroccan postmen have been able to swap their two-wheelers for greater safety and be noticed at the wheel of their Ami in 42 cities. The Moroccan post office now has the largest electric fleet in the Kingdom and also the largest Ami fleet in the world. Through this initiative, it is positioning itself as a pioneer in eco-mobility.
GREECE
In Greece, Ami roams the streets on Halki, a Greek island that is leading the way in the energy transition, having chosen to equip itself with emission-free vehicles. Citroën has supplied the public authorities with a fleet of 6 electric vehicles: two Ami, which are respectively used by the police and the coast guard, for surveillance and prevention. The islanders will also have the opportunity to acquire electric vehicles at affordable prices.
ITALY
Acting on the same principle, Citroën recently delivered 9 electrified vehicles, including 7 Ami, to the authorities on the island of La Maddalena to promote sustainable mobility. Two WallBox have also been provided for charging these vehicles and benefits are offered to residents who wish to purchase an electric vehicle from the brand.
3. INCUBATOR OF INNOVATIVE IDEAS
Ami's success has also been fuelled by rewarding encounters with other worlds around common values, which have led to partnerships, events and awards.
Forums have been set up on social networks where people share customisation ideas, photos or adventures with their Ami. The best example is the "My Ami Superfan" community, 112 ambassador customers (65 in France and 47 in Italy), who ensure the promotion, give advice or propose test drives to interested people.
Ami has also embarked on unique collaborations. The partnership established with the Fnac and Darty networks has enabled Citroën to diversify its distribution and reach out to future customers who regularly visit this type of shop, particularly young people – the under-18s who account for 42% of Ami users.
At the official opening of "La Maison Citroën" in Milan on 19 May, a first in Italy, Ami was the centrepiece of the event as an innovative mobility object in every respect, from its entirely digital journey and its design adapted to the micro-mobility needs of today and tomorrow. Customers were even given the opportunity to try it out. A heaven of relaxation, offering a range of experiences, this space is located inside the Coin shop, the city's shopping temple, in one of the "Lifestyle Hubs" created by the brand to offer its customers a new way of shopping, based on trying out products or services linked to new consumption patterns. Customers are immersed in the world of Citroën and can, with the help of a consultant, explore the make or model of their choice, configure it and select the offer that best suits them before buying online.
An encounter with Ami was enough to inspire Milanese designer Massimo Alba to create a version of Ami that is true to his timeless, understated, luxury clothing brand… For the first time, he has agreed to lend his style to the world of mobility by reinterpreting Ami's attire as a uniform matt black sculptural 'monolith' to emphasize its geometric volumes and give it an urban style. Another creative project was born from the encounter between Citroën Ami and the world of design, embodied by the renowned design gallery owner Rossana Orlandi. For the opening of Milan Design Week, five artists from the Orlandi agency transformed five Ami cars into real works of art, which were put on display until 12 June in the RO district. The electric quadricycle's originality and its compact, symmetrical and intelligent design, which immediately suggest ease of use and practicality, convinced Rossana Orlandi to become its ambassador. She affectionately calls hers "mon Ami" (my friend). The five "RO Ami" wear a creation that reflects the style and philosophy of each designer. For example, the Ami designed by Japanese-born Yukiko Nagai features an elegant floral decoration on the bodywork with a mosaic effect, characteristic of her artistic approach and echoing the electric vehicle's environmental credentials.
Recently, Citroën Ami was seen in Brussels at the International Youth Games, which took place from 30 May to 4 June. Ami took its rightful place alongside the 400 participants aged 16 and 17 from 33 countries who each year celebrate the values that Citroën shares with them through Ami: excellence, respect, friendship, solidarity and tolerance. Damien Martin-Cocher, Citroën Brand Director for Belux explains: "With Ami, Citroën offers a response to the challenges of urban mobility, challenges that are more than ever at the heart of the concerns and expectations of city dwellers. Ami is an individual mobility solution that allows you to move around in a protected, electrically powered, closed object that can be driven from the age of 16 in Belgium. It is particularly popular with the TikTok generation, which has made Ami a pop-culture phenomenon."
4. THE RELEVANCE OF A SOLUTION HAILED BY CRITICS
Since its launch, Ami has received multiple awards for its boldness and the values it embodies. On 18 May, the CEO of Citroën in Italy, Marco Antonini, received the "CEOforLIFE" award for the "Gëneration Ami – school for electric mobility" initiative, an educational campaign on mobility and environmental sustainability aimed at secondary schools. This project was sponsored by the Ministry of Ecological Transition and the Ministry of Sustainable Infrastructure and Mobility and is in line with the objectives of the United Nations 2030 Agenda for Sustainable Development.
In Portugal, Ami was voted "Product of the Year" in the electric vehicle category by 6,600 consumers in the annual awards organised by ConsumerChoice and Netsonda, the world's largest market research and services company. This award recognises innovation and underlines the growing success of Citroën Ami. It also received the prize of "Product of the Year" from Exame Informática in the "Smart Mobility" category. The prize awarded by the most respected Portuguese media dedicated to Innovation, science and technology certifies the qualities of this original solution of micro-mobility, directed to urban centres.
In the UK, a few weeks before its pre-launch date, Ami received a new award, the "Innovation of the Year" prize, at the inaugural Move Electric Awards, which celebrate the machines, companies and individuals that are helping to shape electric mobility in the UK. According to James Attwood, editor of Move Electric, "Citroën Ami is a real crowd-pleaser with its ultra-cute design, but it's also an incredibly smart and transformative machine. Although there have been quadricycles before, Citroën has refined the design to create a product that really appeals to people and businesses looking for affordable transport in urban areas and beyond. The innovation extends to Ami's incredibly smart design elements, which help make it more sustainable to produce and more cost-effective to run."
Citroën Ami is about to become a phenomenon everywhere it is marketed. Now, it is available in 11 countries, in Europe and Africa – Middle East, it certainly won't stop there and hasn't finished surprising us.