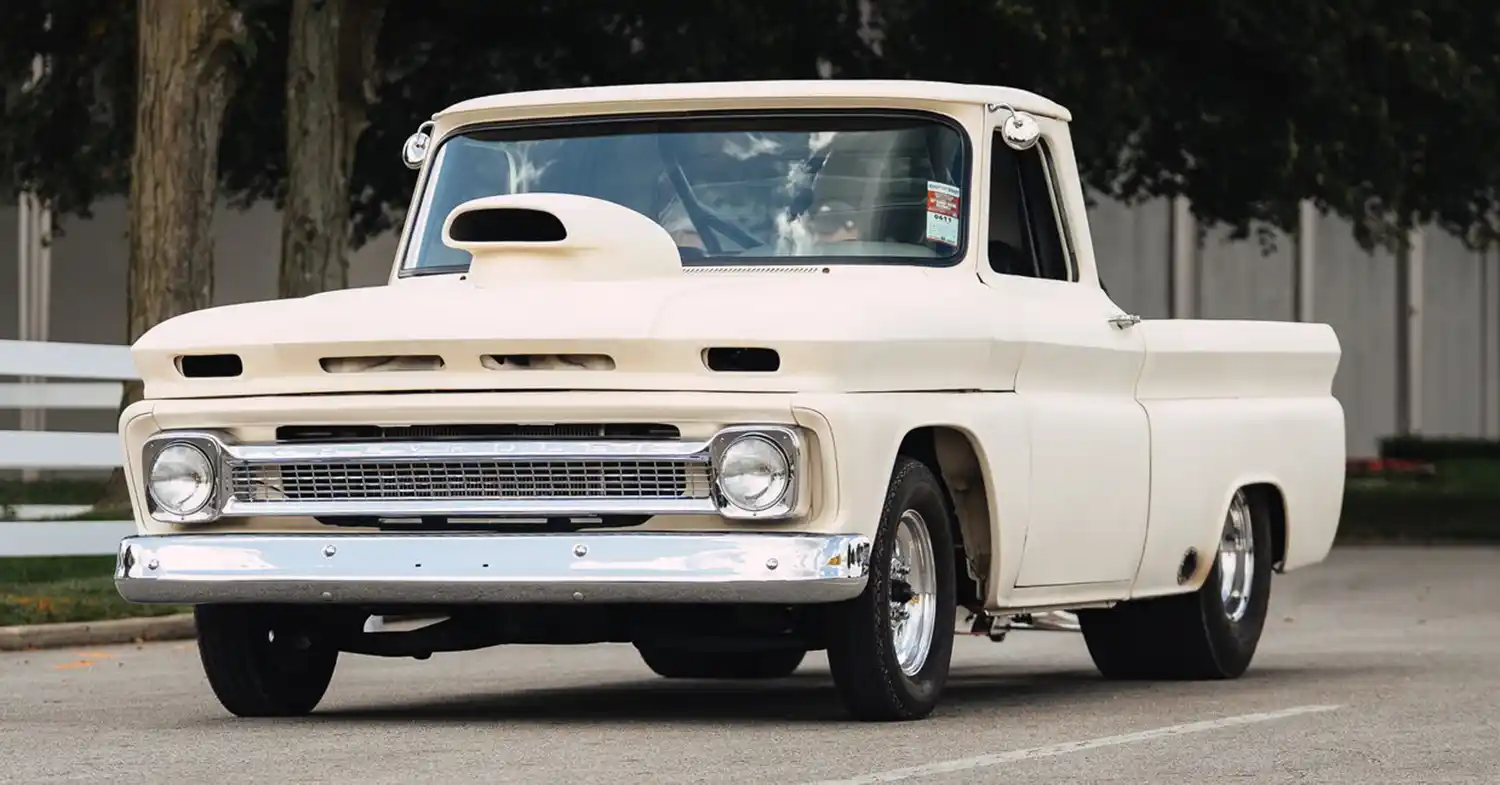 Source: Chevrolet
Words: Dan Hodgdon
Photos: Lucas Priamo
A native of Westerville, Ohio, Endicott owned a 1971 Nova with a blown 540 cu.-in. Big-Block for years. When he sold it he bought a Corvette, and then a 2015 Camaro, but they just didn't do his tastes justice.
"When you go to a show no one looks at those," he said during July's Goodguys Summit Nationals in Columbus, Ohio. "They want something radical, and I've had something radical most of my life."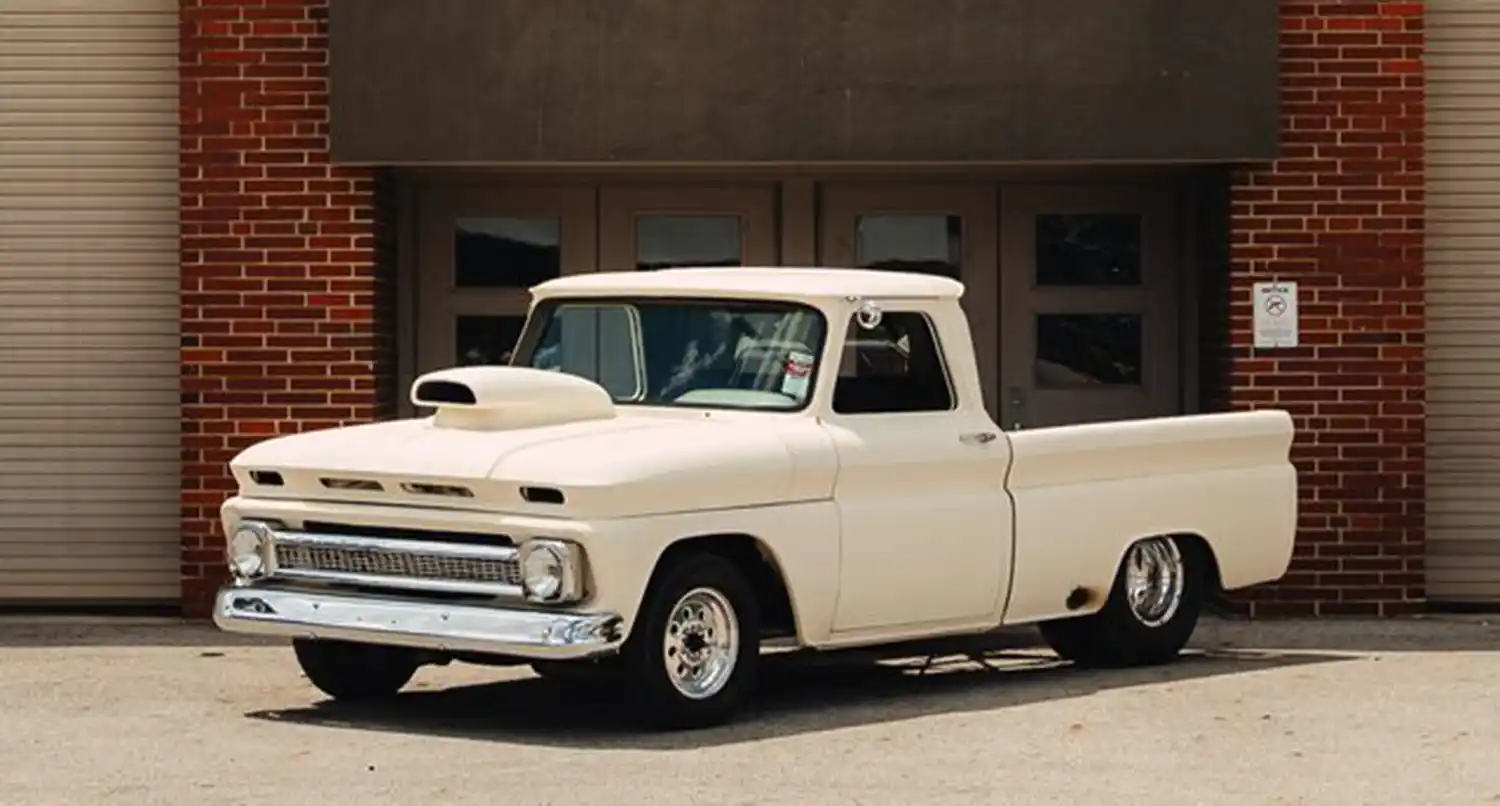 The engine fits the radical description. A 572 cu.-in. behemoth, it is factory-rated at 727 horsepower and 680 lb.-ft. of torque. It features a cast-iron block with four-bolt main caps and an ultra-strong, all-forged rotating assembly. A mechanical roller camshaft works with high-flow, aluminum rectangular-port cylinder heads to make big power. And a Dominator-style 1150-cfm carburetor tops the ZZ572/720R. The mill is built for racing, but will also wow show and cruise-in attendees – just as Endicott likes to do.
For Endicott, the decision to use a Chevrolet Performance crate engine for this build was a no-brainer.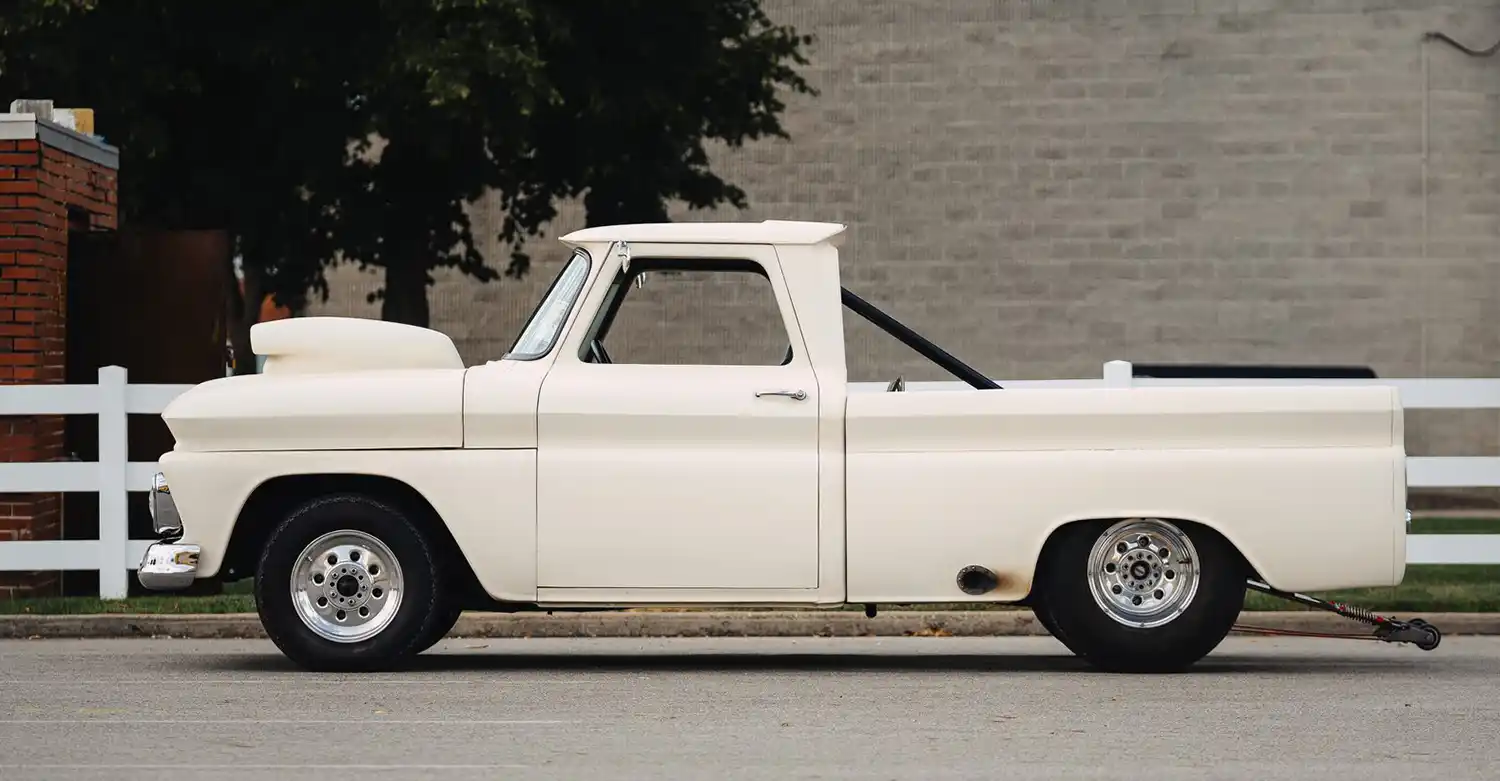 "I've been a Chevy guy all my life and I know they're reliable, they're done right and they put out plenty of power for the money," he said. "For the price, I couldn't pass it up."
Endicott has owned the C10 for nearly four years. It had been tubbed by a previous owner a long time ago, but then for some reason, the project just stopped. When Endicott bought the truck, many of the pieces were delivered to him in baskets. He now has everything mostly put back together, but the project is constantly a work in progress.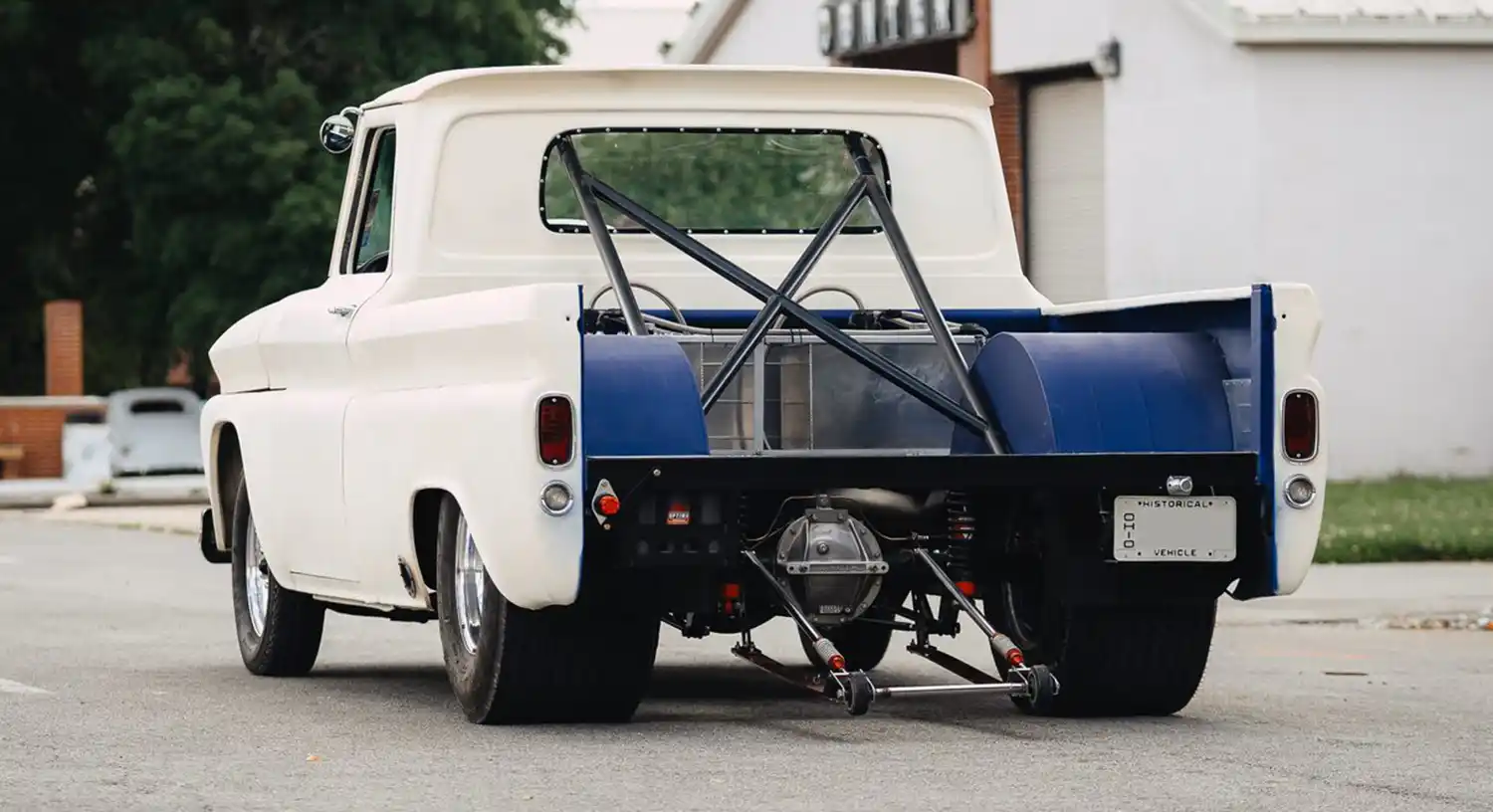 The truck is on a GMC frame setup with a GMC cab, but features a 1966 C10 front end, making the vehicle the famed Chevrolet C10 pickup. When Endicott first got the truck it was painted in what he calls a "ruddy brown," but now it is covered in tan primer and creates a mean drag racing look. He may paint it the shade of blue that adorns the truck where the bed would be, however, he is enjoying the primer look for now.
While the body is steel, the hood and hood scoop are made from fiberglass. In fact, this year's Goodguys Columbus event was the first time Endicott even utilized a hood on the truck. In the past, he had simply allowed the engine to breathe open air in true hot-rod style. The ZZ572/720R is fed by dual 12-gallon fuel cells, each supplying 110-octane racing fuel. Exhaust is spent through a Flowmaster system featuring side exits.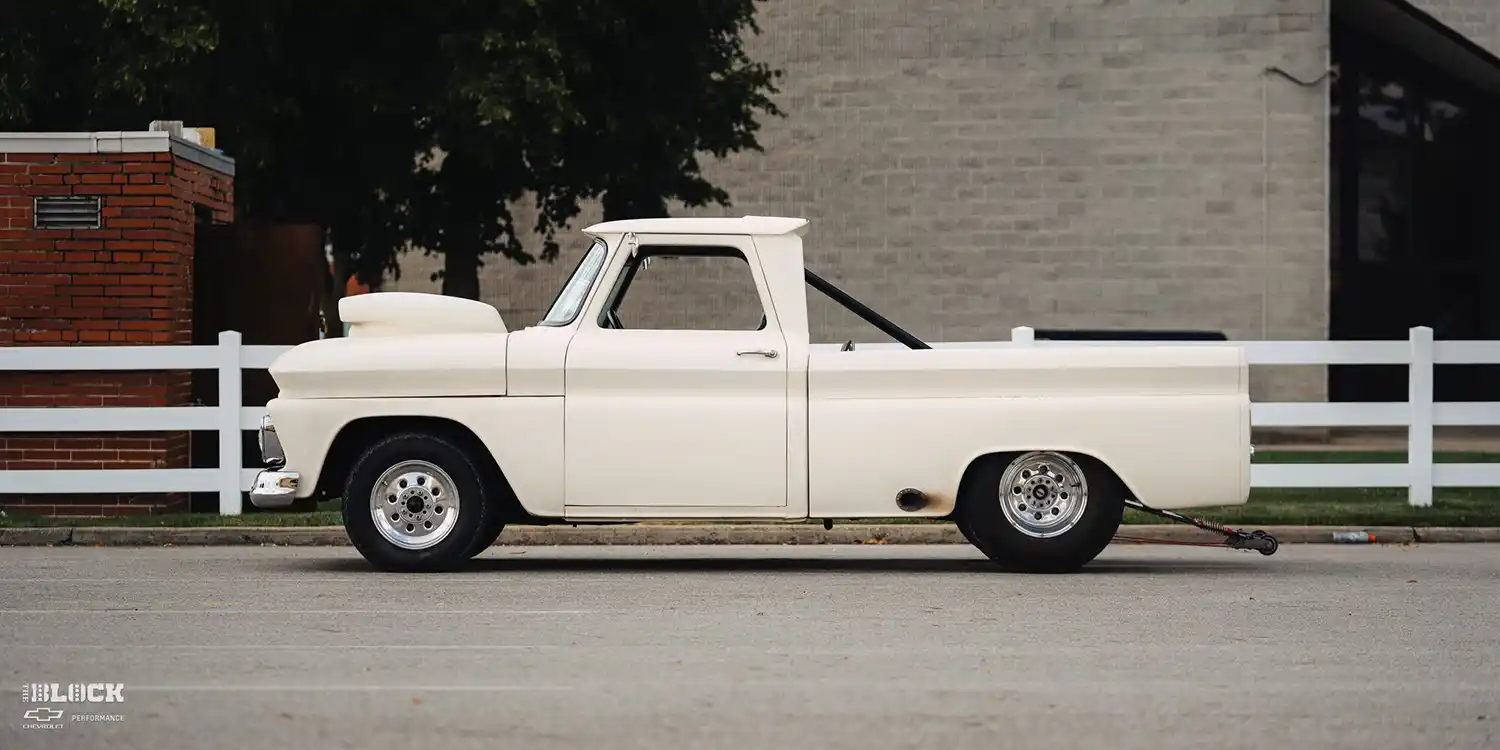 Endicott bought the engine from Danny's Rod Shop in Somerset, Kentucky, and took painstaking effort to follow each step in the included instructions. He primed the oil pump for eight minutes instead of the recommended three, and also manually double-checked that everything was working properly.
"The first time I fired it up my boys said I looked like a mad scientist," Endicott said. "But they were like, 'Oh my gosh, that thing just sounds so radical.' And it does."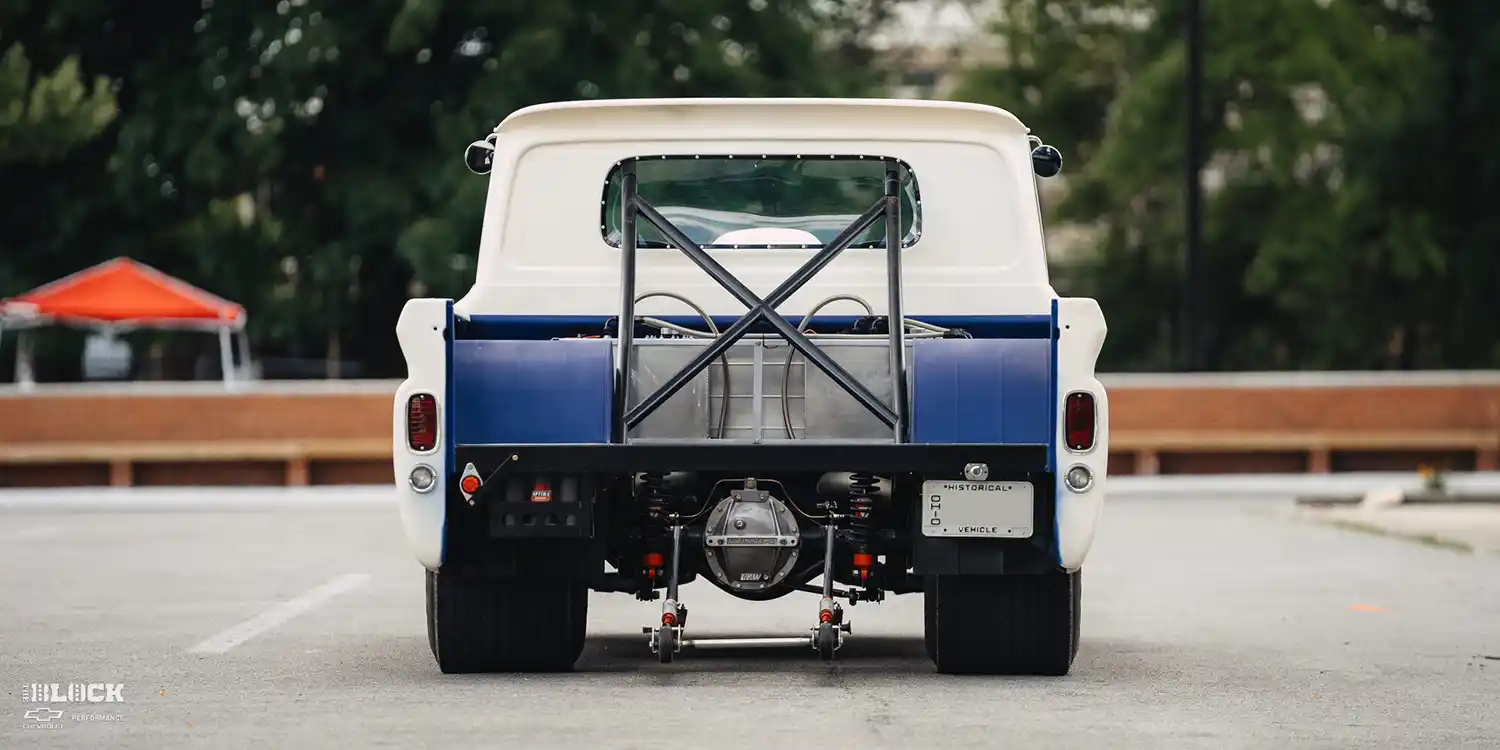 The engine is mated to an FTI Performance TH400 transmission meant to handle 700 horsepower. It connects to a 12-bolt rear end featuring a 4:11 gear via a custom aluminum driveshaft.
Mickey Thompson 18×5 rear tires ensure the power hooks up on the pavement, while disc brakes stop the high-horsepower vehicle. Wheelie bars even ensure it keeps from tipping over.
A talented builder and welder, Endicott did nearly all the work on the truck himself – although he did enlist his sons for help with the engine and transmission installation. The truck was already set up for a Big-Block Chevy engine and TH400 tranny, meaning Endicott didn't have to do much fabrication work to the engine bay to install the 572 cu.-in. power plant.
He did make some modifications to various brackets and bars for fitment, while also modifying the suspension setup to better handle the horsepower and weight of the engine.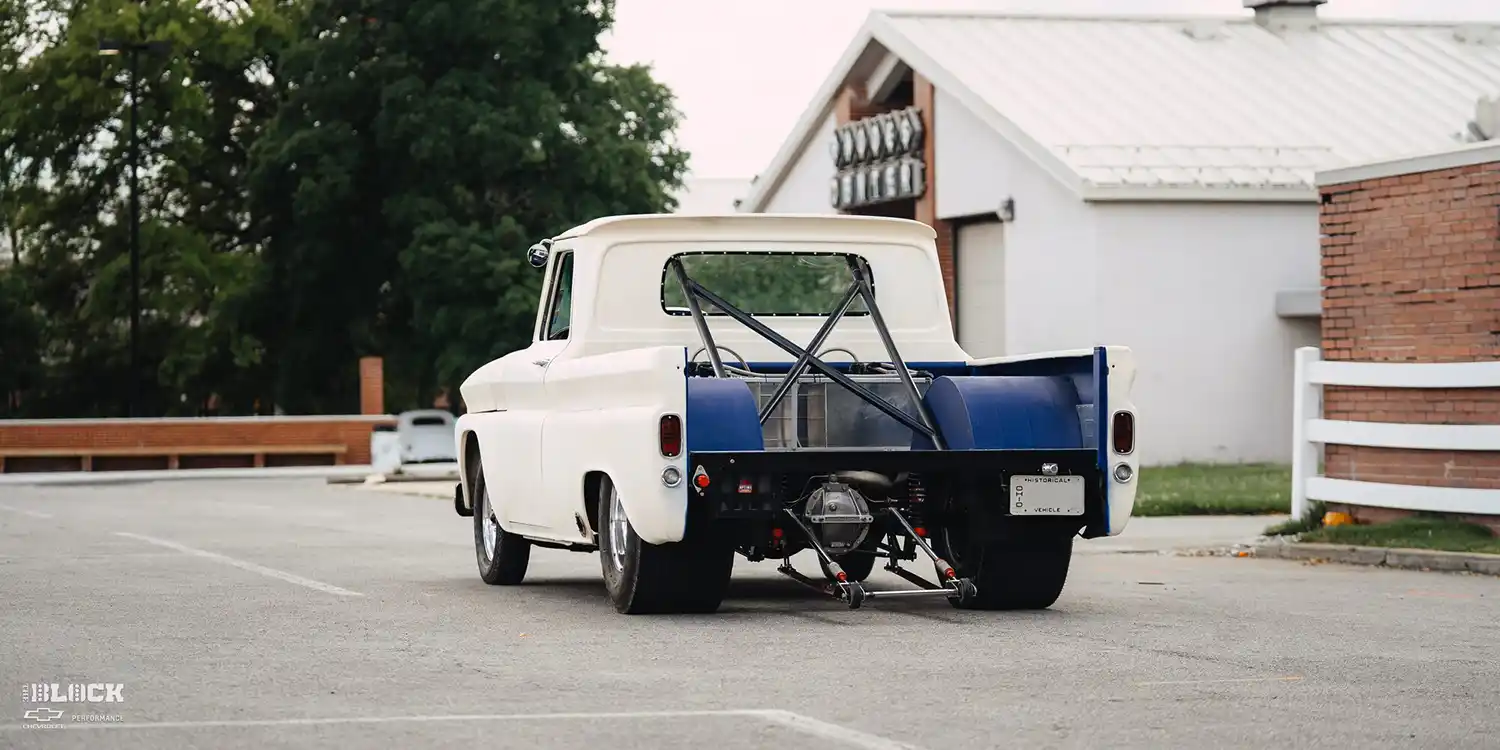 The interior is mostly stripped down and is still being completed, but it features all the necessary gauges along with bucket seats and a roll-bar setup that was already installed when Endicott bought the C10.
Endicott is retired from Pepsi-Cola, giving him more time to work on his truck and hit various shows and tracks around his Ohio home. He swears by YouTube and has learned many tips and tricks for his projects simply by research on the internet.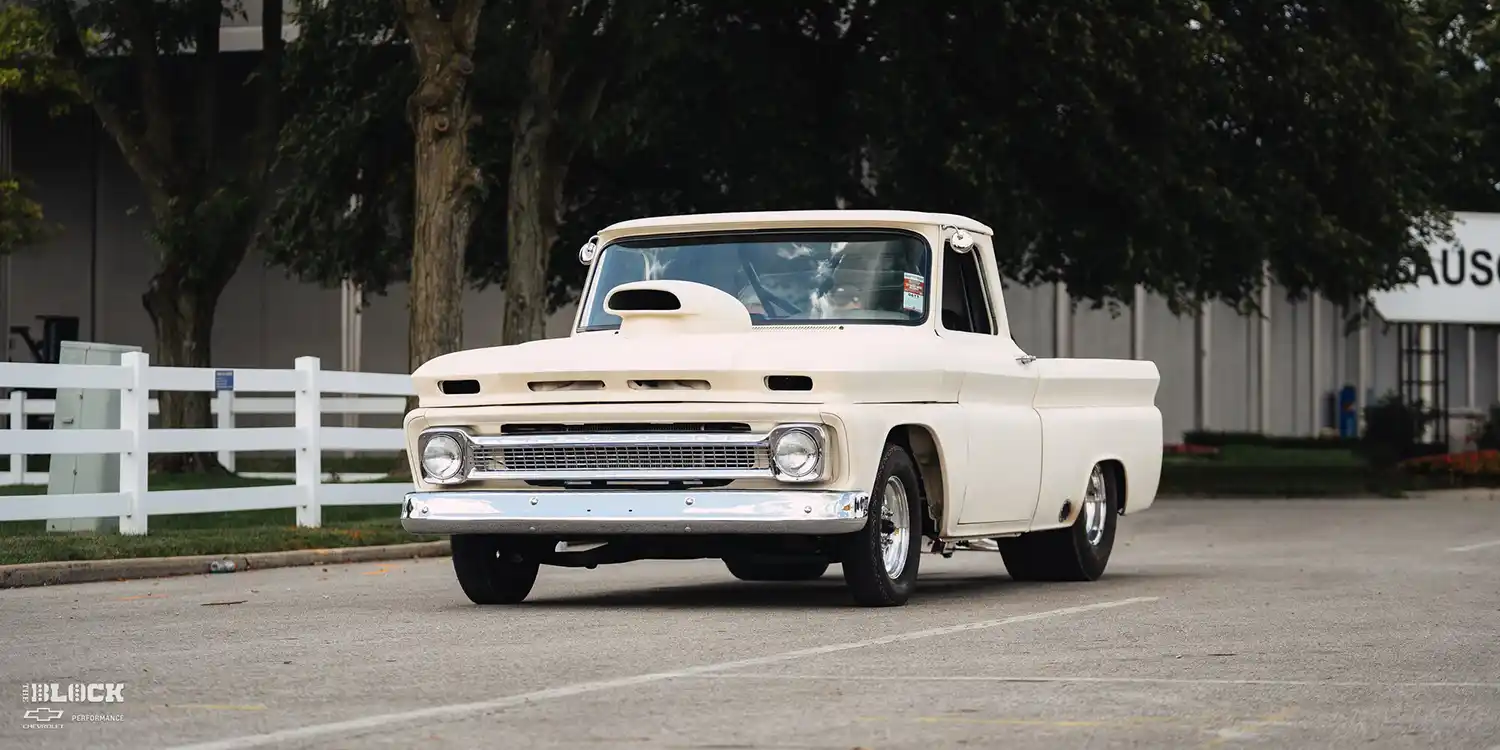 He comes from a GM family, with his brother's 1957 Chevy, his stepdad's 1969 Chevelle and a Pontiac Tempest among the cars he remembers being around as a kid.
"They had all the cool cars so I grew up with that," he said. "Then when I got older I kind of blew them out of the water because I always had something just way more wicked than what they had."
His 1966 C10 is about as wicked as they come.