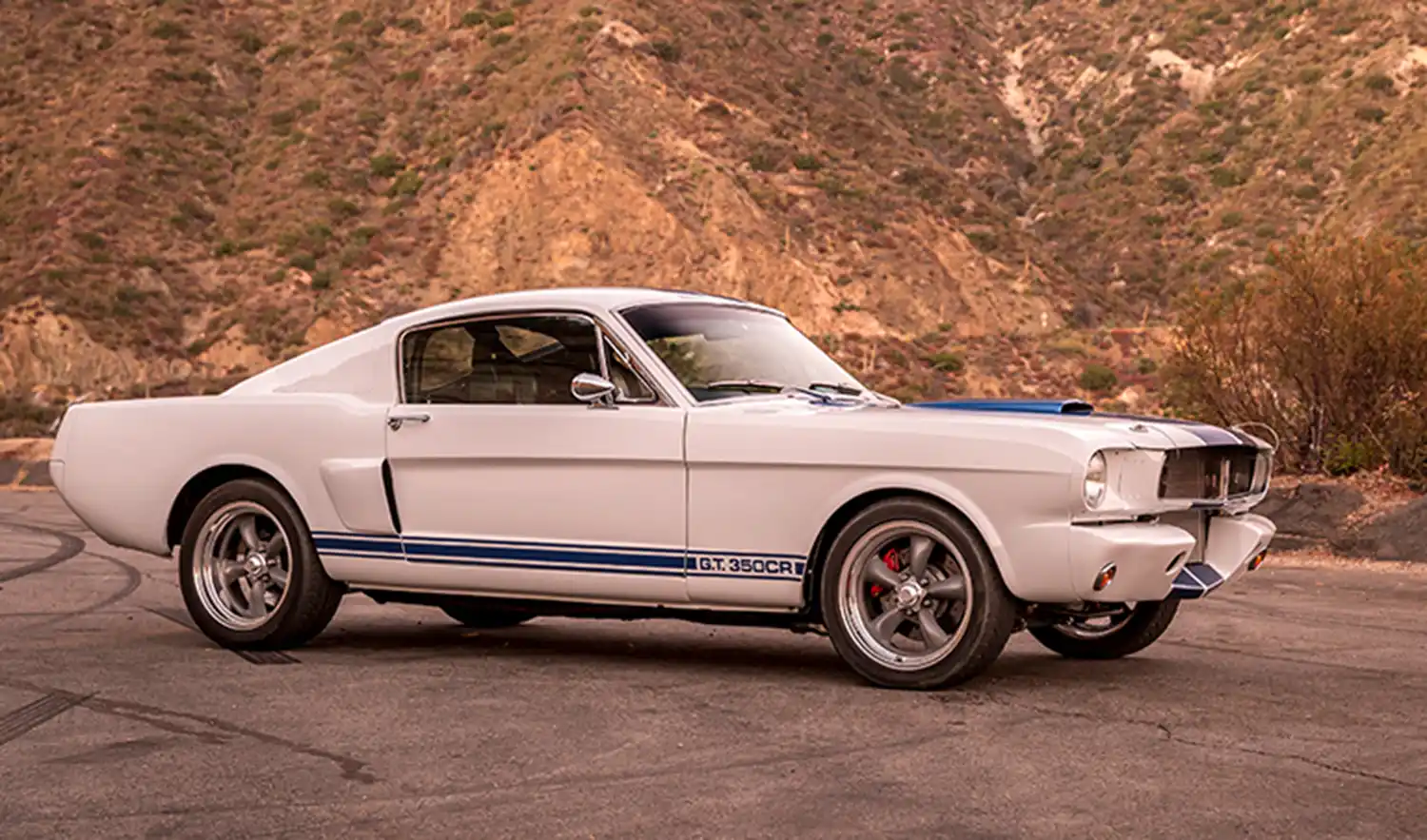 The legend lives on in the 1965 Shelby GT350CR Classic mustang. It was conceived as a pure expression of American muscle, and while the chassis remain the same, Classic Recreations added the modern power and technology that's available. It's no clone, it's something better.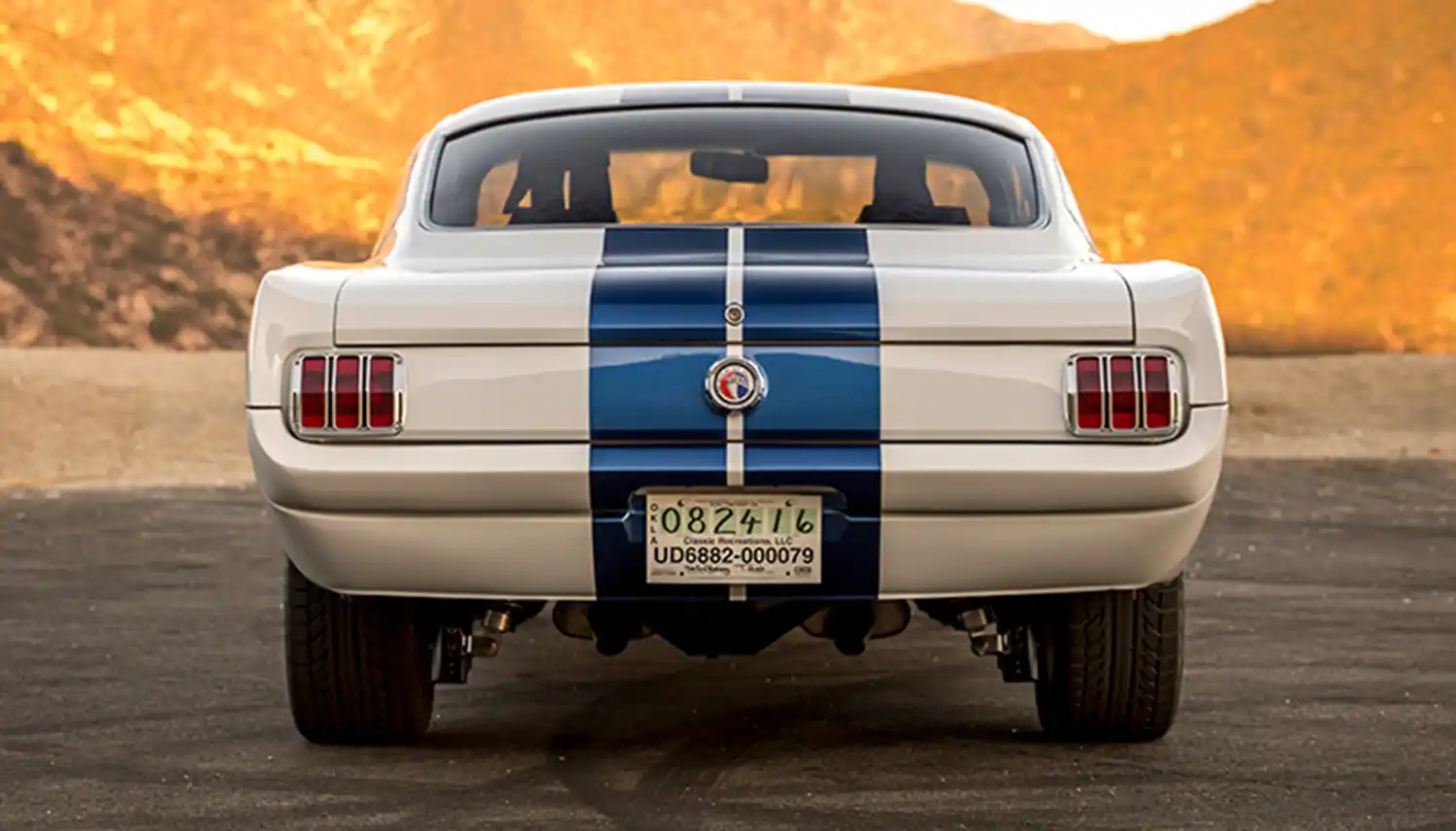 The 1965 Shelby GT350CR mustang is offered as an extension of Carroll Shelby's vision. Three V8 engine options that range from 490 horsepower to a tire-punishing 545 horsepower. The original 1960s body, with added agility from a coilover suspension package supported by tubular subframe connectors, power rack-and-pinion steering, thicker sway bars and oversized disc brakes. It looks like the past but forges a new future of Shelby performance.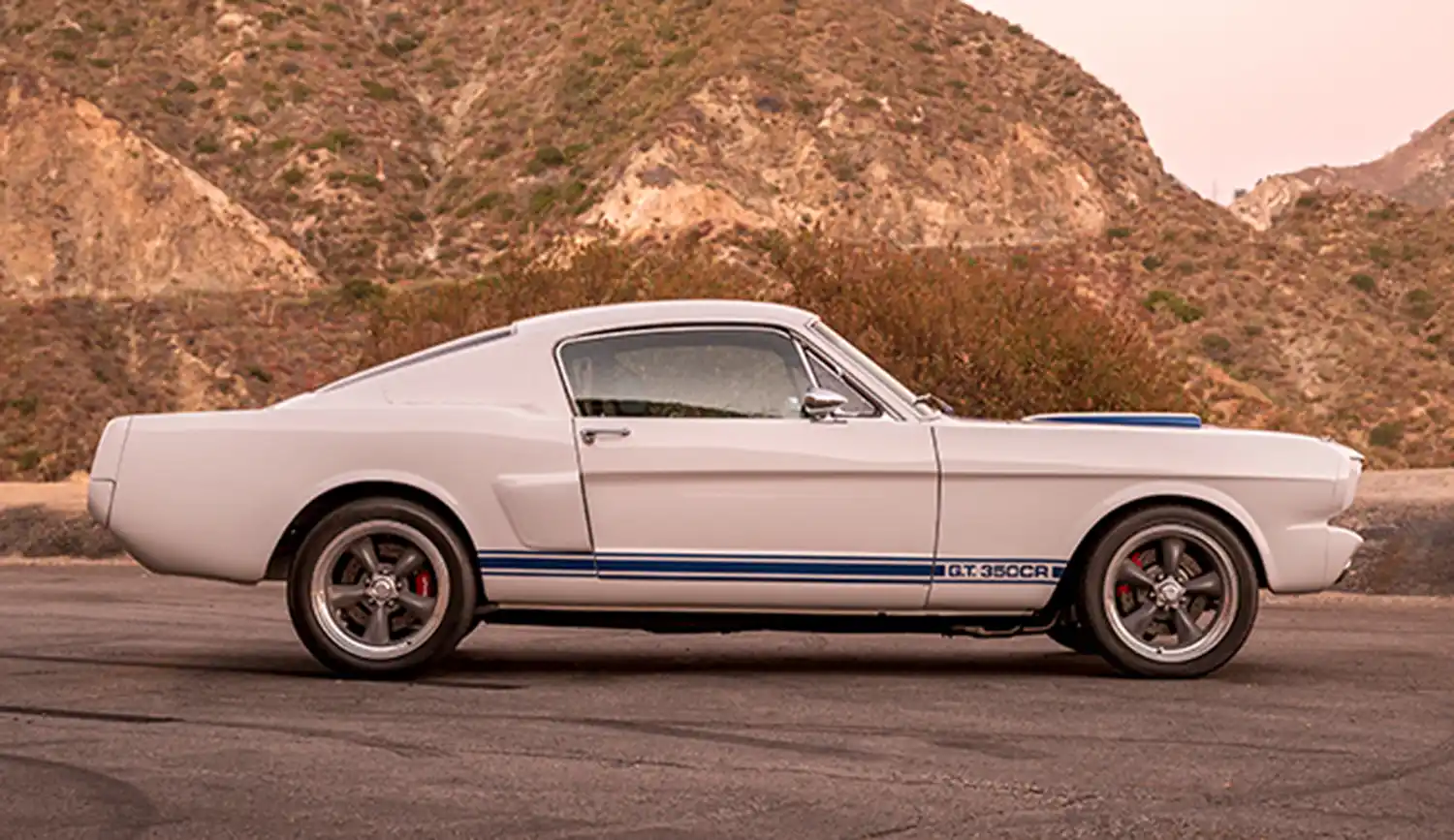 UNCOMPROMISED SHELBY
The heritage of the GT350CR is made clear by the highback, leather-cladded Scat Rally Series 1000 seats, that come with 5-point Camlock seatbelts to bolt you in. Add an elevated sense of touch and menace with the optional leather package.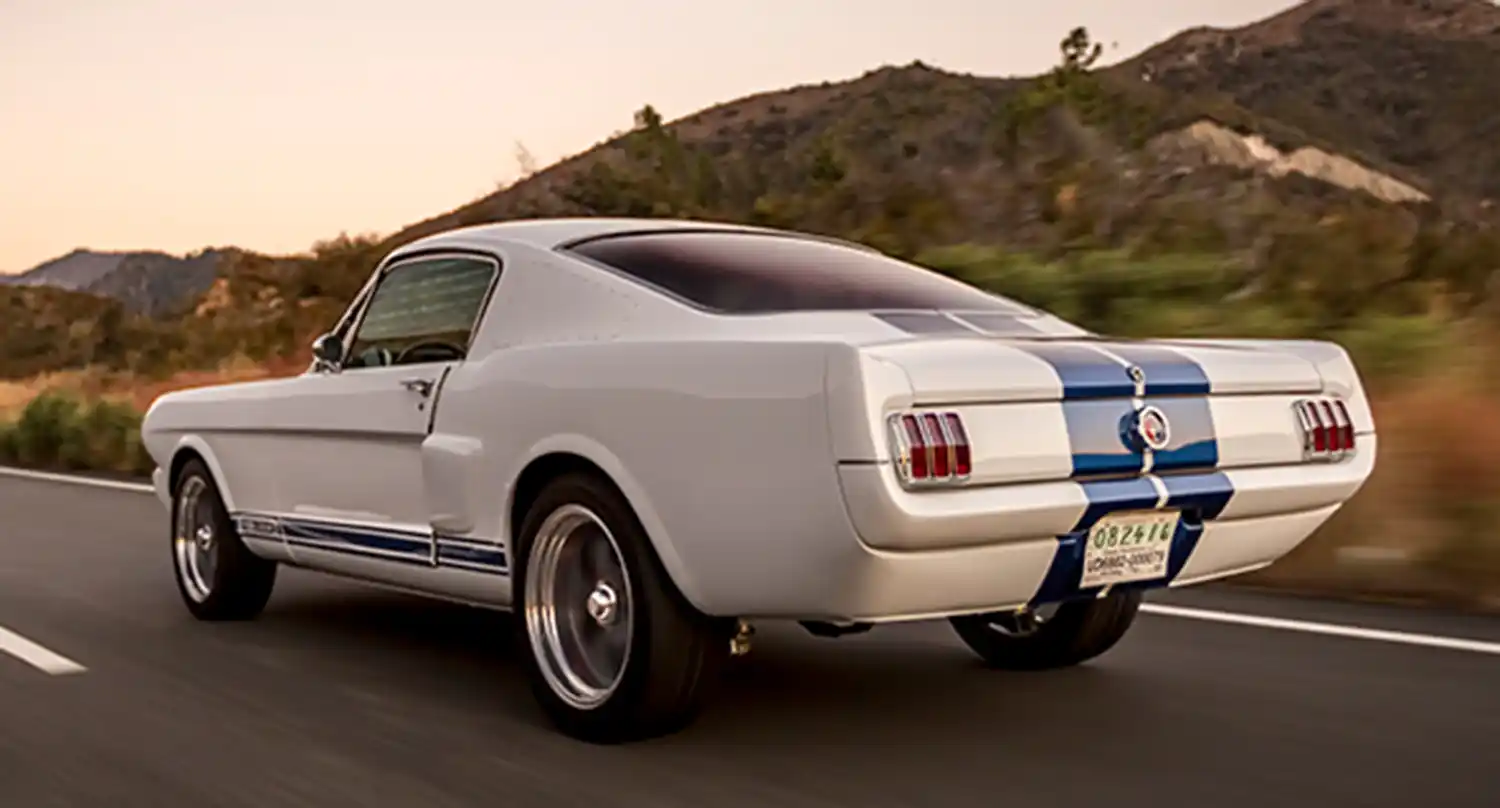 NUMBERS THAT COUNT
Numbers might not tell the whole story, but with the Carroll Shelby signature gauges on the dash of your Shelby GT350CR, they'll tell a powerful one. Upgrade to the GT500CR console for an even more powerful look at your instruments of performance.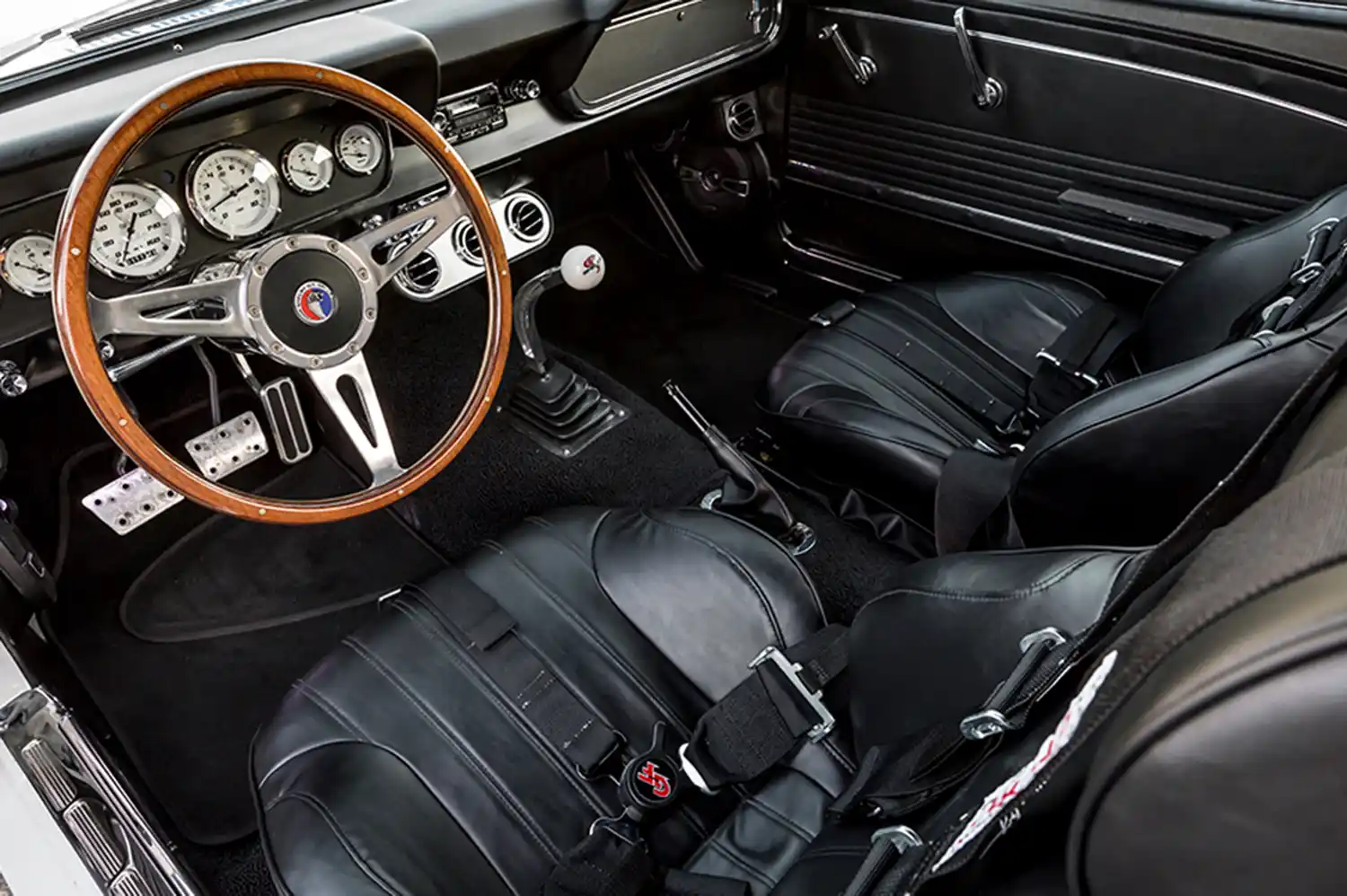 DRIVETRAIN
427ci Ford Performance Crate Engine or Coyote Gen 3 5.0L/302ci Ford Performance Crate Engine
545 or 490 HP
VMP Supercharger (770 HP) or Optional Coyote Gen 3 only
Concept One Pulley System
9″ Fab 9 Rear with 3:70 Gear Ratio and Posi Traction Installed
(Coyote Gen 3 only) VMP Supercharger w/ Tremec TKO manual (or automatic) & twin fuel pumps (770 HP) $12,500
Tremec 6-speed Manual $4,500
Automatic Transmission $5,500
STEERING
Rack and Pinion Steering Conversion (Power)
Flaming River Tilt Column (Polished)
WHEELS & TIRES
Torque Thrust by American Racing 17×7 Front Wheels
Torque Thrust by American Racing 17×8 Rear Wheels
Michelin High-Performance Z-Rated 215/45/17 Front Tires
Michelin High-Performance Z-Rated 235/40/17 Rear Tires
18×11 rear wheel, mini tub, Michelin high-performance Z-rated 315/30/18 $5500
BRAKES
Front: 4-Piston Wilwood calipers with 14-in. Slotted, Crossdrilled & Vented Rotors
Rear: 4-Piston Wilwood Calipers with 12-in. Slotted, Crossdrilled & Vented Rotors
Adjustable Rear Proportioning Valve
EXHAUST
BBK Long Tube Ceramic Coated Headers
Dual 2.5″ Mandrel Bent
Magnaflow Stainless Steel Mufflers
ELECTRICAL
Trunk Mounted (Optima) Battery
MSD Ignition
COOLING
Be Cool Aluminum Crossflow Radiator
2 13-in. Electric Cooling Fans
FUEL
Holley Fuel Injection
Vaporworx, Single Fuel Pump
Stealth 18 Gallon Fuel Cell
SUSPENSION
Coilover Front Suspension
Coilover Rear Suspension
Oversized Sway Bars Front and Rear
CHASSIS
Tubular Subframe Connectors
Cosmetic Rollbar
EXTERIOR
Steel Body Panels
Authentic Carroll Shelby Exterior Fiberglass Enhancements
Shelby Sequential Tail Lights
Carroll Shelby GT350CR Emblems
GT350CR Gas Cap
Carroll Shelby GT350CR Rocker Stripes
Candy Red w/ stripes $3000
Custom Colors Available Upon Request
INTERIOR
Carroll Shelby Scat Rally Series 1000 Seats (Highback)
5-Point Camlock Seatbelts
Carroll Shelby Signautre Gauges
160mph Speedometer
Leather-Wrapped Aluminum Steering Wheel
Old Air Products A/C System
Carroll Shelby GT350CR Floormats
Leather $1000
Right Hand Drive $12,500
KPH Shelby Gauges $500
200 MPH Speedometer $350
Safelink Theft Recovery System $995
STEREO SYSTEM
CD Player with Bluetooth
Focal Auditor Series 4 Channel Amp
Focal Speakers
PRO TOURING TRACK UPGRADE PACKAGE
Pro Touring Track Package $25,000 (Detroit Speed suspension, 18×9.5 F & 18×12 R 3-pc forged wheels, 275/35/18 F & 335/30/18 R tires, 6-piston brakes, 14-in. rotors, mini tub)
Price: Starting at $325,000*
Source: classic-recreations.com