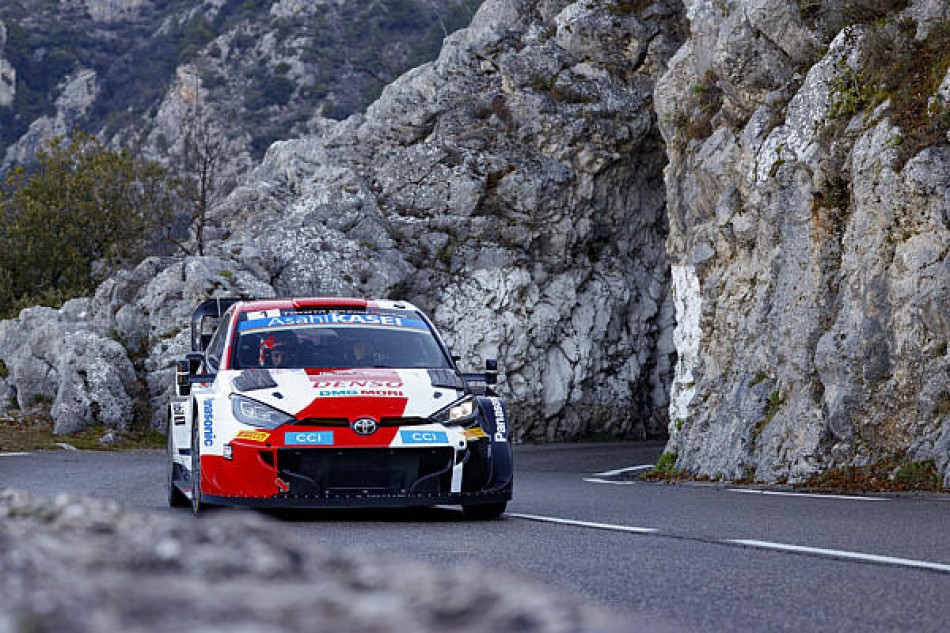 Sébastien Ogier regained the Rallye Monte-Carlo lead from arch-rival Sébastien Loeb after a breathless Saturday morning which ended Elfyn Evans' victory bid.
Two fastest times from three speed tests in the French Alps near Digne-les-Bains earned Ogier a 5.4sec advantage over Loeb at the midpoint of the third and penultimate leg.
This opening round of the FIA World Rally Championship found its teeth as Evans slid off the road and Thierry Neuville, Ott Tänak, Gus Greensmith and Oliver Solberg all struck trouble as crews finally encountered snow and ice in the mountains.
Evans won the opening test from Le Fugeret to Thorame-Haute but Ogier drew level with fellow Frenchman Loeb in the overall standings after winning the following test from Saint-Jeannet to Malijai.
Fastest time in Saint-Geniez / Thoard, which featured 5km of winter conditions at the summit of the mythical Col de Fontbelle, enabled Ogier to reclaim the lead he yielded on Friday morning in his Toyota GR Yaris.
"I wasn't so happy with the car in the opener, I was fighting it a lot," admitted Ogier. "The last stage was just about surviving. It's never easy to go through that stage, but we are here."
Loeb could not produce the same pace that took him to four stage wins in M-Sport Ford's Puma yesterday.
"It was more difficult today," he explained. "The road is very dirty in our position and I think we pay a little bit with the super-soft tyres. It wasn't easy to drive the last stage with two studded tyres and two slicks. It wasn't easy to keep the car straight. I tried to push."
Craig Breen was more than a minute adrift in third in his Puma as the Irishman avoided the carnage going on around him.
Evans slid off the road on a left corner in Saint-Geniez, leaving his GR Yaris perched on the edge of a steep drop at an alarming angle. The stage was eventually halted after which his car was pulled back onto the asphalt, allowing the Welshman to continue, albeit with the loss of many minutes.
Ott Tänak dropped more than a minute with a rear left puncture in his Hyundai i20 in the opener, but worse was to follow.
The Estonian tackled Saint-Geniez on unstudded tyres and when he reached the snow and ice he was caught out by the conditions and hit a bank. The impact caused coolant to pour from the engine area and, allied to another puncture, his day was over.
Neuville fought mechanical problems all morning. "As soon as I brake, the car is moving to one side. I will have to finish the day like this," said the Belgian, who was driving at only 75 per cent. He was 46.3sec behind Breen in fourth.
Greensmith plunged down the leaderboard after his Puma was slowed by mechanical problems and all the drama allowed a resurgent Kalle Rovanperä to climb from ninth to fifth.
Takamoto Katsuta was sixth in another GR Yaris, despite a spin, but Oliver Solberg dropped half an hour after locking his brakes at a right corner and his i20 N went down a bank.
The remainder of the top 10 remained unconfirmed pending notional times being calculated after the final stage was halted. But another driver not there was WRC2 leader Stéphane Lefebvre, who ripped the rear right wheel from his DG Sport Competition Citroen C3 in Saint-Jeannet.