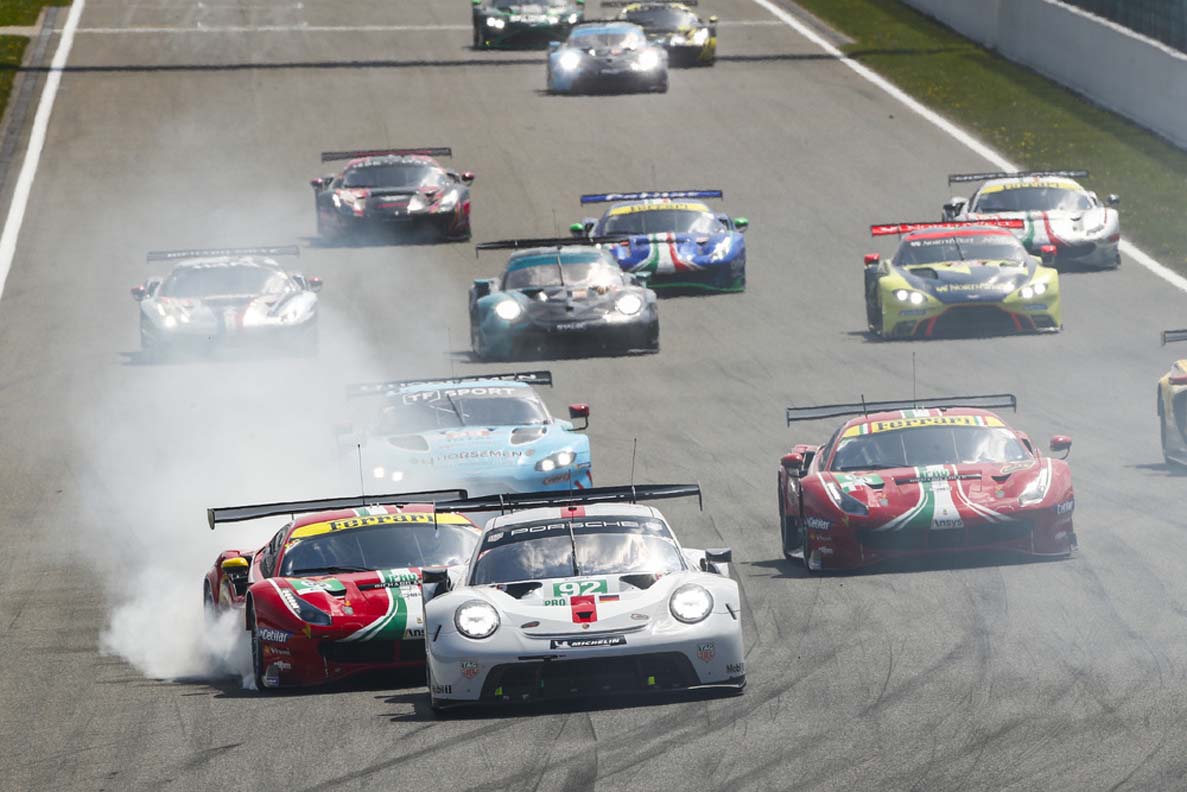 The four class winning crews attending the post race press conference at Spa-Francorchamps.
SEBASTIEN BUEMI, TOYOTA GAZOO RACING – NO.8 TOYOTA GR010-HYBRID
"I had to take it quite easy at the beginning and I was behind Mike (Conway) and we had similar pace. But at our pit stop we basically had an issue with the refuelling. So we basically ended up having a bit of kind of penalty, and then when I stopped for the second time we stayed thirty seconds more. I think that was basically the penalty itself. "Then we had another penalty because of an unsafe release. But at the end I'm very happy that we ended up winning the race. I think, otherwise, we didn't do any mistakes and we stayed focused and my team mates did a great job and we won. So it's great to have a good weekend."
KEVIN ESTRE, PORSCHE GT TEAM – #.92 PORSCHE 911 RSR-19
"I had a good start. It was close with the (No.51) Ferrari at the start, but I could maintain the position.
"And then I had a bit of a fight with the LMP2 backmarkers, which was tough because we have obviously different top speeds, different braking points and everything, but in the end I managed to keep them behind me, which I think was a big help.
"We had a great car so I could be very consistent and I just finish my stints. Then on the second stint we had a small issue on the rear tyre so we had to come in early, lost a little bit of time but mostly we were all out of strategy, which was a worry at that time because we didn't know if you we would have to do splash in the end. It was quite stressful."
PHIL HANSON, UNITED AUTOSPORTS USA – #22 ORECA-GIBSON
"When you have the car on pole it is your best case scenario as you stay in P1 for the first corner and obviously it was quite interesting to pull alongside the Toyotas.
"I was able to pull a small gap but nothing special. It seemed like the traffic kept coming out at the wrong point. And Giedo (Van Der Garde) was able to hang on a bit. But it was a faultless weekend from United and I think we were P1 in every session.
"The car has been fantastic all weekend and that's what translated in to this success and Spa has always been good to us, so we're very comfortable when we come here and I think today has been another great example of how strong United is."
FRANCOIS PERRODO, AF CORSE – #83 FERRARI 488 GTE EVO
"I got a bit lucky at the start because I gained three positions in the first turn and that wasn't expected. But I just went for it.
"Then Ben Keating was absolutely flying. So I tried my best to keep up but he was just too fast, and then I ended up fighting for position number two with my old pal Paul Dalla Lana. We've been racing each other for years now and it's always a pleasure to fight against them.
"I'm thrilled with the victory. What I can tell you is that it's going to be a hell of a season because there's a lot of very strong drivers out there in LMGTE Am."