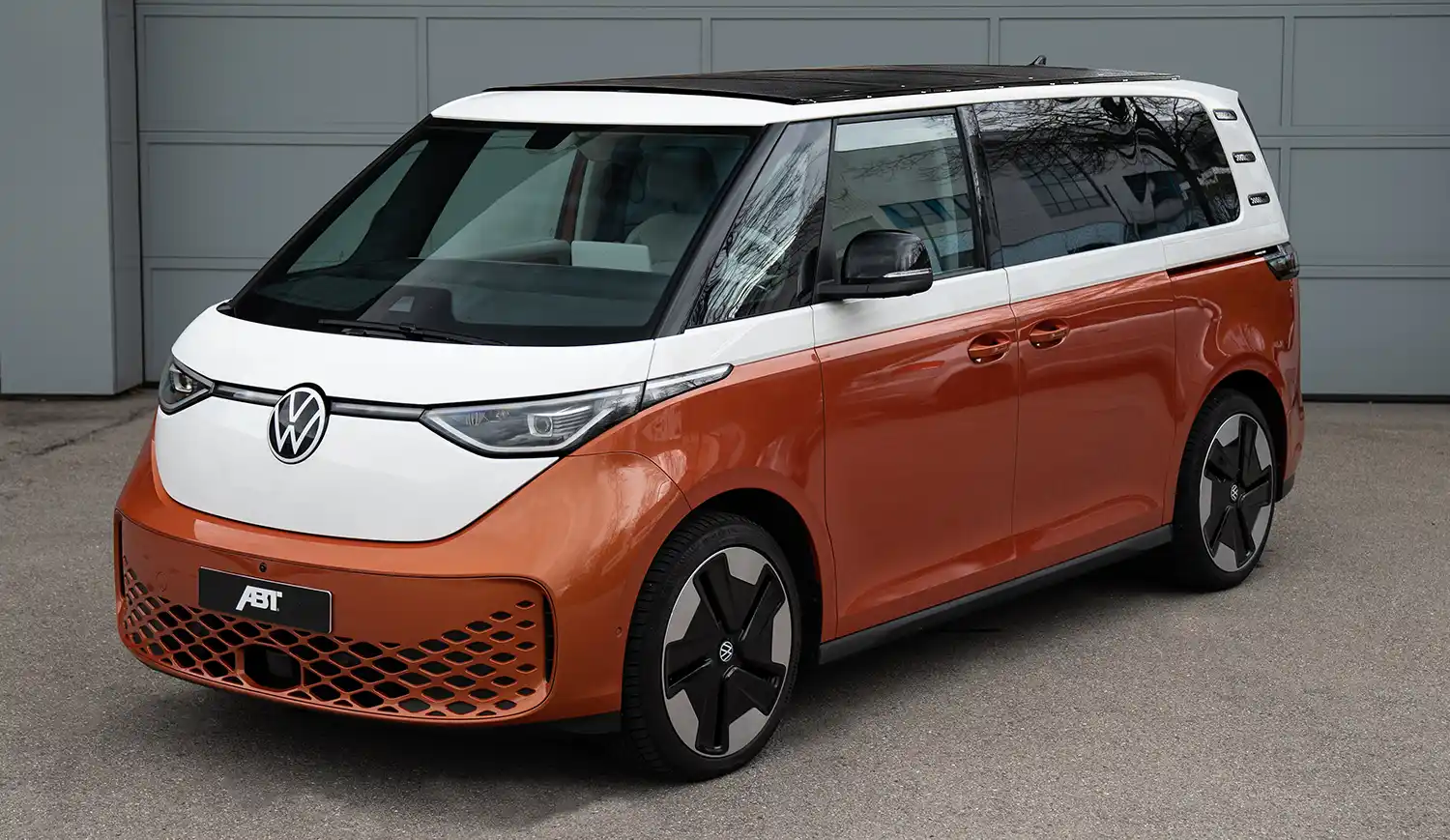 Few vehicles in automotive history have acquired such a large fan base and genuine cultstatus over the decades as Volkswagen's good old Bulli. With the ID. Buzz, Volkswagen's first fully electric bus, the Group has succeeded in transferring this feeling into the age of electric mobility. Just a few months after its market launch, the ID. Buzz is already enjoying great popularity and the number of orders is growing and growing.
ABT e-Line is now fuelling this enthusiasm with the development of solar modules for the roof of the ID. Buzz. Due to the limited roof area and the complex shapes of the solar
modules, the effort required for this was previously too high and too cost-intensive. The ID. Buzz, especially the one with a long wheelbase, offers the best conditions for this.
The experts from Kempten have now succeeded in developing a solution with which up to 600W peak can be charged into the vehicle's high-voltage battery via the solar modules on the vehicle roof. But that's not all: an extension via the vehicle's side panels is already being considered to increase the output to over 1,000 watts.
The ID. Buzz will be able to actively "fill up" with energy while stationary and even while driving, thus extending its range. Power for up to 3,000 kilometers per year can be generated and charged autonomously with solar energy without a grid connection. "BEV and PHEV vehicles, with their traction storage units, are the perfect platform for using solar energy for propulsion too," explains Eric Plekkepoel, CEO of ABT e-Line GmbH.
In addition to independent charging, the ABT e-Line solar roof offers further advantages. For example, the inexhaustible power of the sun can be used to power other electric consumptions such as a refrigerated body, or regarding the ID. Buzz in the camping van sector, the fridge or interior lighting can be supplied with solar energy.
The start of the series production of the new solar roof is planned for the beginning of 2024 via the company partners. As with the ABT Camper XNH, Volkswagen Group Service will carry out the conversion close to the factory. That saves long logistics routes in the interests of greater sustainability.