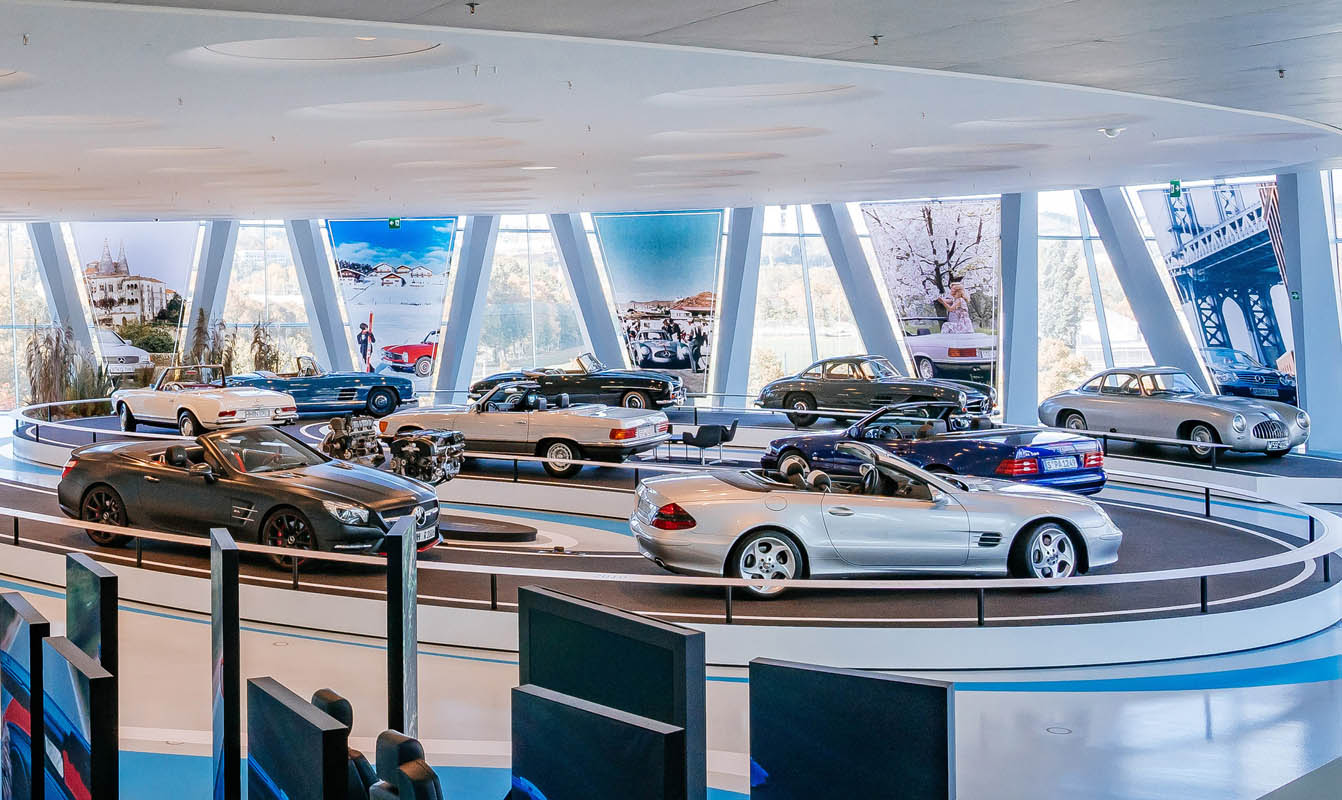 The new special exhibition of the Mercedes-Benz Museum is open: "The fascination of the SL – a dream car for 70 years" takes you through the history of the famous sports cars. It will go on until 15 May 2022.
On 15 and 22 November 2021, the Museum will complement the presentation with a digital offer: on the Instagram channel @mercedesbenzmuseum, Museum guide Lorenzo Santaniello takes the community on an interactive tour of the special exhibition. Viewers can decide what they would like to see for some of the vehicles and put their knowledge of the exclusive sports cars to the test in quiz questions. In addition, integrated historical and current photos as well as video clips bring the seventy-year SL history to life.
After the Instagram reels, the tour will then be available as a video at http://mb4.me/virtuelle-tour.
The individual tour of the SL special exhibition is the third interactive guided tour of the Mercedes-Benz Museum. Visitors all over the world thus get a convenient view of selected exhibits – even if they do not have the opportunity to come to Stuttgart.
The special exhibition tells the entire story of the Mercedes-Benz SL sports cars. The focus is on nine vehicles presented on a serpentine loop. The starting point is the oldest SL in existence, dating from 1952, which has been owned by the factory ever since and is rarely seen in public. The arc extends over all further generations to the SL of the latest R 232 series, which, after its recent world premiere on 28 October 2021, is expected to be added to the special exhibition from January 2022. Numerous other exhibits such as sales brochures, films and technical components complete the presentation.
For visitors on site, the special exhibition "The Fascination of the SL" is included in the German-language guided tours of the Museum, from Tuesday to Friday at 2.30 p.m. and on weekends on request.
The Mercedes-Benz Museum is open Tuesdays to Sundays from 9 a.m. to 6 p.m.
The ticket desk always closes at 5 p.m.
Registration, reservations and latest information: Monday to Sunday from 9 a.m. to 6 p.m. by telephone on +49 711 17-30000, by email to classic@daimler.com or online at www.mercedes-benz-classic.com/museum.