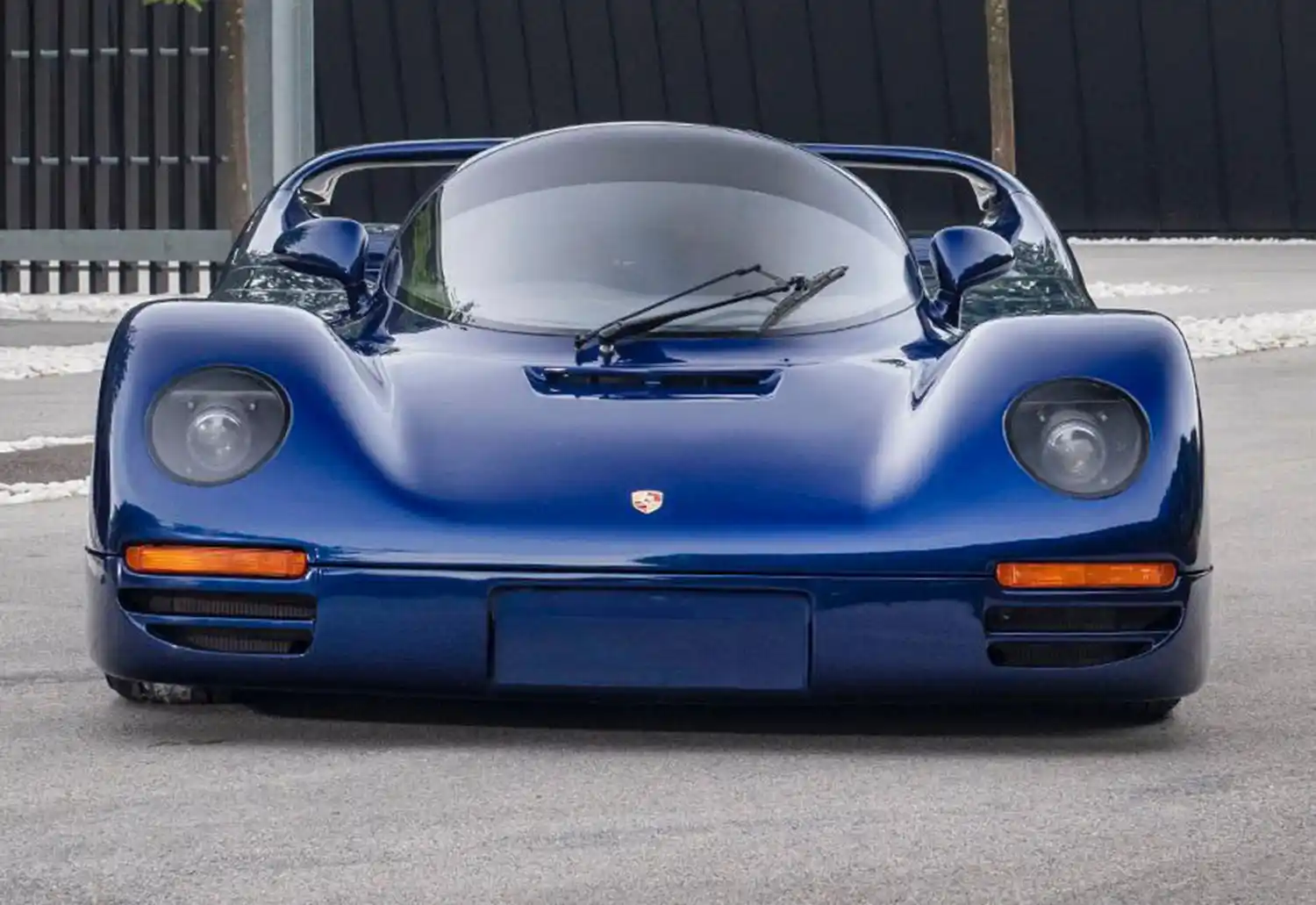 The London Concours, presented by Montres Breguet, will return to the heart of the City with a jaw-dropping array of supercars in under three weeks' time. The unmissable show will feature the finest range of high-performance automotive exotica yet including the wild Schuppan 662 CR P1 – with other examples spanning a range of carefully curated classes. Things will go up a notch on the event's final day, Thursday June 8th, when a further 50 machines from the world's most revered manufacturers will roll into the intimate setting of the Honourable Artillery Company for the dedicated 'Supercar Thursday', presented in partnership with Drivers' Union.
At the centre of June's show will be the ultra-rare 1991 Schuppan 962 CR P1 – among the most visually arresting road cars of all, and one of just 6 cars in existence. The ambitious project was led by Australian racer Vern Schuppan, a winner at Le Mans back in 1983 at the wheel of a Porsche 956. His creation was based on the carbon-fibre chassis of the Porsche 962 racer, giving the Schuppan 962 a feather-weight kerb weight of just 1,050kg. Thanks to a 3.3-litre type-935 twin-turbo flat-six, putting out 600bhp, performance was wild – 0-60 mph in just 3.5 seconds, and 230 mph flat out. With a dramatic full-width rear wing, narrow cockpit and other 962 racer derived aero elements used to keep the power in check, the Schuppan 962 is among the most outrageous cars ever fitted with number plates. A true racer for the road.
Other exotic machinery on display at the event will include the remarkable Bugatti Veyron Vitesse, in ultra-rare 'WRC' (World Record Car) edition form. One of just eight WRCs produced, the special run of cars was created in 2013 to commemorate a 1184bhp Veyron Vitesse hitting 254mph at a test track in Germany, becoming, for a period, the fastest car in the world. Aerodynamics were of course key to such a feat; along with the Veyron's slippery shape and active rear spoiler, the Vitesse featured a specially developed roof spoiler along with an intricately designed windbreak to ensure unruffled open-top driving – even when exceeding 250 mph!
The HAC will also welcome the now iconic McLaren P1, flying the flag for Britain. When launched back in 2013 the P1 was unlike anything the world had seen before, with violent performance thanks to a 3.8-litre twin turbo V8, and potent electric motor. Aerodynamics were also central to its otherworldly, high-tech appeal; the P1 could hunker down dramatically in its most aggressive track mode. With active rear wing extended fully and working in tandem with the slashed and vented bodywork, the P1 could generate 600kg of downforce at 160 mph, helping it lap the Nürburgring in under 7 minutes. That rear wing also had a DRS (Drag Reduction System) function, just like on an F1 car, activated via a button on the steering wheel. By the time it left production in 2015, this 903bhp, 217 mph machine was already assured of its place in the pantheon of hypercar icons.
The show will feature one of McLaren's other iconic models: the fearsome 675LT. The LT, launched in 2016, and based on the 650S, packed 666bhp and 515lb/ft from the familiar 3.8-litre twin-turbo V8. Thanks to its lightweight construction – it was 100kg lighter than the 650S at 1230kg (dry) – the LT wasn't far behind the P1 in terms of outright pace: 0-60mph in 2.9 seconds, 0-124mph in just 7.0 seconds, and 205mph flat out. For many, the fearsomely powerful, lightweight 675LT is the ultimate incarnation of modern McLaren – rampantly quick yet still wonderfully approachable, with talkative steering and expertly calibrated, playful handling. An all-time supercar great that's not to be missed.
The event will also welcome a coach-built hypercar of the 21st century – the exceptional Porsche Carrera GTZ. The first example was commissioned in 2013, with revered Italian styling house Zagato tasked with creating a shapely, all-carbon Coupe body for the Carrera GT, which had been in production from 2003 to 2007. Zagato, known for their work with Aston Martin and Alfa Romeos, styled a carbon body that was more aerodynamic than the original Carrera GT's, with a gradually raked coupe roofline featuring the signature Zagato double-bubble design motif. Zagato understandably saw no need to alter the Carrera GT's mechanical recipe, keeping the howling, razor-sharp 5.7-litre V10, delightful manual gear shift and carbon chassis. The Zagato models are supremely rare; it is believed that just 6 of the 1,270 Carrera GTs have been converted to date.
In addition, the show will have the latest offering from Porsche on display, in the form the '992' GT3 RS – the most extreme 911 yet. It sports outrageous aero elements – including active front and rear wings (with DRS function) – generating 860kg of downforce at 285 kph, three times that of a standard GT3. The 4.0-litre flat-six powered 518bhp machine is so extreme that it forgoes luggage space entirely – the front boot is filled with motorsport derived cooling systems. All the details add up to give startling performance; a completely stock RS lapped the fearsome Nürburgring in just 6:49.3.
This is just a taste of what to expect from a Supercar display that will feature well over 50 cars in all. The supercars will star alongside the Concours' other hotly anticipated, carefully curated classes, including Golden Age Coupes, Built To Race For The Road, Evolution of Aero and Grand Tourisme. Further class announcements set to follow in the next couple of weeks, as we build towards the 7th edition of this unmissable event.
Andrew Evans, London Concours Director, said: "At the London Concours, we're now well known for bringing the most jaw dropping selection of super and hypercars to the heart of the City. 2023's lineup takes things to new s, with a truly stand out range of exotic machinery from the world's most illustrious manufacturers – it's going to be our best display yet.
"The stunning selection of supercars on show across our carefully curated classes will be joined by a further 50 high-performance on the final day of our event – the dedicated Supercar Thursday. It's certainly going to be an unforgettable finale, and a display that supercar fans won't want to miss!"
Partners Drivers' Union will also host their annual Supercar Awards ceremony at the London Concours for the first time on Thursday 8th June, a fitting way to round off Supercar Thursday.
In addition to an exceptional array of cars – the finest yet assembled – guests to the Honorary Artillery Company will be treated to a decadent range of food and drink options, including a brand-new Club Concours hospitality experience, engaging live stage discussions, as well as a carefully selected line-up of luxury brands and boutiques. London Concours 2023 is set to be another occasion of total automotive indulgence.