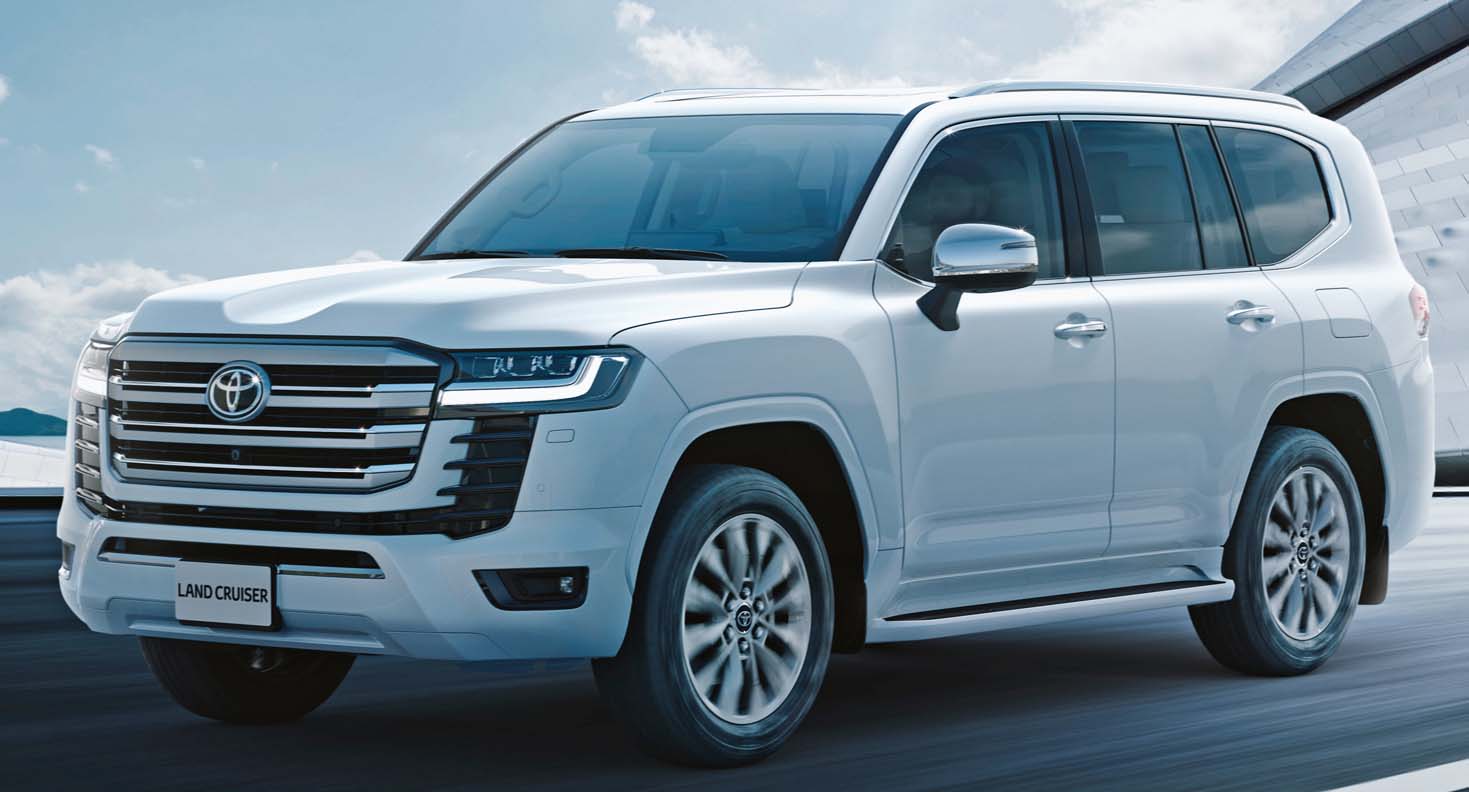 Reinforcing the legendary status of one of the Middle East's best-loved vehicles, Al-Futtaim Toyota has launched the eagerly awaited new generation of its iconic Land Cruiser in the UAE. The all-new Land Cruiser combines outstanding all-terrain performance with a spacious, high-quality interior to bring drivers and passengers an elevated experience on every journey.
Since its launch in 1951, the Land Cruiser has continued to be selected by customers as a safe and secure vehicle symbolizing Toyota's quality, durability and reliability. Now, 70 years later, Al-Futtaim Toyota has introduced the long-anticipated evolution, with ground-breaking enhancements to the platform and powertrain befitting the king of SUVs.
The first Land Cruiser was launched as the four-wheel-drive Toyota BJ equipped with a powerful engine, which demonstrated a high level of off-road performance in adverse environments. Since then, a cumulative total of approximately 10.4 million units [1] have been enjoyed by customers in 170 countries and regions all over the world.
The redesigned Land Cruiser 300 Series is the successor to the 200 Series that debuted in 2007.  The flagship model of the Land Cruiser series, it has in every generation led the way in vehicle evolution while incorporating the latest technologies. The Land Cruiser 300 maintains all-time, best-ever off-road performance as well as setting a new benchmark in on-road performance.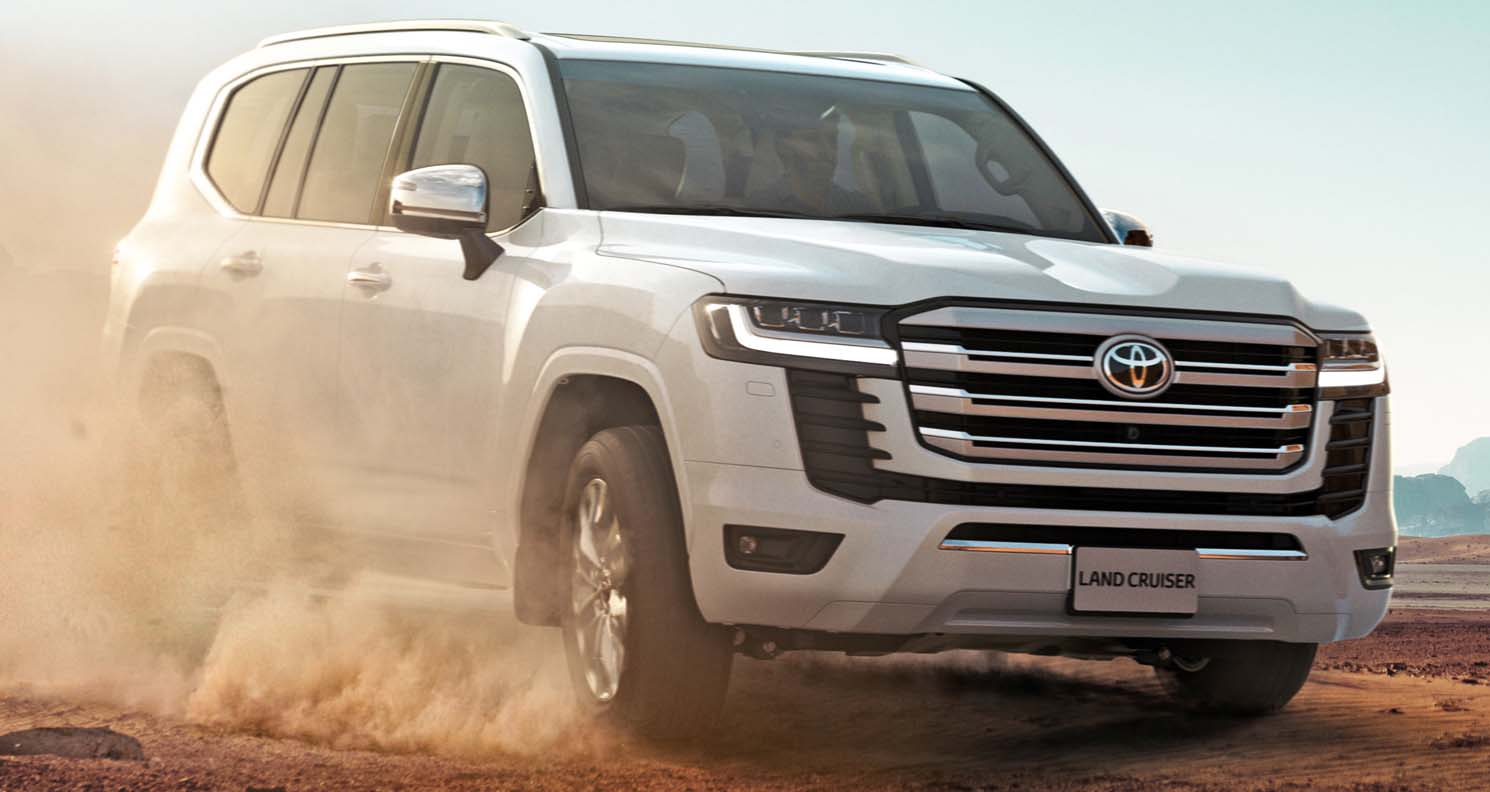 The Land Cruiser 300 is lighter and more powerful – with an overall weight reduction of 200 kg which results in more fuel efficiency, better performance with 409 Horsepower, 650 newton meters of torque and more responsive handling. The exterior design offers an overwhelming presence and strength through a new overall design language, while the interior is appointed with luxury and functionality that truly sets this generation apart from any other vehicle in its class.
The frontal design language of the exterior uses wide, powerful shapes running horizontally to create a distinctive and authoritative presence. The striking silhouette is defined by sharply contrasting lines, while the bonnet meets a completely vertical grille at a near 90-degree angle, which is matched by the roof and rear back door.
The instant appeal of the interior is reinforced by high sensory quality materials, achieved through meticulous attention to detail. The high-end treatments continue beyond the eye-level, extending across surfaces like the base of the cupholders and the mesh of the integrated door speakers. Customers will enjoy enhanced luggage carrying capacity, ease of use and practicality thanks to the implementation of new fold-flat third row seats. This enhances luggage capacity by 250mm while additional storage spaces beneath the deck board are ideal for a tool set and small items that need to be kept out of sight.
The Land Cruiser 300 maintains its reputation for best-in-class off-road capability, enhancing its ground covering performance with the introduction of multiple innovative technologies. In addition to its existing amazing technologies such as Crawl Control, Multi-Terrain Select and Turn Assist, depending on the grade the new Land Cruiser benefits from  either a three Differential Lock system (front, central and rear) or Torque Sensing limited slip differential that is unique in the segment and provides enhanced off-road capabilities on rough terrain.
In addition, the new 3D-Multi Terrain Monitor (3D-MTM) assists the driver in determining the road conditions around the vehicle, a first for Toyota facilitating safer and more confident low-speed maneuvering. A new AUTO mode enhances the capabilities of Multi-Terrain Select by adjusting according to road conditions such as sand, rock, dirt, and mud.
When it comes to the on-road driving experience, Land Cruiser engineers have evolved all areas of this, adopting new systems and improvements to further enhance everyday dynamics, and driving pleasure. The Land Cruiser benefits from an all-new TNGA-F platform and innovative technologies to expand its on-road driving expertise. This includes handling stability and ride comfort – there's almost no body twist, noise and vibration entering the cabin even when driving on uneven roads.
The all-new suspension setup features double-wishbone suspension at the front and a 4-link rigid suspension at the rear, delivering a higher level of on-road stability and off-road performance. The vehicle's lightweight, high-strength structure ensures excellent reliability and fuel efficiency. Additionally, the vehicle is available with Adaptive Variable Suspension System (AVS), depending on the grade, which optimally controls the damping force based on driving conditions to ensure refined ride comfort. The all-new Land Cruiser also introduces the All-Wheel Drive Integrated Management (AIM) concept, which delivers integrated control of the vehicle's drive force, AWD, suspension, braking and steering systems according to driving conditions to enhance driving pleasure.
The new twin turbocharged 3.5 Litre, V6 engine provides class-leading driving performance and greatly improved power, torque and efficiency from a smaller displacement compared to the previous model with almost 50 more Horsepower and 120 newton meters more torque than the previous 5.7L V8 engine. This ensures the Land Cruiser is dynamic and responsive at all speeds, with a satisfying engine sound during acceleration. The new twin turbocharged engine is paired with Toyota's most advanced 10-speed Automatic Transmission, developed to enhance driving performance, fuel efficiency, and quietness.
Andy Barratt, Managing Director Al-Futtaim Lexus and Al-Futtaim Toyota said: "Speak to anyone in the UAE and you can be sure that they have a Land Cruiser story to tell. This is a vehicle which is truly embedded in the heritage and history of the UAE and thanks to the passion and loyalty of our much-valued customers, this model has gone from strength to strength. Now with groundbreaking enhancements to the platform and powertrain, an overwhelming exterior presence and an interior appointed with abundant luxury and functionality, we can't wait for our customers to enjoy the all-new Land Cruiser."
As with any other Toyota model, safety remains a top priority for the all-new Land Cruiser, which comes with an advanced safety system. This is complemented by Toyota Safety Sense 2.0, an innovative safety technology package that includes a Pre-Collision System (PCS) that introduces new features including Emergency Steering Assist (ESA) and Intersection Turn Assistance to help prevent collisions with vehicles, cyclists, and pedestrians. The package also includes Dynamic Radar Cruise Control (DRCC) with Full-Speed Range, Lane Tracing Assist (LTA), Lane Departure Alert (LDA), and Adaptive High Beam System (AHS).
Available in nine distinctive exterior colors, the all-new Land Cruiser allows customers to express their individuality. These include three newly available colors; Precious White Pearl, with true pearl texture and high brightness; Dark Blue, a high-quality color that reflects urban styling; and Avant-garde Bronze, a rich bronze with a strong presence. Meanwhile, the interior is available in a choice of Neutral Beige, Black, or Dark Red. The vehicle also comes equipped with new 18-inch, or 20-inch alloy wheels.
The Land Cruiser 300 is available at all Al-Futtaim Toyota showrooms across the UAE now, starting at AED 229,900 (62590 USD).
[1] *As of the end of 2020. Both the cumulative and annual numbers include the Lexus LX and GX.