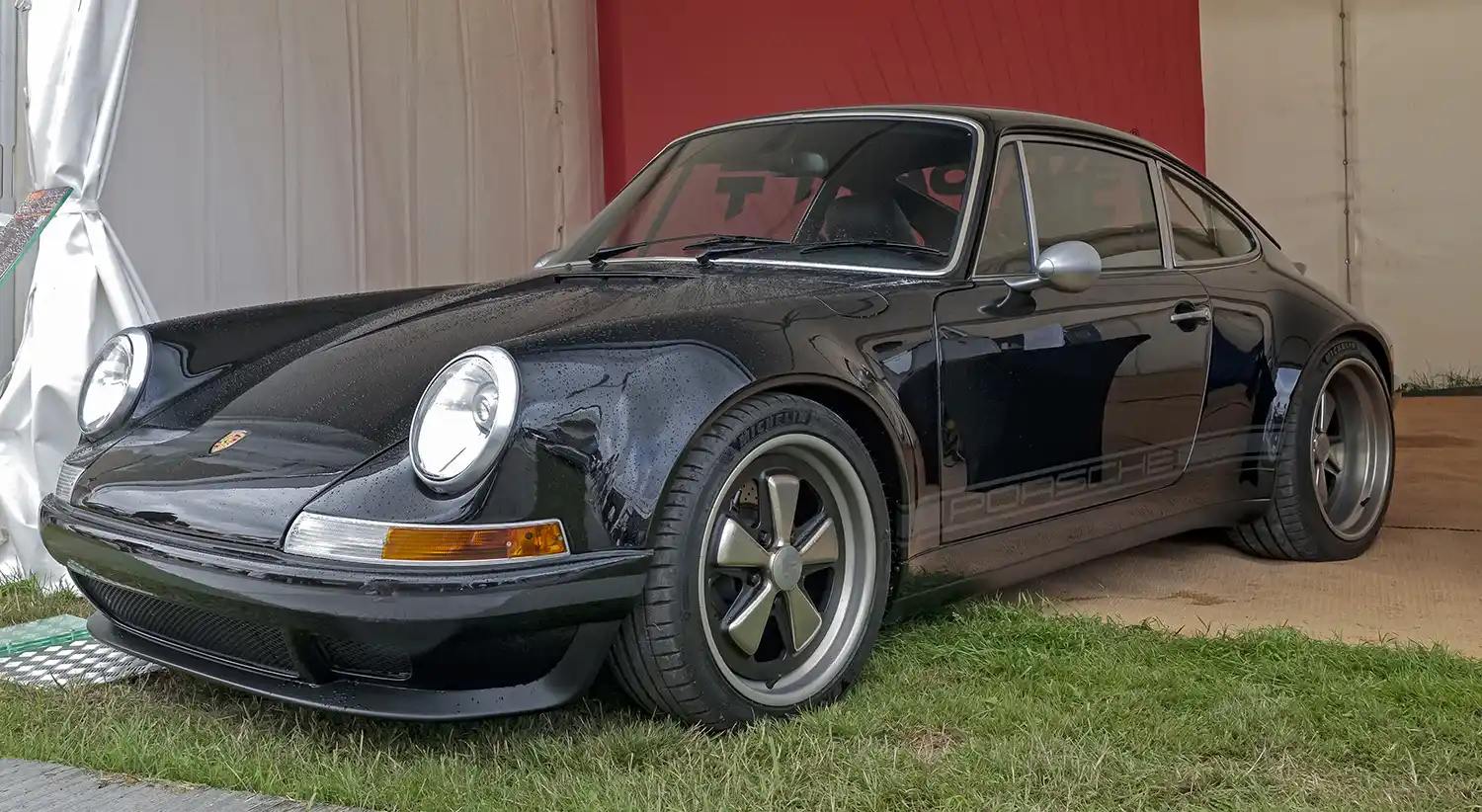 Theon Design has made its debut at the world-famous Goodwood Festival of Speed, displaying its latest air-cooled Porsche 911 commission: the 4.0-litre, carbon-fibre bodied ITA001 in front of record crowds.
Theon Design's appearance at the world-renowned motoring event – a paradise for car lovers held at Goodwood House in the Sussex countryside – puts the Oxfordshire based firm's latest handcrafted Porsche masterpiece on show in front of an international audience, with over 200,000 guests expected to attend the five-day automotive spectacle, a centrepiece of the global motoring calendar.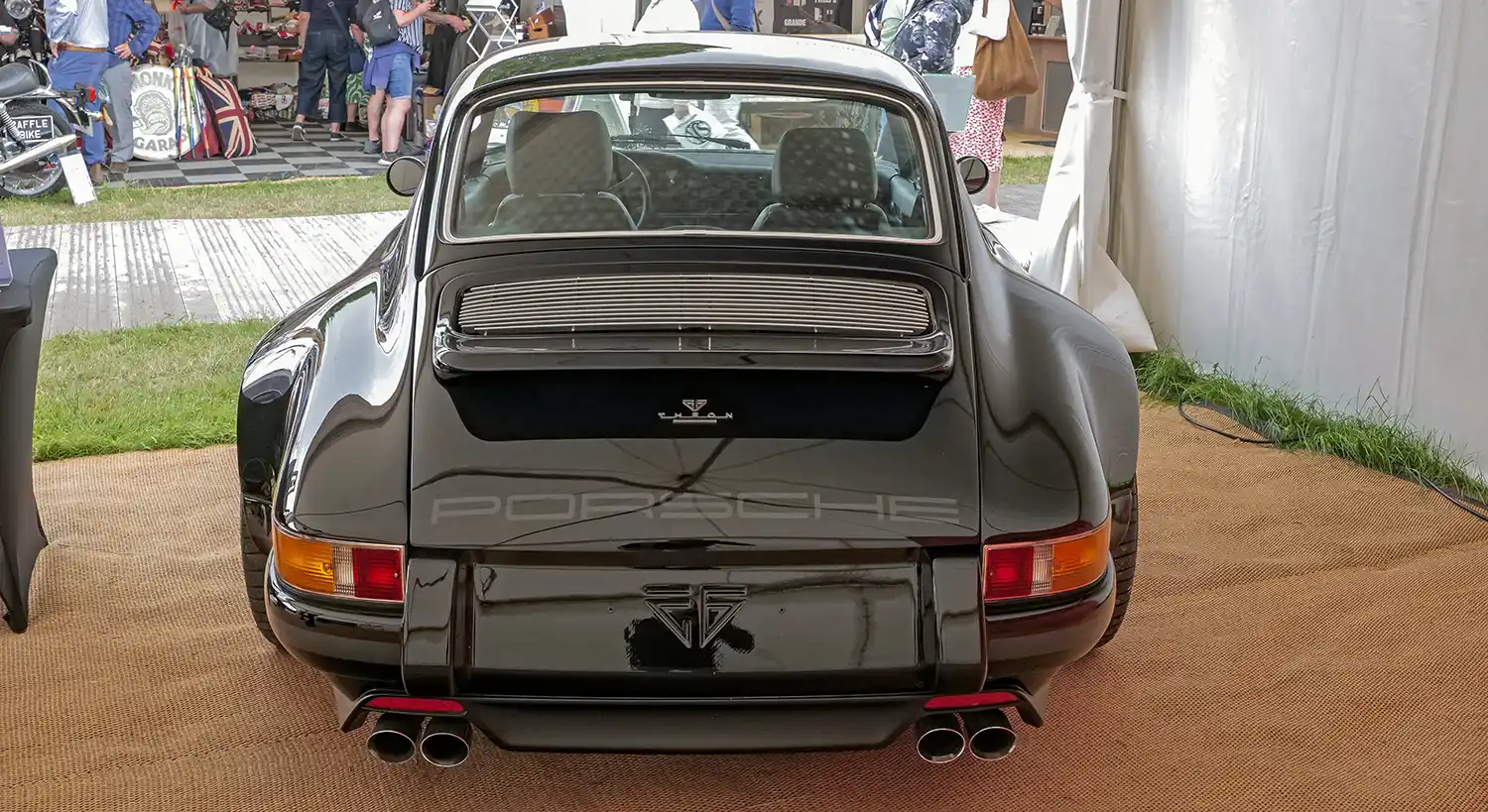 Theon Design's entirely bespoke, carbon bodied, 911 (964)-based machine – created for a customer in Italy – will be on show for the duration of the event as part of suspension firm TracTive's display.
ITA001, as with all Theon Design commissions, features the Dutch suspension company's state of the art, 5-stage selectable semi-active suspension setup – an infinitely customisable damping system that enables Theon to instil each of its build with a broad range of dynamic abilities.
Adam Hawley, Theon Design Co-Founder, said: "We're delighted to be showing our latest commission, ITA001, to the world at the Goodwood Festival of Speed – for many the world's leading automotive event. ITA001 retains the air-cooled 911's enthralling charm, but blends it with modern, focused performance and dynamic ability; we've created a classic 911 with an addictive dose of modern GT3 thrown in."
Latest Commission on show: ITA001
ITA001 has been created for Theon Design's first Italian customer, a discerning collector from Milan. The car uses a 911 (964) as its base, and is transformed, with a featherweight all-carbon body, semi-active suspension, 993 RS brakes and a snarling, 400bhp 4.0-litre naturally aspirated flat-six. Thanks to its lightweight body, it tips the scales at just 1152kg.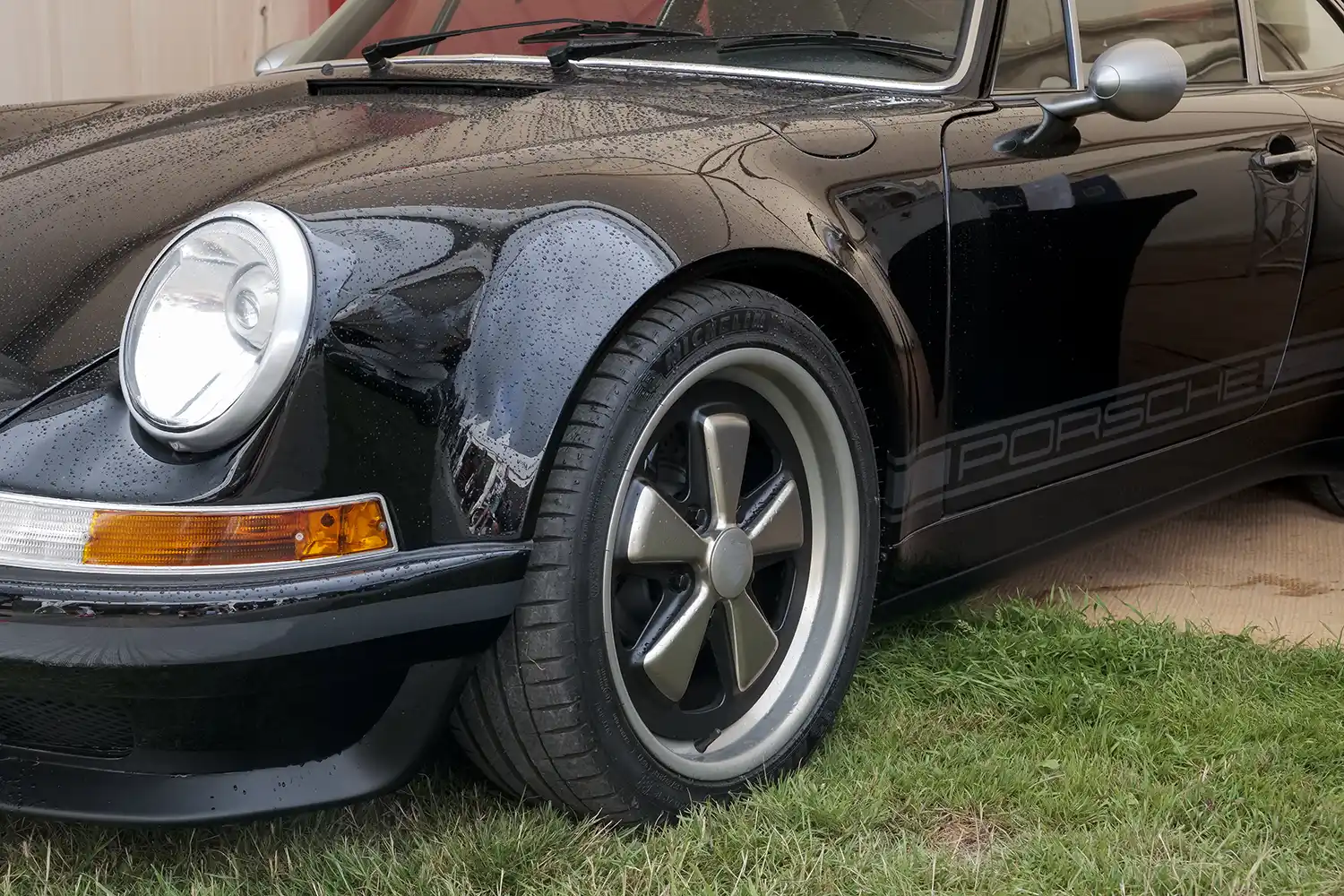 Finished in the classic Porsche colour of Schwartz Black, a '70s hue, ITA001 is a fully-restored and enhanced machine that – as with all Theon Design commissions – combines OEM+ design and engineering know-how, with cutting-edge technology and manufacturing techniques. These elements are fused with obsessive attention to detail and total purity of purpose to deliver the ultimate air-cooled Porsche 911 driving experience.
Theon Design has applied its customary laser-focused approach to ensure that ITA001 handles with modern sophistication. There's transformed breadth of dynamic ability thanks to the switchable, five-stage TracTive Active Controlled Electronics (ACE) damping system – carefully calibrated over countless test miles to perform flawlessly in a wide range of driving environments.
Hawley continued: "With ITA001, we've applied Theon Design's signature blend of cutting-edge automotive technology, OEM grade design and manufacturing techniques, along with British hand-crafted quality – all fused together by a team obsessed with achieving air-cooled Porsche perfection. The results speak for themselves; it's a classily stylish, almost understated 911, but one that packs thrilling, modern performance."
Theon Design's ITA001 will be on display at the Goodwood Festival of Speed, on stand 68/69 until Sunday 16th June.
Prices for Theon Design commissions start at £380,000. Each car is a totally unique collaboration with the customer and takes 18 months to build. Price excludes donor car, shipping and local taxes.