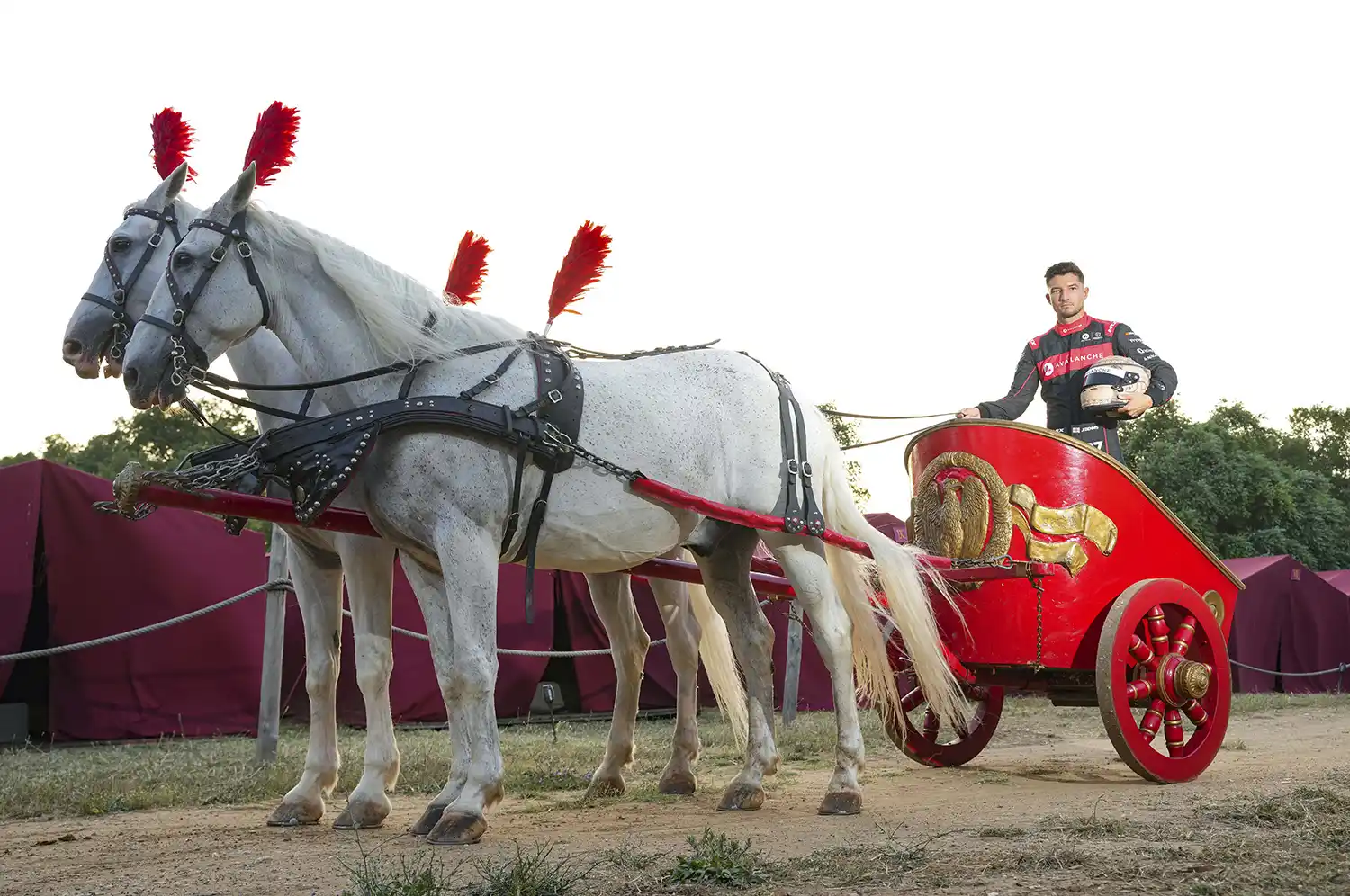 The top four title contenders in the ABB FIA Formula E World Championship got a glimpse of what life was like for their chariot-racing predecessors today ahead of this weekend's double-header of races on the street circuit in Rome.
Jake Dennis (Avalanche Andretti Formula E Team) leads the way by a single point from Envision Racing's Nick Cassidy. But Pascal Wehrlein (TAG Heuer Porsche Formula E Team) has led for much of the season and is currently third. Last season's double-race winner in Rome, Mitch Evans (Jaguar TCS Racing) is very much in contention in fourth.
The four bitter rivals came together on the eve of the 2023 Hankook Rome E-Prix at Cinecitta World for a photoshoot that pays homage to the fearless charioteers of ancient Rome. They entertained huge audiences with races at the Circus Maximus which stands close the city centre street track where 22 Formula E drivers will go wheel-to-wheel at the weekend.
Today's four charioteers were kitted out in their modern-day racing gear while their vehicles – the GEN3 race car – is the fastest, lightest, and most efficient electric race car ever built and unimaginably more advanced than horse-drawn chariots. However, the GEN3 is also the first race car designed and optimised for close formation racing on tight street circuits – characteristics that reflect the battle- ready style of those ancient chariots.
Jake Dennis, driver, Avalanche Andretti Formula E Team, said:  "I'm so glad to be back in Rome. It's surreal to be racing in the GEN3 here for the first time given the iconic racing history of this city. It's vital that we capitalise on the upcoming double header so we can try and extend the lead in the standings."
Nick Cassidy, driver, Envision Racing, said: "It's great to be back in Rome, the circuit I got my first pole in Formula E at. The championship fight will be intense, but I'll take it one race at a time and carry on how I have all season. It was really cool to meet the gladiators and see part of the Roman history, can't wait to be racing on the streets this weekend."
Pascal Wehrlein, driver, TAG Heuer Formula E Team, said: "Rome is one of my favourite tracks and to race on the same city street circuits steeped in so much history is really quite special. I achieved my first podium there with the team two years ago. I'm really looking forward to the circuit. It's a typical Formula E track with lots of tight corners, hard braking points and numerous bumpy sections. It is very demanding and a real challenge in a fantastic city with great fans."
The on-track battle for supremacy in the ABB FIA Formula E World Championship takes place this Saturday and Sunday with Rounds 13 and 14 of the 16-race season at the Circuito Cittadino dell'EUR in Rome. Both races start at 3pm CEST.
Mitch Evans, driver, Jaguar TCS Racing, said: "We've had an incredible string of results in Rome, but as always, it's so important to stay focused and not let the pressure get to us. Rome is one of my favourite tracks as it's a true street circuit and I'm looking forward to getting behind the wheel of our Jaguar I-TYPE 6, but with the new Gen3 car and a new Hankook tyre, it's going to be a challenge. I'll be giving it everything I've got this weekend to stay in the championship fight."