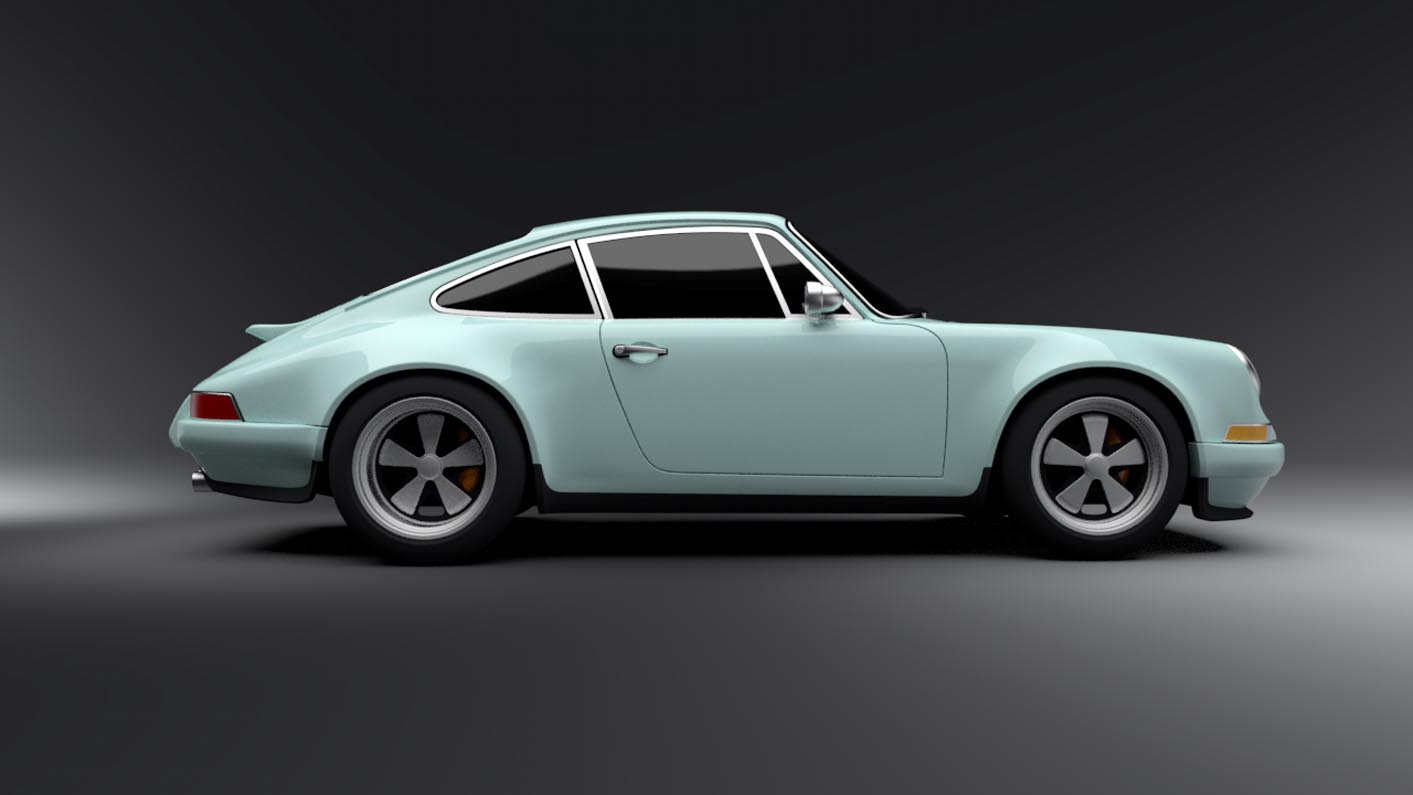 Theon Design reveals full details of the remarkable design process that goes into creating every restored and enhanced Porsche 911 (964) commission, a unique approach that blends the digital world with the physical: a philosophy it calls OEM+.
At the company's heart is founder Adam Hawley, a car designer with over two decades of experience working at a range of prestigious OEMs, including BMW, JLR, Lexus and Lotus, on both concept and production cars – as well as working on the Airbus A380. Hawley is, of course, a Porsche obsessive too, so has an inherent respect for the brand. This, combined with OEM-level design expertise and the beauty of handcraftsmanship, creates Theon's unique alchemy.
"At Theon Design, we are beyond obsessive on detail," explains Hawley. "We are a design-led company with a single-minded objective: to enhance a classic Porsche by applying the robustness of an OEM-like approach, but with the craftsmanship that can only come from a small team of experts. We like to call this OEM+ and it ensures the highest possible quality, finish and overall aesthetics."
With every commission Hawley and his expert team respectfully pay homage to Porsche's rich heritage, injecting contemporary design using modern techniques, an approach that can be found in all areas, and means the company stands by its ethos of 'Purity of Purpose'.
Theon: bringing OEM+ design to life
At the start of the process, Hawley looks at every single component, whether it's a body panel, bumper or seat, and asks a simple question: how it can be improved?
Complexity is removed, lightness added throughout, and Porsche models looked to for inspiration. "This can often deliver simple solutions and allow us to integrate classic design with a hint of the contemporary, while ensuring all the components visually sit well together," says Hawley.
Ideas are sketched both by hand, and in Photoshop, until Hawley creates the perfect form. Then the process of making it real can begin. Components are built in 3D design software, to confirm the look and fit with surrounding parts. The CAD data allows Hawley to view different aspects of the vehicle and the components from any angle, giving a total view of the component, ensuring not only that the aesthetics work, but the tolerances are as tight as possible.
Once satisfied, design confirmation prototypes are created either by 3D printing or CNC machining. These can then be installed in a vehicle to confirm everything is as expected and the part looks correct in the flesh. It's from here that moulds or final parts for the cars can be created.
Restored then enhanced
Each Porsche 964 donor car is completely stripped and all its components arranged ready for modification, painting, powder coating or chromating back to the original Porsche colour and style. If a part cannot be restored or modified, it is replaced entirely.
To ensure all the panels fit correctly to the body, cars are placed on a jig so that Theon Design can confirm that the chassis is straight. The front end is then modified so that a genuine Porsche 'long bonnet' can be used. Like all panels, the front bulkhead panel is fitted to the car using the original Porsche methodology. Wheel arches are then added, and whether steel or carbon, created using 3D CAD models.
For steel-bodied cars that require wheel arch modifications, wooden formers have been cut from 3D design data ensuring that the car can be built to much tighter tolerances. The steel is hand-formed by Theon's highly-skilled craftspeople and newly-made arches then joined to the original panels using Porsche welding techniques.
For carbon-bodied cars, all panels are manufactured from moulds machined from the 3D design data, and the arches produced with the same welding and bolting flanges as the original Porsche components.
Precision manufacturing
The manufacturing processes for both steel and carbon components ensures perfect fit, finish and symmetry across the car.  The side and rear light chassis apertures are also modified, utilising modified early 911 metal work.
Time is taken to remove any unwanted fixings and brackets to make the shell as clean as possible. And after all the panels have been welded or bonded, the car goes to paint. Theon Design offers a wide selection of classic Porsche colours, or customers can choose a completely bespoke colour.
"The Porsche ethos flows through everything we do. For example, the tyre and wheels chosen for our commissions are to the same percentage size increase front to rear as they would be on a classic 911 – so while the arches may be much wider, everything is in proportion," says Hawley. "We also like to learn from everything Porsche has done over the years, and utilise technology from newer models and the special edition cars.
"For example, the door handles in our commissions are actually new genuine Porsche parts, used on pre-1974 911s, yet the machined billet aluminium mirrors are inspired by the 2018 991 Speedster concept and electrically adjustable. These details perfectly encapsulate Theon's unique approach of taking inspiration from every Porsche era."
Dynamic design at its best
The engine bay, inspired by classic 911s, is decluttered, allowing the flat six-cylinder powerplant to be shown off in the best possible way. Wrapped in a custom one-piece carbon fibre shroud reminiscent of the early 911 race cars' fibreglass unit, this modern motorsport-derived material gives a clean and purposeful look, one that is accentuated by individual throttle bodies.
Back in the cabin, small touches help complete the Theon Design approach with restyled clocks and gauges to resemble early 911s. Every detail of the interior is design-led and is a fully collaborative process with the owner. Customers can specify Recaro front seats, finished in semi-aniline leather with bespoke weaves and contrasting stripes, features that can be mixed with carbon fibre details such as the centre console, which is constructed from carbon fibre and then wrapped in leather.
"The Nardi steering wheel on our latest HK002 car was custom-stitched to match the car's interior by Nardi itself," explains Hawley. "Going forward, we are delighted to say that all commissions will be offered a Nardi-trimmed wheel. This attention detail applies throughout – even the 'frunk' is finished to the same exquisite level as the rest of the car, featuring exposed carbon side 'pods' and a leather-wrapped carbon fibre fuel tank cover.
"Our philosophy is that every detail matters," continues Hawley. "And that goes for beneath the skin too. An owner may not see 90 per cent of the car, but the same level of attention to detail goes right the way through, regardless. We treat every single component as an 'A-surface'. At Theon, exemplary design leads the entire process. It is what we are built on."
Prices for Theon Design commissions start at £300,000. Each car is a totally unique collaboration with the customer and takes 18 months to build.