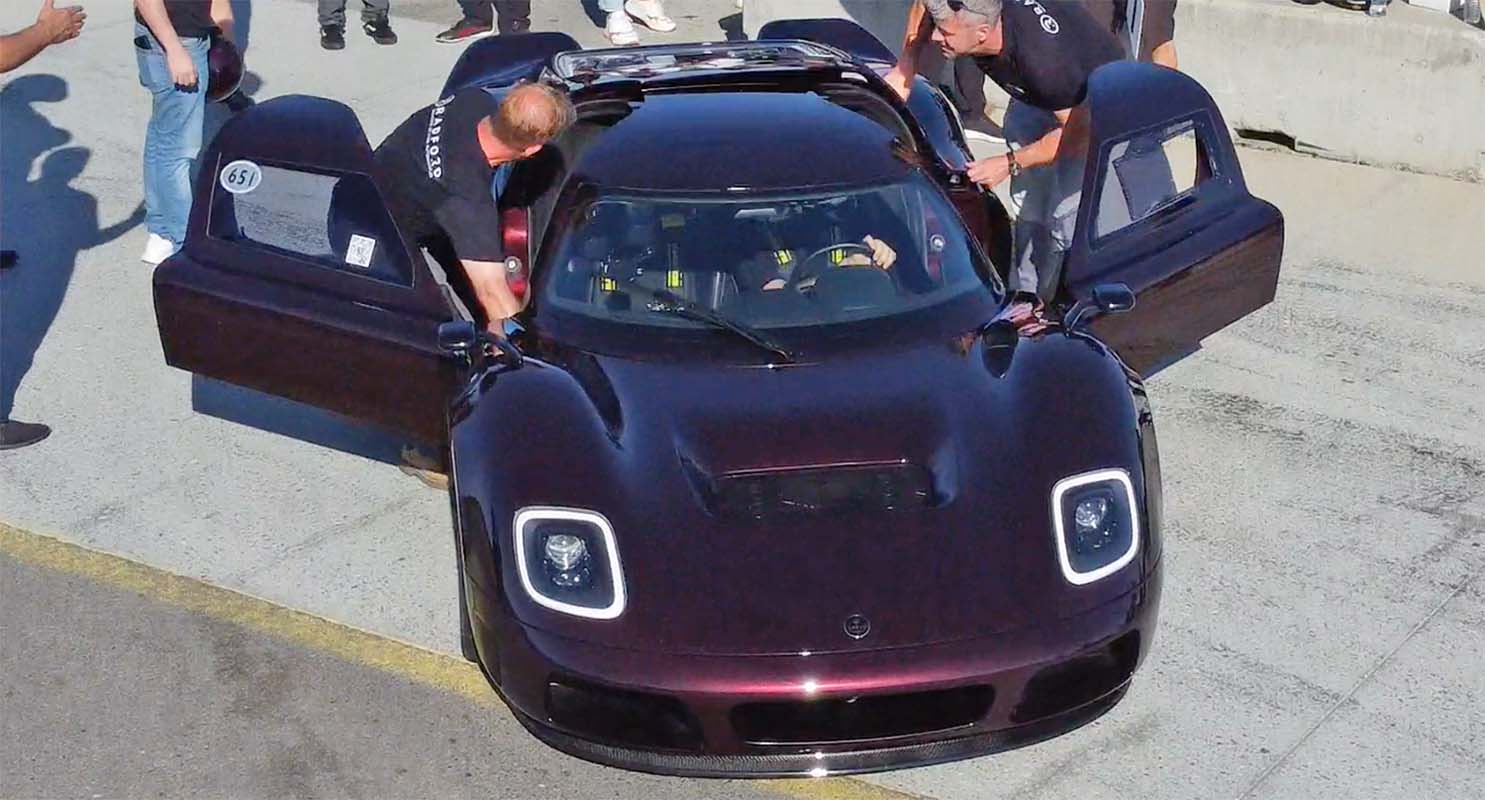 Radford's coachbuilt Lotus Type 62-2 tackled the world-famous Corkscrew corner at Laguna Seca circuit at this week's Hagerty Celebration of Motorsport.
F1 champion Jenson Button drove the lightweight supercar for a number of laps across the day, with Radford clients in the passenger seat, experiencing the car first hand next to Jenson around the iconic race track.
It is the very same car that was awarded the Michelin Showstopper Award at the 2022 Goodwood Festival of Speed, an accolade voted for by the public. This was its stateside dynamic debut. Co-owners Jenson Button, Ant Anstead and Roger Behle were all in attendance at the event in partnership with Hagerty Media.
Jenson Button: "From the iconic Goodwood hillclimb to the signature plunging Corkscrew corner at Laguna Seca, it's truly outstanding to see how far we have come in the year since we launched the Type 62-2. Since Goodwood we have made further refinements to the suspension and brakes, and it was great to be back behind the wheel of the Type 62-2 in the USA."
Roger Behle: "It has been just over a year since we revealed the Radford P62-2 here in Monterey, and what a year it has been. The car has undergone significant engineering refinements since then, resulting in a spectacular debut at the Goodwood Festival of Speed in June. It is great to have the Type 62-2 back in California and back at Monterey Car Week. Not only did we get to take the car onto the track at Laguna Seca track this year, but several of our clients were also able to experience the thrill of a ride in the Type 62-2 at Laguna Seca riding shotgun next to Jenson."
The Burgundy car is the latest example of a bespoke customer commission. Producing 605BHP from the 3.5 V6 DOHC engine, with a top speed of 187mph and impressive 0-60mph sprint in just 2.9 seconds. Featuring Dymag carbon fibre rims with lightweight magnesium centres and an F1-inspired centre lock. JUBU Performance have also developed new valve springs, bearings and camshafts and Rock Engineering has lightened the chassis and spaceframe. The Type 62-2 now also features new engine positioning, which has been shifted to allow for the lowest centre of gravity possible, making it one of the world's lightest supercars.