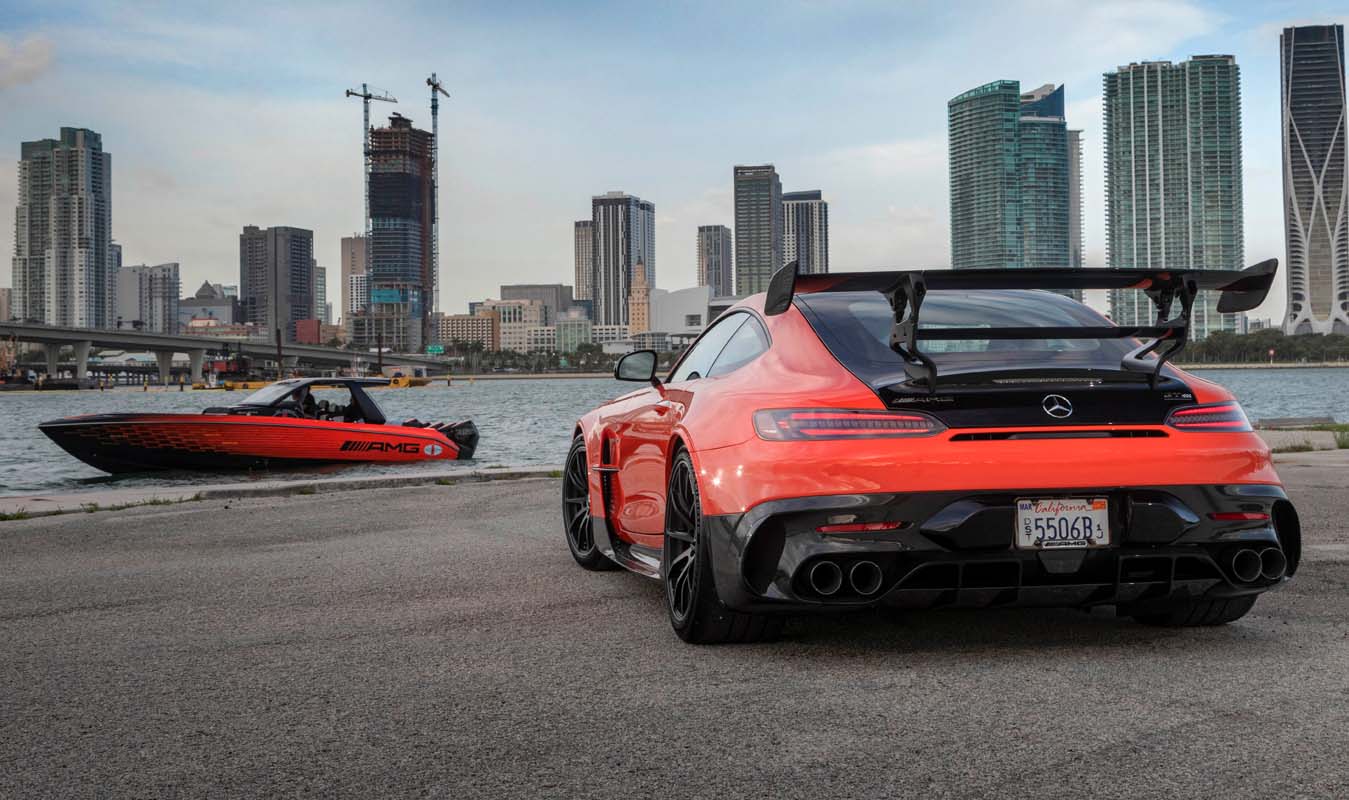 Today, Mercedes-AMG and Cigarette Racing presented the all-new Cigarette 41' Nighthawk AMG Black Series special edition boat, alongside the breathtaking new on-road performance benchmark, the Mercedes-AMG GT Black Series (fuel consumption combined: 12.8 l/100 km; CO2 emissions combined: 292 g/km)[1]. As the 13th boat jointly developed in this longstanding partnership, this boat is the latest in an impressive line of highly exclusive special edition performance boats. The new Cigarette 41' Nighthawk AMG Black Series promises direct and unfiltered performance, combined with iconic design and luxurious features, with exclusivity and craftsmanship unlike any other performance boat in its segment.
The 41' Nighthawk AMG Black Series Edition draws on Cigarette's advanced engineering, utilizing cutting-edge elements such as a unique twin-step hull design to deliver its remarkable on-water performance. A low center of gravity, which improves handling, and light overall weight, which improves speed, have been achieved using a completely carbon-fiber deck and an all carbon-fiber hardtop design. Intelligent use of composite materials and proprietary construction techniques improve structural integrity, delivering enhanced ride comfort and composed handling characteristics in even the most demanding conditions.
The striking design of the 41' Nighthawk AMG Edition is the result of the close collaboration between the Cigarette Racing Team, the Mercedes-AMG design team and Gorden Wagener, Chief Design Officer Daimler Group. Mercedes-AMG embodies the pinnacle of Performance Luxury on the road, and the Cigarette 41' Nighthawk AMG Black Series promises outstanding on water performance, exciting driving pleasure and ultimate quality and craftsmanship down to the finest detail. The new Cigarette 41' Nighthawk AMG Black Series perfectly translates the shared philosophies between AMG and Cigarette, resulting in a truly remarkable special edition boat. With its dramatic proportions, benchmark-setting power and striking design, the new Nighthawk AMG Black Series delivers Mercedes-AMG's legendary performance from its awe-inspiring Black Series model, creating an equally compelling role model on the water.
High performance on water
Like the AMG GT Black Series, this special edition boat also sets new standards in performance within its segment. For example, the new 41' Nighthawk AMG Edition is the first in its model range to feature five racing-grade outboard engines. These five 4.6-liter V8 Mercury Racing 450R outboard engines create an industry-leading 450 peak propshaft horsepower each, and are controlled via an advanced shadowing throttle system, which allows only two levers to be used to control all five engines simultaneously.
The combined 2,250 HP output accelerates this new special edition boat to a remarkable top speed of more than 90 MPH. This is an achievement of particularly high significance for a boat in this large center console segment, which can comfortably hold more than ten people and still feature exceptional luxury amenities.
Design and features
The eye-catching Magmabeam orange and black exterior of this special edition is influenced by the AMG GT Black Series, which debuted the Magmabeam exterior color as an exclusive new option, and also offers optional orange elements in its interior. The Magmabeam orange and black color scheme is further enhanced by small AMG logos painted towards the bow of the boat in a repeating pattern. Each of these logos are individually painted – there are no decals. The center trim pieces of the engine cowlings are also painted in Magmabeam orange, uniting the distinctive aesthetic from bow to stern.
The layout of the Cigarette 41' Nighthawk AMG Black Series focuses around a central console with a helm and cabin in the center of the boat, with the ability to walk around on both sides, and an open bow for seating up front. Part of what makes the Cigarette Racing Team center console unique is its advanced hull design, incorporating a highly refined "twin step" design that makes the boat dramatically more efficient. This advanced engineering combined with remarkable construction techniques and exceptional attention to detail – utilizing the latest technology combined with superior craftsmanship, results in a truly one-of-a-kind boat for the most discerning captain.
This exceptional attention to detail continues inside this special boat. The interior is primarily grey and black, with distinctive orange detailing, uniting the exterior color scheme with the attractive interior design. The vessel also features the unique Cigarette Cool upholstery, which dissipates heat so that dark colors can remain comfortable, even when exposed to consistent sun and heat. The forward helm seating consists of two rows (three seats per row), with the front row featuring height adjustability, enabling the captain to achieve an ideal yet personalized seat height for spirited boating. This helm seating layout is advantageous for sporty driving, because you can have six people comfortably seated, forward facing, behind the central helm. There is an L-shaped lounge at the rear of the boat, and U-shaped seating at the bow. This layout creates a boat that is not only remarkably sporty and agile, but still offers the sort of entertainment and luxury that enhances its ability to cruise in comfort and relax with friends.
The helm features three Garmin 8617 multi-functional displays flush-mounted to an instrument panel CNC-cut from a solid block of aluminum. This protective coated instrument panel is resistant to heat, reflections and fingerprints, while the perimeter of the panel is uniquely lit by RGB LED accent lighting, providing a distinctive glow, creating the Illusion that the dash is floating. Passengers can feel secure thanks to stainless steel grab bars and relax in total comfort with an ergonomic CNC-machined footrest.
The 41' Nighthawk AMG Edition also impresses with its advanced control-interface design. Controlling the vessel's features is accomplished through a sophisticated digital switching system. This system offers simple control of all systems onboard and also provides a performance benefit. By reducing the total weight of cables within the boat, the overall weight of the boat is also lowered, enabling higher performance. A lithium ion battery system further reduces weight, providing high power density, better durability and lower maintenance.
Balancing performance with impressive amenities, the 41' Nighthawk AMG Edition also features comfort options such as a high powered Audio Marine audio system, an advanced lighting system, and a bow thruster. Additional Garmin multifunctional displays are located at the aft seating and bow, providing guests with easy access to the digital switching system to control lighting, stereo, chart plotting, and other amenities. Loaded with the latest technology, the 41' Nighthawk AMG Black Series is truly as luxurious as it is thrilling to drive.
Driving performance on land: The AMG GT Black Series
As the inspiration model for the new Cigarette 41' Nighthawk AMG Black Series, the AMG GT Black Series makes waves of its own with regards to its performance capabilities. This halo model offers the most powerful AMG V8 production engine, a highly expressive design, sophisticated aerodynamics and an intelligent material mix, creating optimal dynamics and vehicle balance. Featuring a Handcrafted AMG V8 engine producing 720 hp, the new Black Series embodies AMG's roots in motorsport – together with a design derived directly from the current AMG GT3 race car.
The heart of the all-new AMG GT Black series is the new Handcrafted AMG V8 engine featuring a flat- plane crankshaft, developing 720 hp from 6,700-6,900 rpm, with a peak torque of 590 lb-ft available from 2,000-6,000 rpm. This new engine lends the Mercedes-AMG GT Black Series a completely unique character while enabling remarkable driving performance. The new AMG GT Black Series accelerates from 0 to 60 mph in just 3.1 seconds and can reach 124 mph in under nine seconds. The top speed is 202 mph.
Collaboration between Mercedes-AMG and Cigarette Racing
Mercedes-AMG and Cigarette Racing began their collaboration in 2007, primarily for organizing joint customer and marketing activities. Whether on water or on land, Mercedes-AMG and Cigarette Racing are united by their focus on delivering the ultimate in performance. The special edition boats from this unique partnership share the same interpretation of Performance Luxury – the brand aesthetic that has been defined for Mercedes-AMG. This turns them into a perfect technological and optical match.
[1] The stated figures are the measured "NEDC CO2 figures" in accordance with Article 2 No. 1 Implementing Regulation (EU) 2017/1153. The fuel consumption figures were calculated based on these figures. The WLTP figure is relevant for the assessment of the motor vehicle tax.