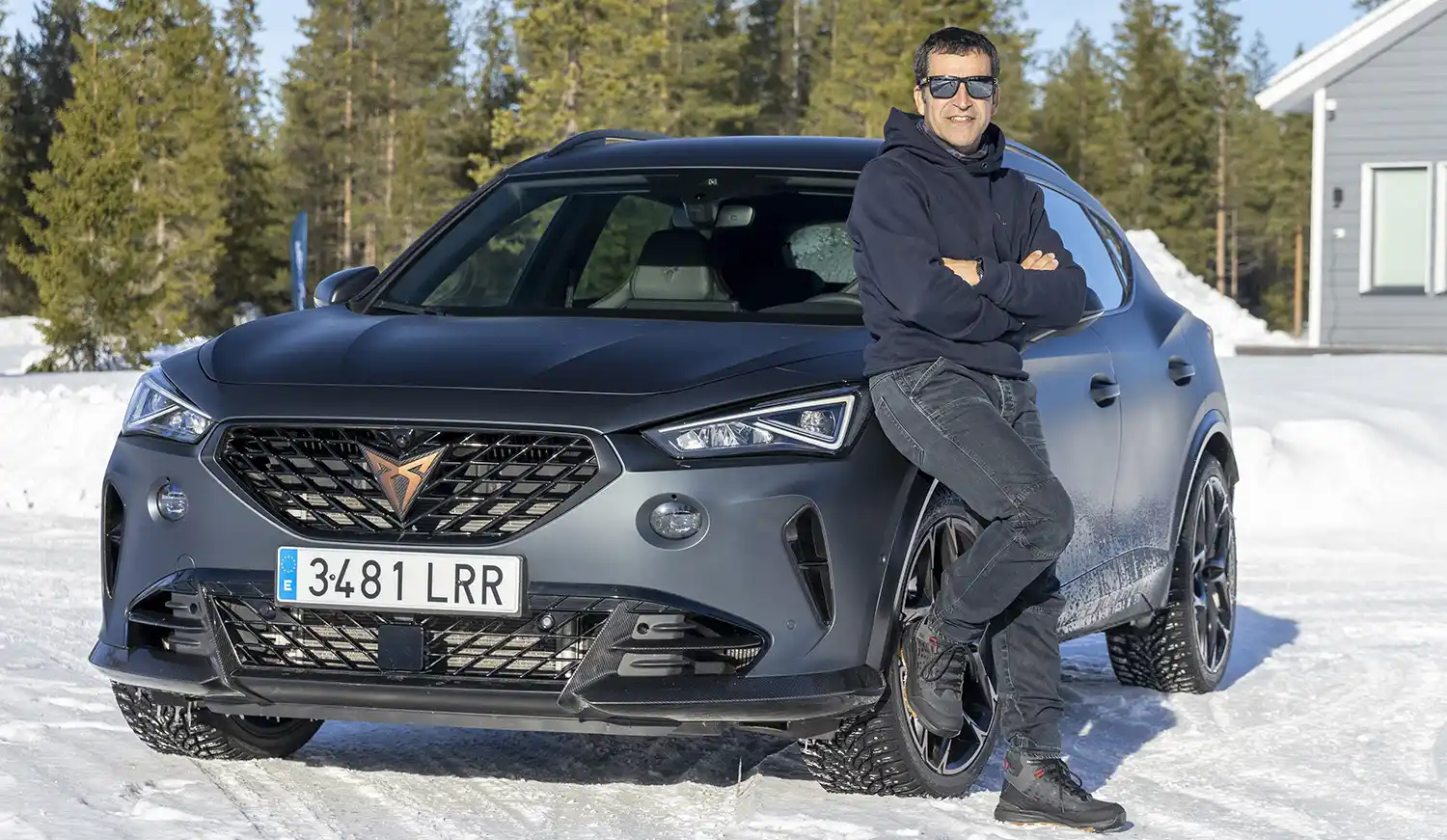 Driving a car with the power output of the CUPRA Formentor VZ5 is quite an experience. But the thrills become even more extreme if you take it to an icy track in Lapland, Finland. CUPRA driver Jordi Gené pushes the brand's most powerful model to the limit in the country's northernmost region to show that its exclusive performance is perfect for all terrains.
Take off on ice. Going from 0-100 km/h in just 4.2 seconds is an over-the-top experience in any circumstance, and on this closed, icy track the sensation is multiplied. "We get all the power out of the car from a standing start with Launch Control. We put it in Sport Mode, step hard on the brake and release it when the engine reaches 4,000 rpm the acceleration on ice is fantastic" says Jordi.
VZ for speed. CUPRA's most exclusive model to date, of which only 7,000 units have been produced, is its most powerful car. And it's not just a sports car. Equipped with four-wheel drive, it adapts to all kinds of terrain, even those as unstable as this one, without losing any traction. "The name of the model is VZ5, and in Spanish VZ stands for fast, and I can assure you that this car is very, very fast. On a slippery stretch like the one we're on now with its grip complications, the car still manages to get up to a really amazing speed" says Jordi.
Pure driving fun in Drift Mode. One of the features that makes the CUPRA Formentor VZ5 even more special is its Drift Mode. When switched on, all control is in the driver's hands. Power can be transferred to the left or right rear, enabling the car to take longer lines through corners and perform spectacular drifts. And of course, this extreme driving is intensified on ice. "For me it's one of the best features we have in this car. You always have to use it on a closed circuit, because it's like driving a racing car. It's perfect for the conditions here and the car really feels very sporty. This is one of the most fun experiences I've ever had" Jordi admits.
Power under control. With its 390 hp, the car's acceleration capability and braking power are both guaranteed, even on ice. "The car is fitted with 18" brakes with six piston Akebono callipers (375mm x 36mm) that offer superior braking power. This gives us a very good pedal feel and very good deceleration. The best way to test this is to do an emergency brake manoeuvre. I get the car up to full power, and then brake hard… and the car stops quickly even in the iciest, most slippery conditions. Its braking ability is superb" concludes the CUPRA driver.
The CUPRA Formentor VZ5 performance figures
5-cylinder engine
390 hp output
Top speed 250 km/h (electronically limited)
20-inch alloy wheels
18" brakes with six piston Akebono callipers (375mm x 36mm)
7,000 exclusive units