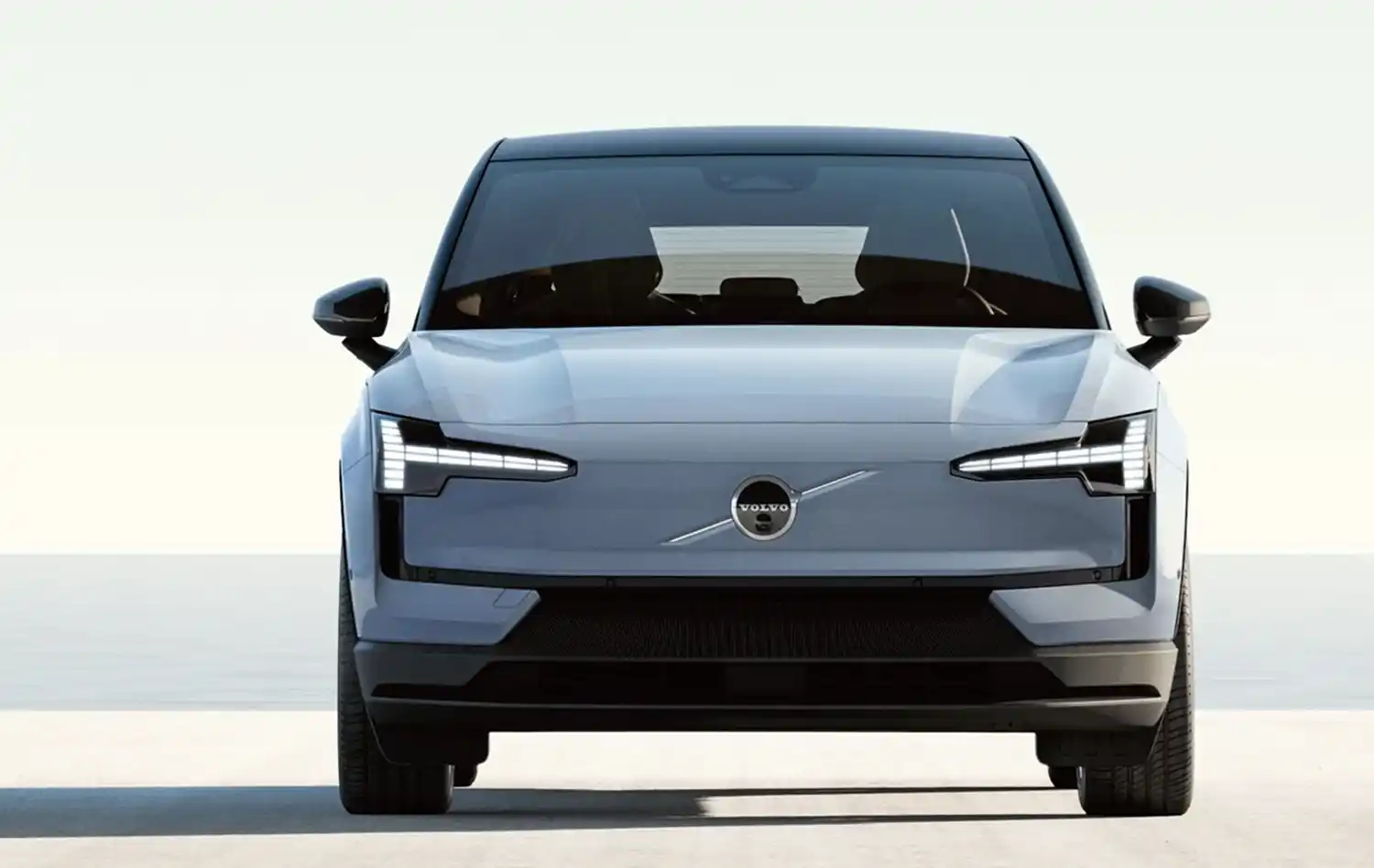 As a small SUV that does big Volvo things, the new fully electric Volvo EX30 is designed to be as safe as you'd expect from us. It is designed to have the smallest CO2 footprint of any Volvo car to date, and to make people's lives safer, more convenient and more enjoyable through cutting-edge technology and Scandinavian design.
Revealed to the world in Milan, Italy, the EX30 is Volvo's first small premium SUV and expands the constantly growing, all-electric offering to four models. As the market is rapidly moving towards full electrification, the EX30 will help us capture growing demand for fully electric cars in a fast-growing segment.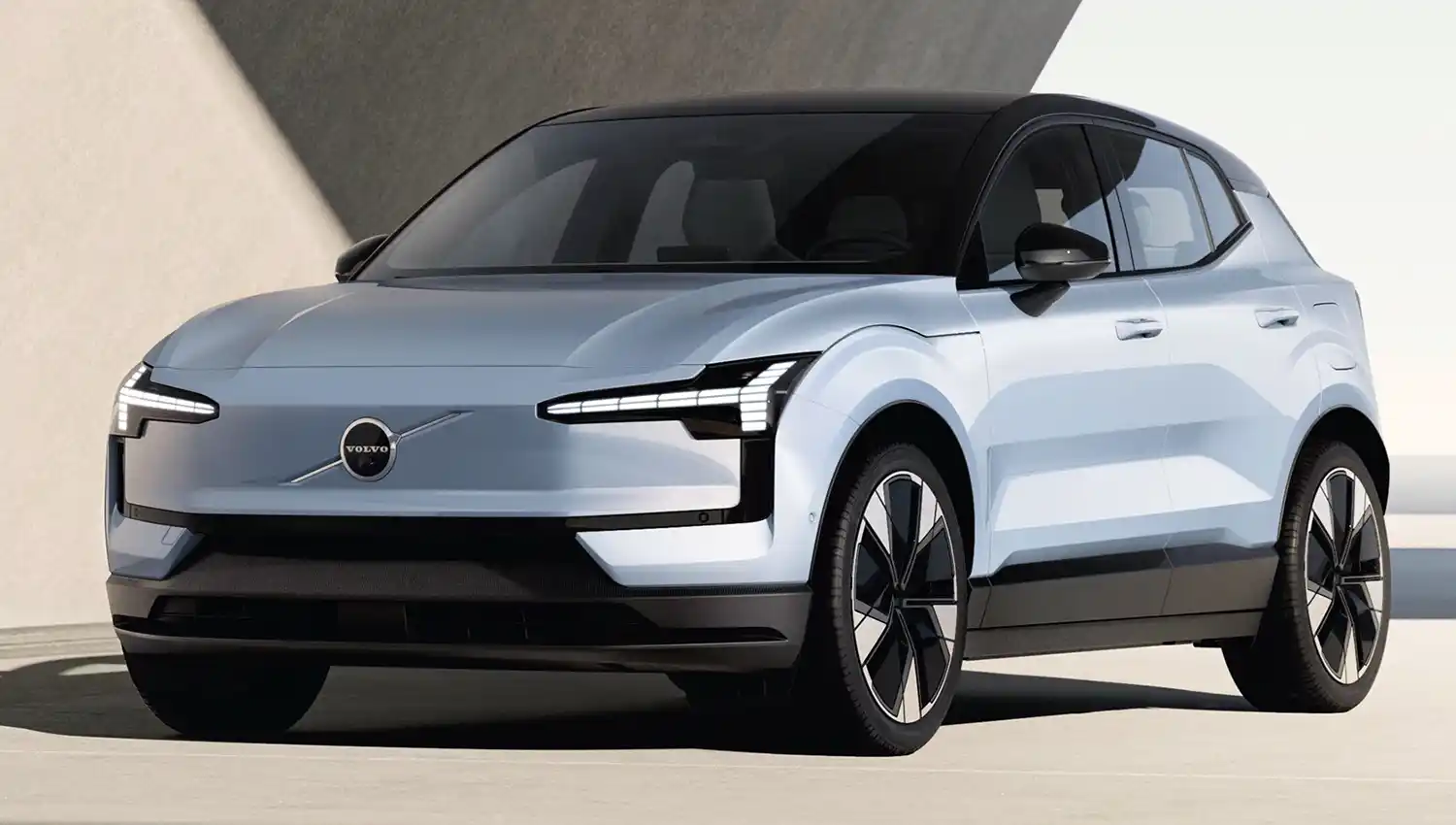 What's more, the attractive pricing of the Volvo EX30 – which starts at around EUR 36,000 – means Volvo customers get a premium all-electric SUV for a similar price as an internal combustion engine-powered equivalent. The EX30 will also be available with Care by Volvo subscription package, with its set pricing and transparent ordering process, making ordering one a breeze.
"The fully electric EX30 might be our smallest ever SUV, but it's a big deal for our customers and a big deal for us as a company," said Jim Rowan, Volvo's chief executive. "We like to say the EX30 is small yet mighty, because it delivers on everything you'd want from a Volvo but in a smaller package. Like any Volvo, it's an outstanding product which is safe and designed around people and their needs."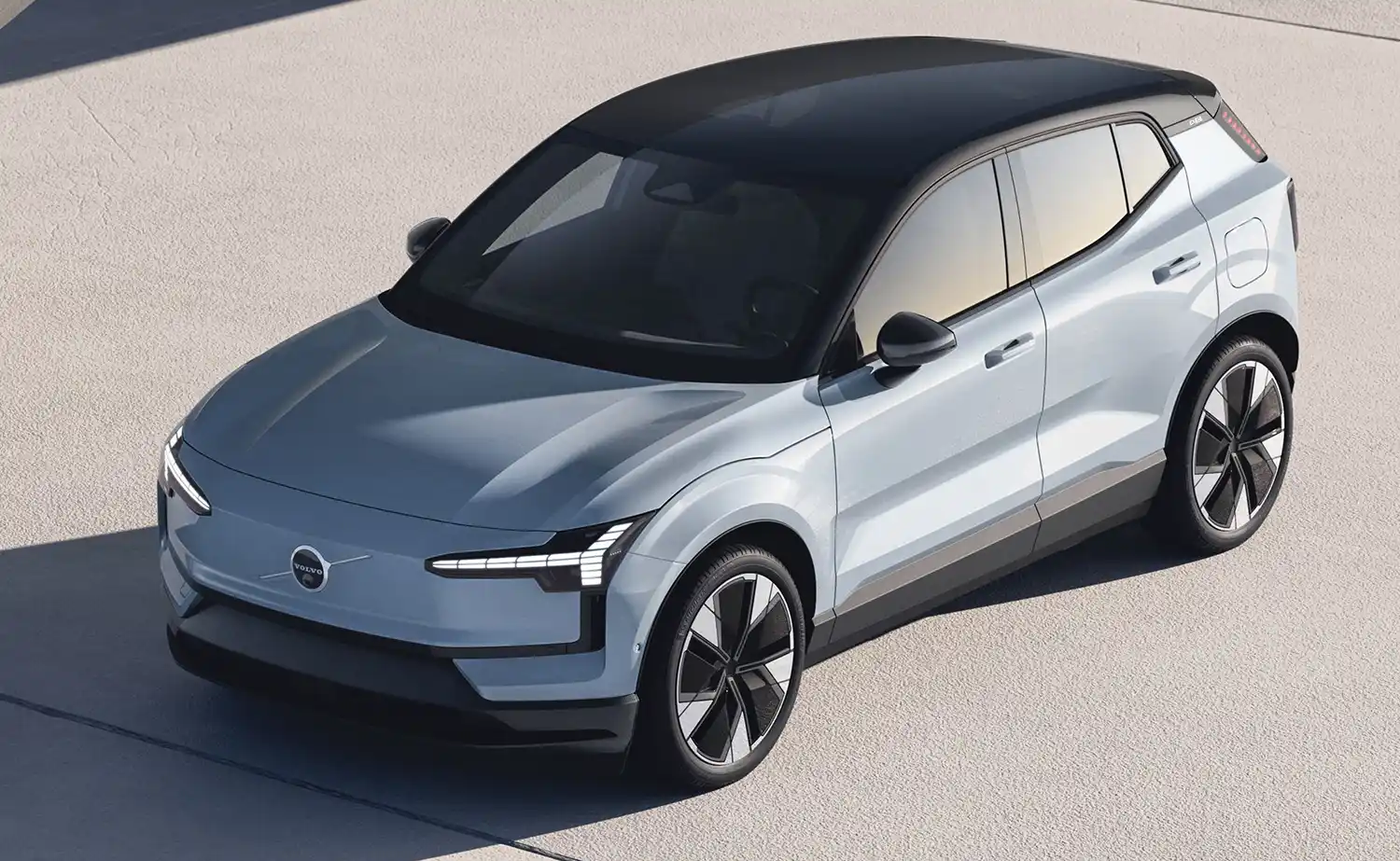 The Volvo EX30 embodies all of Volvo design values in a smaller format. A long wheelbase, large wheels and equal overhangs bring balance and refinement to the exterior. It's distinctly electric, with a confident face, closed shield and a digital rendition of the Thor's Hammer headlights. Five vibrant exterior colours, from stylish Cloud Blue to bright and expressive Moss Yellow – the latter inspired by lichen growing on rocks along the Swedish west coast – give it character and personality.
Battery tech that suits your needs
First of all, there's no such thing as simply 'a battery' when we discuss powertrains. Instead, Volvo is giving you the freedom to choose the battery technology that best suits your needs, offering the EX30 with three powertrain options and two different battery types, which also allows us to offer an attractive entry price point for the EX30.
If you spend most of your time in the city or tend to travel shorter distances between charges, Volvo is offering a single-motor option with an LFP battery. The LFP standard-range battery, which uses lithium iron phosphate chemistry, is more cost-effective and less resource-intensive to produce, meaning it is the best option if you don't need maximum range.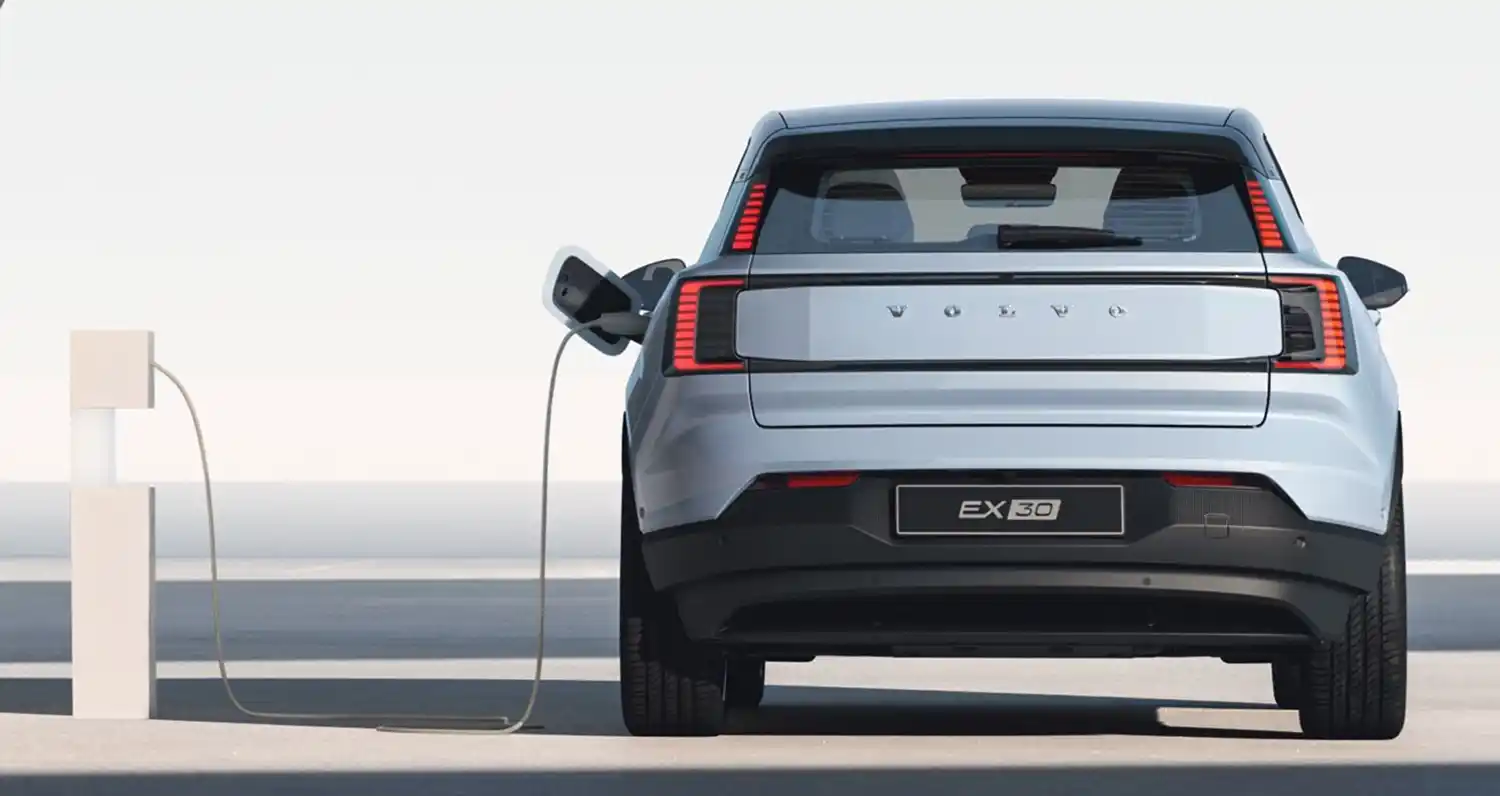 If you prefer to maximise range, the Single Motor Extended Range variant with an NMC extended-range battery is your EX30 of choice. The NMC battery features lithium, nickel, manganese and cobalt, and produces its energy more efficiently than the LFP variant. This single-motor, extended range option gives you a range of up to 480km between charges.
Finally, if performance is your priority, pick the Twin Motor Performance variant in which Volvo pair the NMC battery with an additional second e-motor. This all-wheel drive variant of the EX30 provides 315kW (428hp) and takes you from 0-100 km/h in 3.6 seconds – it's officially the fastest-accelerating Volvo ever!
Another thing the Volvo EX30 does fast is charging. The extended-range Twin Motor variant has a charging capacity of up to 153kW, while the standard-range car has a capacity of 134kW. That means you can charge your battery from 10 to 80 per cent in a little over 25 minutes. Through the car's centre display and app, you can set the amperage, maximum charging level and when you want to start charging.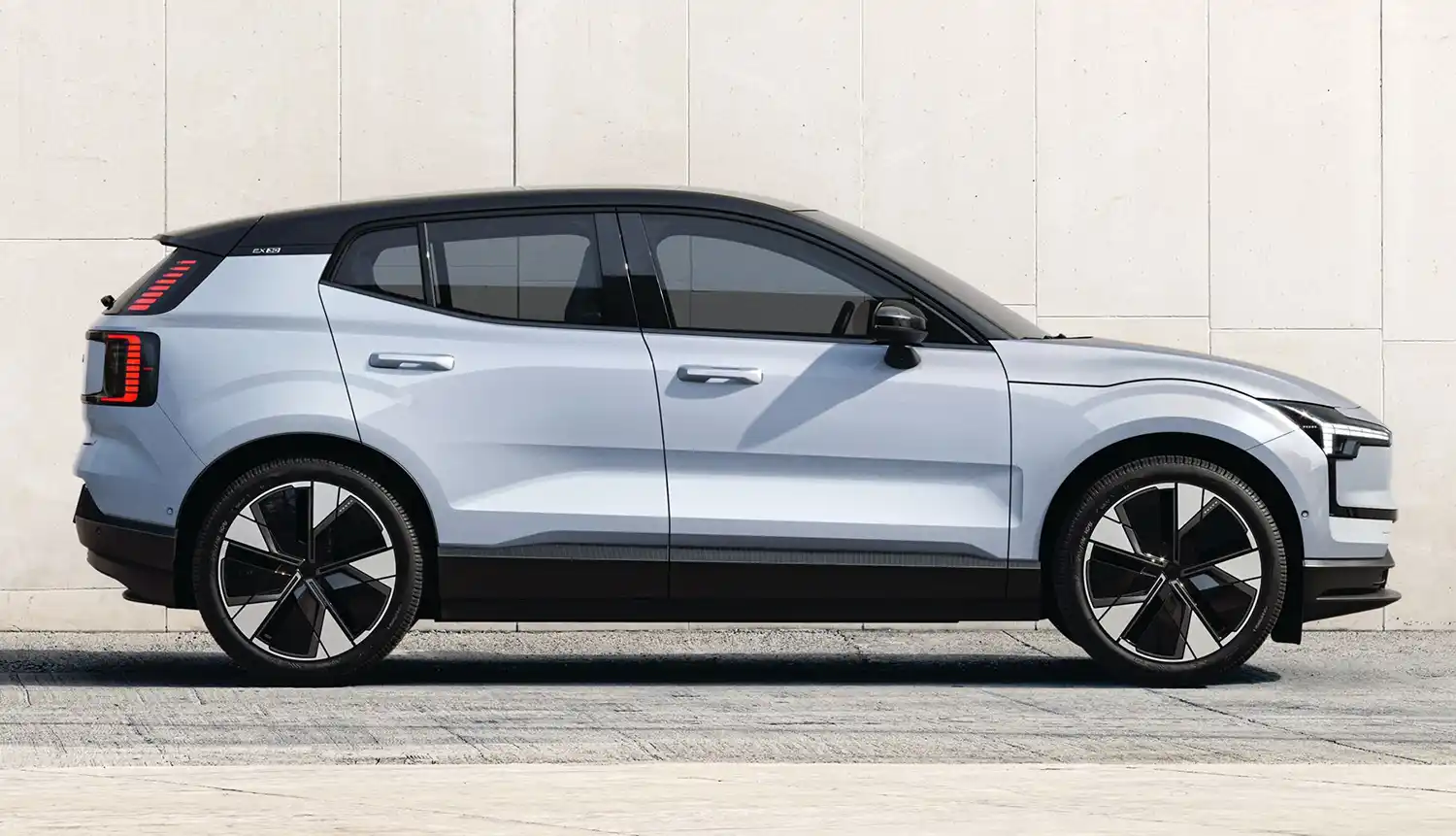 To support the best possible driving experience, the chassis of the EX30 has been tuned to make the most of the car's compact dimensions. Its low centre of gravity, as well as its relatively low and evenly distributed weight are complemented by ease of driving and nimbleness in the city and beyond.
A smaller carbon footprint, yet a big safety impact
Volvo EX30 is designed to have the lowest carbon footprint of any Volvo car to date and represents an important step forward for the firm's sustainability ambitions. By tackling emissions across the entire production and lifecycle, as well as a considerate use of materials inside and out, Volvo managed to reduce its total carbon footprint over 200,000 kms of driving to below 30 tonnes.
The EX30 is also designed to be as safe as you'd expect from a Volvo and aims to look after both you and others in hectic urban environments. For example, it includes as standard a special safety feature for bikes that helps to prevent so-called 'dooring' accidents, by alerting you when you are about to open your door in front of a cyclist, scooter or runner.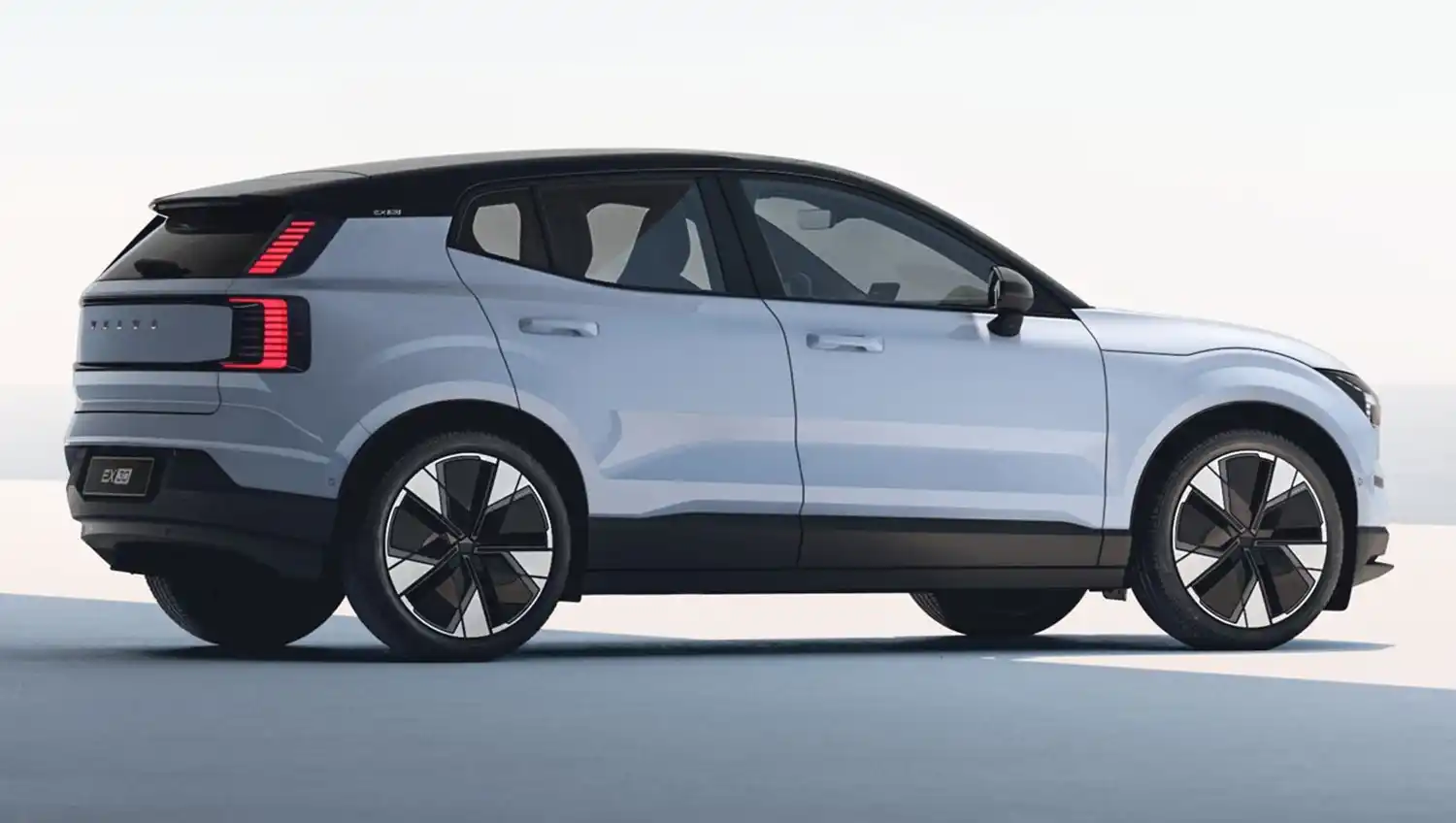 The protective safety technology further illustrates how Volvo have applied high safety standards to their new small SUV. It contains state-of-the-art restraint technology, as well as top-notch structural design that fulfills the ambitious in-house safety requirements – designed to prepare Volvo cars for various real-world scenarios.
The Volvo EX30 also aims to make your life more convenient, more relaxing and more enjoyable inside the car through cutting-edge tech and considerate Scandinavian interior design. You can choose from four distinct interior rooms, each with their own expression, while there are smart storage options throughout the cabin.
Together with a contextual single-screen UX, with Google built-in and running the latest version of the infotainment system, these features all reflect the hallmarks of true Volvo design.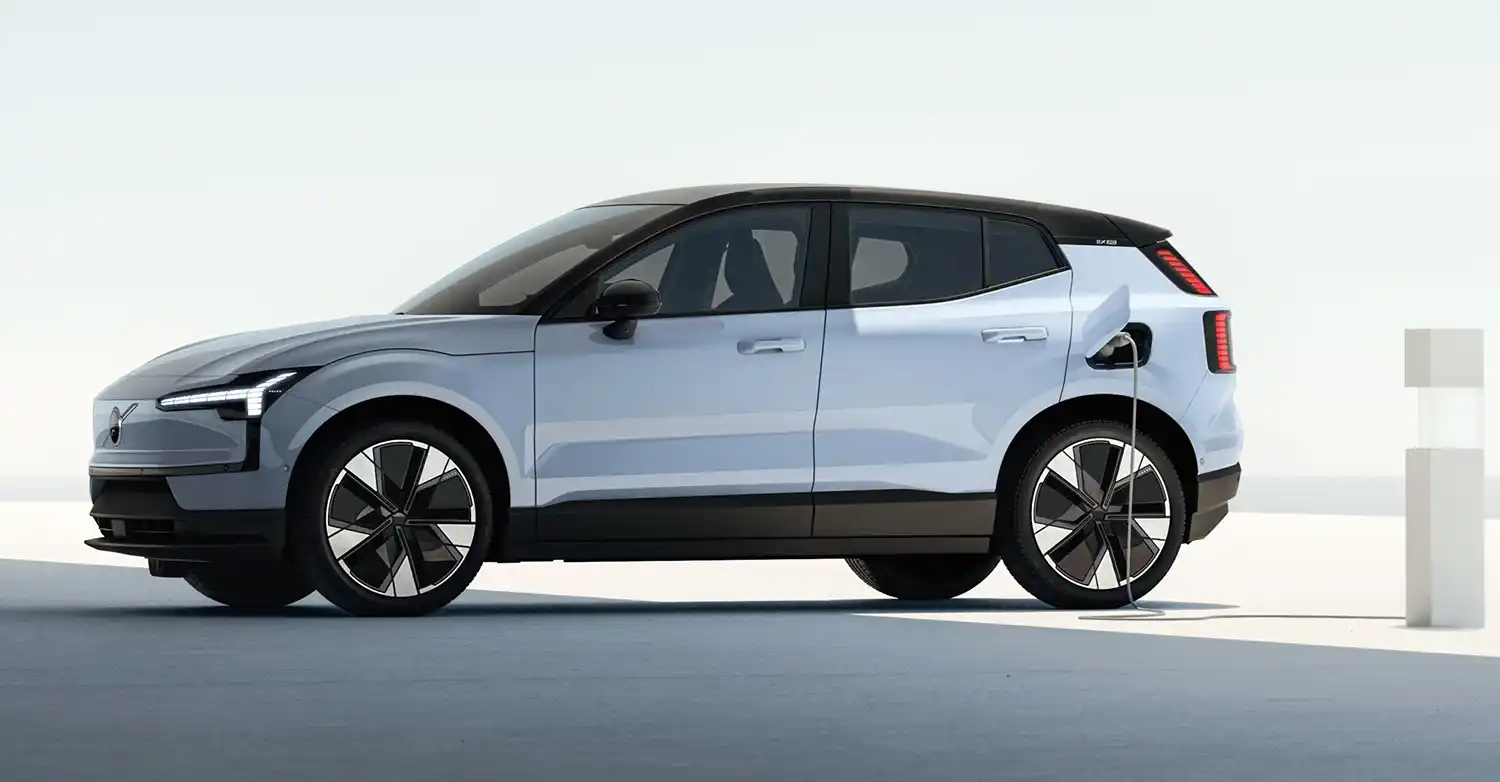 Speaking of cutting-edge tech: the Volvo EX30 is the first car to include a new generation of Volvo's popular Park Pilot Assist feature. It can handle all types of parking spaces, including parallel, curved, perpendicular and diagonal fishbone-style, making parking in tight spaces a breeze.
The new Park Pilot Assist will identify any available parking spots around you. Then, once you've tapped the one you want in the new 3D user interface, the feature will operate the throttle and brake as well as the steering. While you supervise the parking process, the screen shows the distance to objects such as cars, walls and bollards in metric or imperial figures.
As with any Volvo car, for the EX30 the company worked closely with tech partners such as Google, Apple and Qualcomm to deliver the best possible user experience. Volvo have also worked closely with ECARX through the jointly owned HaleyTek software joint venture to deliver the best possible infotainment platform for the customers.

A sense of calm
Of course, the Volvo EX30 will also come with a digital key functionality which is both convenient for you and makes it easy to share the car with others. Built on the advanced UWB and CCC industry standards, the technology will be compatible with a wide range of phone brands and models.
The car's dedicated app contains all relevant services related to the car, from charging to finding your car on a busy parking lot, locking it and heating it on a cold winter day. The EX30 is also prepared to receive software updates over the air that will make it better over time.
As if that wasn't enough, the Volvo EX30 also comes with a choice of five different ambient lighting themes. Each is inspired by a different Scandinavian landscape and subtly shifting in colour, adding a sense of calm to the interior.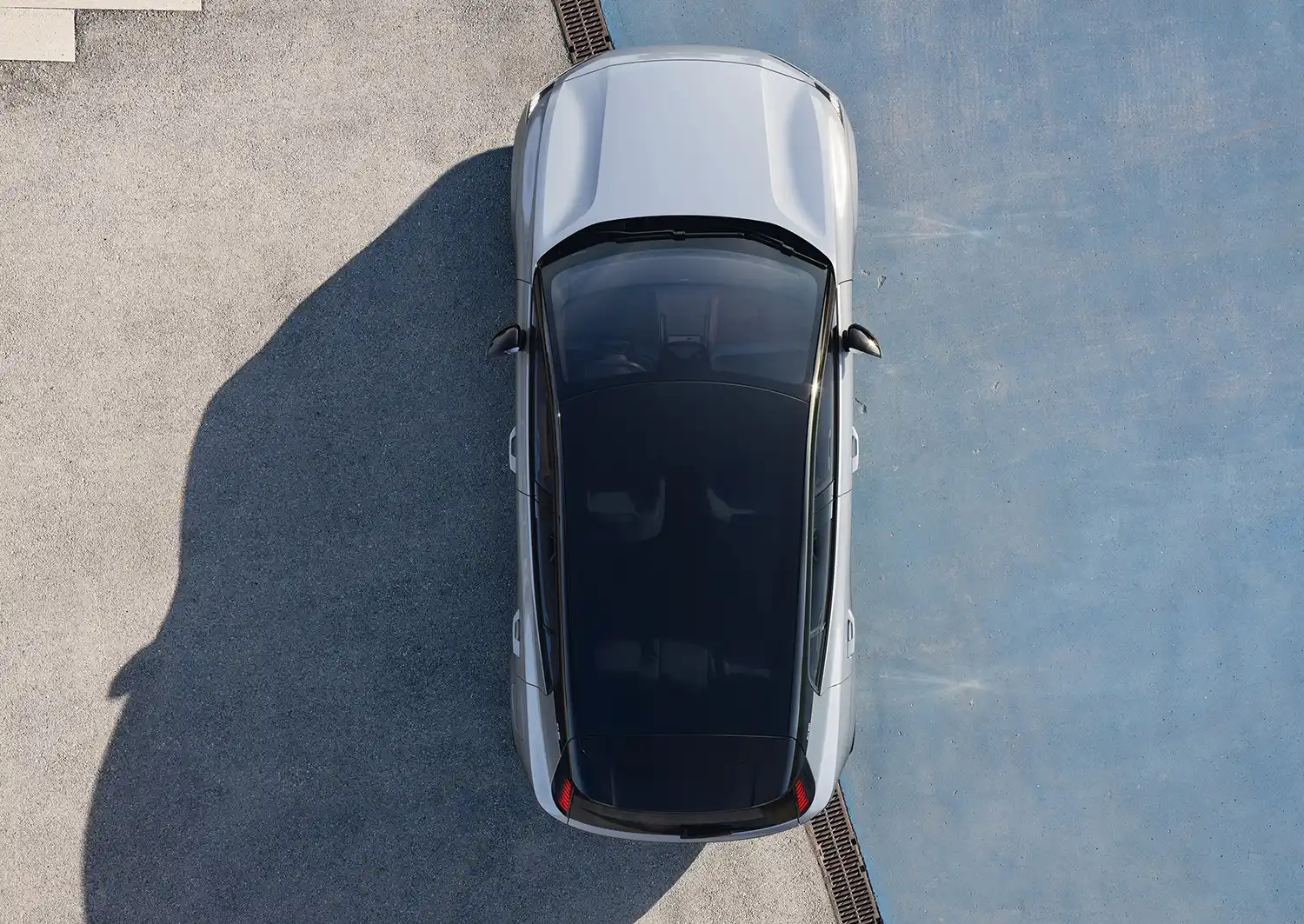 Whether you prefer the warm sunlight falling through the leaves of a Scandinavian forest, a sunset on the Swedish west coast, the world famous northern lights, the golden summer skies of Swedish midsummer or the bright mood of an urban sunset, your EX30 will be filled with the colours of your choice. For extra immersion, you can pair each lighting theme with an ambient soundscape.
Zooming across the country in style
Starting in 2024, Volvo EX30 will also become available as a Cross Country variant. Order books for this special version of the small electric SUV will open in 2024, with production expected to start later that year.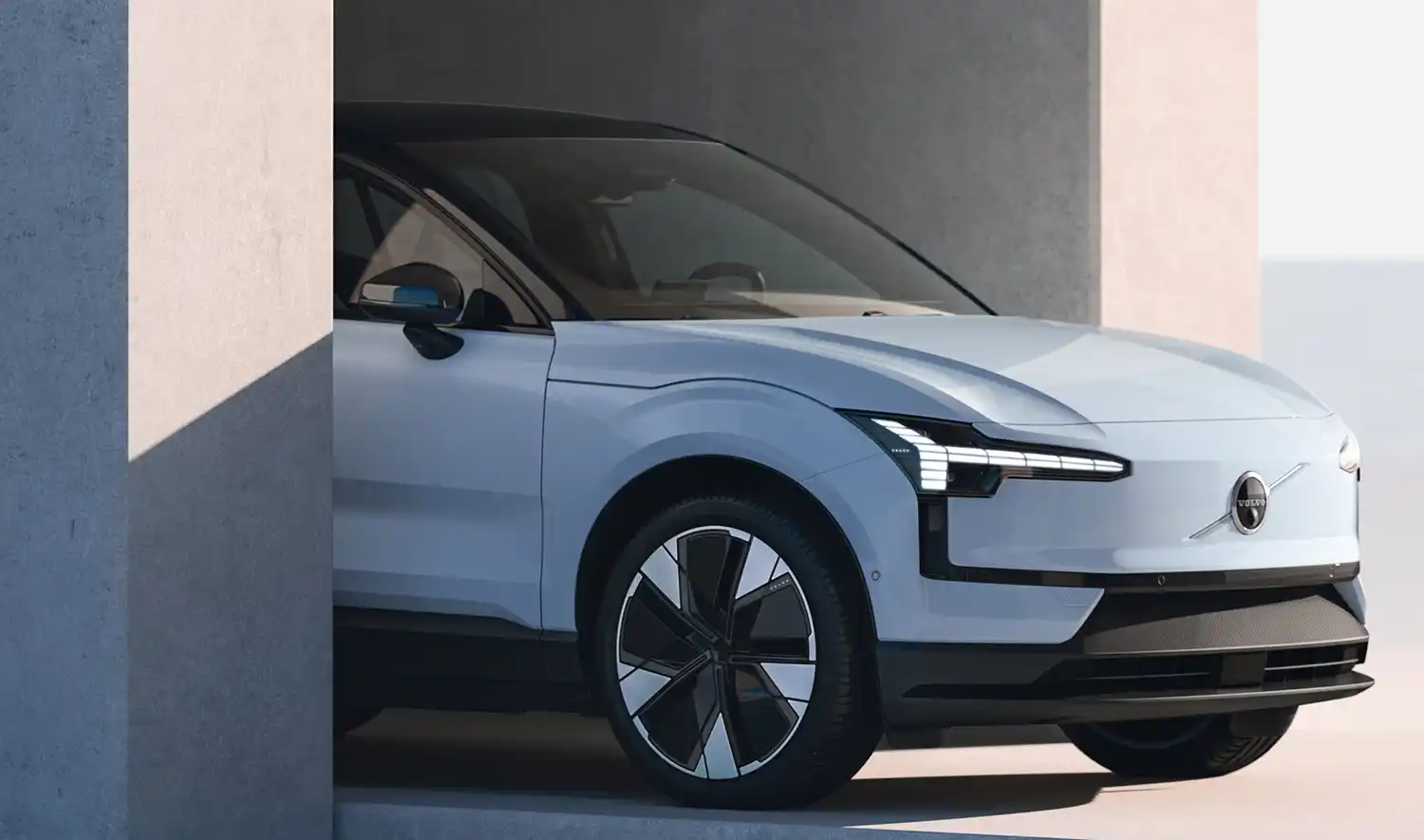 The Volvo EX30 Cross Country will build on the long Cross Country heritage, the celebrated line-up of models for customers who want a bit more adventure from their car. It'll come with a range of bespoke features, such as more ground clearance, 19-inch black wheels and the option of 18-inch wheels with bespoke tyres.
When you take your EX30 Cross Country off the beaten path, it will be recognisable by its skidplates on the front, rear and side, special black panels on the front bumper and bootlid, and stylish Cross Country branding – the small, hood-mounted Swedish flag is the cherry on top.