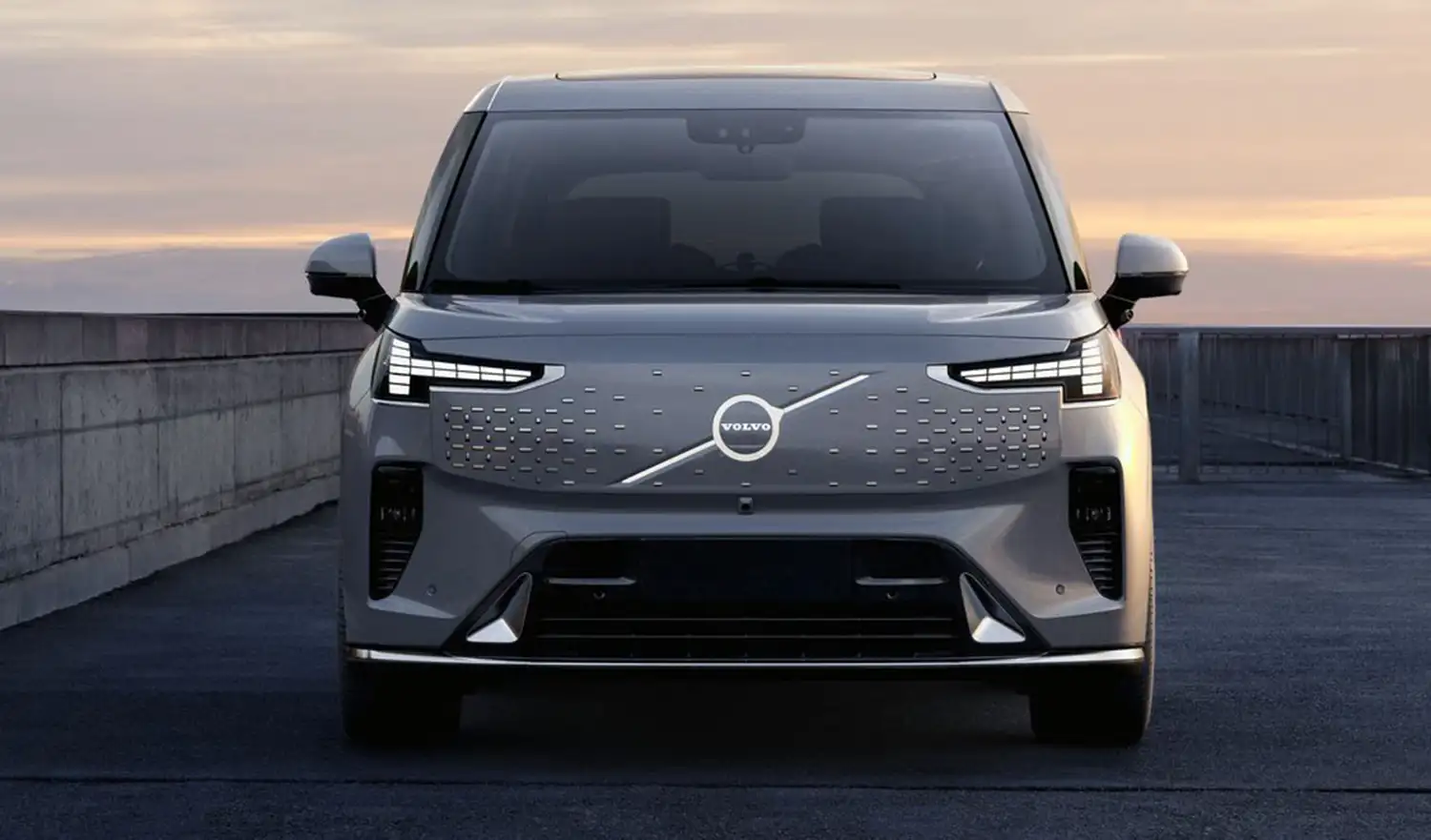 The new fully electric premium MPV, the Volvo EM90, is not just designed to be a comfortable living room on the move, and a car that provides you with room for life with your loved ones. It is also a car that broadens the appeal of Volvo Cars and meets even more customer needs.
The EM90 demonstrates Volvo strong abilities to innovate and meet specific market demands. The multi-purpose vehicle (MPV) segment has gained considerable popularity in recent years, especially in many parts of Asia. This is one of the main reasons why the EM90 is coming first to China, the world's largest car market.
Following the reveal of the already award-winning and fully electric EX30 small SUV earlier this year, the EM90 represents the second expansion of model portfolio in quick succession. Both the EX30 and EM90 will help to reach new audiences, cover more of the global automotive market and realise more profitable volume.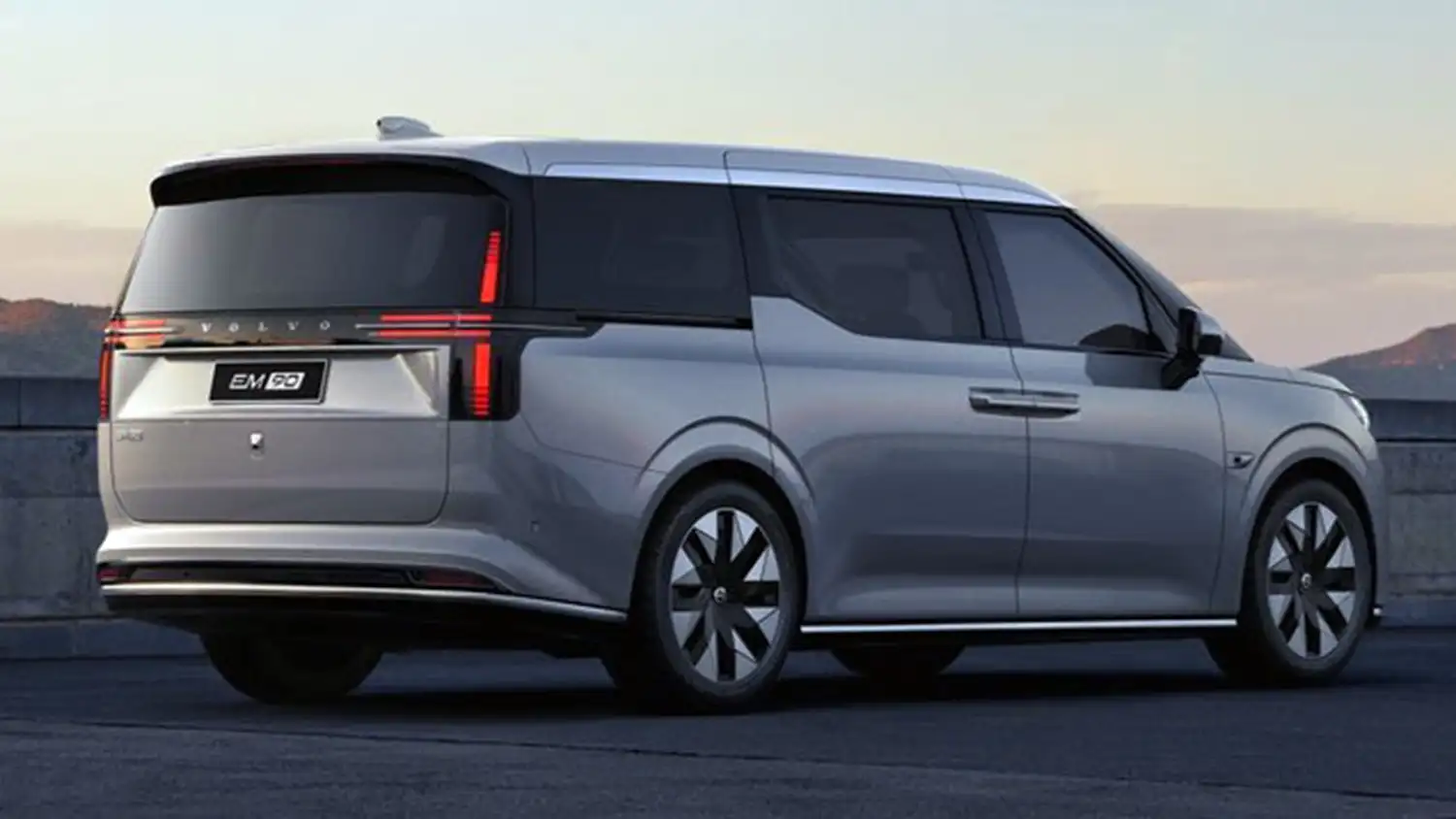 The EM90 also reinforces Volvo commitment to be a fully electric car maker by 2030. In coming years Volvo will roll out a whole family of new, fully electric Volvo cars, delivering on everything customers expect from a Volvo with zero tailpipe emissions.
This renewed model portfolio will not only ensure that by 2030 Volvo only sell fully electric cars around the globe, an important part of sustainability commitments. It is also part of journey towards profitable growth and becoming an industry leader in sustainable mobility.
"With the EM90, we're taking Volvo Cars' heritage and leadership in safety into the exciting new electric MPV segment," said Jim Rowan, chief executive at Volvo Cars. "It allows us to tap new market demand we've not explored before and broadens the appeal of the Volvo brand to more people."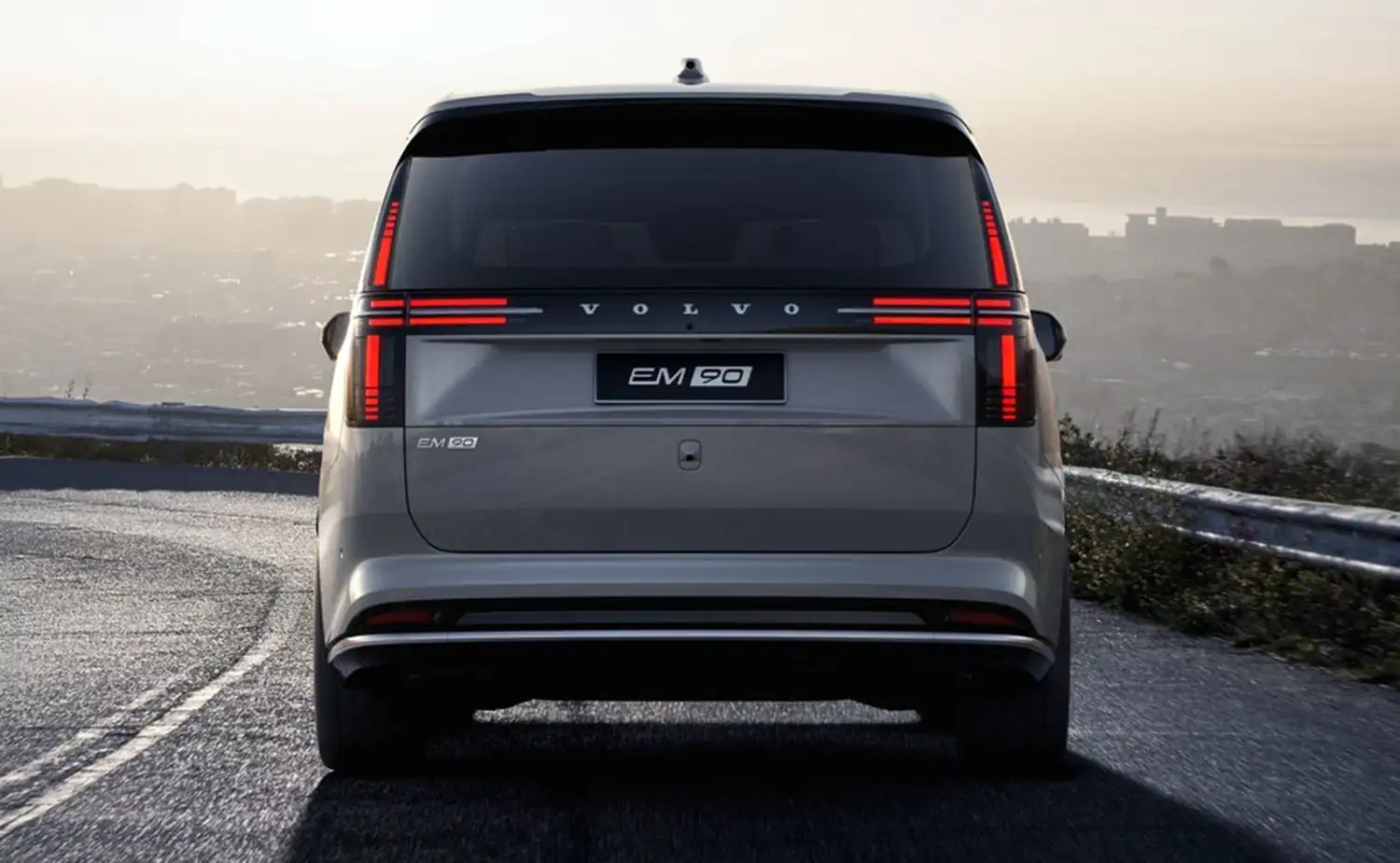 A long heritage of versatility
While the MPV segment is a new one for Volvo, the concept of versatility is far from unfamiliar territory. In fact, the Volvo Duett from 1953 was developed specifically as a versatile and spacious car, many years before the MPV segment was even formally created.
A highlight in Volvo rich heritage that celebrates its 70th birthday this year, the Duett is still one of the most sought-after Volvo models by collectors and enthusiasts today. It was popular among both families and business owners in Scandinavia and the United States.
In later decades the Duett inspired Volvo world-famous range of estates, and it was an equally important source of inspiration for Volvo designers when they started work on the EM90.
Whether you wanted a practical company car for your business or a spacious family car that could also double as a space to sleep in during camping trips, there was a Duett variant for a broad variety of scenarios – its name, which means "two cars into one", says it all.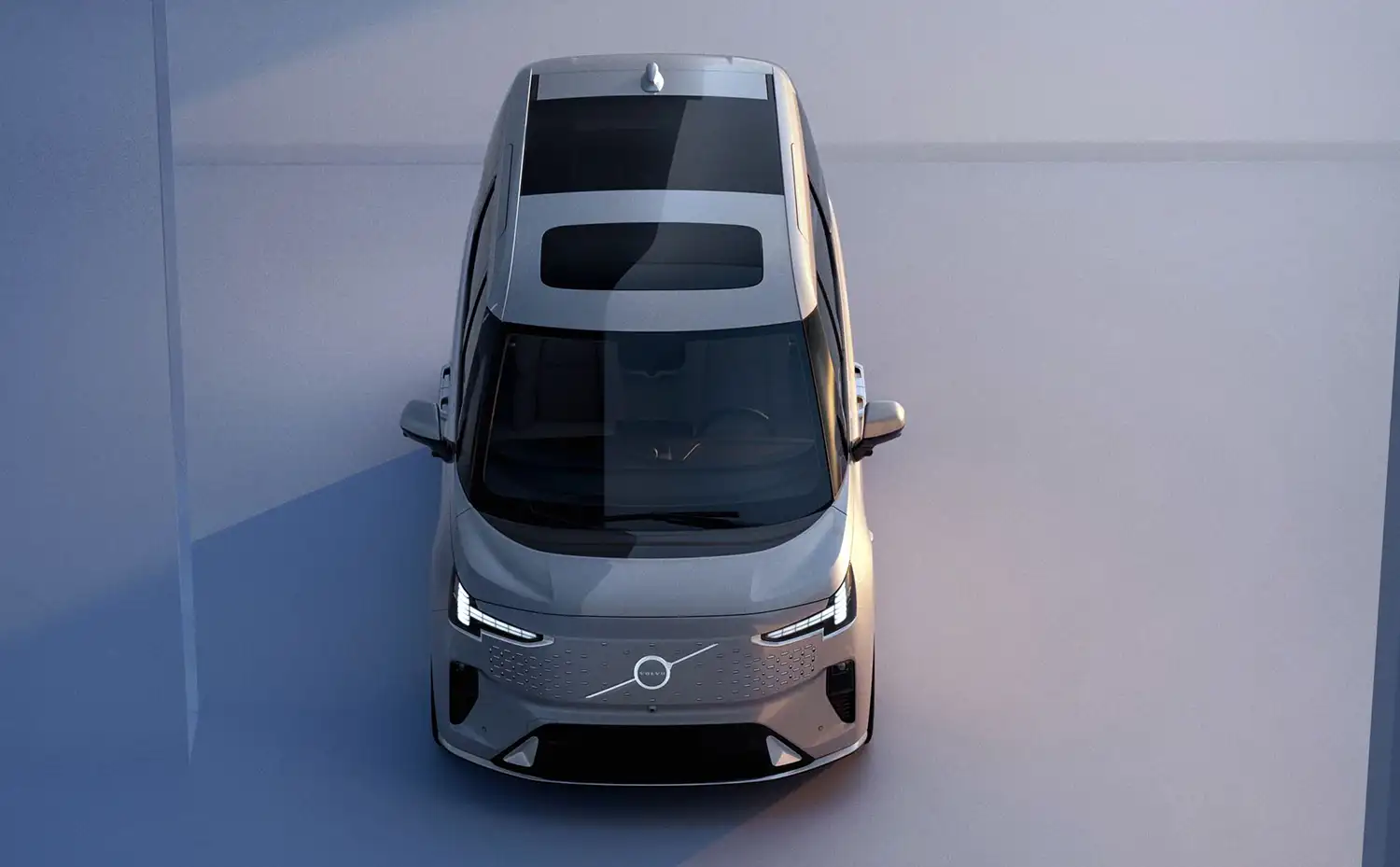 An important new segment
The EM90 presents an important addition to Volvo fully electric portfolio and will support Volvo position as one of the fastest-growing brands in the premium pure electric segment. While the premium MPV segment in China is relatively small today, it is an important one. And in the spirit of the Duett, Volvo EM90 premium MPV serves a dual purpose for its customers.
When the car is not used for family trips, it doubles as executive business transport that offers the ultimate comfortable interior environment for meetings and business calls. In short, for customers looking for safety and a spacious, versatile and comfortable premium experience on the move, the EM90 is an exciting new option for them.
The Volvo EM90 is coming first to China and is now available for pre-orders for customers in China.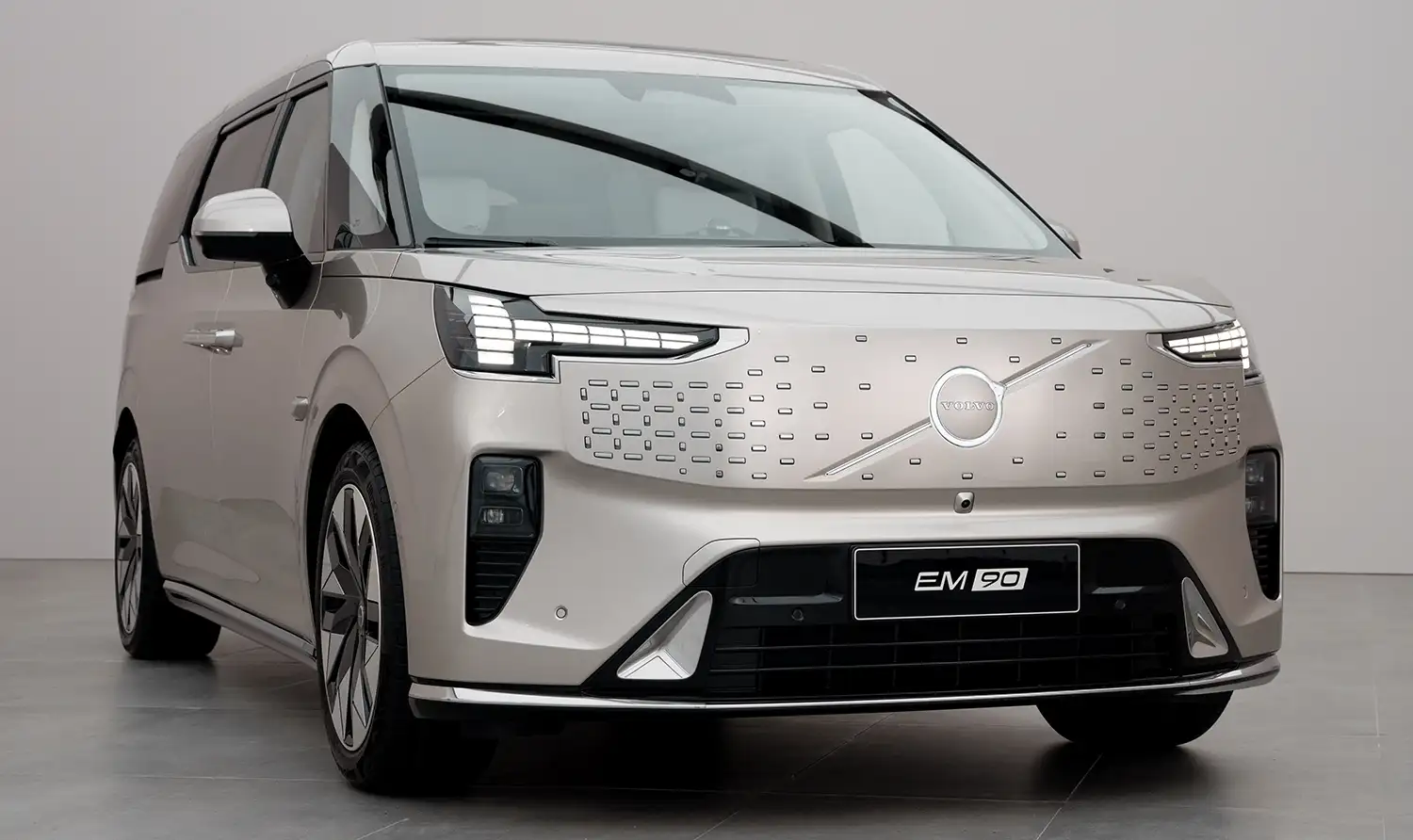 The new EM90 offers the next level of premium experience on top of everything you'd expect from a Volvo car, with iconic Scandinavian design, 96 years of safety heritage, ultimate comfort and cutting-edge technology.
Confident exterior with illuminated grille
With the EM90, Volvo aims to bring a new level of elegance to the SUV segment. Inside, the EM90 is designed to be your living room on the go. It offers you ultimate comfort to make the most of the time you spend in the car, thanks to Scandinavian design details that deliver a truly premium experience.
However, the first acquaintance with the EM90 comes through the exterior design. At the front, the instantly recognisable and iconic Thor's Hammer headlights provide a grand appearance – the proud and confident face of a Volvo car.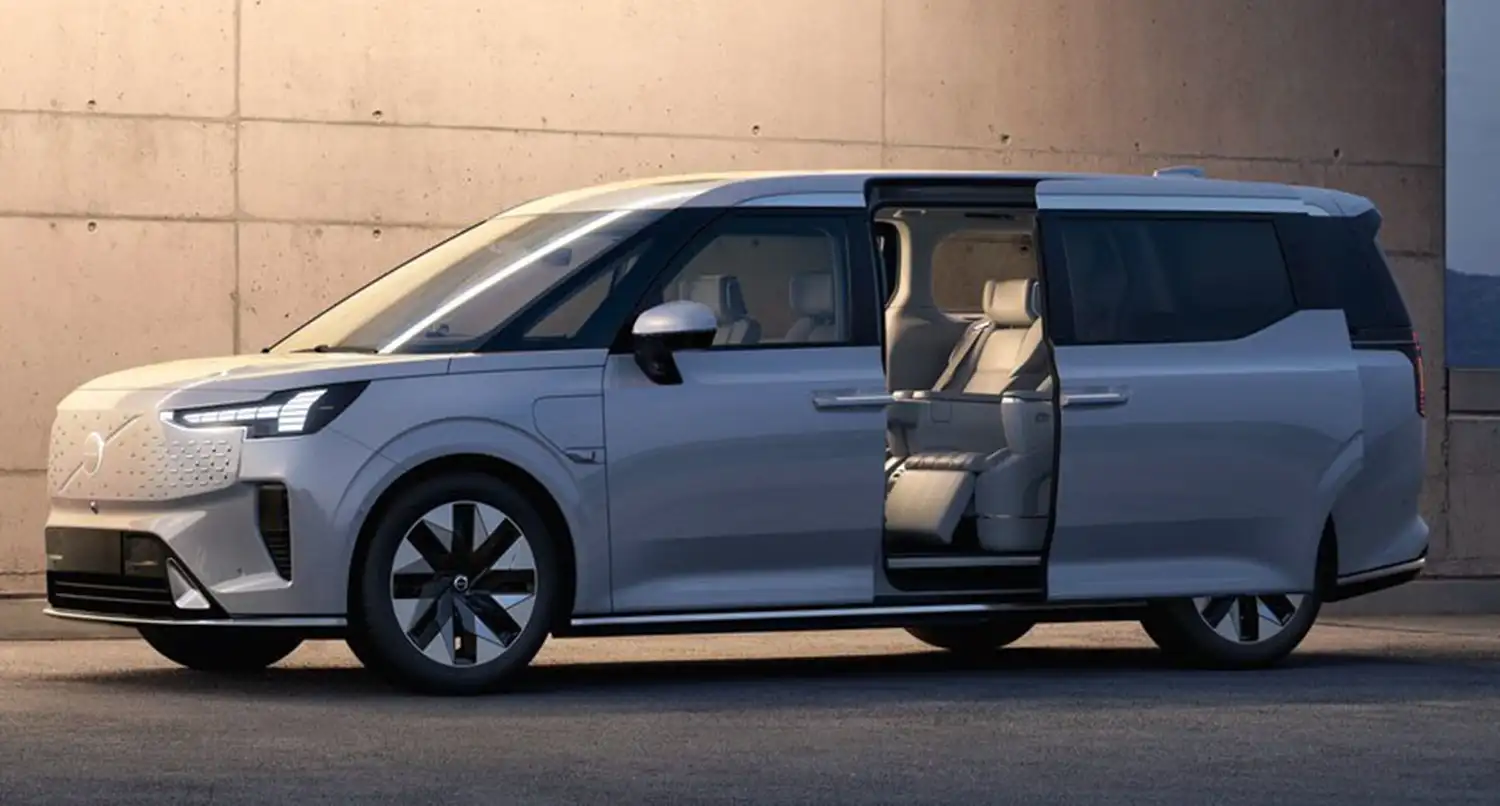 What really stands out, however, is how the headlights of the EM90 greet you with an illuminating front, including an illuminated logo that appears for the first time on a Volvo car. Inspired by skyscrapers and cutting-edge immersive art, the front exudes high-tech, crafted precision.
At the rear, a lit-up wordmark and stylish rear light design make the EM90 stand out from modern premium design. Our iconic Volvo vertical tail lamps have also evolved. Inspired by the skyline of modern cities, the tail lamp signatures extend both upward and downward, with the metal strip representing the core horizon line.
The EM90 is available in four exterior colours, with warm tones inspired by the interplay between nature and light.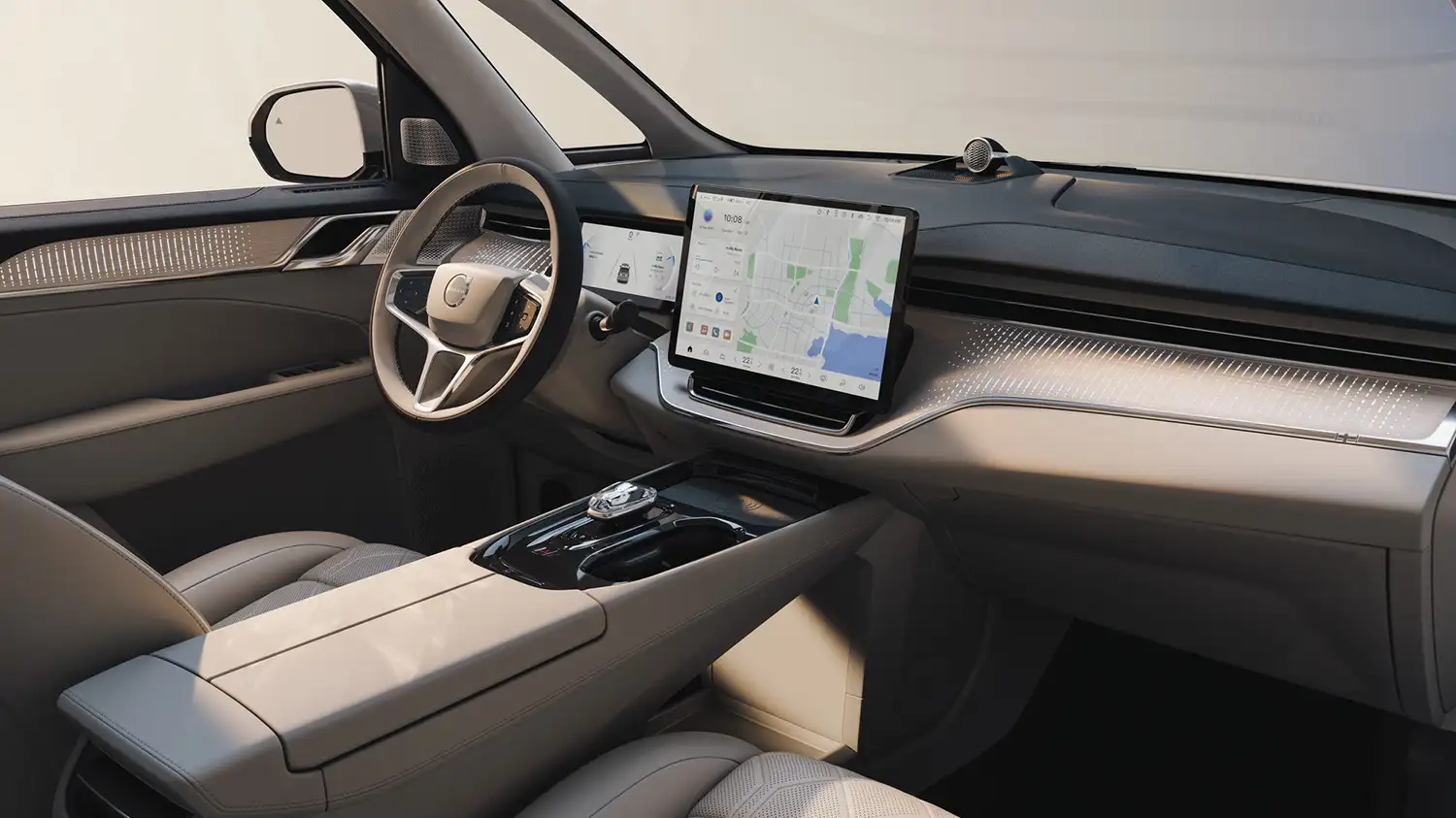 Competitive range and bi-directional charging
As a fully electric car, the EM90 provides a range of up to 738 kilometres under the CLTC testing cycle. The car comes with a 116 kWh battery and the charging time from 10 to 80 per cent is expected to be under 30 minutes. Powered by an e-motor with 200kW power output, the EM90 can accelerate from 0 to 100 km/h in 8.3 seconds.
Like our EX90 flagship SUV, the EM90 is equipped with all the hardware necessary to enable bi-directional charging. This feature allows you to use the battery of the EM90 as a power bank to charge other electric cars and appliances. The EM90 comes with 19- or 20-inch aero wheels, in which engineering artistry meets aero efficiency to further help optimise driving range.
In terms of safety features, the EM90 is equipped with safe space technology and designed to help protect everyone in and around the car. It brings our 96 years of safety DNA and extensive knowledge based on real-world accident research into a new segment.
The broad suite of advanced driver assistance systems inside the EM90 is enabled by advanced computing power and an all-round sensor set with high-definition cameras, surround view cameras, a millimetre wave radar and ultrasonic radars
An outstanding experience
Additional comfort comes courtesy of top-notch sound isolation and road noise cancellation technology, while dual chamber air suspension and silent tyres further smoothen the ride experience for everyone traveling in the EM90.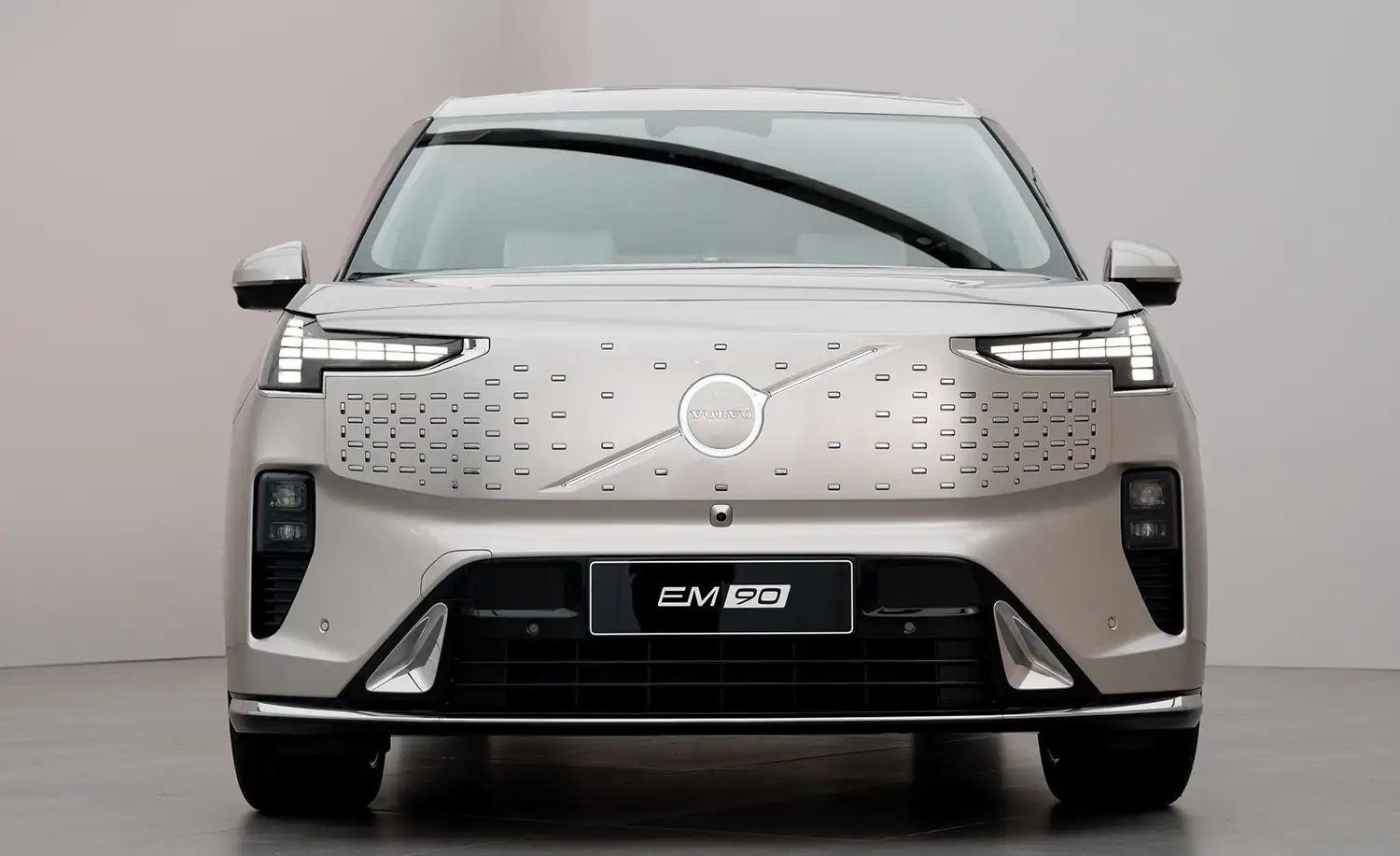 All these features work together to minimise road noise, meaning you can fully enjoy the optimum sound quality from a total of 21 Bowers & Wilkins speakers embedded in your own private concert hall on the move.
Of course, once you're comfortably settled in your lounge seat, you can also use other cutting-edge technology designed to make your life easier and more enjoyable. Bursting with computing power provided by Snapdragon® Cockpit Platforms from Qualcomm Technologies as standard and 5G connectivity where available, the EM90 delivers an outstanding digital experience.
The voice assistant makes it easier for you to connect with the car in an interactive and fun way. It is visualised in a refreshed Volvo avatar, inspired by the beautiful Scandinavian nature, inside the 15.4-inch infotainment screen for the driver.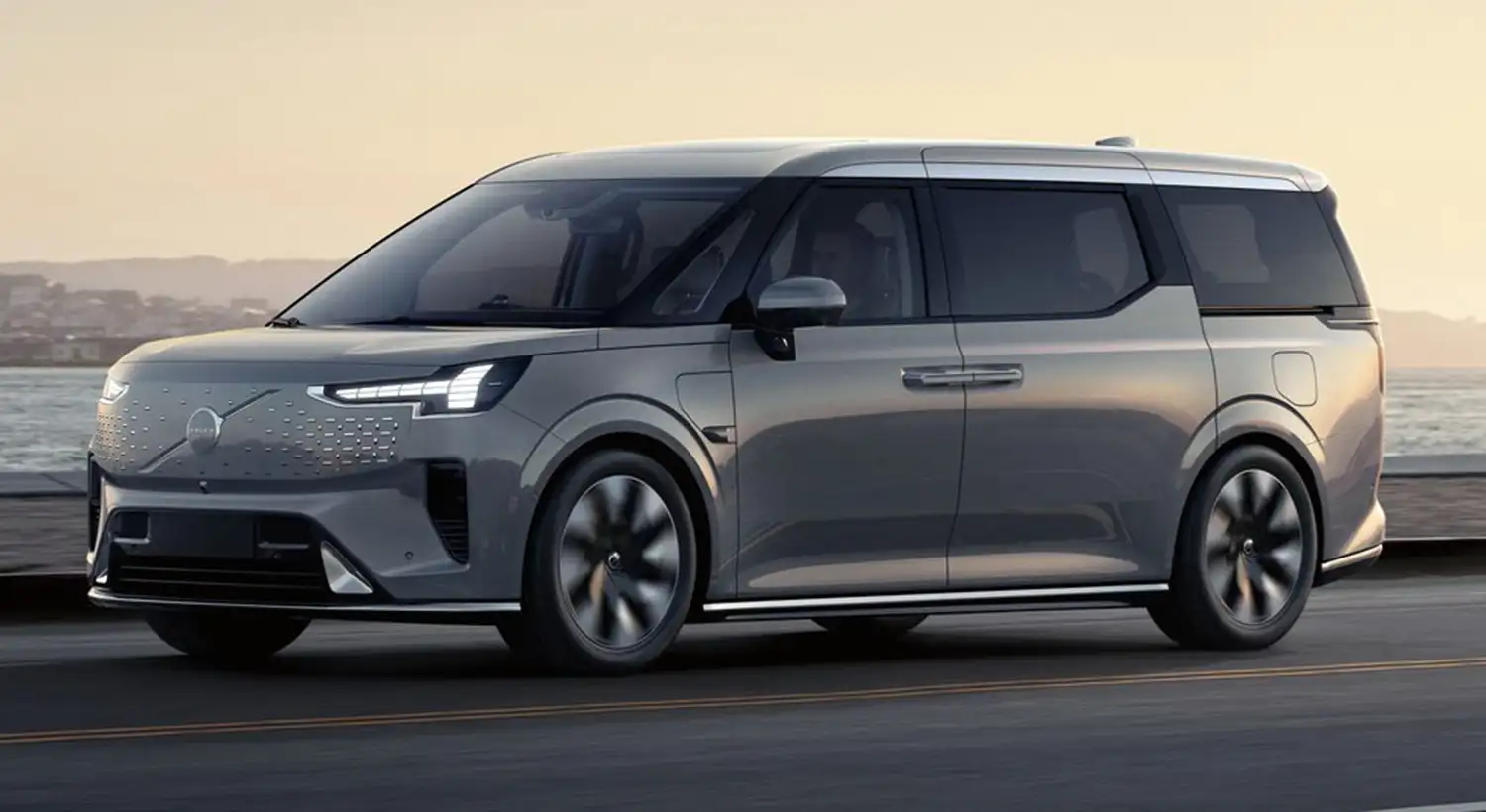 An additional, high-definition 15.6-inch screen that is mounted in the roof, folds down whenever you want some entertainment for the family or take a business video meeting even with a camera when needed. The screen also supports mobile screen projection and a wide variety of third-party apps.
The roof-mounted screen is part of a multi-functional set of screens and smart surfaces that enable a variety of in-cabin scenarios. With the flick of a switch or a command to the voice assistant, you can easily turn the interior of the EM90 into a theatre, a meeting room, or a bedroom for the rear seats. Screens, seats, windows, air conditioner and lighting will all be adjusted accordingly.
As with all new Volvo cars, the EM90 will get better over time, thanks to over-the-air software updates. A digital key and remote functions via the Volvo Cars app provide for easy access and control of the car.