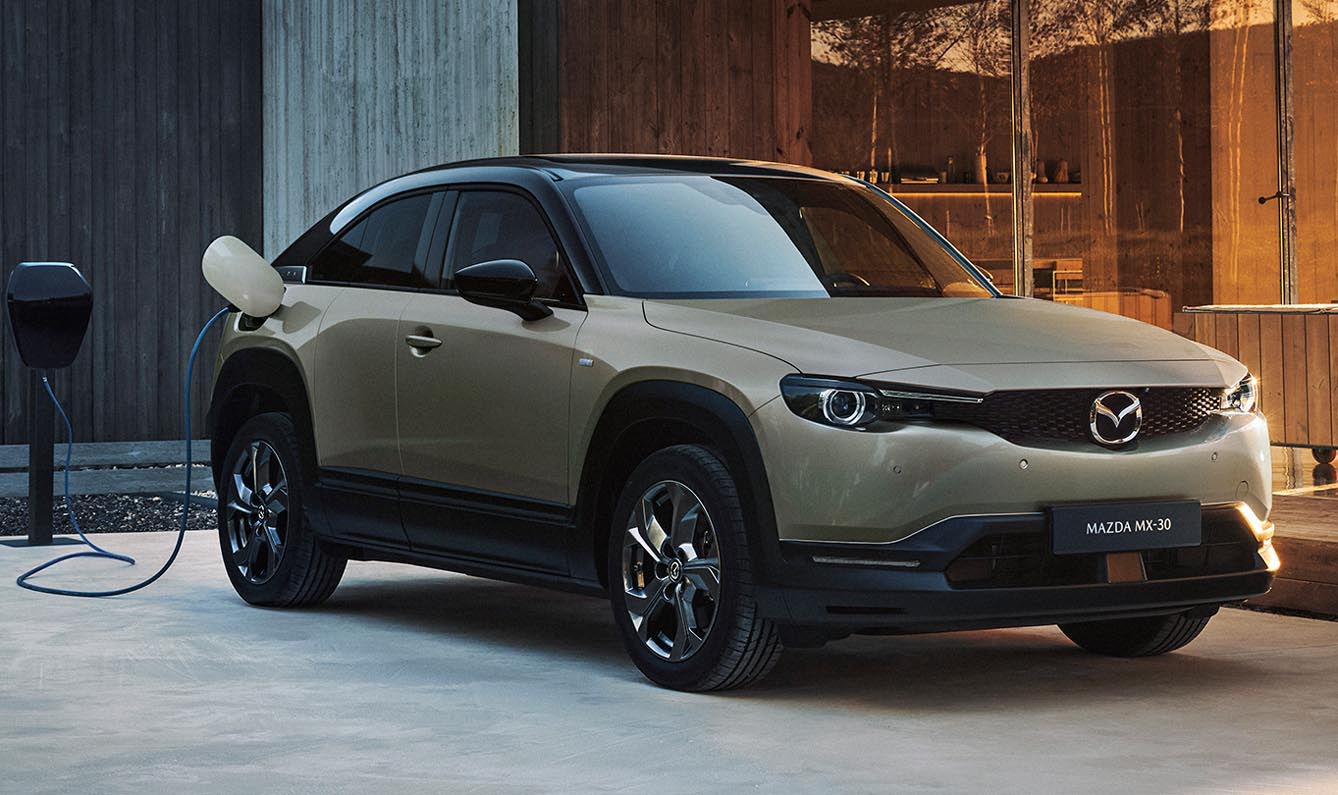 An updated version of the company's first all-electric production vehicle, the 2022 Mazda MX-30, goes on sale through Europe in July this year.
The 2022 Mazda MX-30 now features enhanced charging performance and power supply functionality, improvements to the EV drivetrain sound, and new options for both exterior colour schemes and interior trims.
Technical updates to the 2022 Mazda MX-30 make it even easier to use. The BEV now supports three-phase 11 kW normal AC charging. The fast charging DC performance has also been improved by increasing the maximum power the vehicle can accept from 40 kW to 50 kW. This has reduced the DC fast charging time by ten minutes to just 26 minutes2.
The MX-30's EV sound helps drivers subconsciously recognise the amount of torque being generated by the power unit. For 2022, the sound frequency has been further optimized to be similar to other sounds heard whilst the car is running, such as the wheels and wind noise – so that drivers can recognize the amount of torque in a natural manner without any sense of the sound being unusual.
In addition to the existing Modern confidence (white) and Industrial vintage (brown) interior colour schemes, the 2022 MX-30 introduces a new Urban expression all-black trim which brings a sharp stylishness to the design. The new, all-black interior is enlivened by grey and white accents to the denim fabric upholstery, and dark brown cork console and door grip trim.
The number of multi-tone colour schemes has been increased to four, with Jet Black and Mazda's new Zircon Sand added to the range.
Paired with the Urban expression all-black interior, Zircon Sand is a natural beige inspired by zircon sand, which reflects Mazda's heritage in manufacturing casting moulds. The second new multi-tone colour scheme pairs a Jet Black body and roof with a silver pillar frames, and, once again, an all-black interior. In addition, the existing Soul Red Crystal multi-tone exterior colour scheme is now also paired with an all-black upper exterior for a sportier appearance.