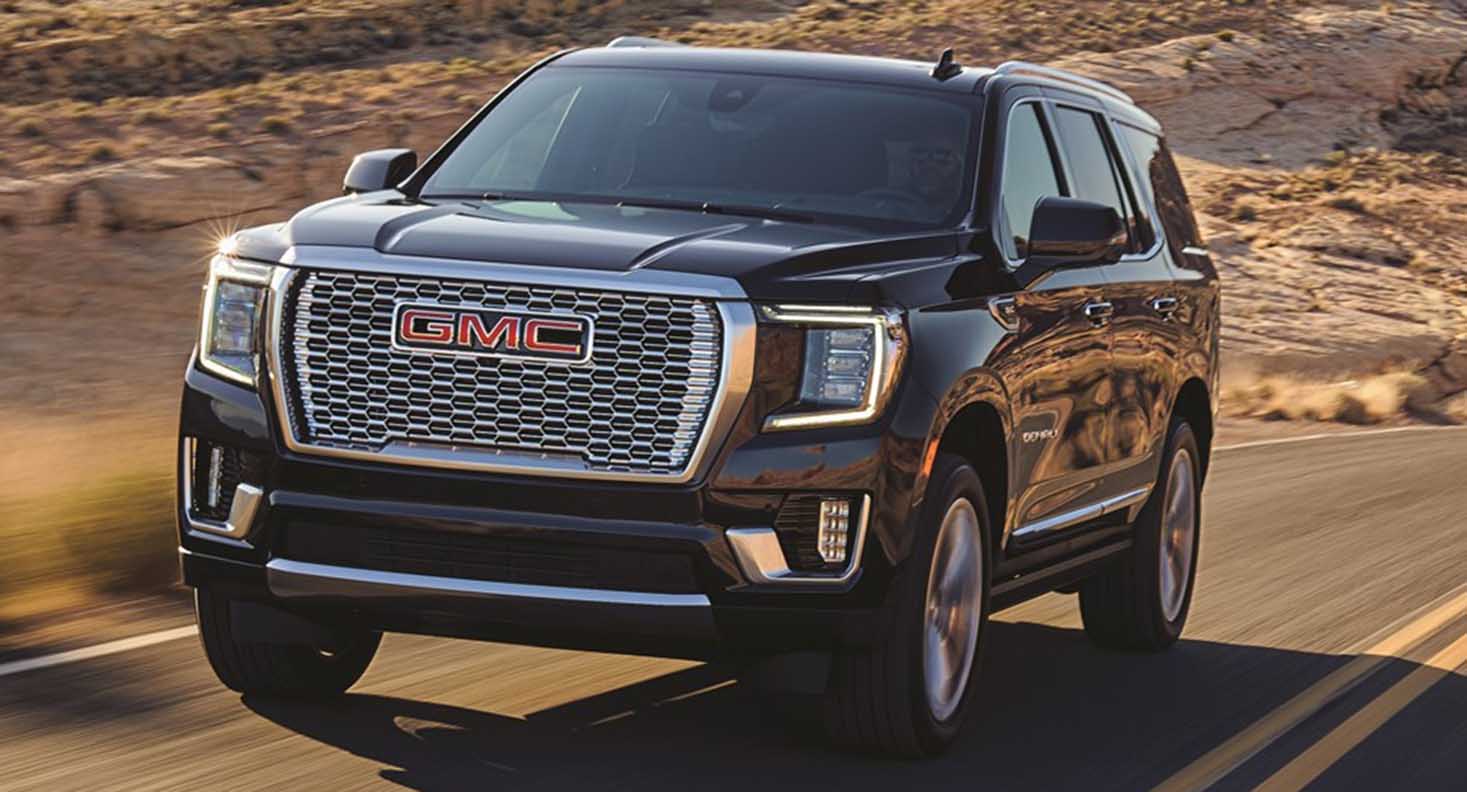 "Denali" is the highest mountain peak in North America. And, with mountain-high standards, in the Automotive world, "Denali" has represented the pinnacle of GMC's premium design, authentic materials and extensive expertise, for over 20 years.
While all GMC vehicles bring a premium driving journey, the Denali trim offers a first-class experience.
And then, there is the 2021 GMC Yukon Denali. Packed with innovative technologies and a heavy focus on design, the 2021 GMC Yukon Denali elevates the Denali experience to yet another segment-leading* level.
Here's what makes the GMC Yukon Denali the quintessential Denali:
It has the looks:
Whether in motion or parked, the 2021 Yukon Denali's grand and sophisticated exterior dominates the scene.
The Denali's trademark Galvano chrome grille which is larger and more detailed than ever before, with a precise dimensional pattern featuring over 10,000 individual reflective surfaces, can't but grab attention.
Additionally, the 2021 GMC Yukon Denali brightens the road ahead regardless of the weather conditions and time of the day. GMC's C-shaped front lighting signature is conveyed through a prominent "light blade" that delivers uniform LED illumination for the daytime running lamps.
As for the interior design of the vehicle, that is a premium experience on its own.
For the first time and based on customers' demands, the Yukon Denali offers an exclusive interior, unique seats and a choice of four unique color themes – each with their own personality giving more room for personalization.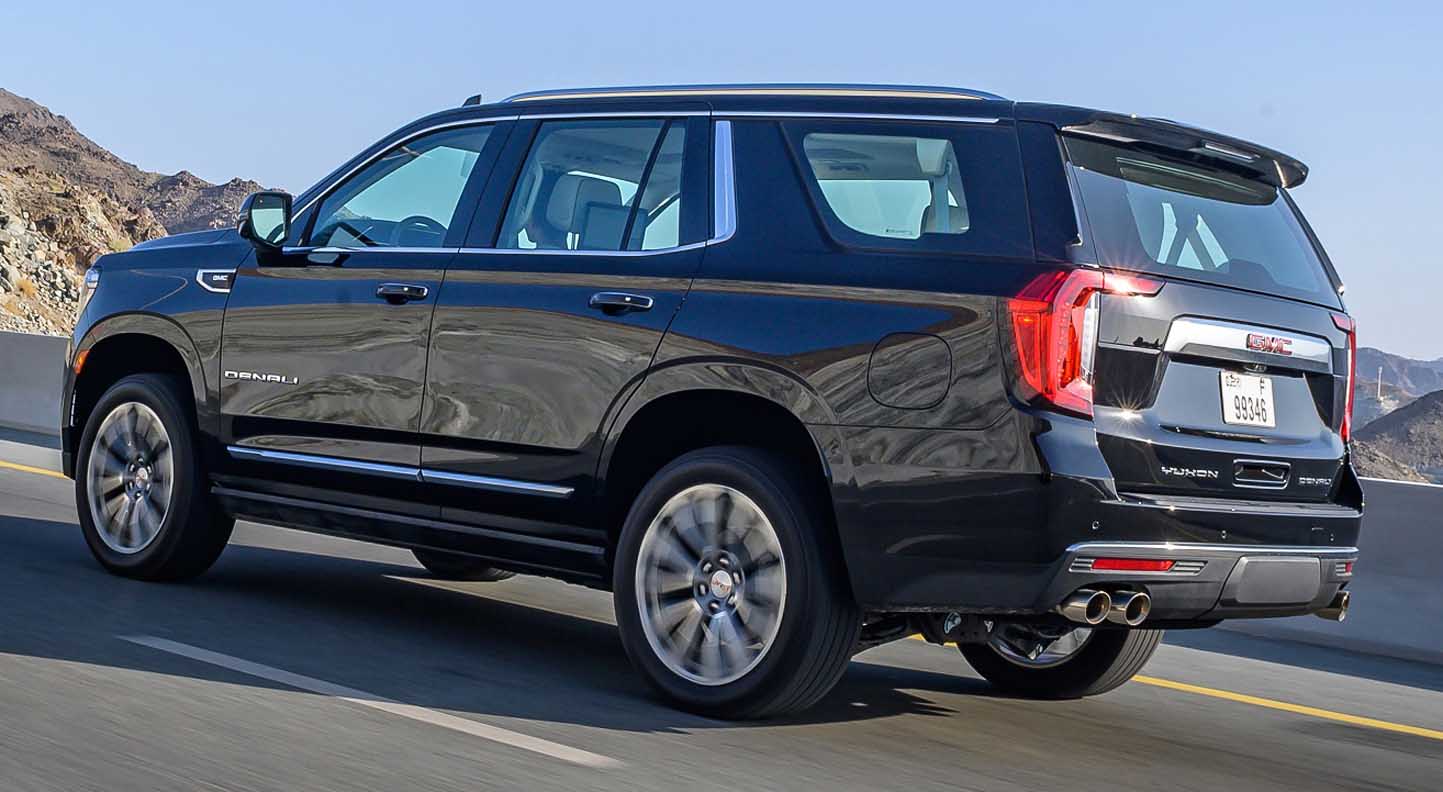 Additionally, the premium leather surfaces are cut and stitched by hand in a unique and poetic Denali pattern. It is all in the details!
It has the dynamics:
The Denali is also all about the substance.
This trim is equipped with the highest level of premium technologies that keep drivers and passengers in the lead.
Some of features that distinguish this SUV include Rear Pedestrian alert for increased safety and peace of mind.
The GMC Yukon Denali also comes equipped with a first-in-class four corner Air Ride Adaptive Suspension paralleled with a Fourth-generation Magnetic Ride Control sharpening its driving performance and making it one of the most comfortable rides.
To add more sophistication, premium 22-inch wheels and a panoramic sunroof are only a few features, among many, that are available on the 2021 GMC Yukon Denali.
It has and gives the power:
With optimized power and efficiency, the 2021 GMC Yukon Denali boosts customers' confidence and satisfaction on their everyday drives.
The Yukon Denali is equipped with the most powerful engine in the full-size SUV segment, an all-new 6.2L V8 with Dynamic Fuel Management delivering best-in-class 420hp.
Hence, driving the Yukon Denali gives a unique sense of power, pride and accomplishment on the roads.
While the "Denali" trim has driven much of GMC's consistent growth over the years, the 2021 Yukon Denali offers customers another level of first-class experience with the highest standards, further driving their journey to greatness.