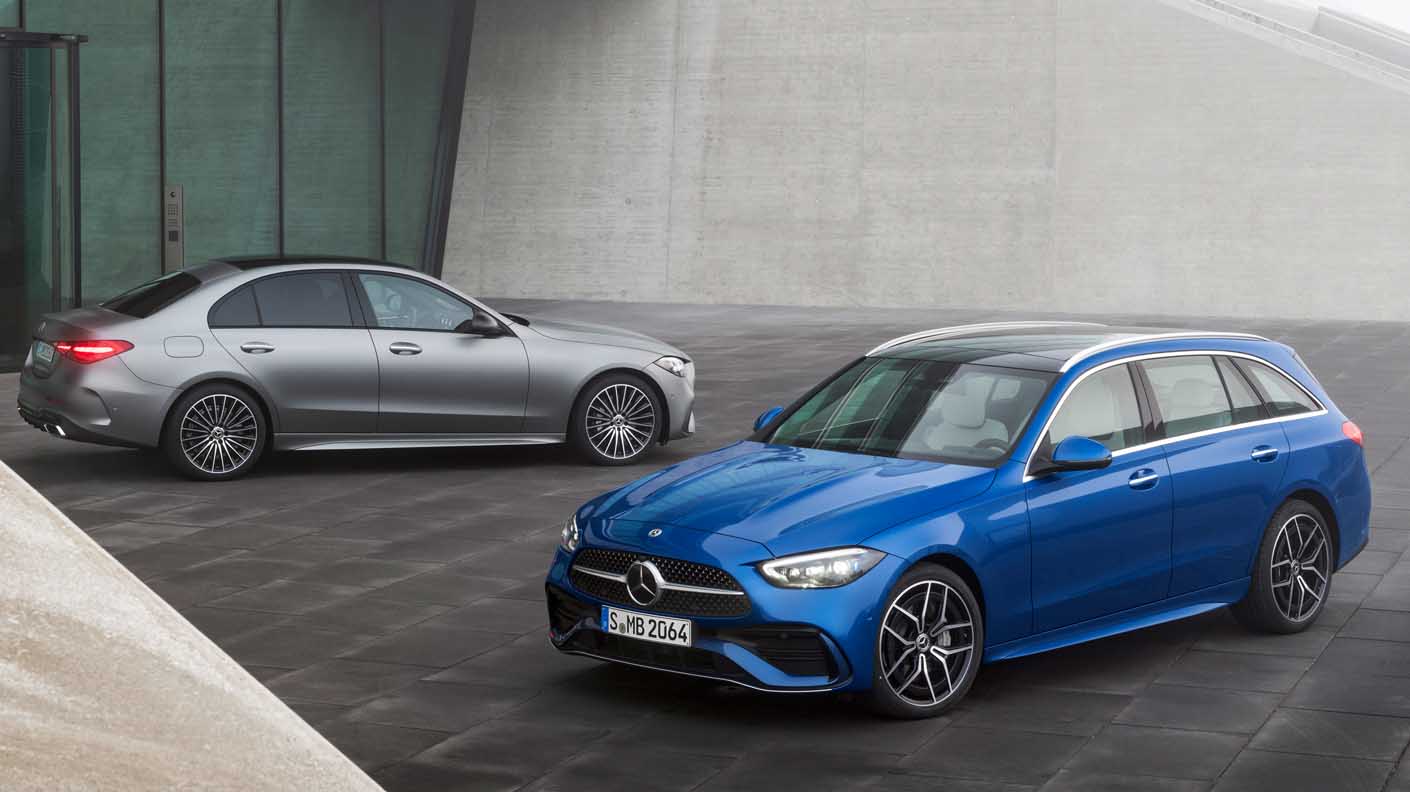 The new Mercedes-Benz C-Class is electrified throughout thanks to plug-in hybrids and mild hybrids with 48-volt technology and an integrated starter-generator. Other technical refinements include optional features such as DIGITAL LIGHT and rear-axle steering.
The Saloon and Estate can now be ordered at prices from €41,138.30 and €46,975.25,[1] and will be in the showrooms of our sales partners in summer 2021. Fourth-generation plug-in hybrids will follow soon after the launch. The Mercedes-Benz Bank Group offers individual financing and leasing packages for private and commercial customers.
At an effective annual interest rate starting from 1.99%,[2] customers can obtain low-interest financing for the new C-Class. The C 220 d Estate (combined fuel consumption 5.3-5.0 l/100 km; combined CO2 emissions 140-133 g/km)[3] including the Start package can be leased by commercial customers from €599,[4] for example.
The C-Class already shows its dynamic proportions at standstill, thanks to the combination of a short front overhang, long wheelbase and rear overhang.
The preceding model was already a great step forward in terms of a high-value appeal in the interior, and the new C-Class goes even further with respect to modern luxury. The interior adopts highlights from the new S-Class, adding a sporty touch.
The most important optional features at a glance:
The new C-Class is especially agile with the rear-axle steering and the accompanying, more direct steering ratio at the front axle. The steering angle at the rear axle is 2.5 degrees. This reduces the turning circle by 43 centimetres to 10.64 metres.
DIGITAL LIGHT is available as an alternative to the standard LED High Performance headlamps. This revolutionary headlamp technology has a light module with three extremely powerful LEDs in each headlamp, whose light is refracted and directed by 1.3 million micro-mirrors.
DIGITAL LIGHT is also available with a projection function[5] on request. This system can make driving safer by projecting guide lines, symbols and animations onto the road. DIGITAL LIGHT projection functions are also available from the Mercedes-Benz Shop as on-demand equipment.
The infotainment system MBUX (Mercedes-Benz User Experience) is standard equipment. The display screens are available in a larger size if required. At extra cost, the central display with touch control, which is slightly inclined towards the driver, is also available with a screen diagonal of
2 cm/11.9 inches (instead of 24 cm/9.5 inches). In combination with this, the driver display is available as a 31.2 cm/12.3-inch variant (standard size: 26 cm/10.25 inches).
The Driving Assistance Package can provide more safety in critical situations. Its component parts: Active Distance Assist DISTRONIC, Active Speed Limit Assist, Active Stop-and-Go Assist, Active Steering Assist, Active Lane Changing Assist, Active Blind Spot Assist and PRE-SAFE® PLUS. The Driving Assistance Plus Package is also available for the C-Class for the first time, and has PRE-SAFE® Impulse Side in addition.
Model range and prices for the Saloon and Estate[6] (petrol engines):
C 180
C 200
C 200 4MATIC
C 300
C 300 4MATIC
Displacement
cc
1496
1496
1496
1999
1999
Output
kW/hp
125/170
150/204
150/204
190/258
190/258
at
rpm
5500-6100
5800-6100
5800-6100
5800
5800
Add. output (boost)
kW/hp
15/20
15/20
15/20
15/20
15/20
Peak torque
Nm
250
300
300
400
400
at
rpm
1800-4000
1800-4000
1800-4000
2000-3200
2000-3200
Add. torque (boost)
Nm
200
200
200
200
200
Combined fuel consumption[7]
l/100 km
6.5-6.2
6.6-6.2

(6.7-6.3)

6.9-6.5
7.0-6.6
7.3-7.0
Combined CO2 emissions3
g/km
149-141
150-141
(153-143)
157-149
159-150
168-161
Acceleration 0-100 km/h
s
8.6
7.3 (7.5)
7.1
6.0
6.0
Top speed
km/h
231
246 (240)
241
250
250
Price[8] from
euros
41,138.30
44,797.55
(46,975.25)
47,177.55
47,891.55
50,271.55
 Model range and prices for the Saloon and Estate2 (diesel engines):
C 220 d
C 300 d
Displacement
cc
1993
1993
Output
kW/hp
147/200
195/265
at
rpm
4200
4200
Add. output (boost)
kW/hp
15/20
15/20
Peak torque
Nm
440
550
at
rpm
1800-2800
1800-2200
Add. torque (boost)
Nm
200
200
Comb. fuel consumption3
l/100 km
5.2-5.0
(5.3-5.0)
5.3-5.0
(5.3-5.1)
Combined CO2 emissions3
g/km
138-131
(140-133)
139-132
(141-134)
Acceleration 0-100 km/h
s
7.3 (7.4)
5.7 (5.8)
Top speed
km/h
245 (242)
250 (250)
Price4 from
euros
47,177.55
(49,355.25)
51,788.80
(53,966.50)