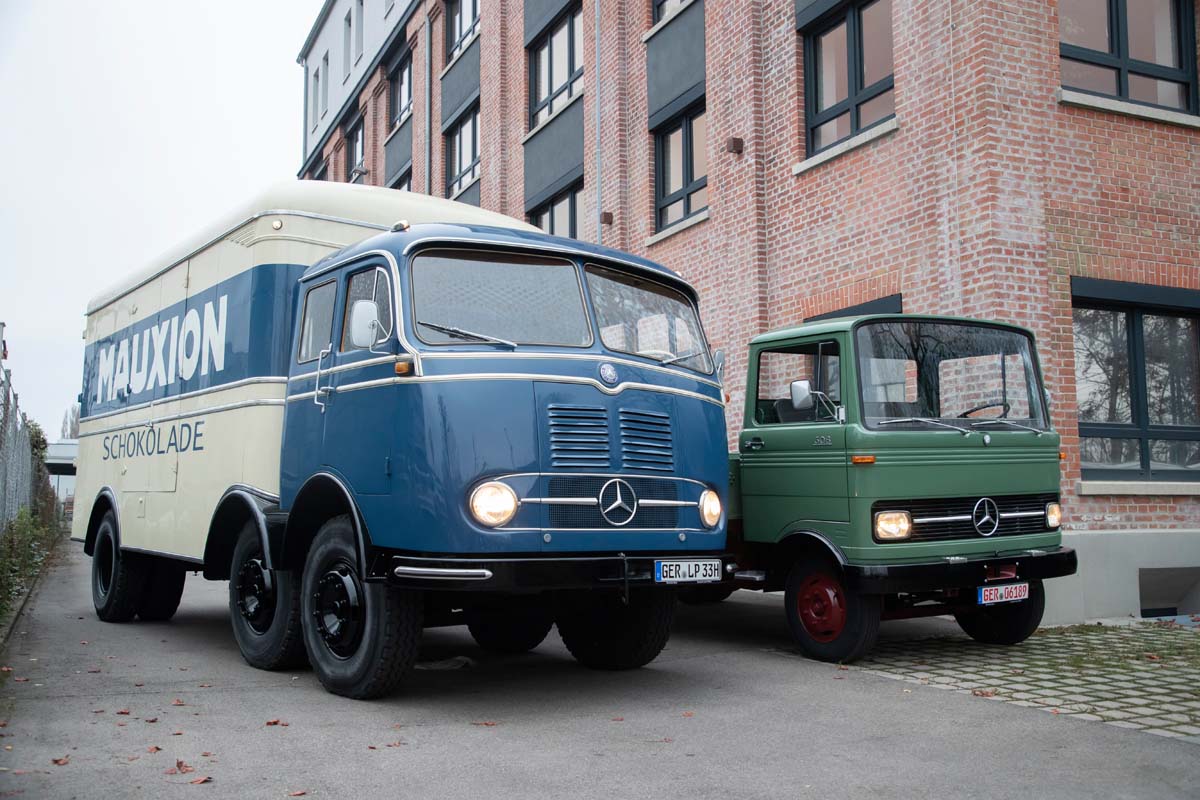 Due to the split of Daimler into two independent companies on 1 December, Daimler Truck transferred the first batch of historical Mercedes-Benz commercial vehicles and parts of its truck and bus archive to the location in Wörth at the end of November. For this purpose a convoy of low-loaders and historical trucks and buses travelled from the Stuttgart area to the Application Information Centre (BIC) of the Mercedes-Benz truck plant in Wörth am Rhein. The historical trucks included a Mercedes-Benz LP 333 from 1960 (known as a "millipede" due to its two steerable front axles) and a Mercedes-Benz LP 608 which was the first truck produced at the recently opened Wörth plant in 1965. In future, Daimler Truck will mainly house its collection of historical exhibits near its truck and bus locations. Additional archival material and exhibits will be relocated in the weeks ahead.
Daimler Truck's collection encompasses around 130 vehicles, of which about 30 were previously located in Stuttgart and the surrounding area. This collection also includes powertrains, parts and accessories from the company's 125-year truck history. The archives of Daimler Truck were previously distributed on more than 160 square metres of storage space. The documents filled more than 2,000 metres of shelves on several levels. The archival material includes 2,600 rolls of film and 600 magnetic tapes that contain over 1,000 hours of historical moving images.
Sven Gräble, Head of Operations Mercedes-Benz Trucks, who is responsible for Mercedes-Benz Trucks' global production network, welcomed the convoy when it arrived at the Wörth location. "Even though Daimler Truck will go its own way in the future, we and the car and van colleagues will continue to share a history full of pioneering spirit, a wealth of ideas and the courage to strike out in new directions," he said. "I am delighted that we have found a new home for our historical commercial vehicles at our truck and bus plants. These wheeled witnesses to times past represent Daimler Truck's 125-year history. In the future, they will be located right next to the manufacturing facilities for our future.