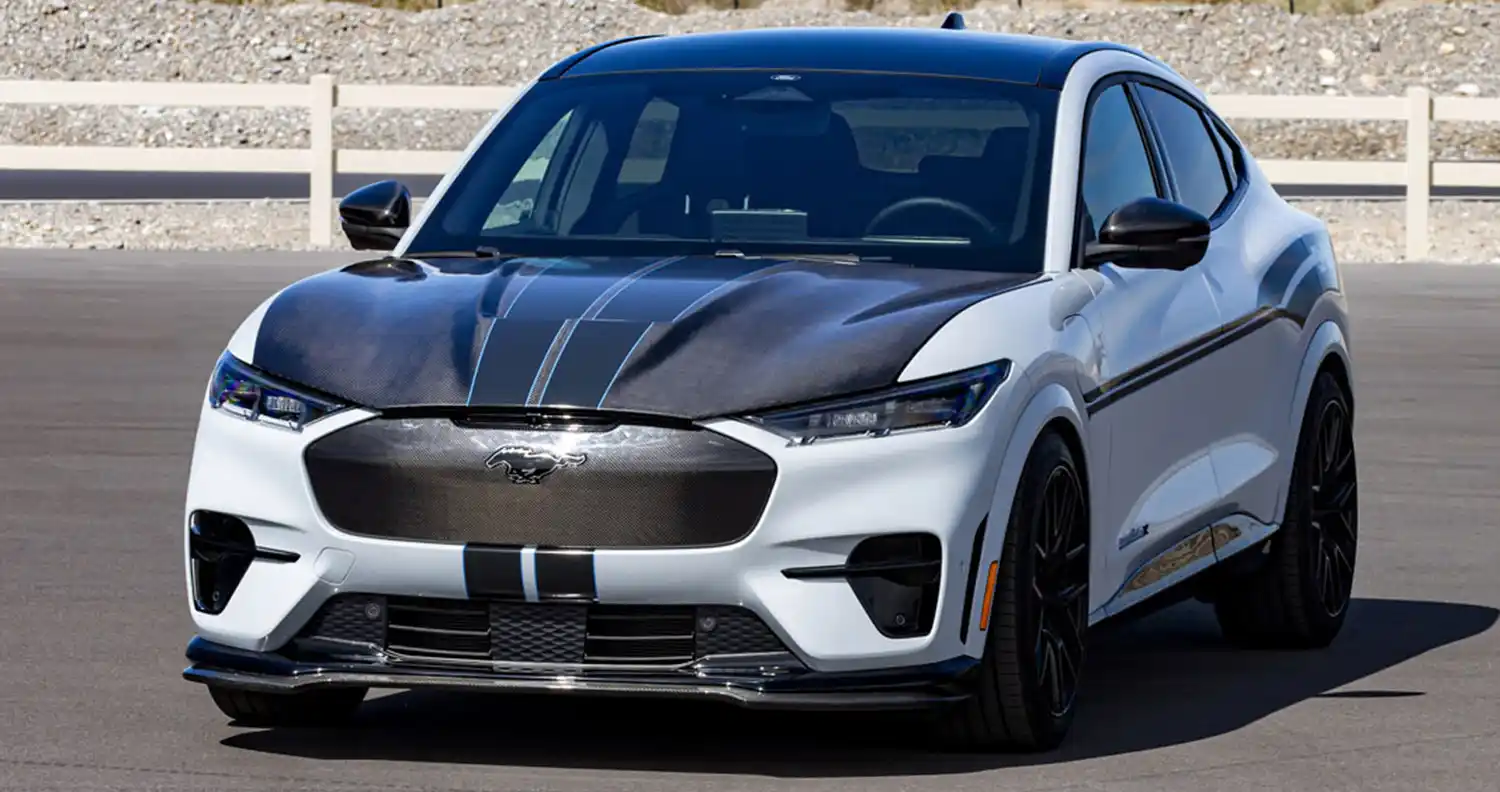 Shelby American, a wholly owned subsidiary of Carroll Shelby International Inc. (CSBI:PK), is honoring the 100th anniversary of its trailblazing founder's birth by introducing the Shelby Mustang Mach-E GT, its first production EV, which will only be available in Europe. The post-title package for current generation European Ford Mustang Mach-E GT electric vehicle enhances the SUV's handling and styling. A total of 100 packages are available to retrofit privately-owned 2021-2023 model year Mustang Mach-E GT SUV's or be added to a new vehicle by a Shelby American dealer in select European countries within the 2023 calendar year.
"Carroll Shelby actively pursued opportunities to expand worldwide, and that philosophy continues to drive us today," said Joe Conway, CEO of Shelby American. "As a visionary, Carroll was an early proponent of exotic materials and the integration of advanced technologies, including electrification. In an interview published by Ford Performance before his passing, Carroll looked forward to electric vehicles. The first production Shelby EV fits perfectly into our goal to maintain Shelby American's position as a leading manufacturer of distinctive, small volume performance vehicles."
Based on the Ford Mustang Mach-E GT, the Shelby package modifies the electric all-wheel drive vehicle. The Shelby team focused on reducing weight, making it smoother, providing auditory appeal and tailoring the styling to increase performance.
"In 2021, we introduced a Shelby concept version of the Ford Mustang Mach-E to gauge public interest," said Gary Patterson, president of Shelby American. "The reaction was very positive, especially with international enthusiasts. We developed our first production version of the vehicle based on that response. The Shelby Mustang Mach-E GT expands our menu of options with an EV for European enthusiasts."
Many countries are moving toward electrification and the global EV market has experienced exponential growth over the last decade. Global sales of electric cars increased by around 60 percent in 2022, surpassing 10 million for the first time. According to the International Energy Agency, one in every seven passenger cars bought in 2022 was an EV.
Shelby American elected to offer 100 of the packages for the 2021-23 Ford Mustang March-E in honor of the Carroll Shelby Centennial in Europe only. As the first production version of an EV in the company's history, it offers owners potential collectability.
"We elected to initially offer the Shelby Mustang Mach-E GT only in Europe because sales of EV's are growing much more rapidly there than in the USA," said Aaron Shelby Board Member of Carroll Shelby International and grandson of the company founder. "And from 2016 to 2021, the number of public EV charging stations increased by 431 percent across Europe. It just makes good business sense for Shelby American."
The Mustang Mach-E is available in 39 countries across the world for 2023, up from 22 in the vehicle's first year. Ford has produced its 150,000th Mustang Mach-E since starting production nearly two years ago, a significant milestone as the company scales EV production to a rate of 600,000 annually by late 2023 and more than 2 million annually by 2026.
Shelby's team explored opportunities to modify the Mustang Mach-E GT based on its experiences with the company's concept SEMA vehicle. Shelby American specifically tailored its limited edition of the Ford Mustang Mach-E to improve handling and styling. Key components include a carbon fiber hood and splitter, custom lightweight wheels and handling package that lowered the vehicle.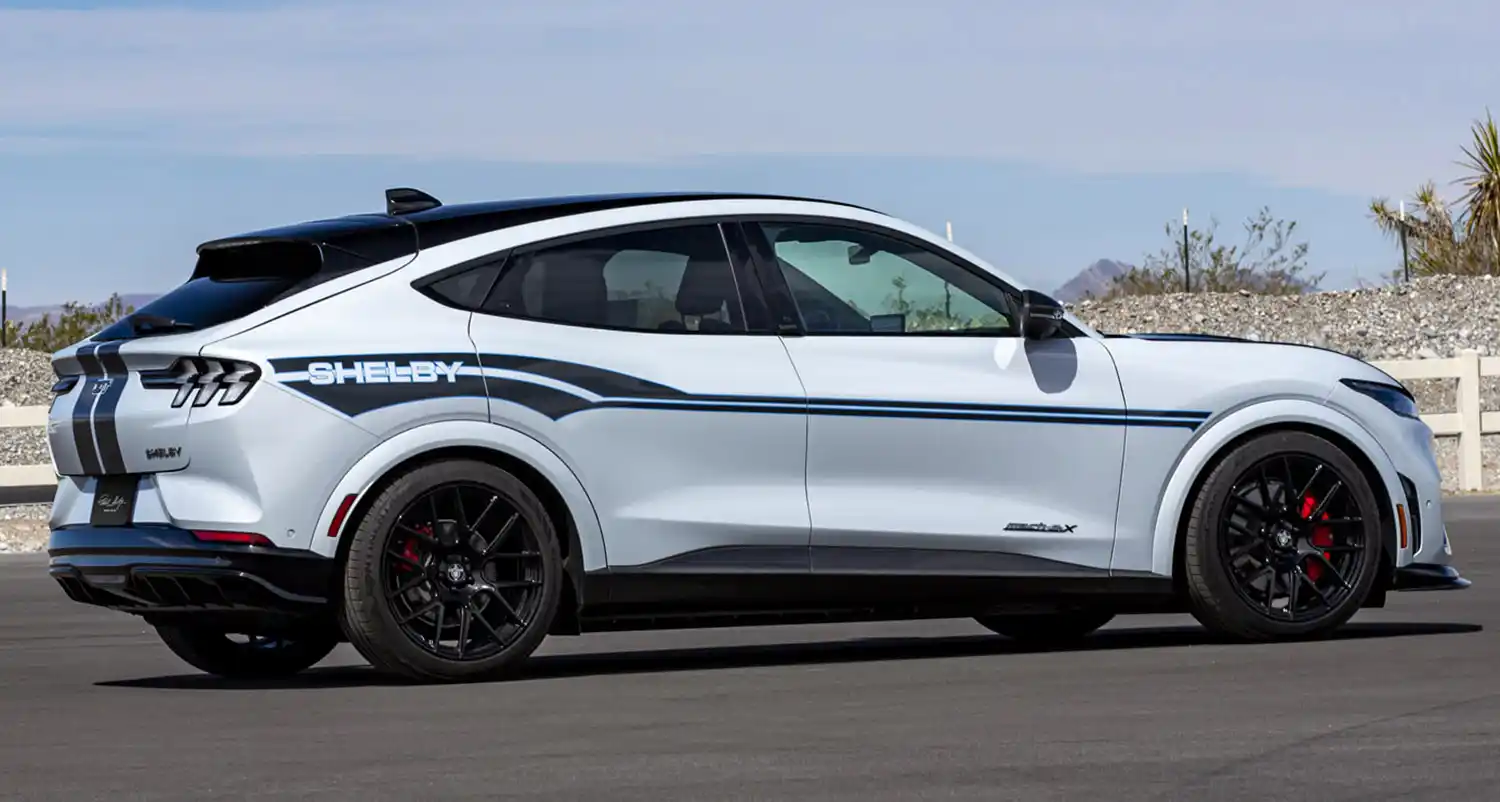 "This is our first foray into a production electric vehicle, so we spent a great deal of time testing EV's on the track to understand their unique handling dynamics," said Vince LaViolette, Shelby American Vice President of Operations. "Based on that experience, we lowered the SUV over an inch, cut weight off the top of it, reduced rotating mass to enhance stability and enhanced the aerodynamics."
Other Shelby modifications to the vehicle include:
Carbon fiber mirror caps, door trim
Racing stripes
Custom Shelby floor mats
Shelby badging both inside and out
Official Shelby CSM identification number
"One of the biggest complaints about EVs is the lack of sound, which is an important visceral component to motoring for enthusiasts," said LaViolette. "That is why we integrated Borla's Active Performance Sound System into the Shelby Mustang Mach-E. This 'auditory connection' really intensifies the sensation and excitement of EV driving. Our Shelby Mustang Mach-E is the first production vehicle featuring the new Borla system."
Introduced at the Las Vegas SEMA show during 2022, Borla's Active Performance Sound System mirrors speed, power, RPM, torque and load with zero latency. The system combines a proprietary algorithm with state-of-the-art audio processing and amplification technology. Using real-time data from the EV's computer, Borla's system generates a hyper-realistic ICE soundtrack that perfectly matches the EV motor status and other vehicle dynamics.
"Sound, vision and touch are the three senses we use for sport driving and without the real-time feedback of motor and vehicle dynamics through soundwaves and vibration much of that experience is missing," said David Borla, Borla Performance Industries Chief Marketing Officer. "This product is an instrument, in more ways than one. It's like an audio tachometer that provides drivers with that real-time feedback, and it's also like a musical instrument that plays an exciting soundtrack that enhances the driving experience giving the vehicle personality and a sense of soul. After all, who wants to watch a car chase movie or play a driving video game with no sound? They go to great lengths to ensure sound is prevalent in those mediums for a reason."
Each 2021-23 Shelby Mustang Mach-E GT includes paid membership in Team Shelby, the worldwide club Carroll Shelby established in 2008, and will be eligible for documentation in the official Shelby Registry.
"We're excited about our first production EV and plan to roll out other electrification programs in the near future," said Patterson. "We are already seeking ways to substantially push EV performance, expand the product line and work with partners like rental car companies. However, Shelby American continues to also be firmly committed to cars and trucks powered by internal combustion engine. We'll introduce several new models over the next 12 months to keep V8 fans revved up."
The package MSRP starts at €24,900, not including the base vehicle. Production begins in Europe in July; owners of a Ford Mustang Mach-E GT can contact Shelby Europe for more information. Select Shelby dealers in the region also have access to the program. Individuals interested in the Shelby vehicle can go to https://www.shelby.eu.