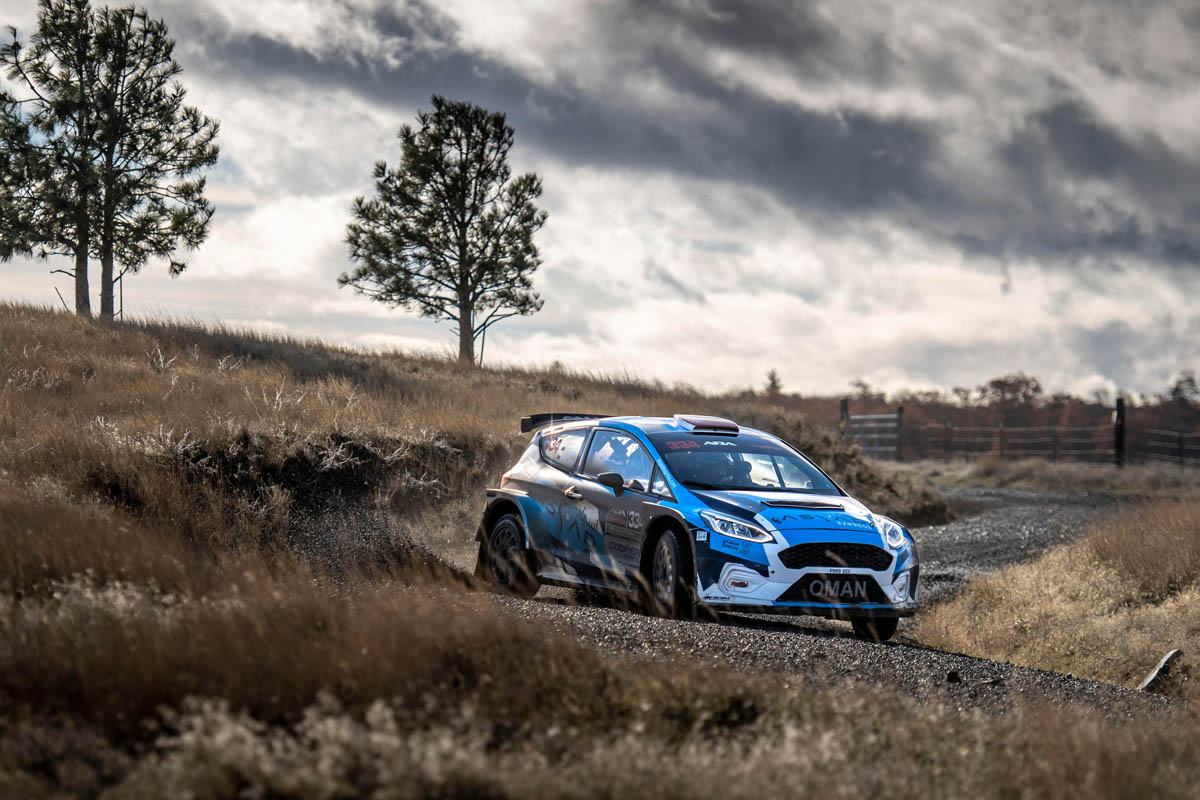 Omani rally driver Hamed Al-Wahaibi held a sensational class lead and fourth overall after the second day of action at the Oregon Trail Rally in the Golendale area of neighbouring Washington State on Saturday.
The 53-year-old and his New Zealand co-driver Tony Sircombe settled into an impressive pace and set a string of fourth fastest stage times behind the three more powerful Open class cars of rally leader Brandon Semenuk, stunt legend Ken Block and Travis Pastrana. Al-Wahaibi leads his nearest rival Javier Castro by 2min 15.2sec heading into the final day.
The Omani's performance in the Ford Fiesta R5, being run on the event by McKenna Motorsport, has already captured the interest of the local media and the support of local spectators on his first appearance at the round of the ARA National Championship.
"It all went very well and I am very pleased that we were fast in the R5," said Al-Wahaibi. "Travis Pastrana came along and complimented us on our performance. The super special at the start was good and the stages on Saturday were beautiful to drive on.
"They were fast and flowing and really enjoyable. The scenery is amazing. The people are fantastic. The level of competition has been very good. What an experience and I will definitely come back again. I tried in the morning to see how close we could get to the Open Class cars, but they are WRC cars in effect. They were flying."
Sircombe added: "Hamed has been driving really well and the car has been doing everything he wanted it to do. They have been tricky and quite difficult roads and you need confidence in some places. Some sections were very technical and narrow, still high speed but no room for error.  We are pleased and we had a little bit of night driving as well. That is something we hadn't done for a while."
Al-Wahaibi made an excellent start to his maiden American rally and held a superb fourth overall and the class lead after two runs through a short super special stage at Portland International Raceway on Friday evening.
American legends Pastrana and Block battled for the outright lead, but Al-Wahaibi shadowed third-placed Semenuk. The Omani duly topped the RC2 field on his debut and found himself 5.4 seconds in front of rival and esteemed British racing driver Kyle Tilley.
Al-Wahaibi is running the Ford in the USA with logistical support from Asyad Express (an Omani delivery and logistics company) and Sandan Development LLC.
The Oregon Trail Rally concludes on Sunday with a further loop of gravel stages around the Dufur region.