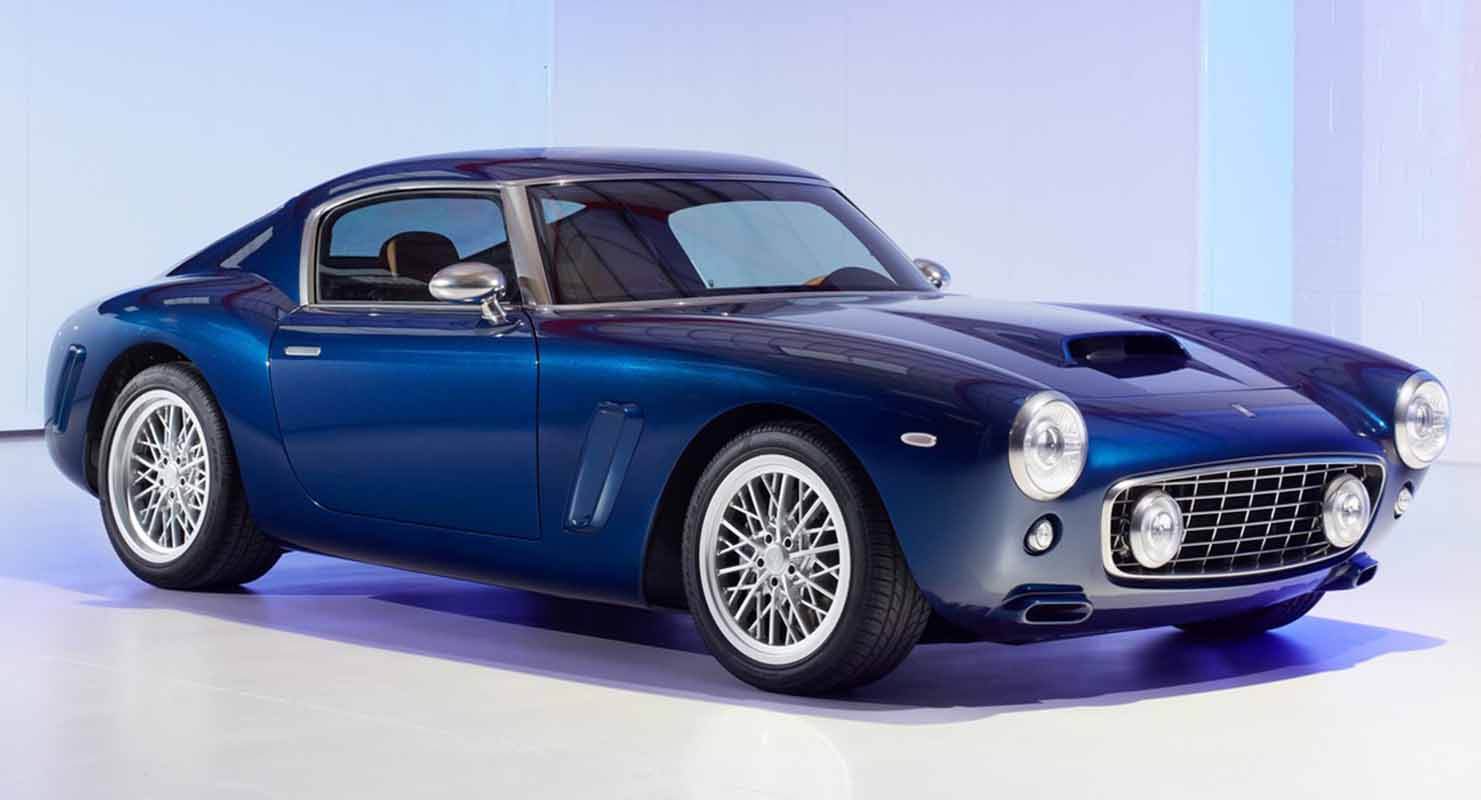 Just over three years ago we decided that a vehicle was needed to showcase the quality and breadth of RML's work in the automotive industry. For many people, RML is synonymous with motorsport success at the very highest level, but over the last two decades it has diversified considerably, undertaking many complex projects outside of the competition arena. Much of its core design, engineering and manufacturing work within the automotive sector is as a 'white label' partner to prestige OEMs around the world, and this work is quite rightly confidential.
But our vehicle could wear the RML badge, and also benefit from the vast experience our in-house team has gained producing some of the industry's most advanced engineering solutions for other companies. And that 'vehicle' has now materialised: the RML Short Wheelbase is complete and production will start imminently.
That the project has also turned into a labour of love for everyone involved with the programme is no great surprise. The Short Wheelbase was always conceived as an emotional model, without compromise, so while we have made sure that the end product conforms to the very highest industry standards in terms of quality, durability and safety, it also captures the character – the look, sound and tactility – of an epic GT car from the golden age of motoring. It is, in our eyes, the ultimate grand routier.
Michael Mallock, CEO, RML Group Ltd.
Design, Quality & Safety

Evocative GT design recalls glory days of grand routier motoring
Obsessive attention to quality equals the very highest standards of fit and finish
Carbon-composite body construction has resulted in exceptional crash-strength
The RML Short Wheelbase is a two-seat, high-performance GT, the design of its lightweight, carbon-composite body paying homage to the driving purity of supercars from the past, while offering 21st-century comfort and convenience. Features like its stacked rear lights, exposed fuel filler, chip-cutter front grille and vents appearing behind each wheel and on the bonnet have all been carefully reimagined.
Powered by a 5.5-litre Ferrari V12 engine, allied to a manual six-speed gearbox, the Short Wheelbase integrates a raft of discreet modern features which transform it into a fast and usable GT with classic lines, capable of swallowing large distances with a degree of comfort and convenience that wouldn't have been dreamt of 60 years ago.
That convenience has extended to a cabin that will accommodate occupants up to six feet, six inches (two metres) in , on exquisitely-trimmed and electrically adjustable seats. And while the Short Wheelbase's interior design captures a classic style, modern technology – such as satnav, air conditioning, cupholders and smartphone connectivity – has been artfully and discreetly integrated throughout.
Occupant safety was also prioritised from the start of the programme, and simulated tests based on the Short Wheelbase's reduced kerb weight and carbon-composite construction have produced extraordinary results. Using industry standards for analysis, RML's own roof-crush test produced figures well within the permissible displacement after a 23.9kN load was reached in a roll-over simulation.
The quality of the Short Wheelbase's two-part clamshell body was also borne from RML's incredible attention to detail, with 99% of the pilot car's dimensions within a 2.5mm tolerance, and 60% being 1mm or less after being 'dry-fitted' to the Short Wheelbase's steel backbone chassis. The rear clam alone comprises everything rear of the car's A-pillars, including windscreen, rear-screen and door openings. Weighing just 40kg, it's a full 30kg lighter than the equivalent structure of the Ferrari 550M from which it takes its underpinnings.
Achieving the paintwork's rich lustre you see in the accompanying pictures is an arduous task, involving layers of special carbon primer, regular primer and a silver base coat that gives this first Short Wheelbase's as yet un-named blue colour a real 'pop'. Even carbon-composite parts of the Short Wheelbase that remain unpainted – for example, around the door shuts – are treated with a clear carbon primer, flatted back and then coated with a smoked-carbon lacquer.
And with a new configurator available for the Short Wheelbase, first customers are already choosing how to personalise their cars. In fact, exterior colours are only limited by someone's imagination, according to RML's head of design, Jonathan Bowen: "We're really looking forward to working with customers as they create their own, very special Short Wheelbases. As well as having a near-limitless colour palette, there are a variety of exterior trims to choose from. We're also developing some graphics, such as door roundels and parallel stripes, which suit the car's design and remit perfectly."
Powertrain & Performance
RML's powertrain expertise helps optimise Ferrari V12 for the Short Wheelbase
Bespoke cooling system developed to cope with rigours of extreme climates
New exhaust system helps retain vivid performance, but enhances acoustics
Durability and future serviceability key pillars for export markets
At the heart of RML's new Short Wheelbase is one of the all-time great high-performance engines: a 5474cc, naturally aspirated, 65-degree Ferrari V12. Producing 479bhp at 7,000rpm and 419lb ft of torque at 5,000rpm, the unit is an engineering masterpiece, and one that will power the car from 0-60mph in 4.1 seconds and to 180mph*.
The V12 engine delivers drive to the Short Wheelbase's rear wheels through a six-speed manual gearbox and transaxle, which incorporates a limited-slip differential.
However, integration of the powertrain called upon all of RML's vast experience developing performance powertrains from scratch for OEMs. Mark Way, Director of Engineering for the Short Wheelbase programme summed up some of the challenges.
"It was important for us to look at the V12's application in the 550 model so that we could benchmark its intake and cooling characteristics accurately. We then worked closely with the car's head of design, Jonathan Bowen, to make sure that ducting air into the engine not only met our requirements, but also didn't make any aesthetic compromises.
"The difference in dimensions between the 550 (the platform from which underpins RML's car) and the Short Wheelbase also meant that inlet, cooling and exhaust systems had to be designed from scratch so they would integrate with a more compact body, but still perform effectively in even more demanding driving environments. Imagine, for example, making full use of the car's performance and then hitting a traffic jam in downtown Dubai in 50-degree heat – well, that's what it's designed to cope with."
Mark's colleague, Matt Packham, was tasked with developing the Short Wheelbase's oil and cooling systems, which again are bespoke. "The design and layout of the radiators and cooling system were a priority from the start, since where they sit in the engine bay determines how most other components are positioned. We started by seeing how effective the 550's cooling pack was by testing it in a climatic wind tunnel chamber, and with that data, developed our own cooling test rig specifically for the Short Wheelbase."
Matt's team then re-designed the five radiators for the new application (water and engine oil radiators, gearbox and PAS coolers, and an HVAC condenser), as well as the oil tank for the engine's dry-sump system, which could no longer be accommodated at the front of the engine bay and had to be relocated at the side of the engine. "We also wanted the under-bonnet area to have a more cohesive design," said Matt. "So components like the oil tank and washer reservoir are positioned symmetrically and each has a neat carbon cover."
Of course, a classic engine like the Ferrari V12 should not only be seen, but heard in all its glory, and the RML team had to develop an all-new exhaust system from the manifold to its quad tail-pipes (apart from the catalyst) to achieve this. Acoustically sonorous, but meeting all current noise regulations, the system also had to be free-flowing enough not to impede the engine's original performance.
With a target to emulate the exhaust note of a classic V12 road-racer, RML's engineering team started by making recordings of the donor car's Ferrari V12 from inside and outside the car at various speeds and loads, from idle to full-throttle acceleration. The engine was also put on a dynamometer, and data from both tests was built into a computer-simulated model that could be adapted to suite the new noise requirements of the Short Wheelbase. This also had to be achieved while still meeting current noise regulations, and without impacting on the car's 479bhp performance.
And that performance will be consistent from car to car, thanks to RML's Powertrain Assurance Programme. Each V12 unit is first dynamometer-tested to establish its power credentials. It is then stripped and follows a strict measurement process to gauge cylinder bore wear and to check that all internal components fall within the manufacturer's original scope of tolerance. Only when the unit is brought back to its original specification does it go through a final validation on the dyno before being installed in the Short Wheelbase.
But while RML's new classic GT is bespoke in almost every way, use of OEM service parts mean that it can be maintained by any reputable specialist around the world, which given that around 70% of cars will be exported, will be important to buyers. For those, though, who would rather have a more personal touch, RML offers its own 'flying spanner' service, where its technicians will carry out maintenance as required wherever the car is located.
*Estimated figures.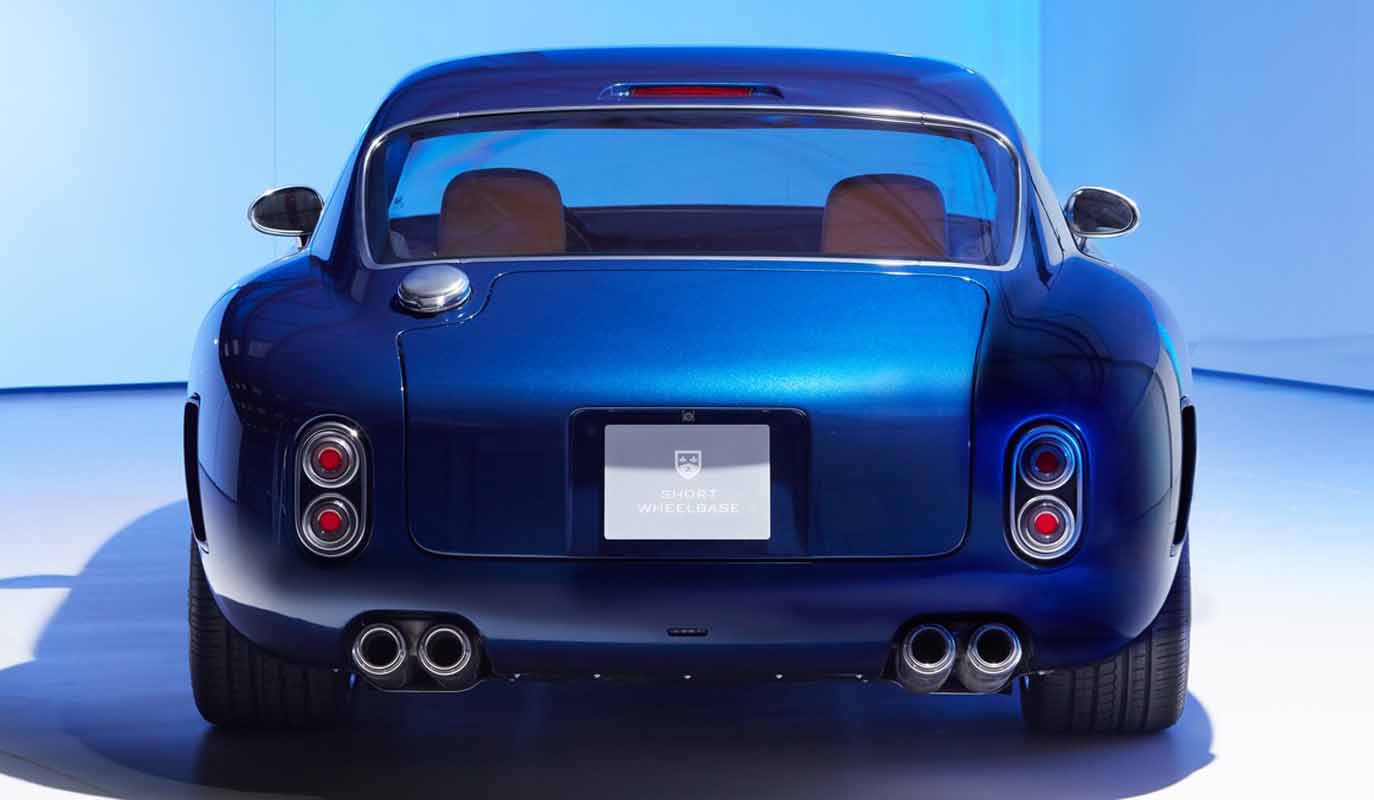 Chassis
Accomplished chassis offers tight control, yet with excellent pliancy
Bespoke, passive Ohlins dampers chosen to suit lower kerb weight and smaller dimensions
Aerodynamics efficiency validated using high-tech CFD calculations
The Short Wheelbase's chassis set-up has been designed to provide first-class control for fast-road driving, while being pliant enough to deal with the wide variety of imperfect road surfaces found around the world. The Short Wheelbase uses double wishbone and coil suspension on each corner, and anti-roll bars are used front and rear.
Nic Rutherford, Project Lead Engineer for the Short Wheelbase, explained his approach to finding the right dynamic compromise: "We're using the platform and chassis from the Ferrari 550 Maranello, which from the start struck the right balance with a broad level of dynamic excellence, but not so highly-strung to be out of kilter with the Short Wheelbase's character. We then needed to adapt the chassis to reflect the significant changes made in the car's design."
While the Short Wheelbase retains the 550's wheelbase dimension and suspension pick-up points, its weight, aerodynamics and overall balance are significantly different. As a result, Nic's team swapped the 550's active Bilstein dampers for bespoke passive Ohlins units tuned to suit the new car's dynamic brief. Springs rates and anti-roll bar (ARB) thicknesses were also developed specifically for the lower-weight Short Wheelbase, along with a reduction in ride for improved control.
Nic's team also discovered some happy consequences of reducing the 550 body's front overhang: "While it hasn't affected the overall front to rear weight distribution versus the 550, it has moved more of the car's weight towards the centre of gravity, which obviously has benefits in terms of driveability. We also relocated the battery from the engine bay to the boot, which improved the balance still further."
The Short Wheelbase's aerodynamics, being different to those of the 550, also had a bearing on the car's dynamics. CFD (Computational Fluid Dynamics) testing allowed the team to predict lift characteristics at high speed, introducing another element of tuning into the mix.
Wheel design was critical to the overall appearance of the Short Wheelbase, too, with its 18-inch alloy rims designed in-house, and its Pirelli P-Zero Rosso tyres selected for their suitability with the new car's chassis set-up. "We had the option of going with a bespoke tyre," explained Nic, "but we needed to future-proof maintenance of the car for owners in different markets, so having the reassurance that the Pirelli tyre will be in production for the foreseeable future was crucial."
Finally, chassis stiffness – which has an important bearing on any car's handling and composure – is likely to be improved for the Short Wheelbase. While the 550 M's steel backbone chassis carries over, its largely aluminium body is replaced by a composite structure, with all the attendant benefits in rigidity.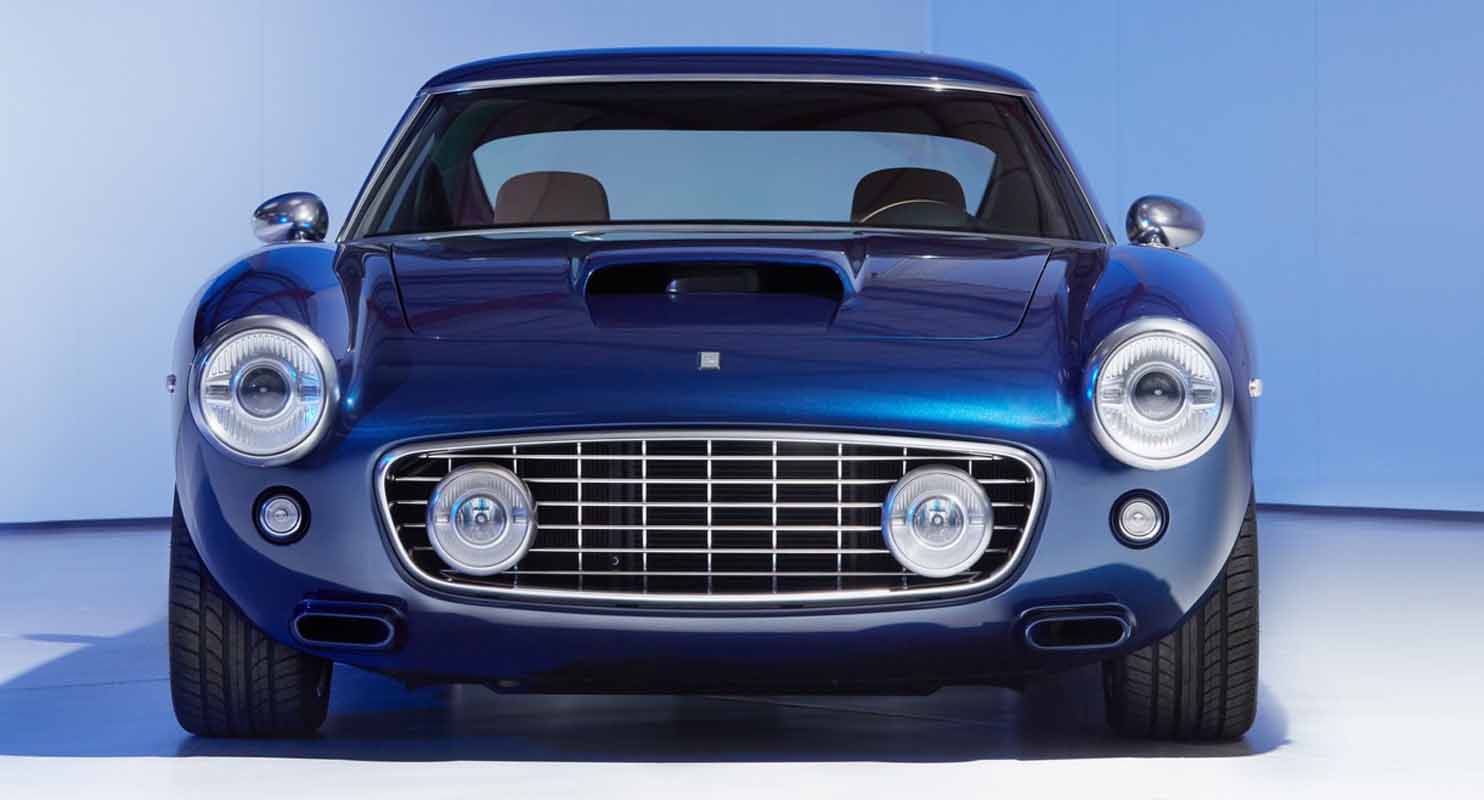 Interior
'No-plastic' mantra led to exquisitely designed controls made from glass and alloy
Cabin packaging comfortable for drivers up to 6ft 6in tall
Classic design artfully conceals 21st-century convenience and technology
Described by RML's head of design, Jonathan Bowen, as 'balanced and pretty, but purposeful and confident', the new Ferrari V12-powered car is a fast and usable Grand Routier which takes its inspiration from the great road and race legends of yesteryear, but offers occupants 21st-century comfort and convenience.
Like the classic design of its carbon-composite body, the Short Wheelbase's cabin is a work of art, and while it appears beautifully analogue, technically and ergonomically it's anything but. Designed to accommodate drivers from 5ft to 6ft 6 in, the interior is light and spacious, with excellent visibility front and rear.
"Very early on, we built a buck that could accept a broad range of human sizes," recalls Bowen. "We actually built it around RML's shortest employee, and tallest one – our CEO Michael Mallock wearing a race helmet, in fact! This effectively set the roof-line, and all other dimensions flowed from there."
An adjustable steering column for reach and rake, along with bespoke, multi-adjustable seats trimmed in a choice of leather or Alcantara, mean that almost any driver will find their perfect position in the car and be comfortable, even over a long distance.
"We had a 'no-plastic' mantra when we started designing the interior," said Bowen. "It would have been easy to save tens of thousands of pounds buying off-the-shelf dials and controls, but they would not have met our high standards. Therefore, every switch, button and clock you see in the Short Wheelbase is bespoke, and developed in-house. The conical dials you see across the dashboard are inspired by high-end watchmaking, and everything you can see and touch in the cabin is either machined aluminium, glass or leather. But once again there's an extensive choice of leather, Alcantara or fabric interior trims available. Samples are being produced in black, tan, grey, red and blue, with diamond, ribbed or perforated patterns offered, too."
And despite the Short Wheelbase cabin's classic design, a raft of modern technology has been discreetly integrated to provide occupants with modern-day levels of comfort and convenience. A compact, but high-performance air conditioning unit has been developed to deal with even the hottest climes, illustrating RML's vast experience with component engineering for other performance car OEMs. A pair of cup-holders and multiple cubbies around the cabin make long-distance travel more of a pleasure, while electric controls for windows, seats and mirrors blend neatly with more traditional design cues, like the open-gated six-speed manual gearshift.
But once again, RML's expertise at producing and validating components and systems from scratch has paid dividends. "For example," says Bowen, "we've developed a unique infotainment system for the Short Wheelbase that incorporates everything you'd expect from a high-end modern vehicle, such as smartphone connectivity. The system can be hidden completely, and only pops up from the central gear-tunnel when it's needed. To make sure that happened every time, we put it through a ten-thousand cycle test and it passed with flying colours!"
Production & Sales
RML's CAD and CFD experience has led to exceptional build quality levels
Exclusivity guaranteed with proposed production run of just 30 cars
Export markets will dominate sales
Predictive engineering, using CAD (computer aided design) and CFD (computational fluid dynamics), is an area in which RML has vast experience, having been entrusted with many complex, whole-vehicle programmes before on behalf of OEMs. The process accelerates development times, but also guarantees a far more exacting and high-quality result once components have been manufactured and are ready for final assembly.
No compromise was made with quality, even where significantly higher costs were involved, and nothing illustrates that better than the exhaustive process in constructing the Short Wheelbase's chassis and body in white. "There are three areas we focus on," say Nic. "The all-new components used in the chassis (much of the front and rear chassis sections are unique); detailed refurbishment of any carry-over sections; and then modification of certain components which are carried over from the Ferrari 550's platform. What has helped us achieve such a high standard throughout this process is scanning every component and then reverse-engineering them so they integrate perfectly with the new design of the Short Wheelbase."
With the Short Wheelbase's body-in-white jig now complete, new parts are laser cut and scanned to minimise deviation from specification. The jig allows for a maximum 0.25mm tolerance – an exceptionally low figure – and guarantees that the fit and finish of each car's chassis/body meets the same standards buyers would expect from a premium manufacturer producing thousands of cars.
Reinforcing the drive for exacting quality standards is the Short Wheelbase's main body section, which is formed as one complete part, from windscreen to tail, once again minimising the risk of tolerance deviation. Along with the bodywork's front section, once this is fitted to the chassis, the structural build is complete and sub-assemblies like the V12 powertrain, bespoke interior and modified suspension can be added.
Each car from the proposed run of 30 Short Wheelbases will take around six months to complete, with the capability of up to six builds in process at any one time to meet the already strong demand from across the world.
Around 70% of sales will be for export, with a majority of those expected to be in North America. The RML Short Wheelbase is available to order now, with prices starting at £1.35m plus local taxes.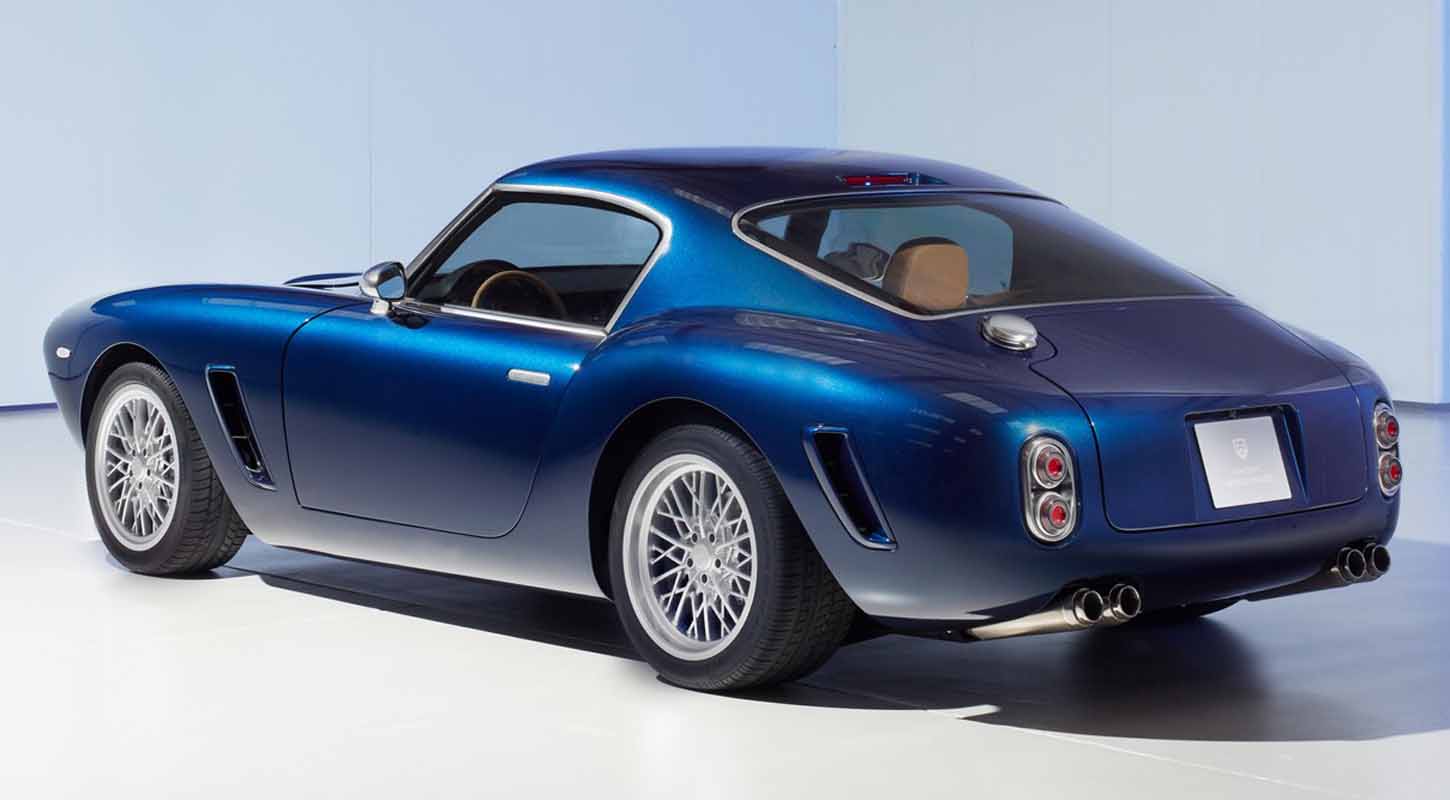 Technical data
RML SHORT WHEELBASE
ENGINE
Layout 12 cyls in a vee, 5474cc
Max power 479bhp @ 7000rpm
Max torque 419lb ft @ 5000rpm
Specific output 89bhp/litre
Installation front, longitudinal, rear-wheel drive
Construction alloy head and block
Bore/stroke 88/75mm
Valve gear 4 valves per cyl, dohc per bank
Compression ratio 10.8:1
GEARBOX
Type 6-speed manual, transaxle, limited slip differential
Ratios/mph per 1000 rpm
1st: 3.15/6.3 2nd: 2.18/9.1 3rd: 1.56/12.7
4th: 1.18/16.8 5th: 0.93/20.3 6th: 0.76/26.3
Final drive ratio: 3.91
BRAKES
Front 330mm ventilated drilled discs
Rear 310mm ventilated drilled discs
SUSPENSION
Front double wishbones, coils, anti-roll bar, passive dampers
Rear double wishbones, coils, anti-roll bar, passive dampers
STEERING
Type Rack and pinion, servotronic, speed-sensitive assistance
Turns lock-to-lock 2.1
WHEELS & TYRES
Wheel size 8.5J x 18in (f), 10.5J x 18 (r)
Tyres size 255/40 ZR18 (f), 295/35 ZR18 (r) Pirelli P-Zero
WEIGHT
Kerb weight 1700kg (est)
PERFORMANCE
0-60mph 4.1 secs (est)
Max speed 180mph (est)
COST
Price OTR £1.35m + local taxes