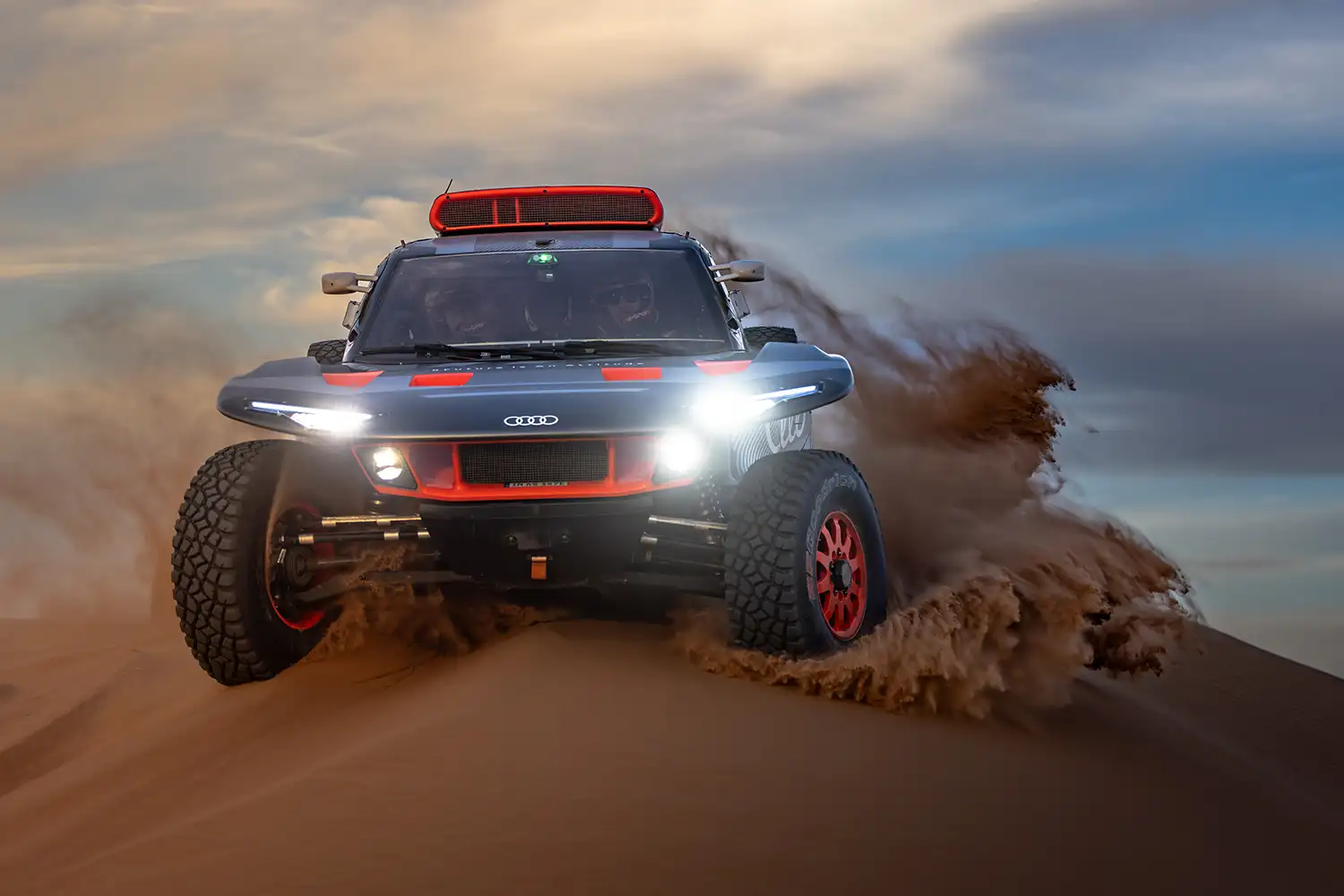 Meet the Team of Seasoned Dakar Champions and Promising New Talent Ready to Take on Motorsports Greatest Desert Challenge.
November 20, 2023 – The 2024 Dakar Rally is gearing up to be a thrilling spectacle of speed, endurance, and determination as the Red Bull Desert Wings squad prepares to tackle the challenging terrain of Saudi Arabia. With a mix of seasoned Dakar champions and promising newcomers, the Red Bull Desert Wings team is set to deliver an unforgettable performance. The rally is scheduled to commence on January 5, 2024, and will encompass a grueling 5,000-kilometer racecourse divided into 12 challenging stages, with the grand finale taking place in Yanbu on January 19. Here's all you need to know:
The fifth edition of the Dakar Rally hosted by Saudi Arabia promises to raise the bar even higher, offering competitors 60% of new terrain to conquer and introducing an unprecedented 48-hour stage covering 600 kilometers. The combination of fresh challenges and an innovative format has catapulted the unpredictability factor of this Dakar to new s. Now, the 2024 Red Bull Desert Wings squad is gearing up to take on the challenge and vying for desert glory in 2024.
– Seth Quintero, the 21-year-old rising star, will be driving for defending Dakar champions TOYOTA GAZOO Racing, marking his debut in the elite car class after securing the T3 title in the World Rally-Raid Championship. Quintero's co-driver in the Toyota GR DKR Hilux T1 will be Dennis Zenz.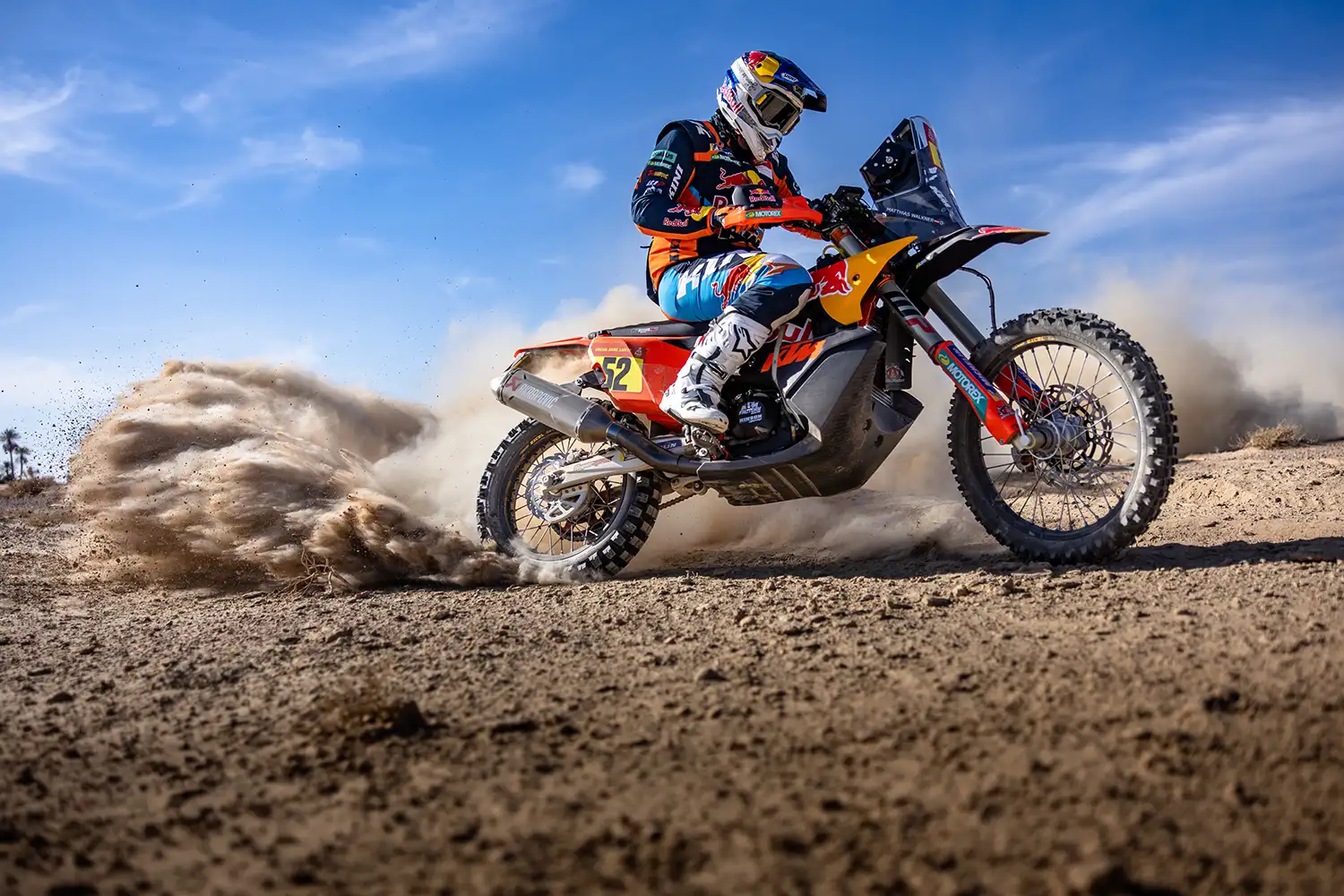 – Seth Quintero revealed: "When I got the call to race the next Dakar with TOYOTA GAZOO Racing, that was something I couldn't turn down."
– Joining Quintero in the TOYOTA GAZOO Racing lineup are Lucas Moraes and Giniel de Villiers. Moraes, who impressed as a rookie last year, will be navigating with the experienced Armand Monleon. De Villiers, the only African-born driver to win the Dakar, aims to add another victory to his resume with co-driver Dennis Murphy.
– Guillaume de Mévius, who finished third in the T3 category at the previous Dakar, will compete as a privateer in the car class, driving Overdrive's Hilux alongside Francois Cazalet.
– Nasser Al-Attiyah will be behind the wheel of a Prodrive Hunter, with co-driver Mathieu Baumel, representing Nasser Racing Team. Al-Attiyah has a chance to make history by becoming the first driver to win the Dakar with four different manufacturers.
– Nasser Al-Attiyah said: "I think we have a package here to win the Dakar. Everything that Prodrive does is always very professional, and the standards are very high."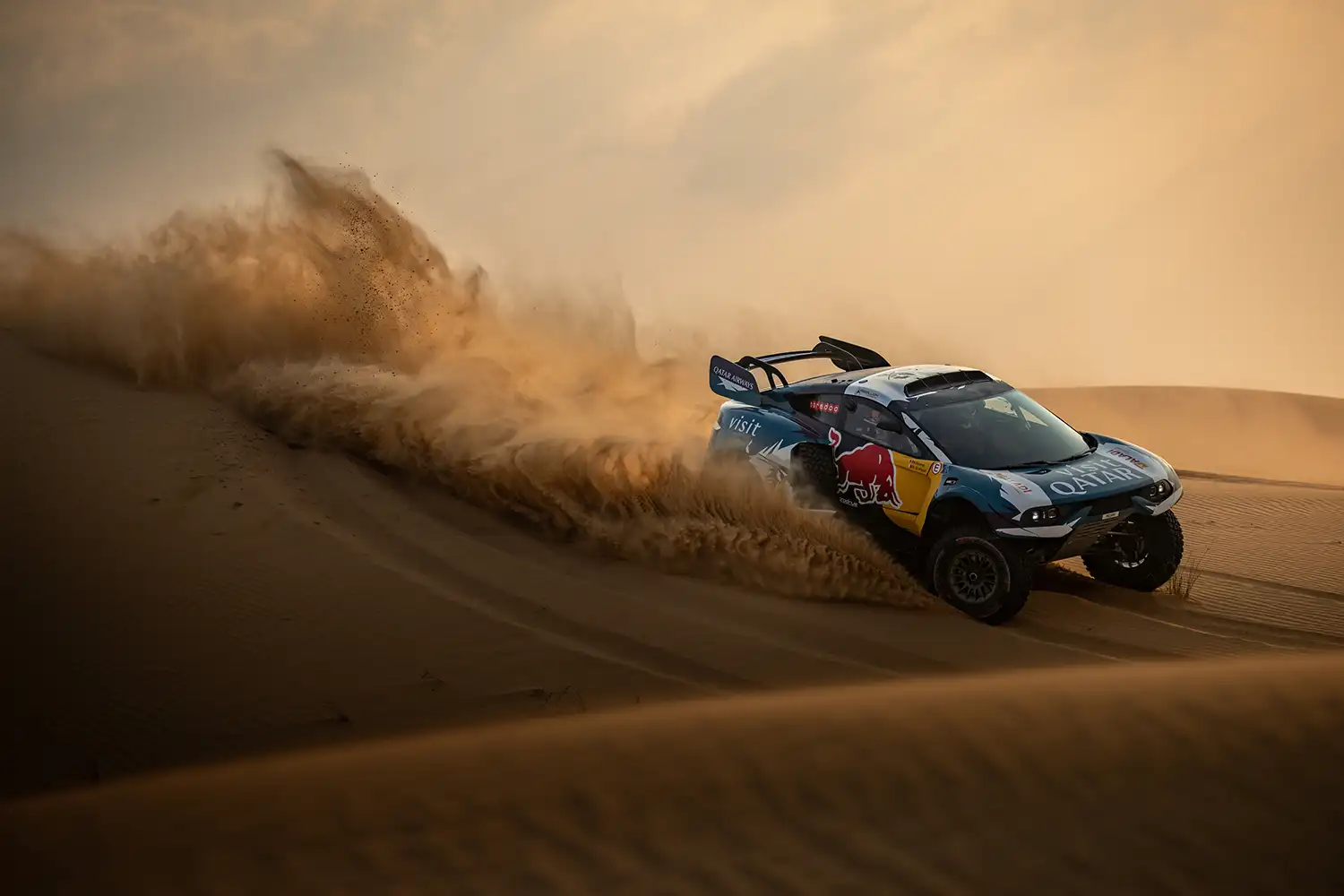 – Nine-time WRC winner Sébastien Loeb returns with Bahrain Raid Xtreme, determined to secure his first Dakar victory after consecutive runner-up finishes, alongside co-driver Fabian Lurquin.
– Team Audi Sport brings a formidable trio with a total of 17 Dakar titles between them. Carlos Sainz and Lucas Cruz, Stéphane Peterhansel and Edouard Boulanger, and Mattias Ekström and Emil Bergvist will pilot three Audi RS Q E-Trons, with fans eagerly anticipating their improvements and the FIA's adjustments to the 'Balance of Technologies' since their last desert showdown.
– Carlos Sainz explained: "The Dakar has a very unique atmosphere because everything is at the limit. It puts the cars at the limit, the mechanics, the team, and the drivers."
– Laia Sanz, a Dakar veteran, will make her third appearance on four wheels, driving an SRT Buggy with co-driver Maurizio Gerini. Sanz has successfully completed all 13 editions of the Dakar she has participated in, 11 of which were on a bike.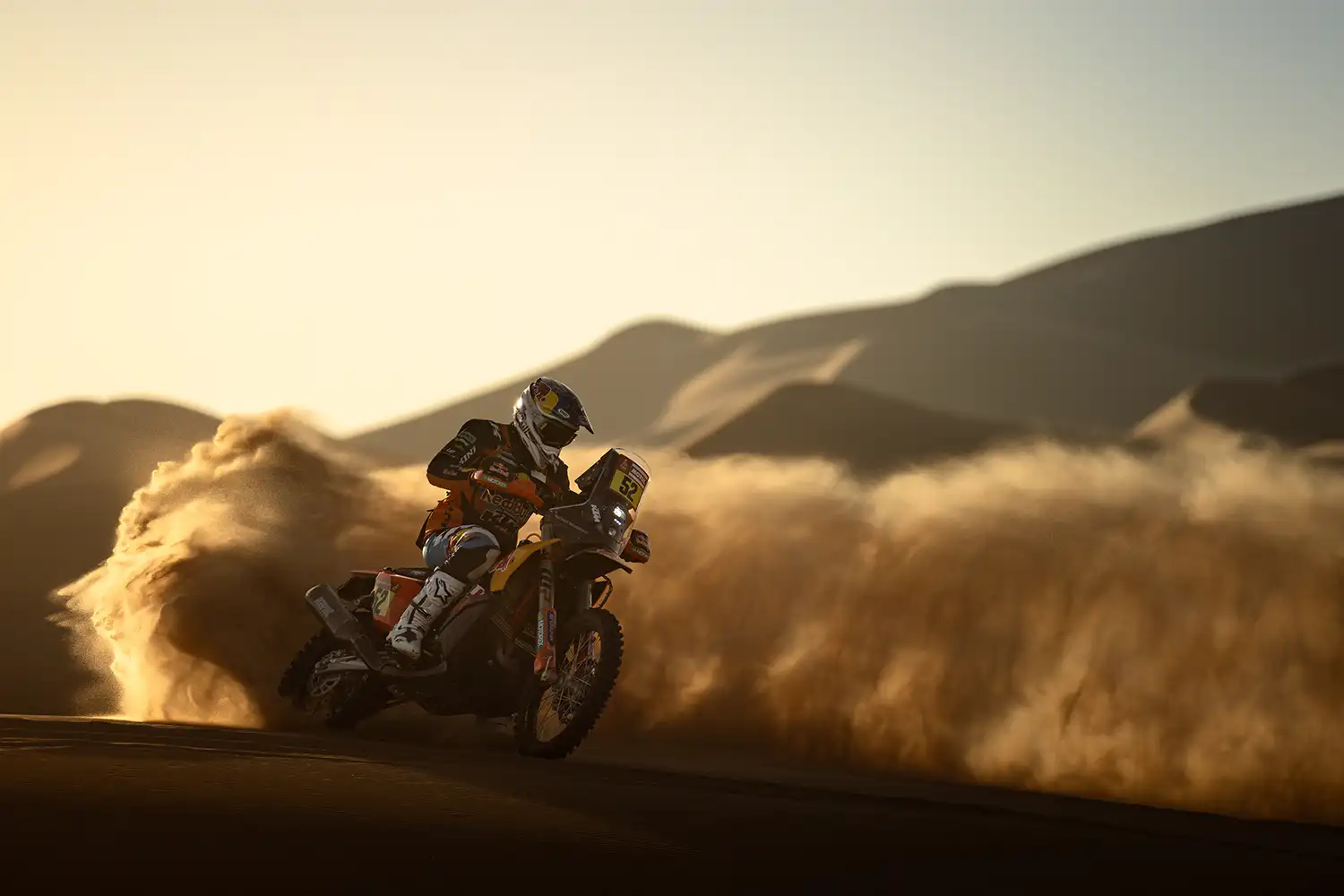 – Red Bull KTM Factory Racing returns with Kevin Benavides, aiming to maintain their winning streak after his victory at the 2023 Dakar Rally. Joining him are fellow KTM teammates Toby Price, the runner-up at the last Dakar, and Matthias Walkner, all determined to conquer the Middle Eastern terrain.
– Kevin Benavides said: "I'm working hard in the weeks before this next Dakar to make sure I'm physically 100% for the rally."
– Luciano Benavides, the 2023 FIM World Rally-Raid Championship winner, will compete on a Husqvarna bike alongside his older brother Kevin.
– Despite a challenging season, Red Bull GASGAS Factory Racing's Sam Sunderland and Daniel Sanders remain formidable contenders, capable of surprising the competition.
– Sam Sunderland said: "My year hasn't been the best, and I'm looking to turn that around and get things working in the right direction towards the Dakar."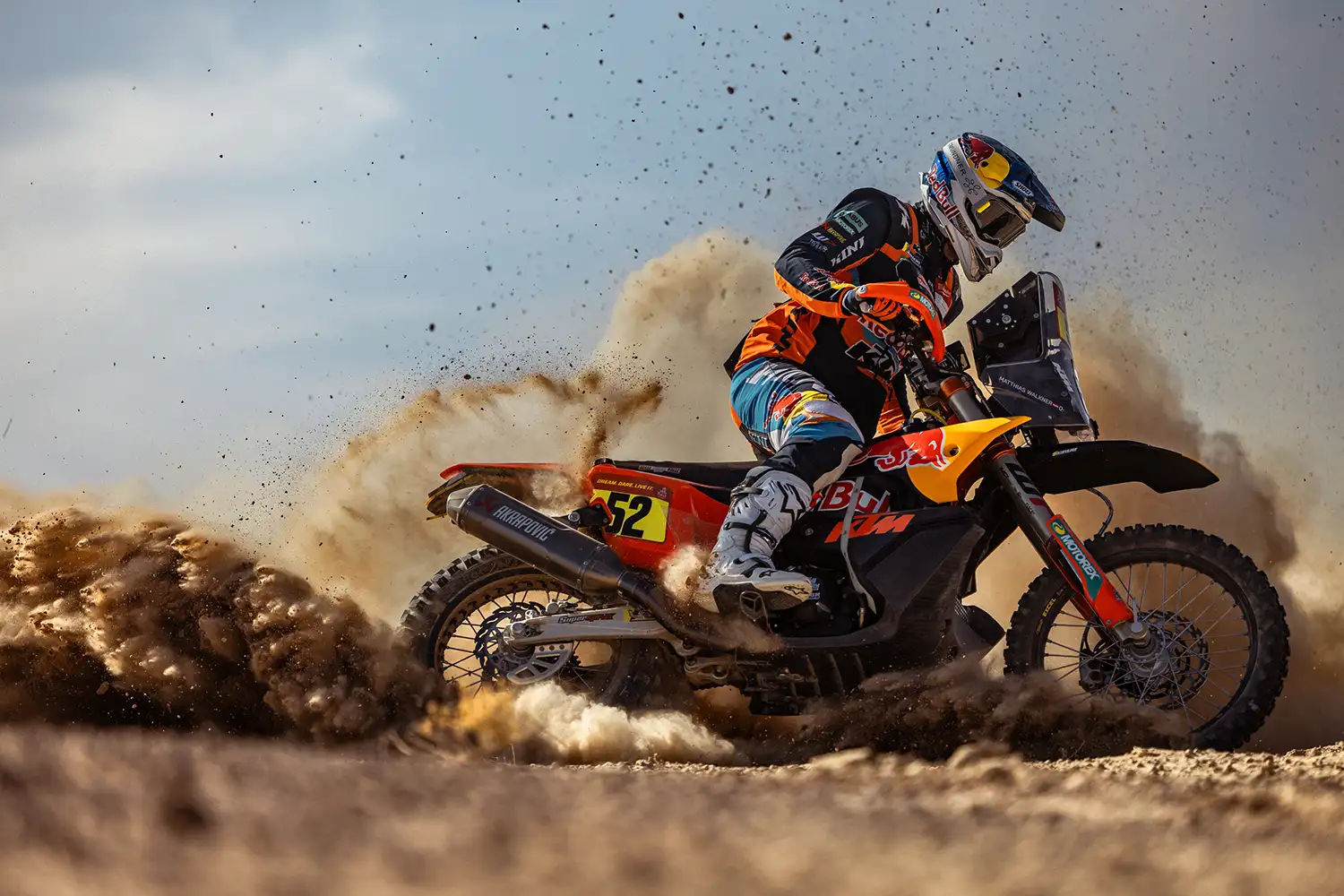 – In the lightweight divisions, Austin 'AJ' Jones, representing Red Bull Off-Road Junior Team USA presented by BFG, aims to secure his third consecutive victory. He returns to defend his T3 title with co-driver Gustavo Gugelmin.
– Austin 'AJ' Jones explained: "Diagnosing situations quickly and coming up with solutions is key at a race like the Dakar Rally."
– Closing out the lineup, Mitch Guthrie Jr. and co-driver Kellon Walch of Red Bull Off-Road Junior Team USA presented by BFG will compete in the T3 category with their MCE5 machine. Saudi Arabian driver Dania Akeel, who finished 8th on her Dakar debut in 2022, will drive a MCE5 for South Racing Can-AM in the same category, aiming for an even higher finish in 2024.
– Dania Akeel revealed: "Racing Rallye du Maroc was a great opportunity for me to get to know the car and the team. I can only benefit from this experience for the upcoming Dakar."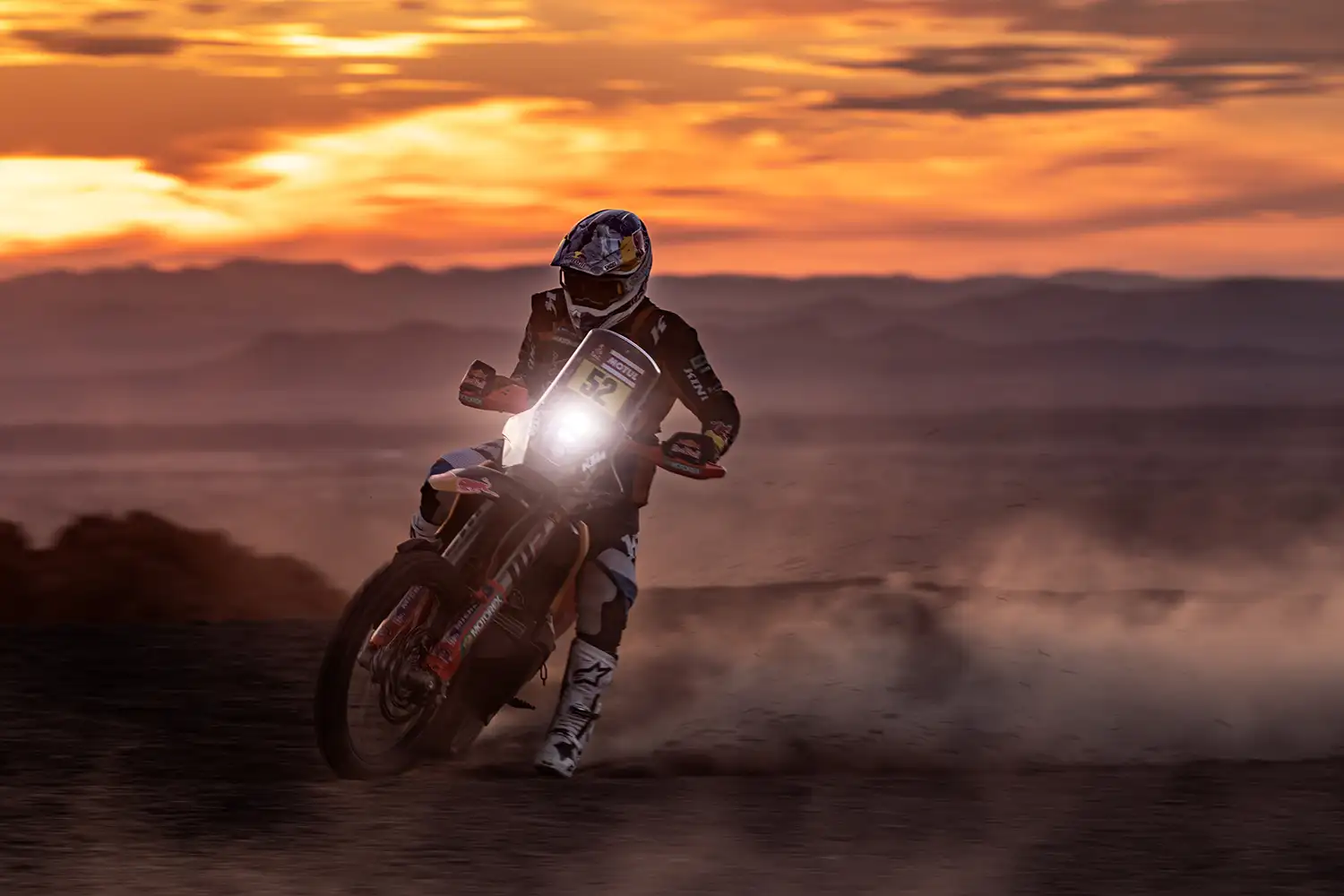 – The Red Bull Can-Am Factory Team will field three race crews, including Francisco 'Chaleco' López Contardo / Juan Pablo Latrach, Rokas Baciuška / Oriol Vidal, and Cristina Gutiérrez / Pablo Moreno. These experienced teams are expected to contend for top honors in the 2024 Dakar.
– Chaleco López revealed: "The idea is to keep improving and arrive at the Dakar in the best possible conditions."
– The 2024 Dakar Rally promises to be an exhilarating and challenging adventure, testing the limits of both man and machine. With a diverse and talented lineup, the Red Bull Desert Wings team is ready to conquer the dunes of Saudi Arabia and make history once again.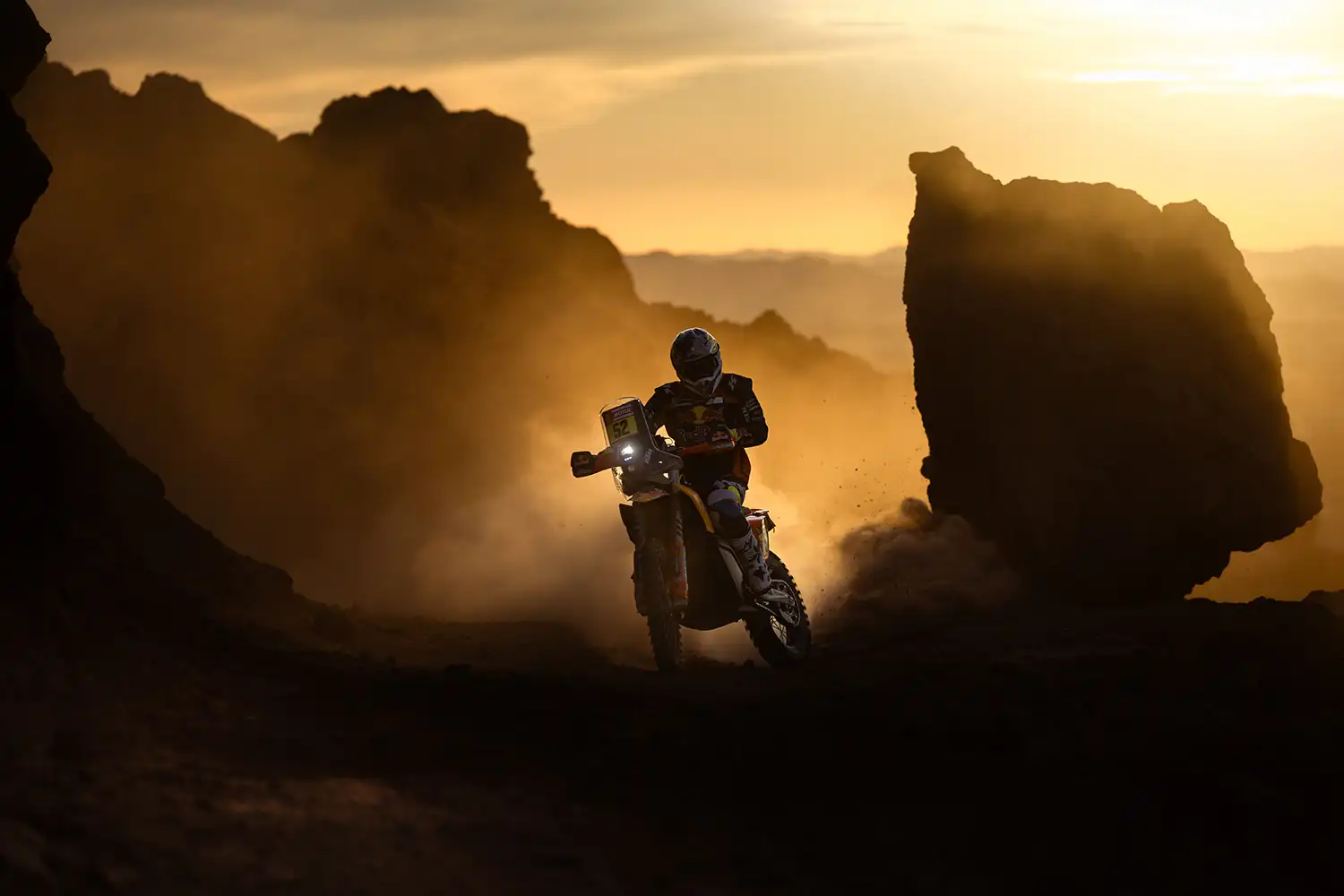 QUOTES
Seth Quintero: "I've been working so hard for so long, I've been racing since I was 10 years old. It's been a long road to get here, I've been doing rally for quite a while now. Getting to the T1+ class has always been the dream."
Lucas Moraes: "We still have legends in the rally and they are still driving really, really fast. I think the type of racing that we do at the Dakar requires experience. This next Dakar will be a great race, our young team up against the older guys. I think we can do something special."
Nasser Al-Attiyah: "I think we have a package here to win the Dakar. Everything that Prodrive does is always very professional and the standards are very high. I think after three trips already to the Dakar and two second place finishes, now it's time for the Hunter car to win the Dakar."
– Carlos Sainz: "The Dakar has a very unique atmosphere because everything is at the limit. It puts the cars at the limit, the mechanics, the team and the drivers. As drivers we respect each other a lot because we know how much we are giving, how much we are pushing, the risks we are taking."
Stéphane Peterhansel: "It really would be a dream to win the next Dakar with this special Audi car. I'm going there expecting a good result. It will not be easy because we are up against so many high-level competitors."
Kevin Benavides: "I've been recovering from my injury and getting back on the bike. I'm working hard in the weeks before this next Dakar to make sure I'm physically 100% for the rally."
Toby Price: "I'm definitely excited to race another Dakar with Red Bull KTM Factory Racing. I've been racing for KTM for 15 years now and for the factory since 2015, so it feels great to be able to race the biggest, toughest rally for them once again."
Sam Sunderland: "My year hasn't been the best and I'm looking to turn that around and get things working in the right direction towards the Dakar."
Austin Jones: "I talk with my engineers and mechanics daily at the Dakar to get as much information as I can. Diagnosing situations quickly and coming up with solutions is key at a race like the Dakar Rally."
Dania Akeel: "Racing Rallye du Maroc was a great opportunity for me to get know the car and the team. I can only benefit from this experience for the upcoming Dakar."
Chaleco López: "Last time out the sensations were good and the car ran well. The idea is to keep improving and arrive at the Dakar in the best possible conditions."
Red Bull Desert Wings Line-Up for the 2024 Dakar Rally:
Seth Quintero (USA) & Dennis Zenz (Germany) /TOYOTA GAZOO Racing
Lucas Moraes (Brazil) & Armand Monleon (Spain) / TOYOTA GAZOO Racing
Giniel de Villiers (South Africa) & Dennis Murphy (South Africa) /TOYOTA GAZOO Racing
Guillaume de Mévius (Belgium) & Francois Cazalet (France) / TOYOTA GAZOO Racing
Nasser Al-Attiyah (Qatar) & Mathieu Baumel / TOYOTA GAZOO Racing
Sébastien Loeb (France) & Fabian Lurquin (Belgium) / Bahrain Raid Xtreme
Carlos Sainz (Spain) & Lucas Cruz (Spain) / Team Audi Sport
Stéphane Peterhansel (France) & / Edouard Boulanger (France) / Team Audi Sport
Mattias Ekström (Sweden) & Emil Bergvist (Sweden) / Team Audi Sport
Laia Sanz (Spain) & Maurizio Gerini (italy) / Astara Team
Kevin Benavides (Argentina) / Red Bull KTM Factory Racing
Toby Price (Australia) Red Bull KTM Factory Racing
Matthias Walkner (Austria) Red Bull KTM Factory Racing
Luciano Benavides (Argentina) / Husqvarna Factory Racing
Sam Sunderland (UK) / Red Bull GASGAS Factory Racing
Daniel Sanders (Australia) / Red Bull GASGAS Factory Racing
Austin 'AJ' Jones (USA) & Gustavo Gugelmin (Brazil) / Red Bull Off-Road Junior Team USA
Mitch Guthrie Jr. (USA) & Kellon Walch (USA) / Red Bull Off-Road Junior Team USA
Dania Akeel (Saudi Arabia) & Sergio Lafuente (Uruguay) / South Racing Can-AM
Francisco 'Chaleco' López Contardo (Chile) & Juan Pablo Latrach / Red Bull Can-Am Factory Team
Rokas Baciuška (Lithuania) & Oriol Vidal (Spain) / Red Bull Can-Am Factory Team
Cristina Gutiérrez (Spain) / Red Bull Can-Am Factory Team