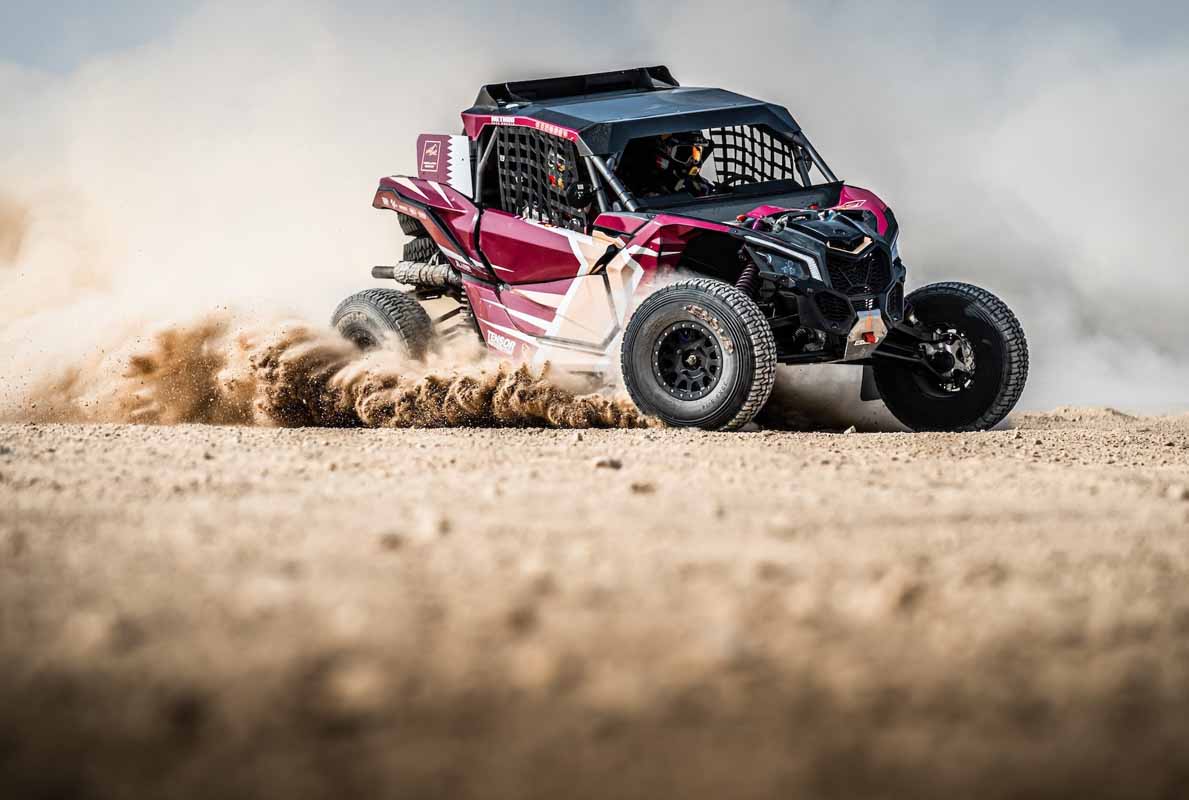 The 2022 Qatar International Baja gets underway with a 9.20km Qualifying Stage on Thursday afternoon.
The outcome will determine the starting order for the first of two demanding selective sections on this second round of the FIM Bajas World Cup and round two of the FIA Middle East Cup for Cross-Country Bajas.
Many of the leading drivers were able to carry out a shakedown in the desert close to Losail on Wednesday afternoon. Nasser Saleh Al-Attiyah, Yazeed Al-Rajhi and Yasir Seaidan dusted the cobwebs off their Toyota Hiluxes, with Al-Attiyah using the latest South African-built Toyota Gazoo Racing machine that won the Dakar Rally in January.
WRC star Dani Sordo and co-driver Xavier Panseri spent an enjoyable few hours with Nasser Saleh Al-Attiyah, his brother Khalifa, Mathieu Baumel, François Cazalet and friends driving Al-Attiyah's personal Can-Ams through the dunes near Sealine beach, south of Doha, on Tuesday.
Sordo was impressed after his first couple of days in Qatar. The Spaniard is competing in a Nasser Racing-entered Can-Am Maverick on his first desert rally this weekend.
He said: "Honestly, it was an amazing experience yesterday with Nasser and all his team. It was really good. First of all, in the dunes, it was a little bit tough. Not to drive, because I was not fast. But the feeling when you go up and down in the dunes. It was something really new for me. It was even more complicated than I thought.
"I drive before this kind of buggies but just for fun, not the Can-Am. But the car has a nice feeling when it is normal corners and it is really good. When you go to the dunes and the co-driver tells you, you need to go up, it's different. Of course, you never do something for nothing. I would like to know this discipline and, in the future, I would like to do a little bit more, you know."
Four-time Dakar winner Al-Attiyah said: "I say this is the last race before Ramadan. I am really happy to create teams for the next Dakar. Kris (Meeke) and Dani (Sordo) and my brother are the right people for the Nasser Racing Academy. We will have an extra two Can-Ams for female drivers. We also need to support them. I am quite happy to start with this project. It's nice to see new people and new cars coming to compete.
"For me, I will do my best to get a good road position on the Qualifying Stage. The reason we are here in Qatar with Toyota is to continue the testing. This race was not in our programme. Kazakhstan was the plan but that race was cancelled. So we decided to come here and to test more things and get ready for the next race in Andalucia. I will also try and do some more testing before Andalucia."
Kris Meeke arrived in Doha on Tuesday evening and will be taking part in his third event in Qatar, but this will be the Andorra-based Ulsterman's first taste of Baja-style racing in the local desert.
He said: "I didn't realise that I would be back in Qatar as quick, but Nasser called me last week and said there was an opportunity to do the Baja in T3 with a South Racing Can-Am. I thought, yes, why not. I've been here two times for the rally but the Baja is something different and something I would like to learn more. It's more Dakar-orientated style of racing. I'm just excited to come again and try something new and a bit different. So many buggies here."
"I have no idea really about the future. François (Cazalet) has been with the Red Bull Junior Team with the OT3. I called him last minute and he was able to come. Let's see. I am working on some plans for the Dakar. But François has a seat with Cristina Gutierrez, so it's just a one-off at the moment."
Yasir Seaidan will drive the second of three Overdrive Racing-run Toyotas. The Saudi driver said: "I've been racing in Qatar already, maybe seven times. I started my first World Cup in T3 in 2012. It's the most difficult rally for navigation and hard also for drivers, too much rocks and punctures. Drivers must be focused. It looks like you can drive fast but no – it's very tricky!"
Meanwhile, the QMMF Team's Rashid Al-Muhannadi confirmed that he had recruited the services of Szymon Gospodarczyk as his co-driver for the Baja. The Pole is better known as the regular navigator for fellow countryman Michal Goczal in the FIA World Rally-Raid Championship. Abdullah Al-Kuwari will be partnered by the Spanish off-road rider Marc Sola.
Six FIA drivers and four leading FIM bikers attended the pre-event press conference at the Losail International Circuit on Wednesday evening.
Nasser Saleh Al-Attiyah, Ahmed Al-Kuwari and Sheikh Mohammed Al-Thani represented the host nation alongside Saudi Arabia's Yazeed Al-Rajhi, the UAE's Mohammed Al-Balooshi and Aliyyah Koloc, Kris Meeke, Dani Sordo, Jordanian Abdullah Abu Aishah, Polish junior rider Konrad Dabrowski and 2019 European Baja Champion Joanna Modrzewska.
The press conference took place in the presence of QMMF President Abdulrahman Al-Mannai and Executive Director Amro Al-Hamad.
Tomorrow (Thursday), riders will tackle a Qualifying Stage of 9.20km, with the first bike on stage from 15.00hrs. The time set will be multiplied by a co-efficient of four to encourage each rider to race competitively. The first of the FIA cars will start the special at 16.00hrs.
2022 Qatar International Baja – leading entries (updated March 23rd):
FIA – T1
Nasser Saleh Al-Attiyah (QAT)/Mathieu Baumel (AND) Toyota GR DKR Hilux
Yazeed Al-Rajhi (SAU)/Michael Orr (GBR) Toyota Hilux Overdrive
Yasir Seaidan (SAU)/Laurent Lichtleuchter (FRA) Toyota Hilux Overdrive
Abdullah Al-Rabban (QAT)/Pedro Santos (PRT) Jeep
Khalid Al-Feraihi (SAU)/Ali Mirza (ARE) Nissan Pick-Up
FIA – T3
Saleh Al-Saif (SAU)/TBA Can-Am Maverick X3 RR
Ahmed Al-Kuwari (QAT)/Manuel Lucchese (QAT) Can-Am Maverick X3
Kris Meeke (AND)/François Cazalet (FRA) Can-Am Maverick X3
Dani Sordo (ESP)/Xavier Panseri (FRA) Can-Am Maverick X3
Aliyyah Koloc (ARE)/Sebastien Delaunay (FRA) Can-Am Maverick DV21
Ahmed Al-Muhannadi (QAT)/Mubarak Al-Khelaifi (QAT) Can-Am Maverick X3
FIA – T4
Camelia Liparoti (SMR)/Xavier Garcia (ESP) Yamaha YXZ 1000R
Khalifa Al-Attiyah (QAT)/Max Delfino (FRA) Can-Am Maverick XRS
Khalid Al-Muhannadi (QAT)/Nick Lines (NZL) Can-Am Maverick XRS
Rashid Al-Muhannadi (QAT)/Szymon Gospodarczyk (POL) Can-Am Maverick XRS
Sadoon Al-Kuwari (QAT)/Nasser Al-Kuwari (QAT) Can-Am Maverick XRS
FIM – Bikes
Mohammed Al-Balooshi (ARE) Husqvarna FR450
Konrad Dabrowski (POL) Husqvarna FR450
Abdulla Al-Shatti (KWT) KTM 450 Rally Replica
Thomas Kongshøj (DNK) Husqvarna FR450
Martin Chalmers (AUS) Yamaha WR 450F
Abdullah Abu Aishah (JOR) KTM 450 EXC-F
Robert Wallace (GBR) KTM 450 Rally Replica
Michael Anderson (RSA) KTM 450 EXC-F
Kurt Burroughs (GBR) KTM Rally
Alex McInnes (GBR) Husqvarna FE450
FIM – Quads
Emiel Stuckens (BEL) Can-Am DS450
Abdulmajeed Al-Khulaifi (SAU) Yamaha 700 CC
Hani Al-Noumesi (SAU) Yamaha
Faisal Al-Suwayh (SAU) Yamaha
Abdulaziz Al-Atawi (SAU) Yamaha YFZ 450
Sultan Al-Masoud (SAU) Yamaha YFZ 450