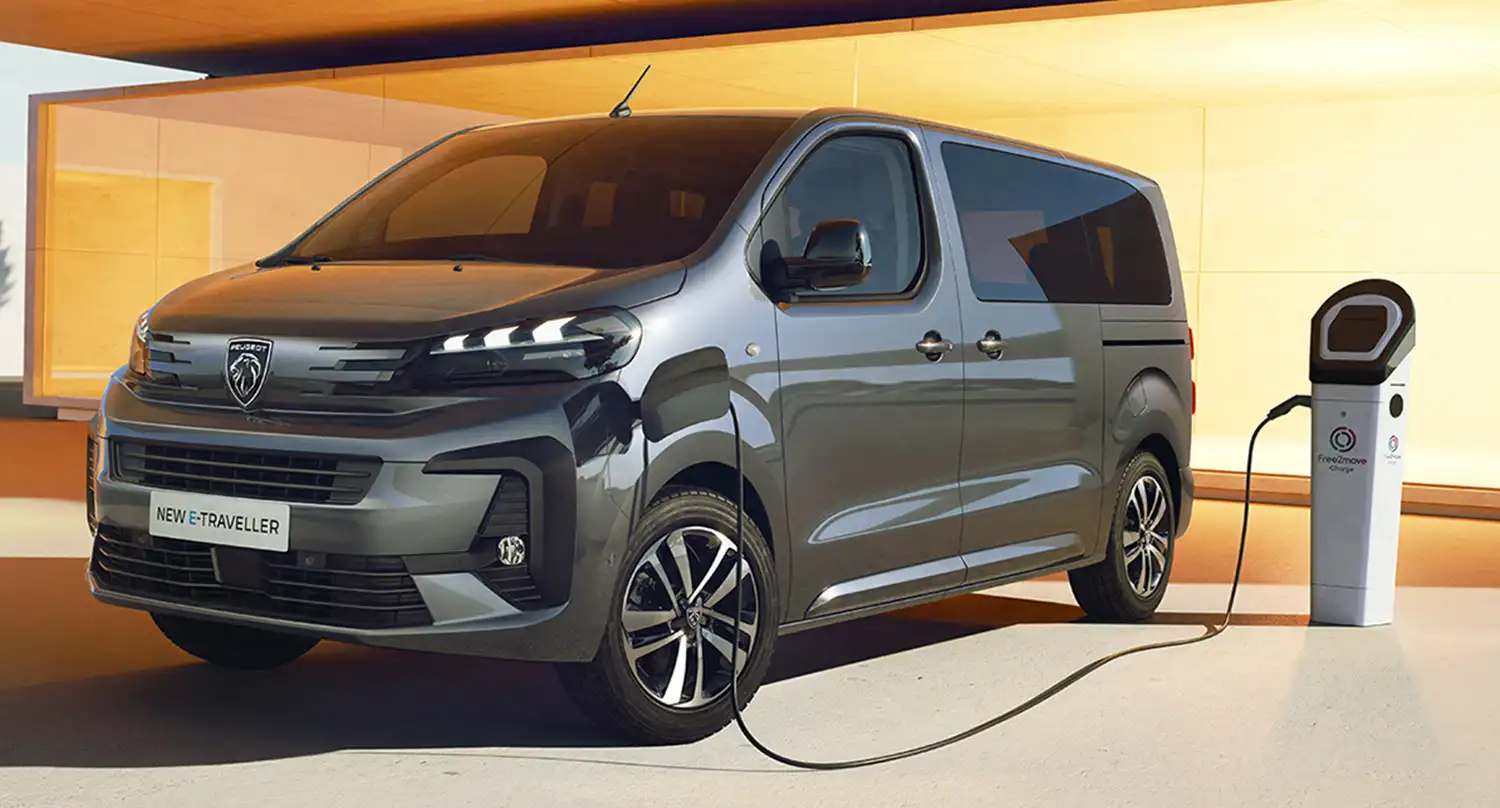 More efficient, more comfortable, safer and more elegant, the new PEUGEOT E-TRAVELLER meets the zero-emission mobility requirements of professional drivers.
ALLURE: a new design that is both stylish and rewarding.
EMOTION: the very best technology for comfort and safety.
EXCELLENCE: 0 emissions, 2 battery types and up to 350 km range.
The new PEUGEOT E-TRAVELLER is the ideal companion for all professional customers who are looking for a vehicle capable of comfortably transporting a large number of passengers and their luggage on long journey.
The new E-TRAVELLER comes in two lengths: Standard (4.98 m) and Long (5.33 m). Its of 1.90 m means it can access most car parks.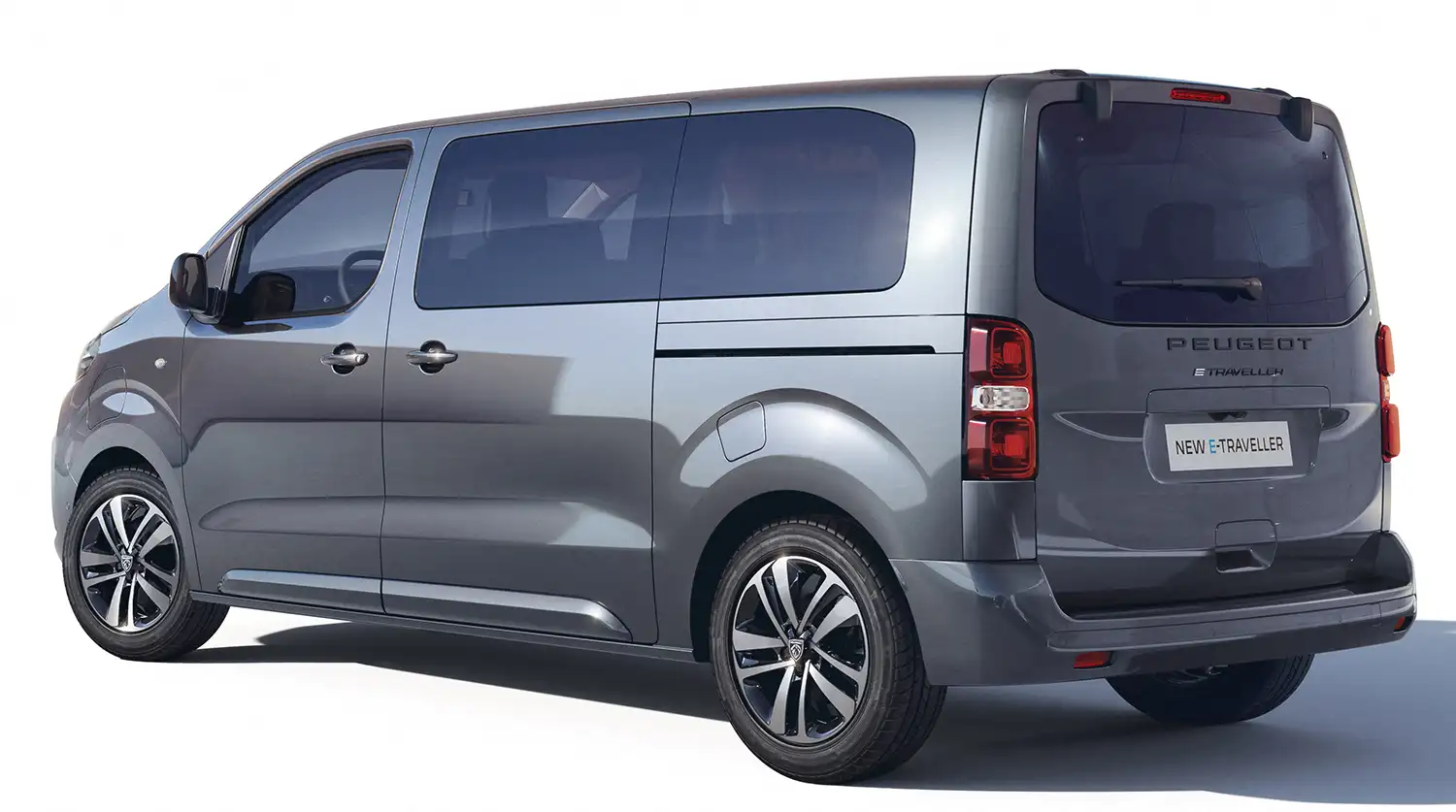 PEUGEOT E-TRAVELLER: Adapted to fulfil every need.
Aimed at professional passenger transport operators (hotels, shuttles, taxis, etc.), the E-TRAVELLER comes with 5 to 9 seats, depending on the version, with a premium level of comfort. A VIP trim level offers a lounge configuration with 4 independent seats facing each other, with a particularly luxurious finish and equipment (tri-zone air conditioning, black-out glass roofs, etc.).
The E-TRAVELLER is adaptable and practical, with sliding and removable seats, shelves in row 2, integrated sun blinds and more. And it is also perfect for outdoor activities, thanks to Advanced Grip Control with Hill assist Descent Control, a reinforced traction system for use on low-grip surfaces (sand, mud, snow, etc.).
An E-EXPERT Combi with up to 9 seats and optimised practicality, designed primarily for everyday transport – associations, clubs, etc. – is also available.
What all the new E-TRAVELLERs have in common is their particularly generous interior space, uncompromised with the battery located under the floor. Depending on the configuration, the new E-TRAVELLER can carry up to 9 people with a boot volume of 1,500 litres, or 5 people and 3,000 litres, or even offer up to 4,900 litres of load volume with 2 or 3 people on board.
Building on the strength of these fundamental qualities, the new E-TRAVELLER goes one step further to offer a higher level of user-friendliness, safety and efficiency.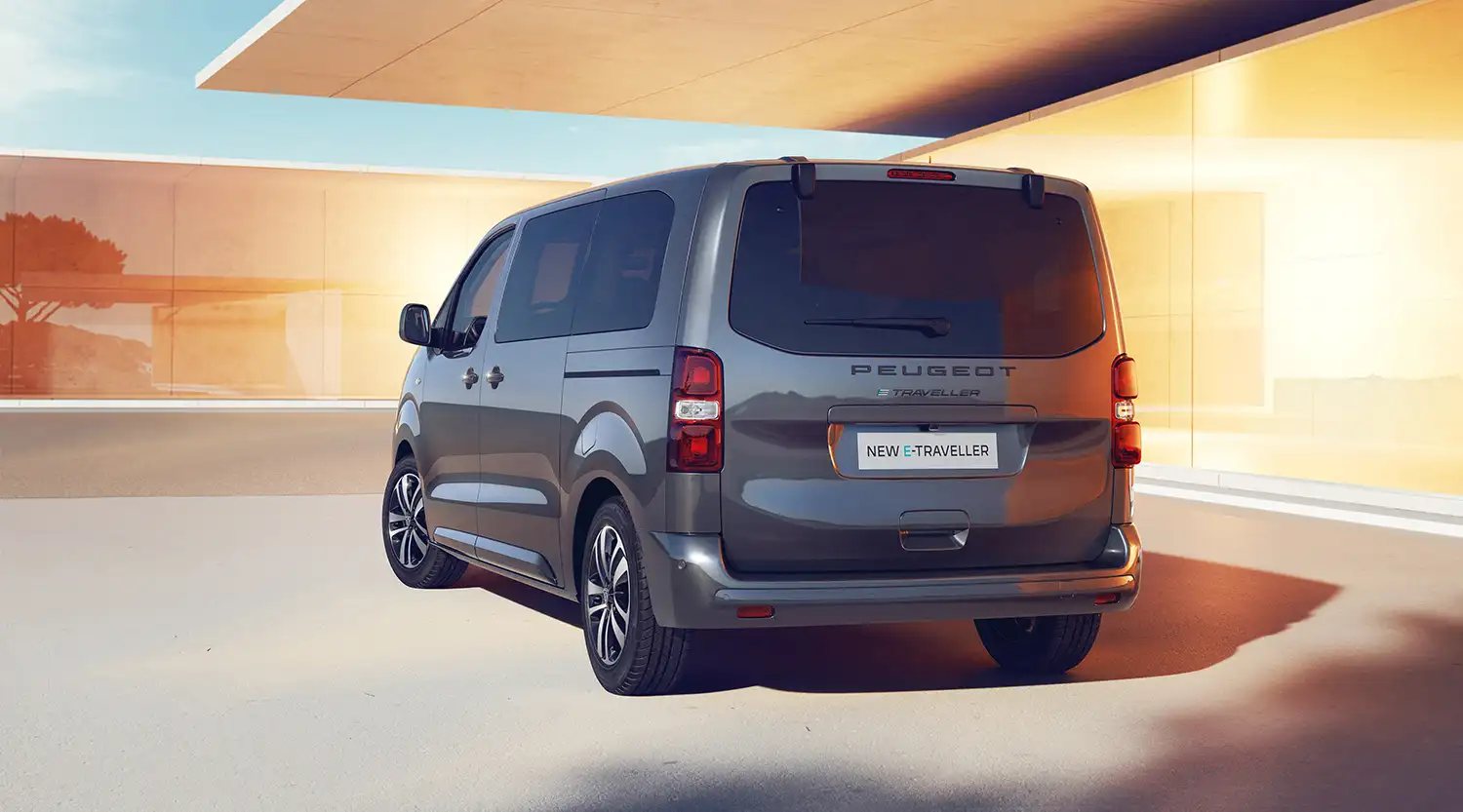 ALLURE: FRESH ELEGANCE
More than ever, when it comes to carrying passengers, the new E-TRAVELLER is a guarantee of elegant, comfortable mobility.
•             A redesigned front end. The E-TRAVELLER adopts the new look of the PEUGEOT range, with a new grille design featuring the brand's new emblem at its centre, as well as new full LED headlamps, the iconic PEUGEOT 3 claw signature and a bumper optimised in terms of protection and aerodynamics for more efficiency.
•             An all-new dashboard. The digital instrument cluster and the large central touchscreen guarantee safety and practicality in everyday driving. The new steering wheel can be fitted with a heating system as an option. There are more and larger storage compartments, notably on the upper part of the dashboard and on the centre console. The dashboard also comes with the new e-Toggle gearshift control, which is practical and compact.
•             The interior finish is even more refined, with new fabric or perforated leather for the seats (depending on version), and new Liquid Palladium-coloured trim on the side panels.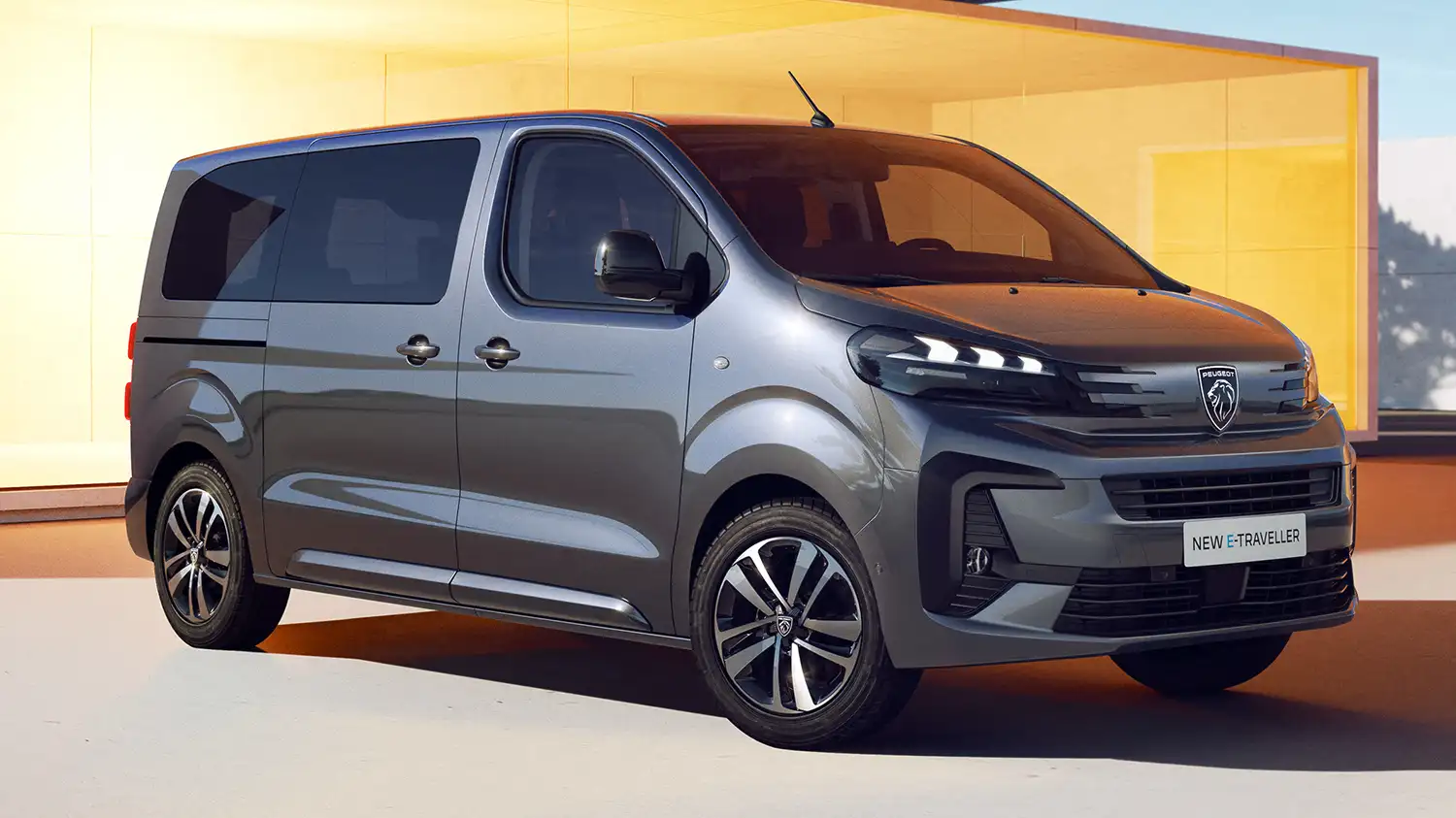 EMOTION: TECHNOLOGICAL DEVELOPMENTS FOR GREATER COMFORT AND SAFETY
The new equipment on the PEUGEOT E-TRAVELLER improves everyday comfort and safety for the driver and passengers…
•             A new 10" 100% digital colour instrument cluster is fitted as standard on all new E-TRAVELLERs. It provides an optimised and customisable display of essential information, including that of the navigation system and information relating to energy flow and recharging.
•             A new large central touchscreen. The new E-TRAVELLER comes with a 10" HD central touchscreen as standard for controlling the audio system and connected navigation. For total comfort, the OK PEUGEOT voice assistant allows you to control the main functions in natural language.
•             A full range of driving aids: driver fatigue warning, traffic sign recognition, lane keeping assist, automatic emergency braking with pedestrian and cyclist detection, speed limiter. The E-TRAVELLER benefits from a wide range of driving assistance systems, which have been enhanced on this new model with adaptive cruise control.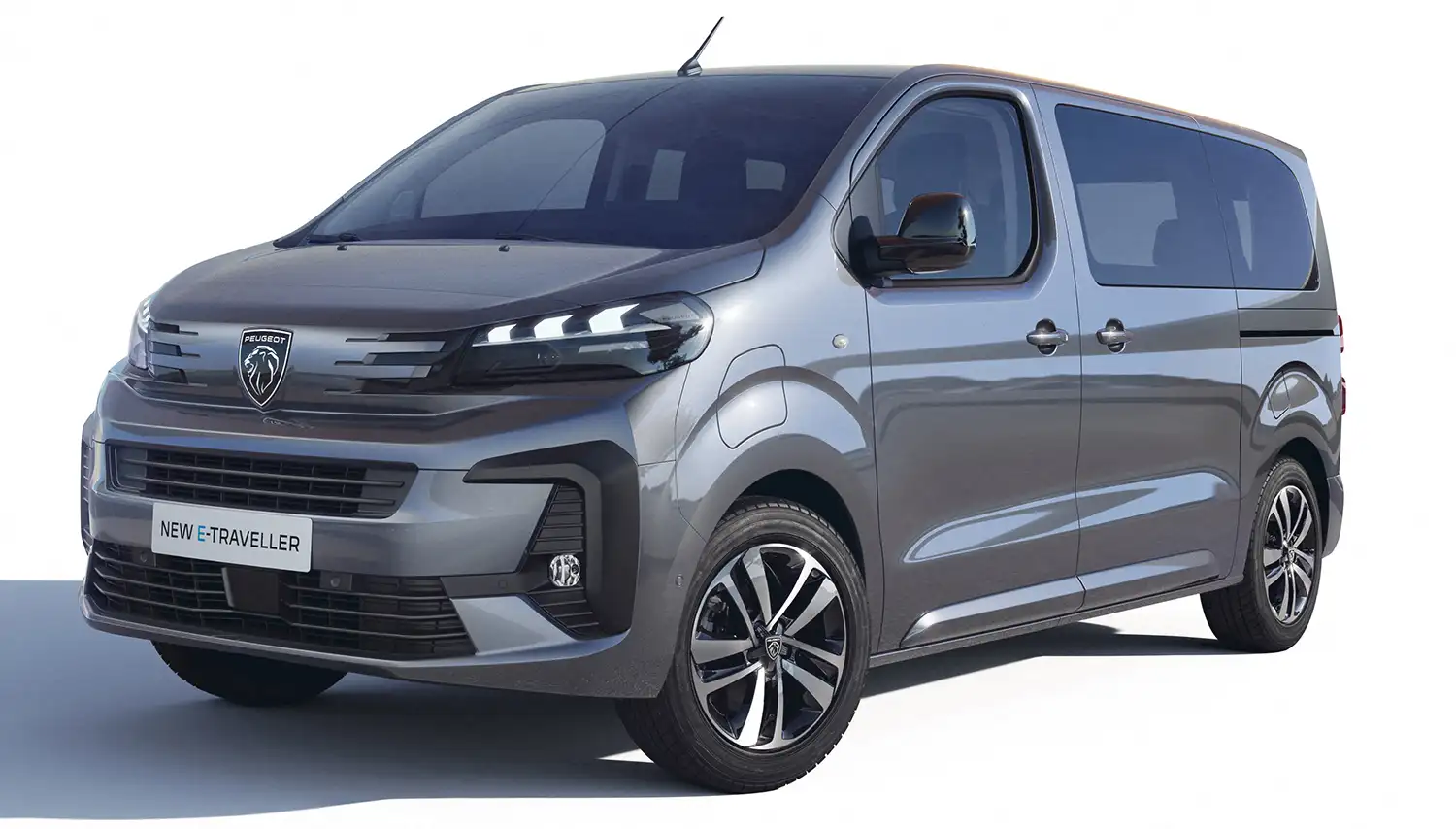 EXCELLENCE: MORE EFFICIENT AND CONNECTED THAN EVER
A complete, high-performance electric range, with extended range of up to 350 km
Three driving modes to suit everyday needs. The new E-TRAVELLER is powered by a new more efficient electric motor offering maximum power of 100 kW (136 bhp) and maximum torque of 260 Nm, guaranteeing optimum performance from start-up to a top speed of 130 km/h. Three driving modes are available: Eco to maximise range, Power for maximum performance under full load and Normal.
Two battery capacities offering up to 350 km of range. To meet every need, the new E-TRAVELLER offers a choice of two batteries. Perfectly suited to everyday urban and suburban use, the 50kWh battery offers a range of up to 224 km (WLTP combined cycle undergoing approval). For optimum versatility on all types of journeys, the 75kWh battery now offers a range of up to 350 km (WLTP combined cycle currently being certified).
A new regenerative braking system. To optimise range, the new E-TRAVELLER features a new regenerative braking system that can be activated at three different regeneration levels using paddles located behind the steering wheel.
Efficient charging. With a 7.4 kW single-phase on-board charger and – as an option – an 11 kW three-phase charger, the E-TRAVELLER can be charged efficiently whatever the infrastructure available.
Estimated charging times are as follows:
From a 100 kW public charging point: 38 minutes for the 50 kWh battery, 45 minutes for the 75 kWh battery (recharge from 5 to 80%).
From an 11 kW wallbox: full recharge with the 11 kW on-board charger in 4 hours 50 minutes for the 50 kWh battery, 7 hours 30 minutes for the 75 kWh battery.
From a 7.4 kW wallbox: full charge with the 7.4 kW on-board charger in 6 hours 43 minutes for the 50 kWh battery, 11 hours 20 minutes for the 75 kWh battery.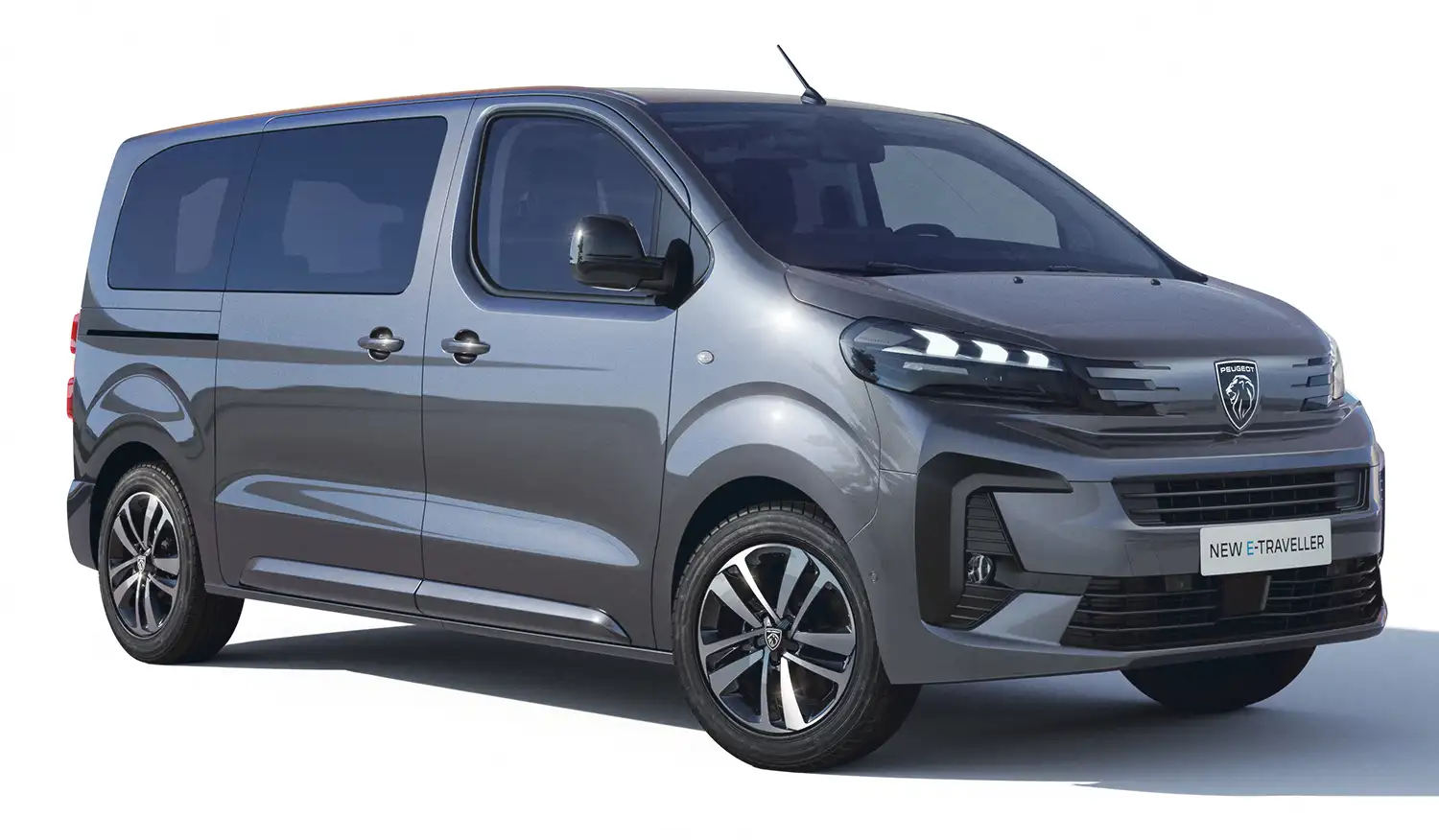 Latest-generation connectivity
The PEUGEOT i-Connect® and PEUGEOT i-Connect® Advanced connected information systems. The PEUGEOT i-Connect® system offers comprehensive and highly responsive connectivity thanks to a mirroring function (Apple CarPlay/Android Auto). The technological experience is complete with PEUGEOT i-Connect® Advanced, which is also equipped with high-performance TomTom connected navigation. System updates are carried out "over the air".
A wireless connection to Apple Car Play and Android Auto means that smartphone content can now be found on the central screen without having to plug it in.
A wireless smartphone charger is now located on the centre console at the front of the new E-TRAVELLER.
More sockets. The new E-TRAVELLER has two USB-C sockets on the dashboard, two USB-C sockets in the second-row seats and two 12V sockets.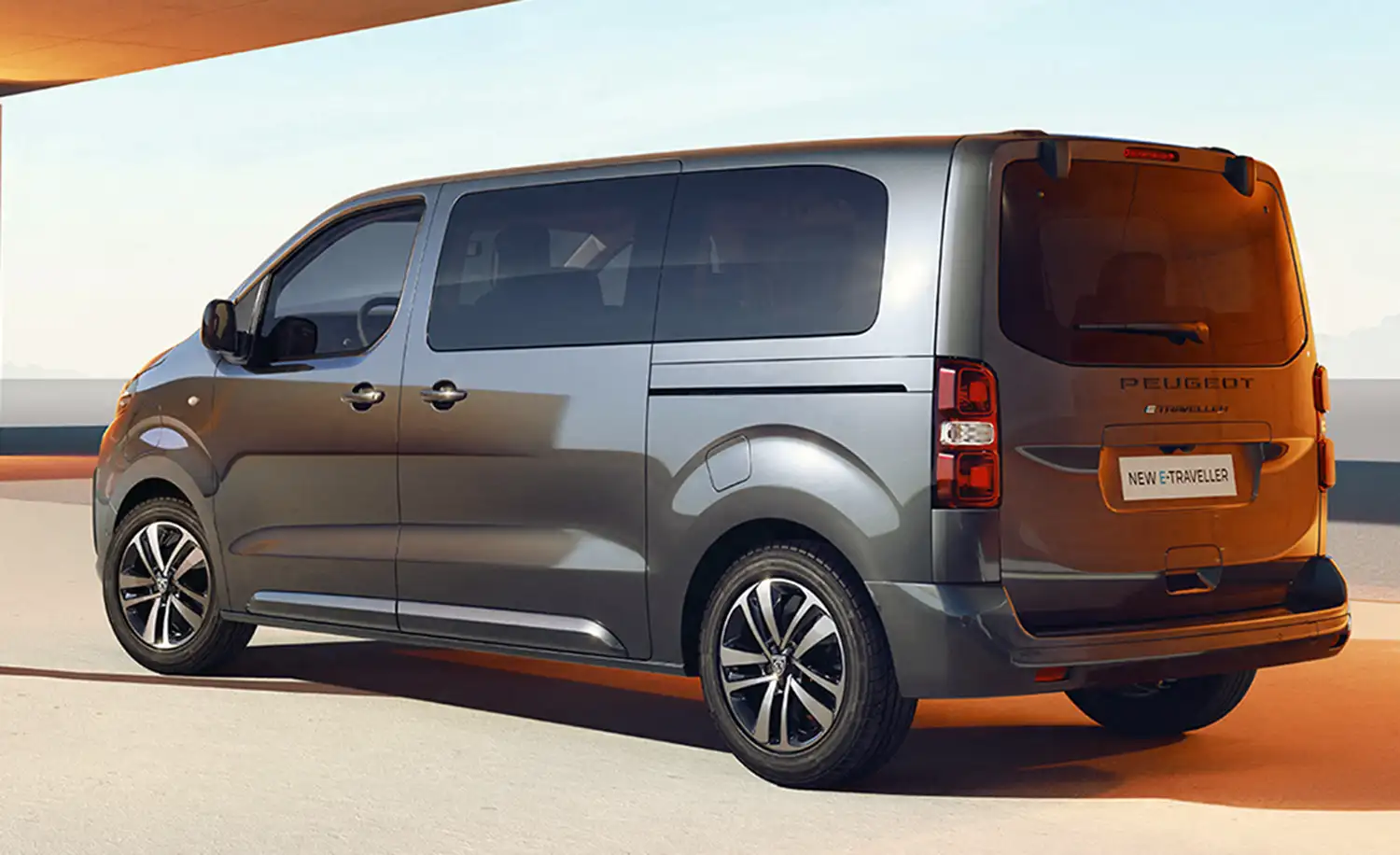 We offer the following connected services to support E-traveller customers:
With Free2move Charge, PEUGEOT facilitates access to different charging solutions:
At home or at the workplace, via a wide range of equipment (reinforced socket, Wall box, Smart Wall box, …), a diagnostic to assess the electrical installation to be provided and the best charging solution, as well as the final installation, thanks to recommended partners.
Public charging via Free2Move Charge, giving access to a network of over 580,000 charging points in Europe.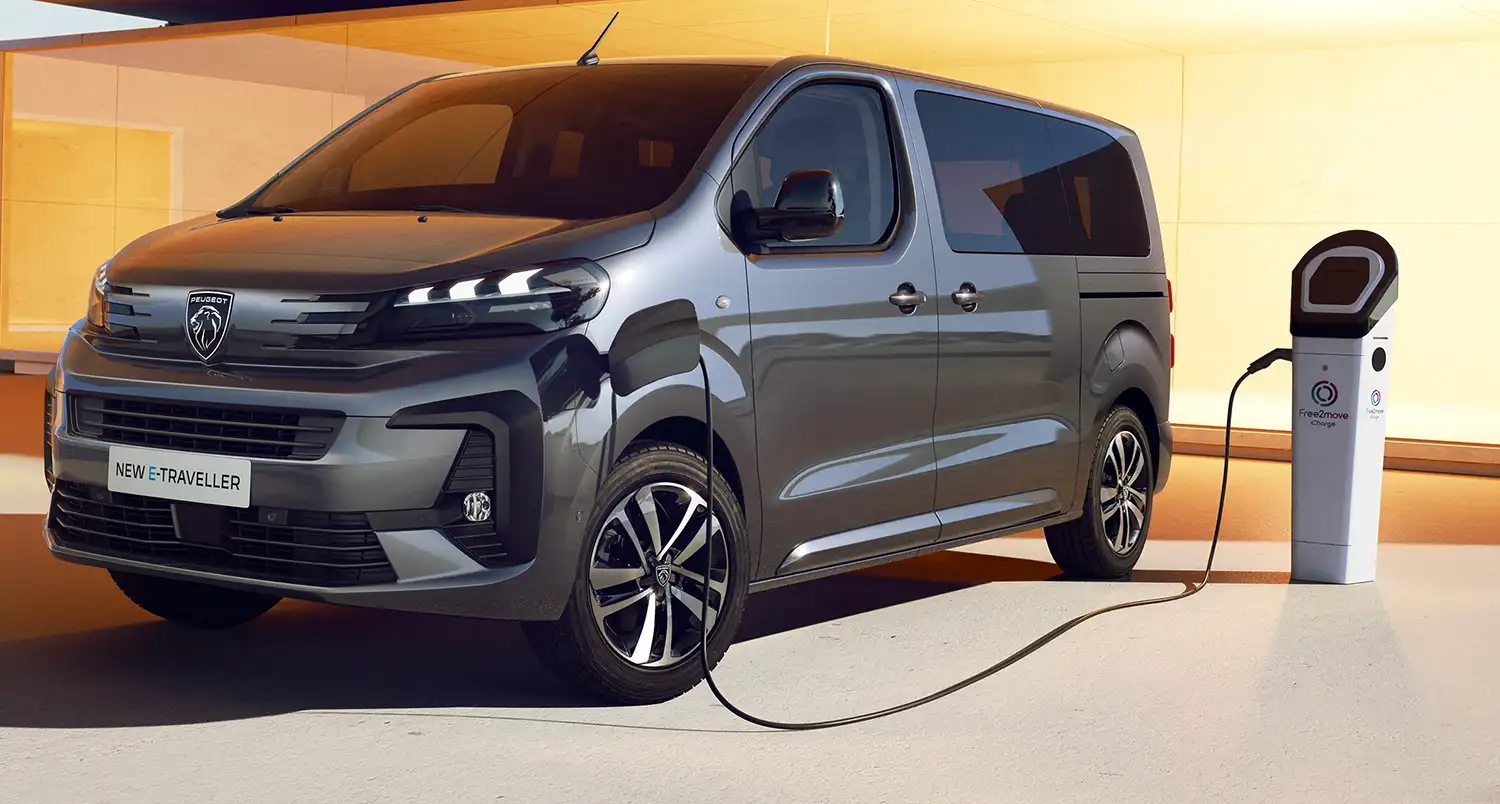 The MyPeugeot® smartphone application, adding features and connected services to the new electric utility vehicles in the PEUGEOT range:
Offer a virtual maintenance log,
Send the journeys made remotely beforehand to its on-board navigation system via your smartphone. Navigation is pre-programmed to carry out your spoken instructions. And with TomTom, the map updates seamlessly,
Recharge your vehicle at the most convenient times and according to the availability of recharging stations. Available via the eRoutes application, you can also take advantage of this service via your navigation system's mirroring function,
Manage the central locking of the doors, and activate the lights and horn remotely,
You always have the option of starting or scheduling thermal pre-conditioning and checking, scheduling, starting or deferring battery charging remotely.