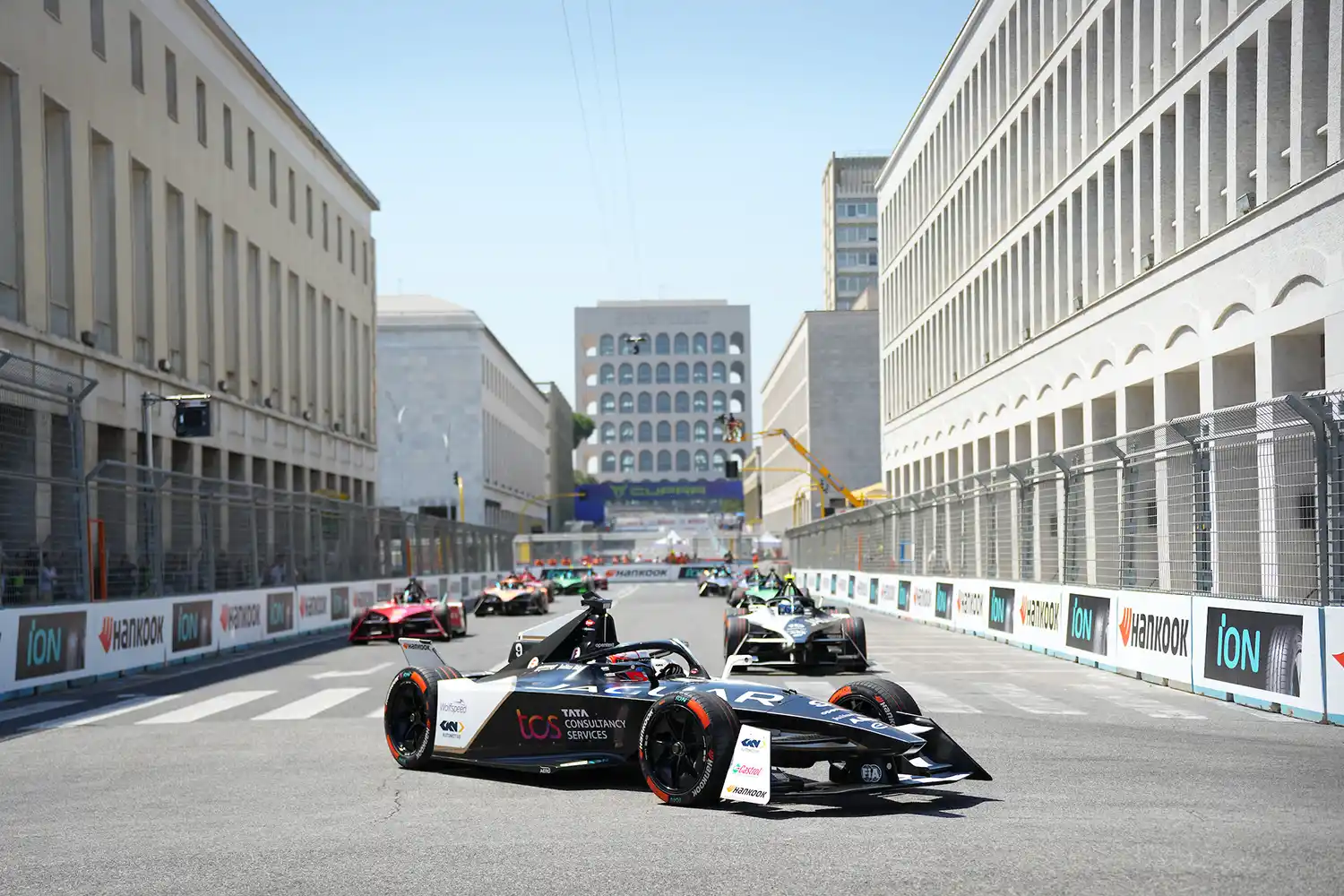 Mitch Evans (Jaguar TCS Racing) conquered Rome for the third time in succession today overcoming scorching heat and a high-speed multi-car crash early in the race that dented the world championship ambitions of Jake Dennis (Avalanche Andretti Formula E Team). He finished off the podium in fourth, losing his lead in the standings to second-place driver Nick Cassidy (Envision Racing).
High drama unfolded on Lap 9 at the quickest part of the track where multiple cars were caught up in a shunt. Fortunately, there were no injuries in the incident which began with Evans' teammate Sam Bird losing the rear of his Jaguar over the tricky, rapid and undulating section between Turns 6 and 7.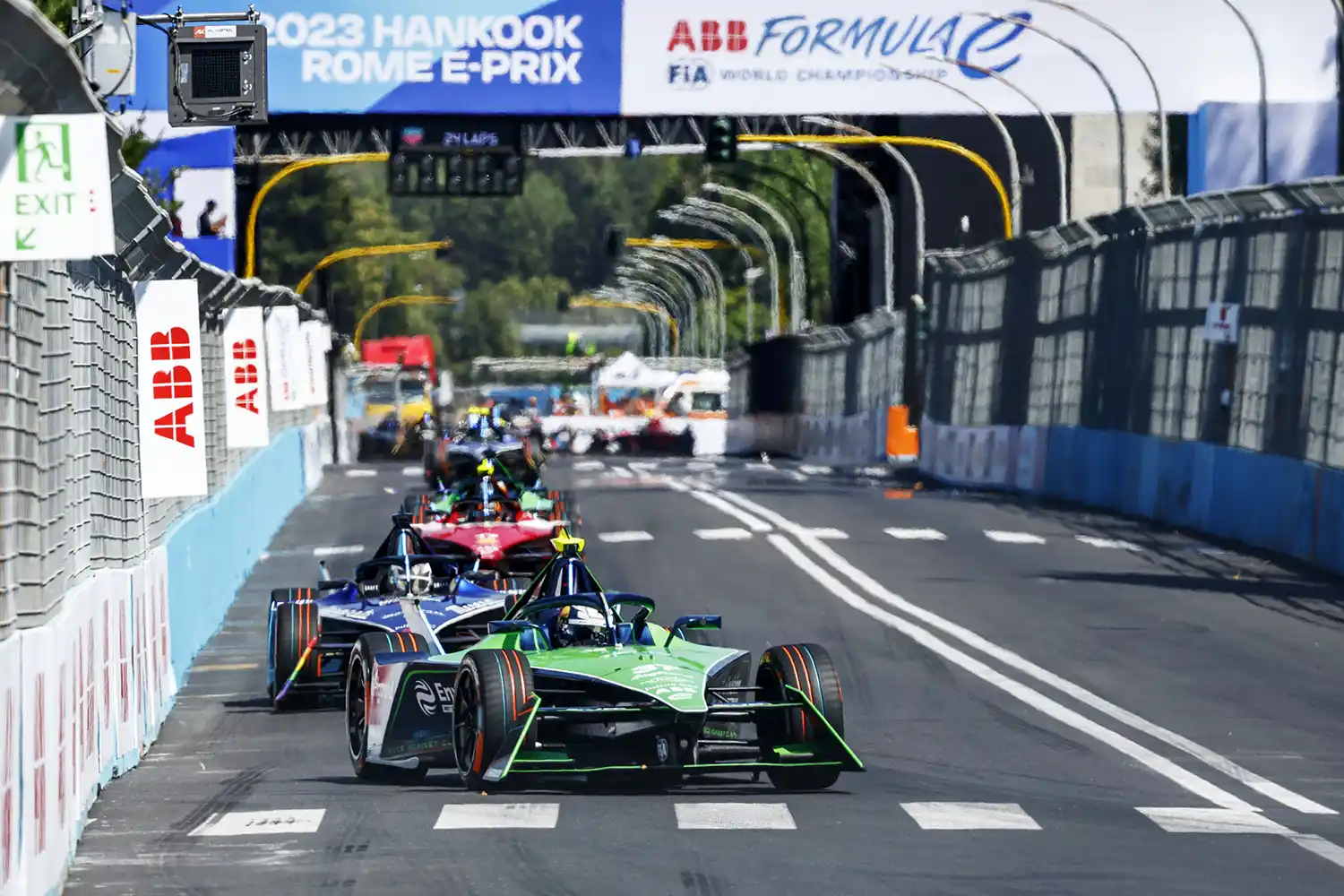 Sébastien Buemi (Envision Racing) clipped back end of the Jaguar on his way through as the Swiss narrowly missed a square-on impact, though Buemi still suffered severe and race-ending damage to his car.
Edoardo Mortara (Maserati MSG Racing) flew into the side of Bird's I-TYPE 6 as it sat stricken in the middle of the circuit while several other drivers picked their way through and escaped with minor damage including championship contender Pascal Wehrlein (TAG Heuer Porsche Formula E Team).
That meant big ramifications for the teams and drivers as well as the potential final destination of the title even though standings leader Dennis himself avoided a race-ending smash by inches.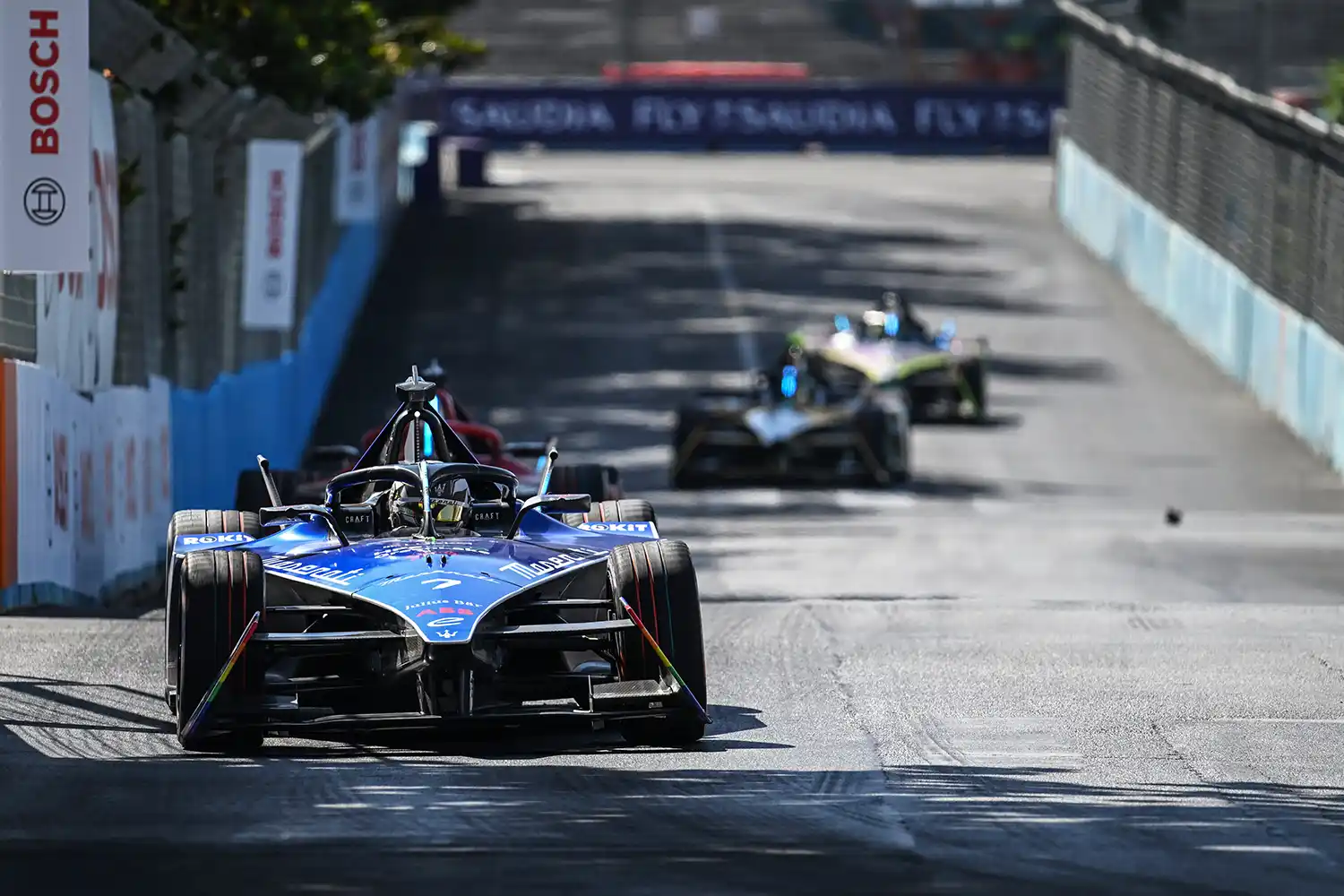 Fourteen cars made the restart, with Sacha Fenestraz (Nissan Formula E Team) leading the pack away with Evans in tow. From there, Dennis seized the initiative, passing Evans with a sweeping move around the outside of the Jaguar driver through Turn 5 before slicing by Fenestraz for the lead on Lap 13.
Evans and Cassidy followed by the Nissan in quick succession and after Evans missed his second ATTACK MODE activation, it looked like Dennis' race to lose.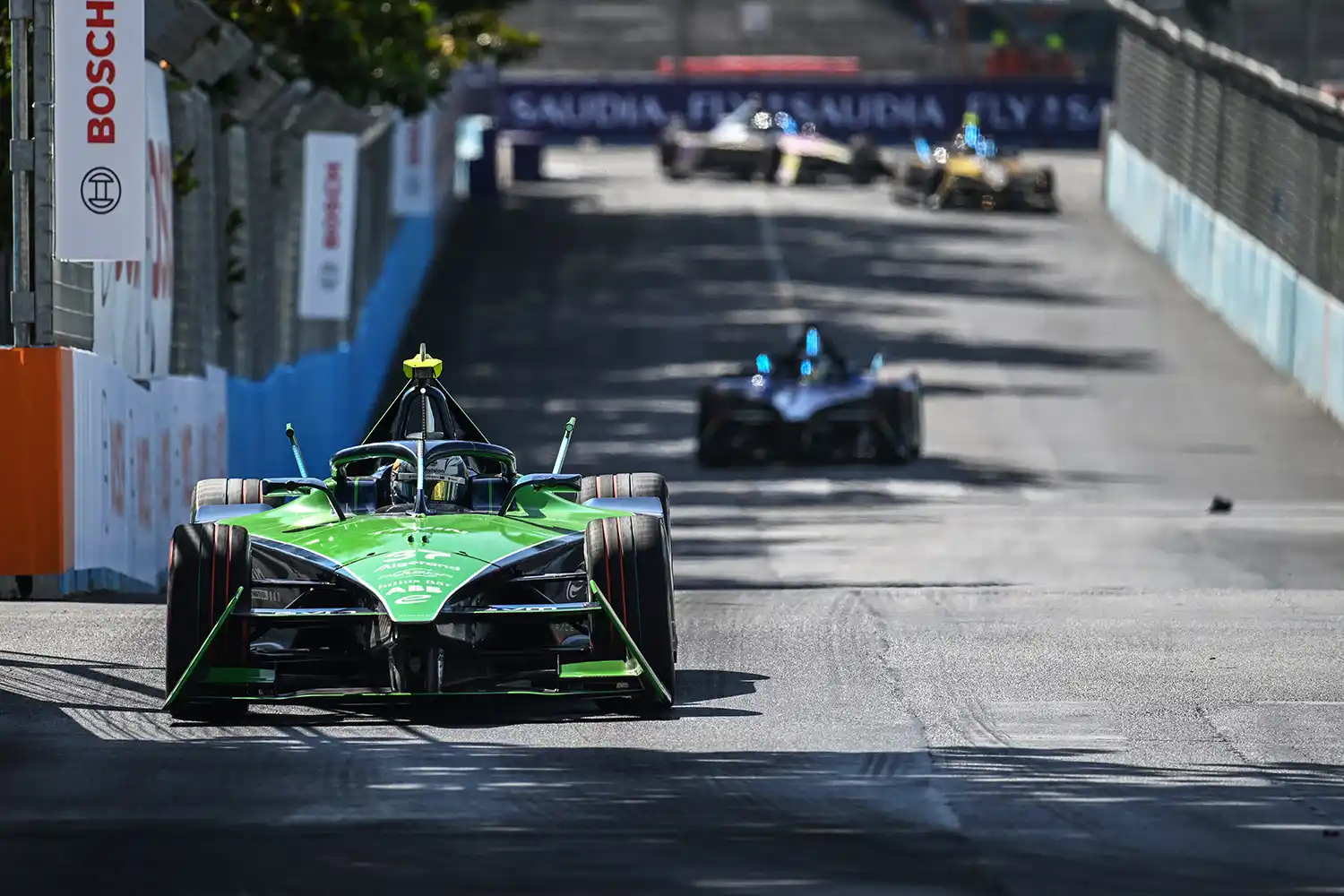 However, Evans put in the TAG Heuer Fastest Lap of the race twice in a row to pass Dennis for the lead on Lap 22. Down on energy, Dennis exclaimed he was a "sitting duck" to those around him, and the ease at which Cassidy pinched second from him confirmed his fears.
Having started in Julius Bär Pole Position, Evans comfortably made it to the flag to lead home Cassidy while Maximilian Günther (Maserati MSG Racing) was able to despatch Dennis to finish third. Günther was cheered to the podium by fans as the legendary Italian automaker raced at home for the first time since 1957.
Dennis had to use every ounce of defensive driving skills to hold off Jean-Éric Vergne (DS PENSKE) who scented blood but was unable to pass the Andretti to finish fifth. JEV himself was under severe pressure from Nico Müller in the closing stages who achieved his and ABT CUPRA's best result of the season with sixth place.
Wehrlein was able to recover to seventh in the end, despite a pit-stop pre-restart and additional damage during that mid-race crash with a drive that could prove key in the title battle.
All that drama on day one of the double-header leaves Cassidy as the new leader of the Drivers' world championship on 171 points, five clear of previous table-topper Dennis. Evans gained ground to go 20 points shy of the lead, while Wehrlein is now 27 points back. Envision Racing heads the way in the Teams' running on 243 points from TAG Heuer Porsche on 237.
Sérgio Sette Câmara (NIO 333 Racing) earned the ABB Driver of Progress award for achieving the most places gained in the race, having climbed 12 places to finish in ninth after starting in last place on the grid in 21st.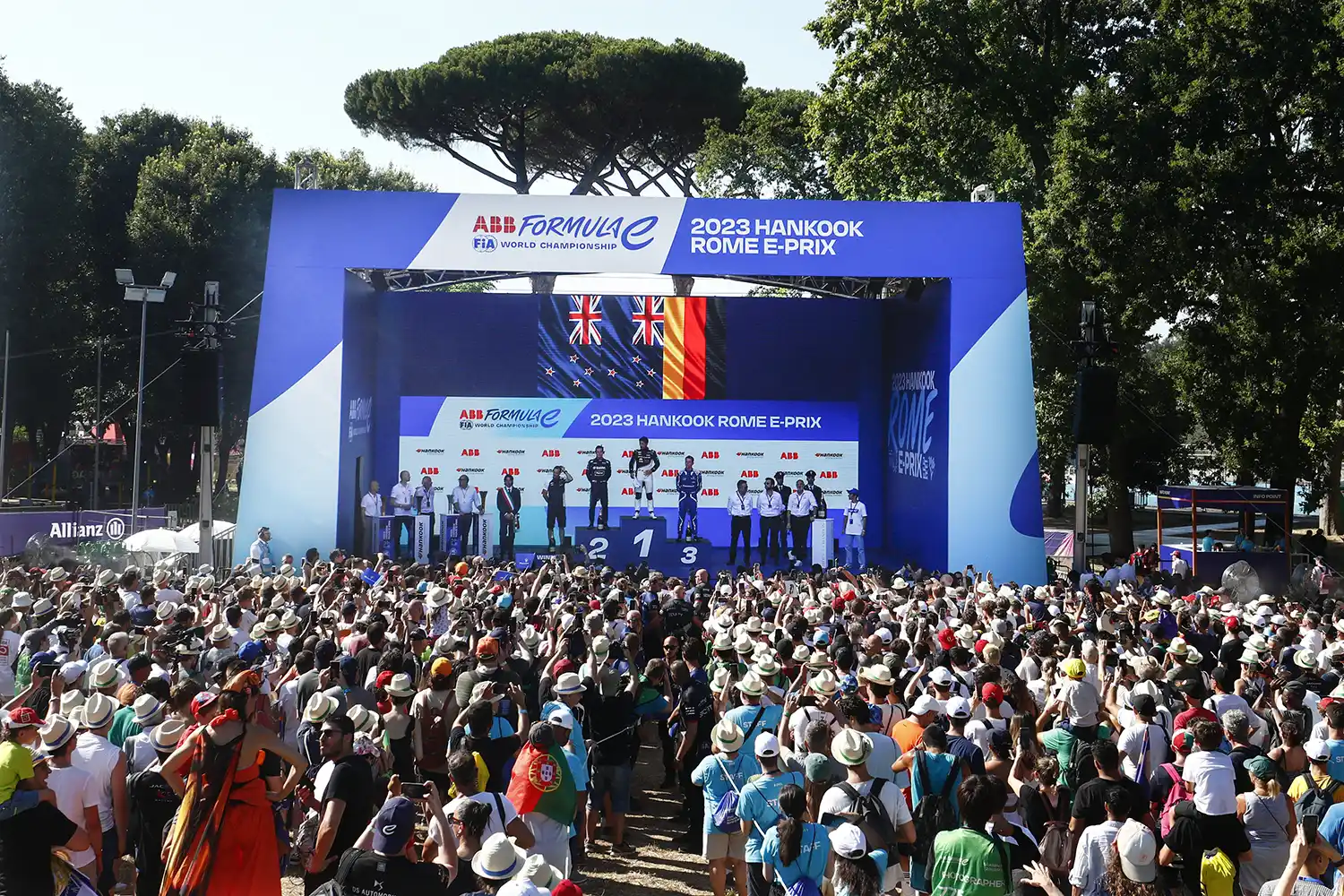 Mitch Evans, No. 9, Jaguar TCS Racing, said:
"It was almost two races that we had today. First of all it was good to see everyone was fine after that shunt, it was pretty big and obviously Sam had a pretty scary moment, so good to see everyone is fine. After that I was a little bit down on energy compared to Nick and Jake, so I had to try and equalise that, the energy targets dropped a lot after the safety car, so it became much more of an energy race than we were expecting. But I managed it well, and the team helped guide me through like always, and then leave the rest for me.
"One little scare was missing the Attack Mode. I missed it at the last loop, I was going through super slow and I still missed it! I need to practice that tomorrow. But a huge result today, maximum points, which was what I needed. Only a small dent into Nick's lead, but its better than nothing.
"We were hoping to break that curse [becoming first driver to win from pole in Rome]. Four wins here is amazing, not sure what it is about this place, but I love the track. We obviously have another day tomorrow, I think people will make another big step, Nick was quick in the race as well. It is there for the taking tomorrow but we need to take the right steps, and hopefully we have got a good balance like we had today."
Nick Cassidy, No. 37, Envision Racing, said:
"I didn't expect that, but I actually felt quite fast today. I wouldn't say I was angry about qualifying but more heartbroken, I thought we had a good shot there, but it was what it was, that's racing, and we started ninth and had a good race. Hats off to Mitch and Jaguar, they were really good today. Weirdly I felt closer to them in qualifying than I did in the race, in the race at the end we had a good little chance to see where each other were strong, and I felt he was a little stronger than me. We will look at it and go again tomorrow. But we are quite a pair."
Maximilian Günther, No. 7, Maserati MSG Racing, said:
"It is an amazing feeling to put Maserati on the podium in our first home race in Formula E. Incredible, lots of emotions and happiness. It had been a tough weekend so far, we had a few issues we can hopefully sort out for tomorrow, so we just have to live with them today. We did a good qualifying and the race was executed super well. I am really happy about this podium.
"I knew it was more difficult to overtake here, so energy management was going to be crucial, that was clear. To be fair, top five, top six was what we targeted, we wanted to score good points. But to take the podium, I am happy to take it, but it was not expected today."
The second race in the 2023 Hankook Rome E-Prix takes place tomorrow, Sunday, starting at 3pm CEST. The ABB FIA Formula E World Championship then concludes with Rounds 15 and 16 in London on the weekend of 29 and 30 July.