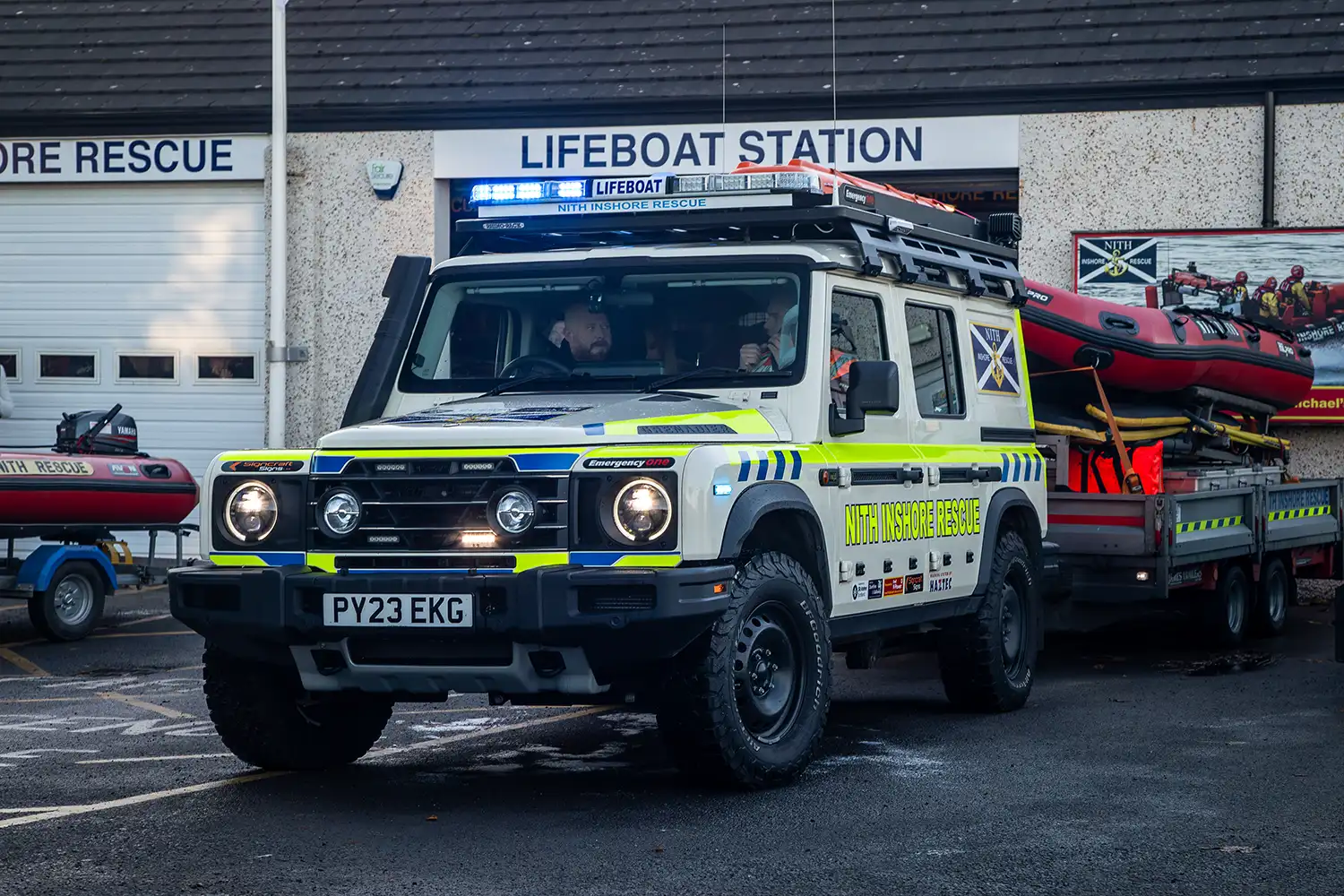 Nith Inshore Rescue has selected an INEOS Grenadier as its new search and rescue vehicle. The British-designed 4X4 is engineered and built to deliver best-in-class off-road capability, durability and reliability, with a spacious and versatile cabin layout and modern comfort, refinement and technology.
Nith Inshore Rescue, one of the busiest lifeboat stations in Scotland, is based near Dumfries, on the estuary of the River Nith close to where it joins the Solway Firth. Its volunteers aim to protect life and property under threat from the sea, inland water, flooding and other water related incidents in the Upper Solway and surrounding area. The charity deploys its lifeboat, search and rescue vehicle and other equipment when called upon by the HM Coastguard Rescue Co-ordination Centre.
Jointly funded by the Coastal Communities Fund and St John Scotland, this is the first blue-light emergency response Grenadier in the UK and replaces the charity's aged Land Rover Defender. The vehicle was recently unveiled alongside the search and rescue service's fully refurbished St John lifeboat.
Specialist search and rescue equipment provider Emergency One took full advantage of the Grenadier's 'plug-and-play' wiring set-up to customise the vehicle with the kit specified by Nith Inshore Rescue's team. This included a powerful extendable roof-mounted camera, named Jonny Five after the robot character in the film Short Circuit.
"We deal with life-and-death situations, very harsh weather, and challenging terrain, so when it came to evaluating the options for a new support vehicle, there were few options and the Grenadier stood out, ticking all the boxes," says Peter Bryden, secretary of Nith Inshore Rescue. "We were very impressed with the way it has been engineered and built to last, as well as how straightforward it was to convert it for this role. Together with our revitalised lifeboat, we expect it serve our team for the next 40 years."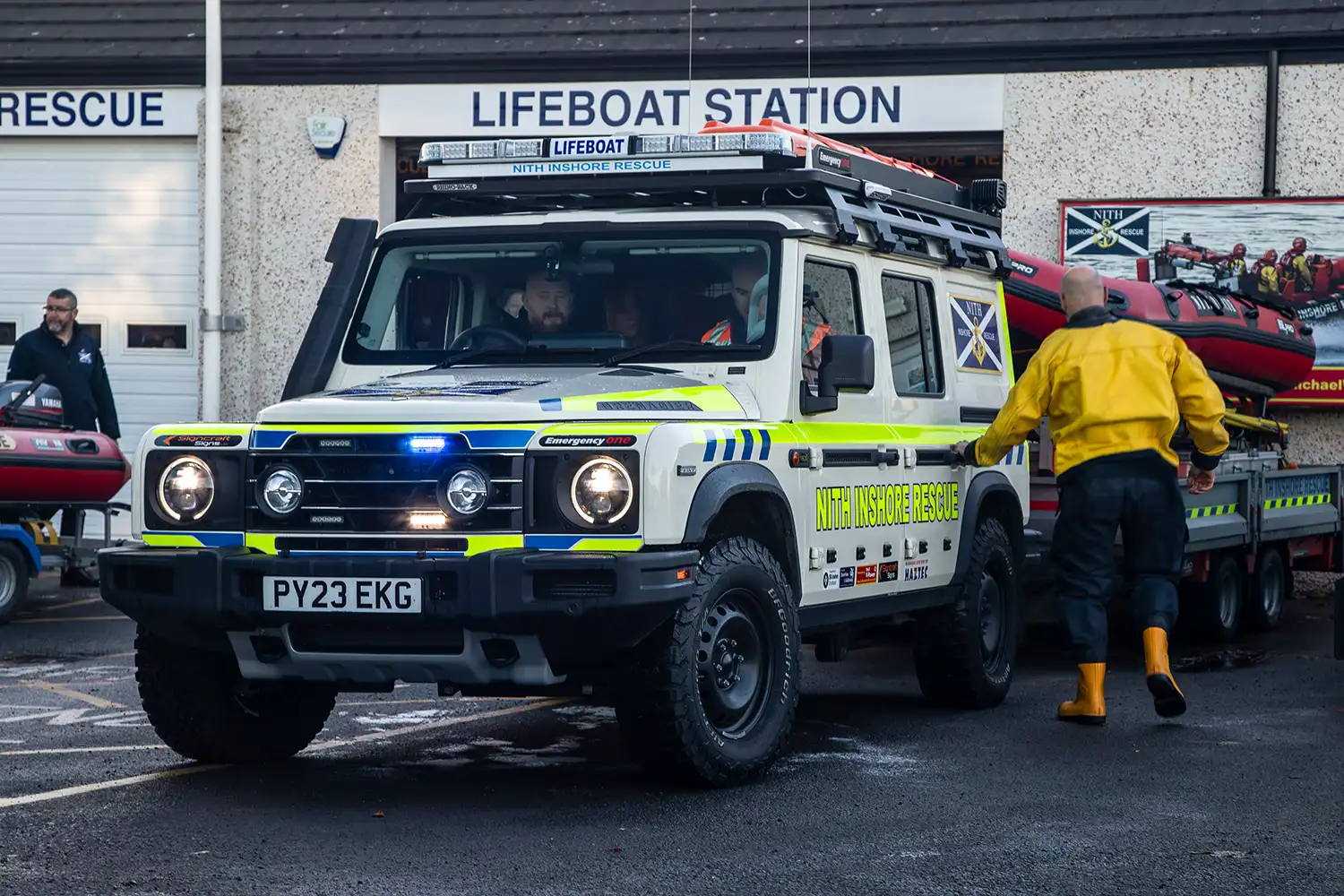 The Grenadier
Combining rugged British spirit and design with German engineering rigour, the INEOS Grenadier 4X4 is a tough, go-anywhere off-road vehicle with the modern comfort, refinement and quality standards expected by today's drivers.
The backbone of the Grenadier is a full box-section ladder frame chassis, with heavy-duty solid beam axles, a two-speed transfer case and up to three locking differentials. It is powered by a choice of BMW 3.0-litre turbo-charged inline six-cylinder petrol or diesel engines, which have been extensively revised and recalibrated for the Grenadier. Practical features include a 70:30 split rear door, integrated roof bars, pre-wiring for auxiliary lamps and accessories, and a front bumper to sit on. An 'open-source' approach to accessories means owners can tailor the vehicle to their specific requirements.
The interior combines versatility and practicality with the latest technology and exceptional comfort. Its intuitive and functional layout features physical switches that are widely spaced for easy use on the move. A central infotainment touchscreen gives intuitive access to a range of information displays and settings menus. An overhead console provides controls and switches for off-road and auxiliary controls. Hose-out rubber flooring, Recaro seats – available in hard-wearing cloth or leather – and numerous stowage options mean the Grenadier is ready for anything work and life can throw at it.
To find out more about Grenadier prices, technical specifications and options, visit www.ineosgrenadier.com.