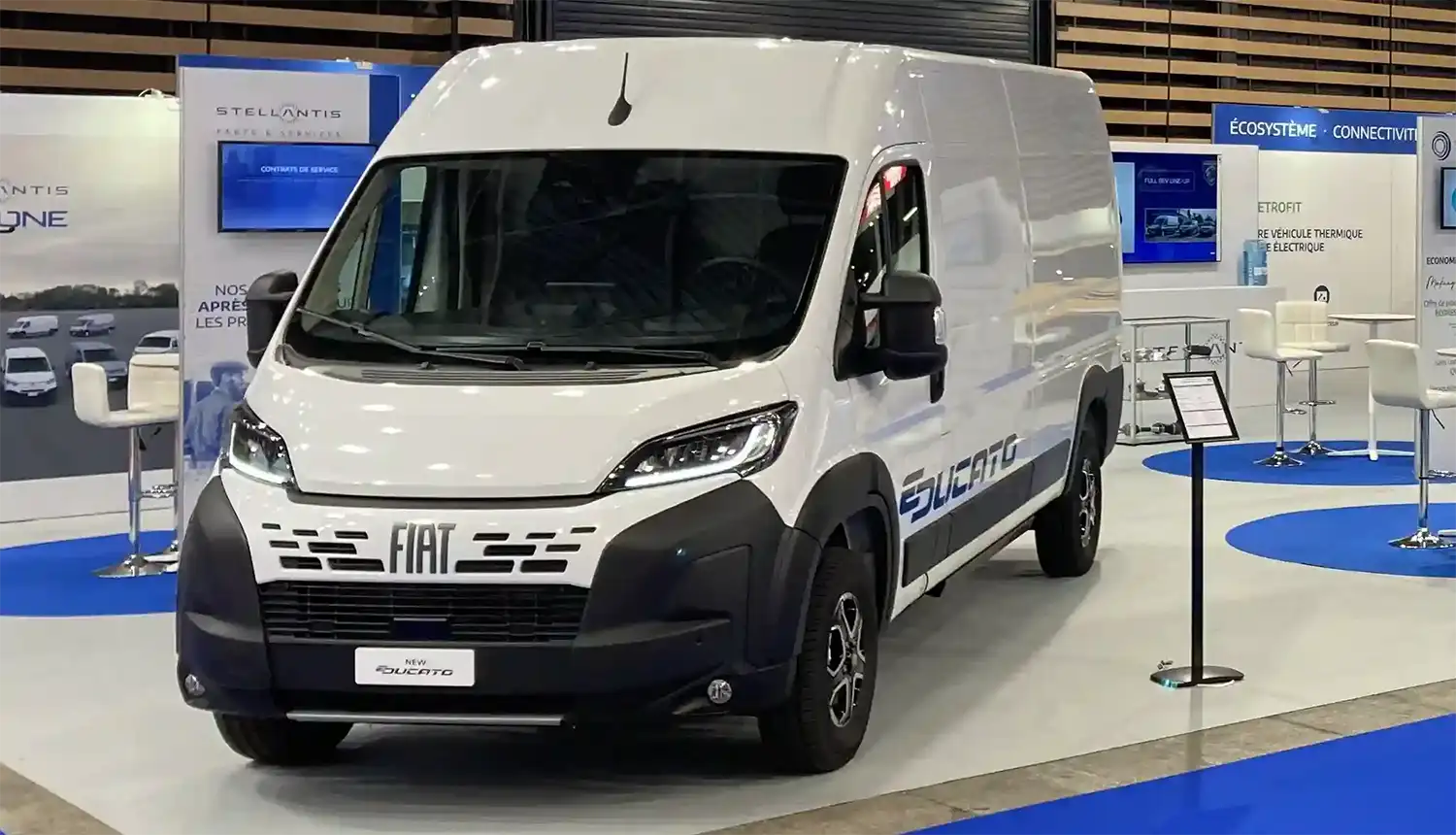 Undisputed leader of commercial vehicles in Europe and France (with 40% market share), Stellantis will be at the professionals' meeting in Lyon, at the Solutrans show, to present his offensive Pro One. Worldwide, under this label, Stellantis presents the most complete range of the market, with six brands, five LCVs, ten pick-ups, a micromobility offer and a unique hydrogen solution.
The LCV Business Unit will contribute to the realization of the Dare Forward 2030 strategic plan, representing one third of the net Stellantis income, and generating a turnover of 5 billion euros for connected services.
"Stellantis confirms to Solutrans the deployment of its «Pro One» offensive, via new, concrete and 360° customer responses: new generation FIAT e-Ducato 420kms of autonomy, After-Sales solutions, Parts from the circular economy, and e-retrofit," says Xavier Peugeot, Senior Vice President  of the Pro One Business Unit at Stellantis.
FIAT E-DUCATO
Stellantis will be exposing to the public the new FIAT PROFESSIONAL E-Ducato, which came from its second generation of electric commercial vehicles unveiled a few weeks ago.
This is an unprecedented renewal of the entire range of commercial vehicles for its iconic brands Citroën, FIAT Professional, Opel, Peugeot and Vauxhall.
User expectations have been the driving force behind the product teams. This will be offered throughout the range,
a new generation of human-machine interface with larger and driver-configurable handsets and central screens, and Dynamic Surround Vision (Dynamic Surround Vision) that offers a wide view around the vehicle, help with traffic and congested streets navigation, and 18 Automatic Driving Assistance Systems (ADAS);
Connectivity, enabled during vehicle delivery, allows drivers to be informed and managers to stay connected to their fleet remotely and in real time.
A new 110 kWh battery that ensures a first-class zero emission experience with a range of up to 420 km in WLTP cycle, making E-Ducato one of the most powerful in its class and offering a 30% more range than the previous generation.
This second generation of new electric new vans is also formed from E-Boxer for the brand Peugeot, ë-Jumper for the brand Citroën and Movano-e for the brand Opel.
Pioneer in the offer of light hydrogen utility vehicles, with the intermediate-sized Peugeot E-Expert Hydrogen, Citroën ë-Jumpy Hydrogen, Stellantis will present a demonstrator of this technology on its stand. This hydrogen offer, complementary to the BEV offer, targets the most intensive zero emission uses and will be extended during 2024 on large trucks.
The presence of Parts & Services
To support the continuous mobility of professionals, Stellantis Parts & Services presents Solutrans with its full range of products and services designed to facilitate the maintenance and repair of fleet vehicles and optimize operating costs.
With Distrigo:  a selection of original and multi-brand parts, mechanics, bodywork and tires for each vehicle, regardless of brand or age. In addition, there are many solutions to add to and customize vehicles for any trade, profession or application
With SUSTAINera: remanufactured, repaired and reused parts.
With an all-in-one expert after-sales network, all customers can rely on highly qualified and expert mechanics and a wide range of specific services to handle any repair, maintenance or bodywork operation and optimize the total operating cost of their fleet
A 100% electric retrofit solution unveiled with Qinomic
Stellantis extends its range of LCV zero emission solutions by unveiling, in partnership with Qinomic, a 100% electric, economical and eco-responsible retrofit solution: this "e-RETROFIT" service will first be offered in France on the medium-sized thermal van, exposed to Solutrans, then expanded to other markets and other van sizes.
This solution will allow professional customers to continue to access the city centers in low-emission areas and to decarbonize their fleet while extending the life of their vehicle, maintaining its facilities and benefiting from the manufacturer guarantee.
With a range of 200 km (subject to WLTP approval), a fast recharge and a loading capacity of more than 900 kg (as defined by the retrofit model), this solution covers the majority of use cases.
This solution will be available in France in the second half of 2024. Vehicles will be processed at an industrial Stellantis site. The thermal engine components, once removed from the vehicle, will be re-used to supply the SUSTAINera reuse parts inventory as part of the circular economy offer.
With Free2move Charge and Free2Move, an unmatched offering
Free2move Charge offers a complet ecosystem of charging and energy management solutions designed to meet all the needs of electric vehicle drivers (BEVs), wherever and under any circumstances.
Customers can access a variety of load solutions at home, in the workplace and on the go, including hardware, software and services, up to installation with recommended partners
Finally Free2move offers a complete and unique mobility ecosystem to its individual and professional customers worldwide, and leverages data and technology to place the customer experience at the heart of its business in order to reinvent mobility, including self-sharing, short and medium-term rental, without commitment, and connected fleet management for B2B customers…