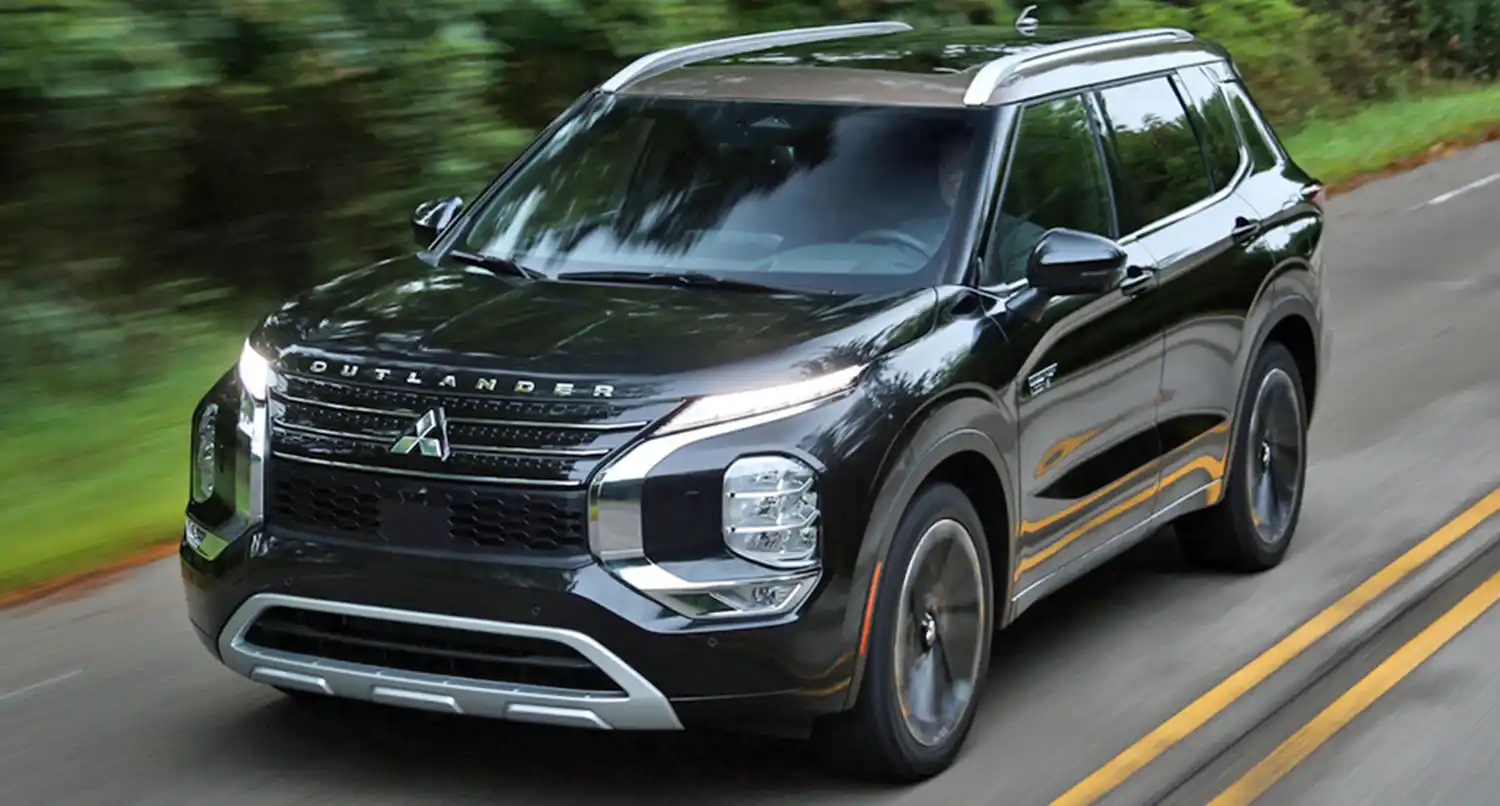 Mitsubishi Motors North America, Inc. (MMNA) recently celebrated its 40th anniversary. To further commemorate 40 years of operations in the United States, the brand is expanding its flagship family of seven-passenger SUVs with special Anniversary Editions of its top-selling Outlander and newly launched Outlander Plug-in Hybrid Electric Vehicle (PHEV), combining a unique paint scheme, badging and premium accessories, and offering a special value.
The 40th Anniversary Outlander includes the same quilted-leather door inserts in black and saddle tan, a black headliner and pillars, and semi-aniline leather-appointed seating surfaces as the top-of-the-line SEL Premium Package, and ups the ante with a unique Black Diamond and Bronze two-tone paint scheme and 40th Anniversary badges. All 40th Anniversary models are fitted with the brand's signature Super All-wheel Control (S-AWC)1 all-wheel drive system, a power panoramic sunroof, Bose Premium sound system, and a 10.8-inch Head-Up Display as standard.
"Throughout the past 40 years, Mitsubishi has earned a reputation in this country for reliable, capable, and convenient vehicles that offer great value, winning the loyalty of many repeat customers," said MMNA President and CEO, Mark Chaffin. "Our 40th Anniversary Special Edition Outlander and Outlander PHEV are more than just a celebration of that brand heritage, they are a powerful step forward into our next 40 years of success in the U.S."
Outlander 40th Anniversary Edition

All Outlander SEL Premium Package equipment, plus:

Black Diamond Paint w/ unique Bronze Roof
Unique 40th Anniversary Badges
Dynamic Shield Illumination
Door Scuff Plates
Metal Cargo Scuff Plates
Center Console Illumination
Chrome Outlander Hood Emblem
Rear Bumper Protector

$39,995
Outlander PHEV 40th Anniversary Edition

All Outlander PHEV SEL Premium trim equipment, plus:

Same equipment as ICE Outlander 40th Anniversary Edition

$49,995
As the company looks forward to the next 40 years in the U.S. and beyond, momentum is already building behind MMNA with its brand-new North American headquarters opening, an all-new or significantly refreshed lineup of vehicles highlighted by the 2022 Outlander and 2023 Outlander PHEV, a robust and growing dealer partner network, and record-breaking sales success.
Mitsubishi Motors had actually been selling vehicles in the U.S. prior to 1981, but not under its own company name. Through a partnership with Chrysler Corporation, the company's cars were sold with Dodge or Plymouth branding on them. But in 1981, the company created a formal presence for itself as Mitsubishi Motor Sales of America, headquartered in Fountain Valley, Calif., with vehicles sold through an initial dealer network of 70 facilities across the country.
In 1986, the company moved its headquarters to an all-new green-field location in the then-farming community of Cypress, Calif. The multi-acre site housed all sales, marketing, planning, and logistic operations; design, research and development, parts operations, and regional operations.
The next major move for MMNA was part of a brand-wide reinvention and saw the company relocate from Cypress, Calif. to Franklin, Tenn., just outside of Nashville, in mid-2019. In April 2020, its new-from-the-ground-up, state-of-the-art North American headquarters opened, and in spite of the pandemic, the company hired more than 150 new team members. Throughout the pandemic, MMNA has supported its new hometown through employee volunteering and corporate social responsibility, "Small Batch – Big Impact" programs. By the time of the move, the company had sold nearly 5.5 million vehicles in the U.S., through its nearly 330 dealer partners around the country.
From its inception to today's MMNA, the company has always held close to one ideal: to design, engineer, and market vehicles that offer outstanding value and safety, leading-edge design, and pride of ownership. The past 40 years have seen vast changes in consumer preferences and tastes, and MMNA has seen both good years and slack ones. Even during the supply-chain challenges brought about by Covid-19, MMNA's sales performance remained strong, and the company is poised for another 40 years of turning heads and driving excitement.
For more information on the full lineup of Mitsubishi vehicles, visit MitsubishiCars.com.
For more information on MMNA, visit media.mitsubishicars.com.
Disclaimers
Super All-Wheel Control (S-AWC) adds Active Yaw Control (AYC) to realize the AWC concept at a very high level. While this Integrated Vehicle Dynamics Control System manages the driving forces and braking forces of the four wheels to help realize vehicle behavior that is faithful to the operation by the driver under a variety of driving conditions, it is not a substitute for careful driving. S-AWC cannot prevent collisions or loss of traction in all conditions. Exercise caution so full attention is given to vehicle operation in all road conditions.