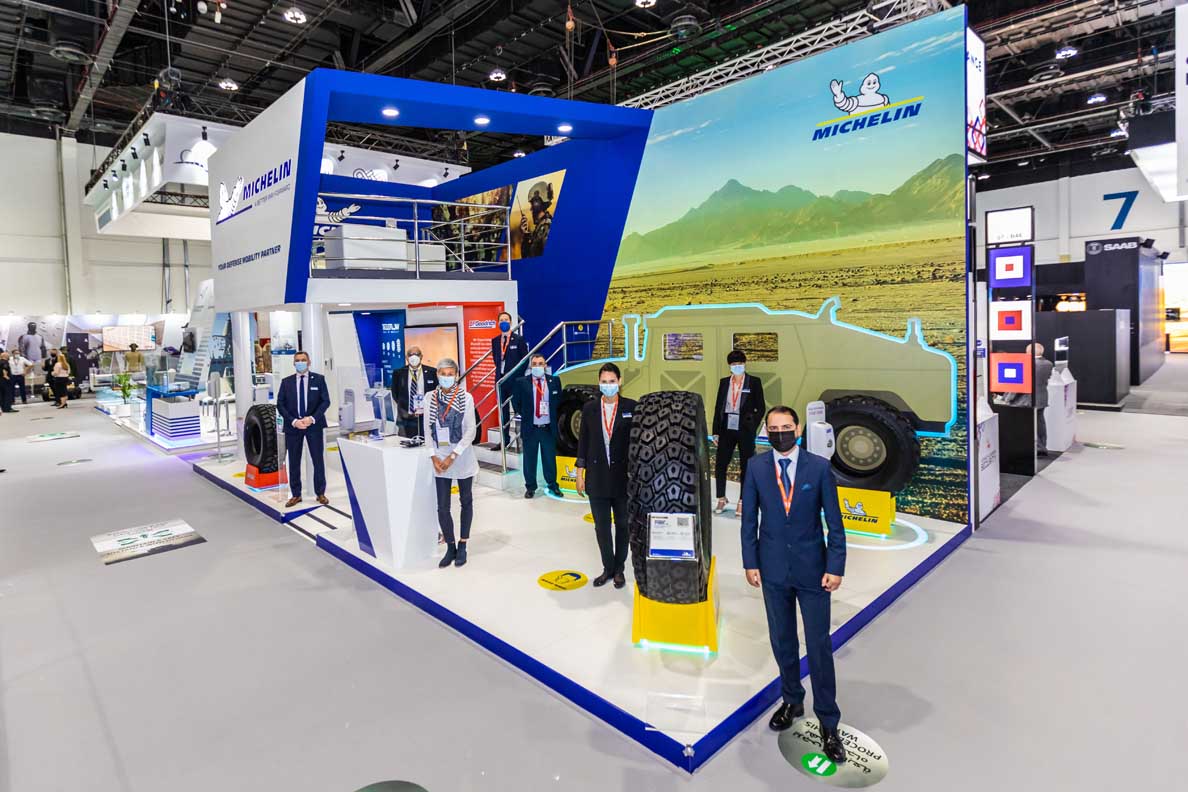 Michelin, the leading provider of advanced mobility solutions for militaries around the world, reveals MICHELIN X® FORCE™ range of highly innovative and extremely durable tires at the International Defence Exhibition (IDEX 2021). As a complete mobility solution provider, Michelin is also showcasing BFGoodrich products and Teleflow – an industry leader for central tire inflation systems for the defence sector.
Naser Shashaa, Regional Director – Michelin Middle East Cluster said "In the extreme off-road conditions experienced by the military tactical vehicles, forestry, utility and fire services, guaranteed mobility is essential as any immobilisation is costly. Michelin enjoys a long and proud history of providing tires of outstanding design, reliability and build quality to armed forces since the beginning of the last century. With more than 100 years of experience in supporting the evolution and development of today's modern and fully mobile military, we are confident of offering our Defence partners in the region with products and solutions based on our core commitment of safety, mobility and innovation"
MICHELIN X® FORCE™ tires
Highly versatile and offering rugged performance in all terrains and situations, MICHELIN X® FORCE™ tires, , have been designed to provide all-round mobility for a variety of off-road military vehicles and transport options. Offering drive anywhere capabilities that push the boundaries of strength, resistance, lifespan and reliability, MICHELIN X® FORCE™ tires represent a major leap forward in the evolution of wheeled transport.
Specially designed for multi-purpose vehicles that require exceptional performance in extreme weather conditions as well as maximum mobility, this range further expands Michelin's well-earned reputation as a world leader in the production and supply of high-quality military-grade tires.
For advanced handling in difficult conditions, the MICHELIN X® FORCE™ tires are resistant to cutting and damage in the shoulder area. They also boast a superior treadlife with even wear on either roads and tracks and are regroovable and retreadable. Other features include a deep, open tread pattern and massive shoulders to deliver excellent traction while low operating temperatures allow for long distances to be covered at a sustained speed even in very hot environments.
TELEFLOW
Teleflow, a Michelin group company is one of the leaders in central tire inflation systems. It is also the biggest supplier of tire pressure control systems to the military sector worldwide with close collaboration with many OE manufacturers. The company's best known product allows users to select the terrain and load being transported; the IN-MOTION CONTROL system automatically adapts the tire pressures to the conditions on the move.
As the only international defence exhibition and conference of its type in the Middle East and North Africa region and one of the largest in the world, IDEX is the premier event to demonstrate the latest technologies across the land, air and naval defence sectors.
A unique industry platform, Michelin's presence at IDEX will allow the company to further strengthen its relationship with governments, businesses and armed forces from across the region and beyond.