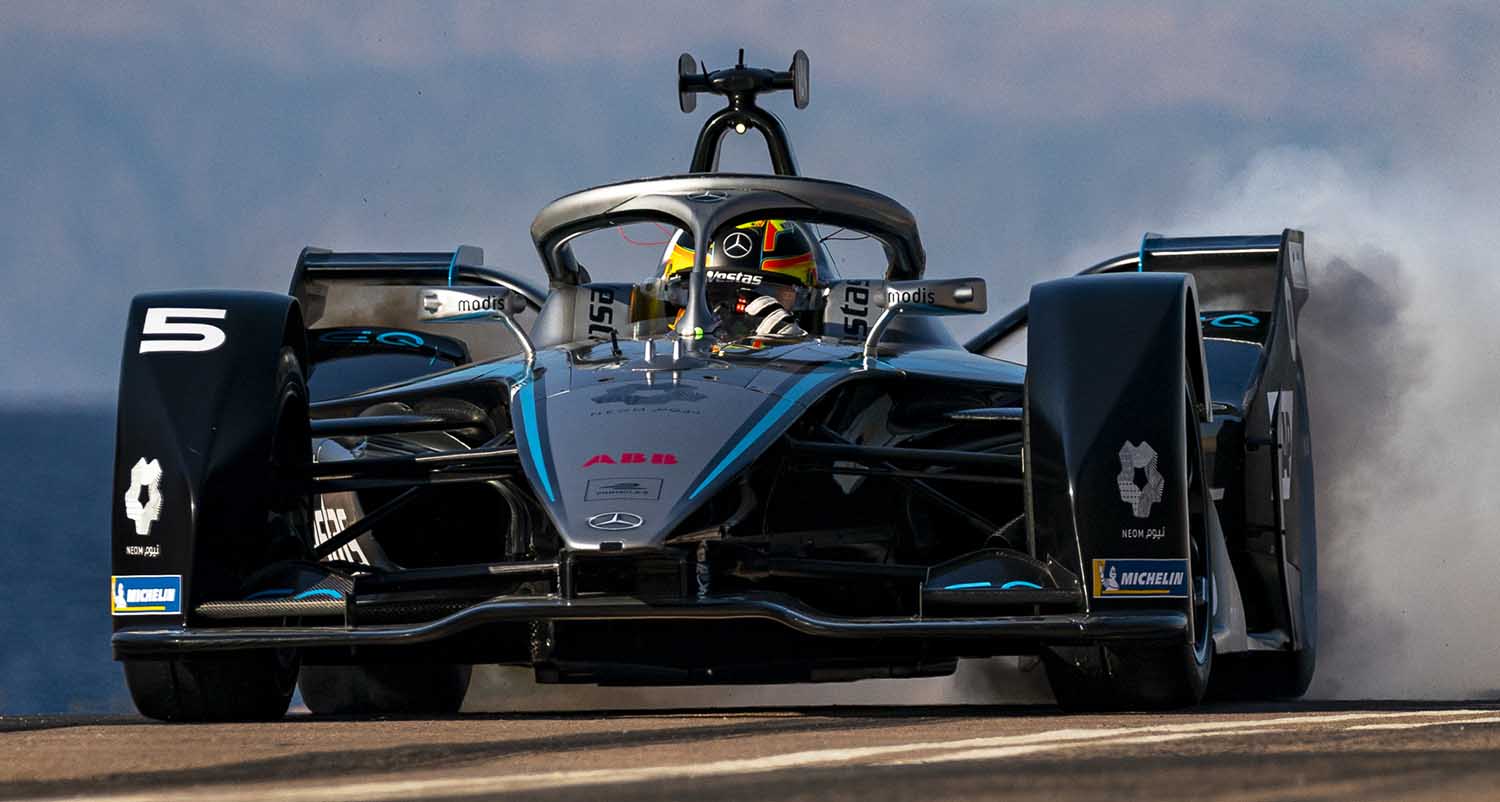 The Mercedes-EQ Formula E Team has taken to the scenic roads of NEOM, ahead of the start of the sport's first FIA World Championship season in Saudi Arabia.
Impressive footage released today shows Mercedes-EQ Formula E Team Driver Stoffel Vandoorne preparing for this week's double-header night race at the Diriyah E-Prix with a demonstration run of his Mercedes-EQ Silver Arrow 02 along the spectacular Magna Road in NEOM, which is a sustainable smart community of the future being built on the Red Sea.
The visit by the Mercedes-EQ Formula E Team is part of the team's pioneering partnership with NEOM, which aims to accelerate NEOM's bold ambitions to be at the vanguard of future technology and mobility and become a centre for sporting excellence.
The pre-season drive was the first time an all-electric vehicle had taken to the streets of NEOM. During the visit to NEOM, the fully-electric EQC by Mercedes-EQ also made its first appearance on Saudi Arabian soil, ahead of the car's commercial launch in the Kingdom.
Powered by Vestas' battery storage technology, the car running provided a glimpse into the future mobility of the destination, with NEOM seeking to set new standards in sustainability and electric mobility infrastructure.
After claiming a one-two victory for the Mercedes-EQ Formula E Team in the final race of their debut season in Berlin to finish runner-up in the 2019-2020 ABB FIA Formula E Drivers' Championship and third in the Teams' Championship, Vandoorne will hope to go one better this year as the all-electric series gains official FIA World Championship status.
Mercedes-EQ Formula E Team Driver, Stoffel Vandoorne, said: "It's been a fantastic experience visiting NEOM for the first time. It's great to be working alongside a partner who shares our goal to help create a more sustainable future. The location itself was spectacular, what a place to run the car! We have been working hard ahead of the season opener in Diriyah and can't wait for the racing to begin."
"It's going to be an interesting weekend of racing. It's one of the trickiest circuits in the world and will test the drivers even more given it's the first night race format we will have experienced. We've had success in Saudi in the past and will look to build on the two podiums we secured during last season's double-header."
Jan Paterson, Managing Director of Sport at NEOM, said: "We are delighted to have been able to welcome such a world-class sport team to NEOM. It's crucial as part of our ambition to become a centre of sporting excellence and a major participant in the world's sporting landscape that we work alongside and take learnings from the very top sport organisations. With the season opener in Diriyah approaching we are excited to support the team and look forward to continuing working closely together."
Head of Mobility at NEOM, Florian Lennert, said: "NEOM will be a global living lab and innovation hub for sustainable mobility systems, and our cooperation with the Mercedes-EQ Formula E Team is bringing us closer to this goal. We are helping to create a sustainable future for the world, contributing to a cleaner and carbon positive environment. The development and enhancement of electric propulsion technologies play a crucial role in our vision of zero-emission multi-modal mobility, and so we are pleased to support the Mercedes-EQ Formula E Team in their innovation efforts."