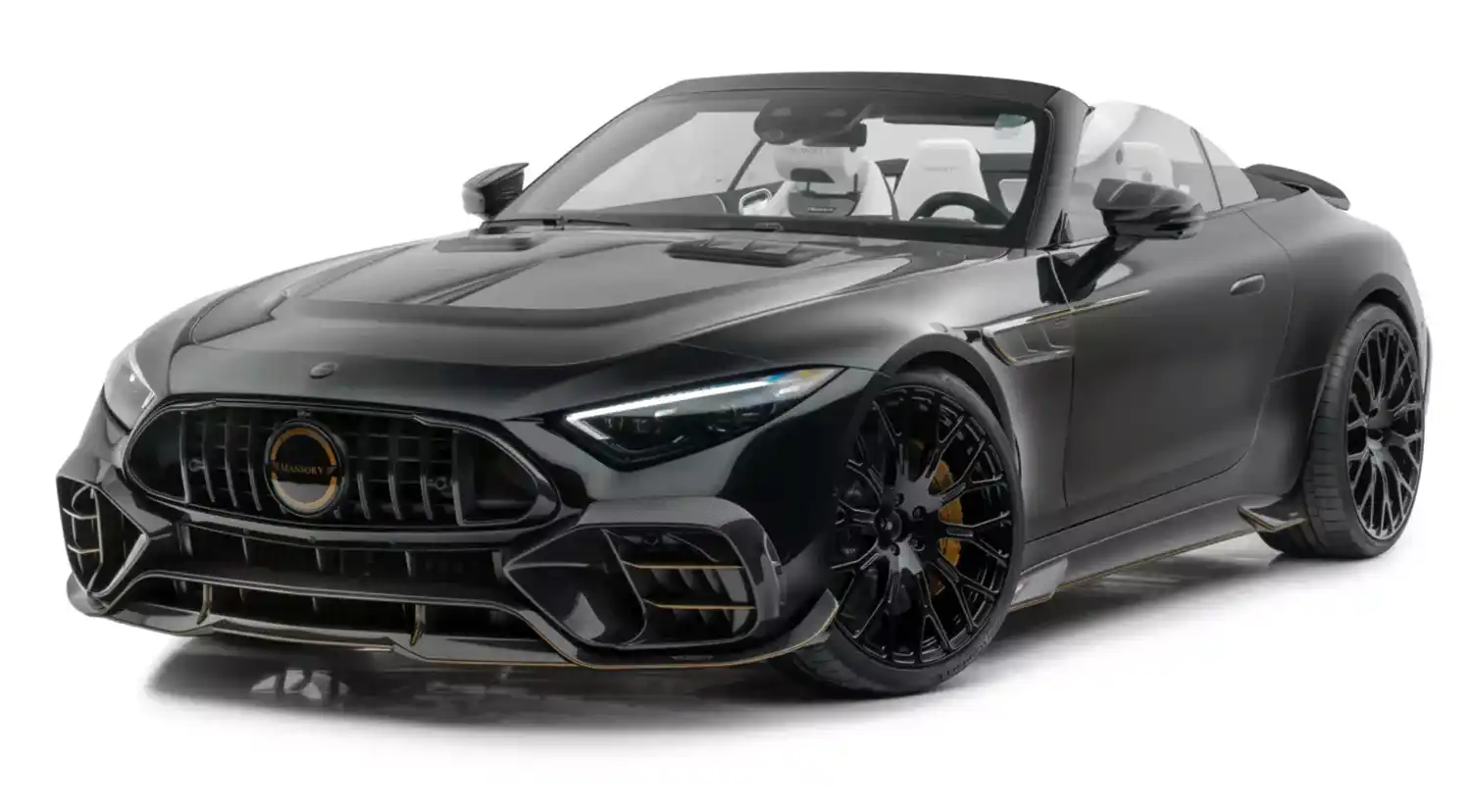 MANSORY is now offering an extensive "widebody program" for all variants of the new Mercedes SL type R 232, which includes the following four individualization focal points in addition to the standard individualization program:
DESIGN | WHEELS | INTERIOR | PERFORMANCE
Since 1954, the letter combination "SL" has stood for dreams on four wheels at Mercedes and each individual model series of the now total of 8 generations has always been style-defining for its respective era and aroused desires among vehicle lovers all over the world. The current version with the internal code R232 is no different.
So it was out of the question for MANSORY, the tuner based in Brand in the Upper Palatinate, to launch a complete customisation programme for this model series from Stuttgart, which has now been crowned with a "widebody conversion".
DESIGN
In order to further accentuate the already very elegant appearance of the SL in detail, MANSORY has installed numerous add-on parts made of carbon all around the vehicle. The noble and light material is used on the front air intakes, below and to the side of the front apron, in the radiator grille, the sills, the exterior mirrors and the rear apron. Further carbon applications on the front windscreen frame, the side air outlets at the front and at the rear on the wings complete the subtle and effective body modifications. A bonnet and a rear spoiler, as well as the simultaneously elegant and visually effective wing extensions made of full carbon complete the entire "Mercedes SL Widebody by MANSORY" and harmoniously round off the overall exterior appearance. All carbon parts can be individually selected from the extensive MANSORY carbon range.
WHEELS
Depending on the customer's wishes, MANSORY alloy wheels of the type "FY.5" or "FD.15" in the dimensions 10.5 x 21 (front) and 12 x 22 (rear) are used for the SL. These are fitted with the corresponding sizes 275/35/21 and 335/25 /22. The main focus of both rim designs was once again on perfecting the elegant appearance of the SL in a sporty and elegant way in all details.
INTERIOR
As is usual with every MANSORY individualization program, the interior is also given a very special meaning and a great deal of attention. Depending on the customer's wishes, the entire interior is completely redesigned and every conceivable component is wrapped in the finest leather. In addition, all seams can be adapted to individual colour tones, such as the exterior paintwork. Various carbon inlays, a leather-carbon sports steering wheel, floor mats and aluminium pedals – all with subtle MANSORY lettering – round off the refinement of the interior and set further visual accents.
PERFORMANCE
With the help of various interventions in the engine management – the so-called PowerBox – MANSORY sustainably improves the performance values of the SL for the "P720" version. Particularly power-hungry customers can satisfy their desire for maximum performance by ordering the "P850" upgrade. While both stages have the PowerBox and a newly developed 4-pipe sports exhaust system in common, the "P850" also features larger turbochargers, among other things, in order to implement the massive increase in power with confidence and stability. The resulting performance values for the "P720" and the "P850" change as follows:
P720: 
Power: 720 hp (+ 135 hp)
Torque: 1,000 Nm (+ 200 Nm)
V-max: 325 km/h (+ 10 km/h)
0-100 km/h: 3.4s (- 0.2s)
CO2 emissions (combined): 328 g/km / Fuel consumption (combined): 13.8 l/100km
P850:
Power: 850 hp (+ 265 hp)
Torque: 1,150 Nm (+ 350 Nm)
V-Max: 332 km/h (+ 17 km/h)
0-100 km/h: 3,2s (- 0,4s)
CO2 emissions (combined): 343 g/km / Fuel consumption (combined): 14.4 l/100km