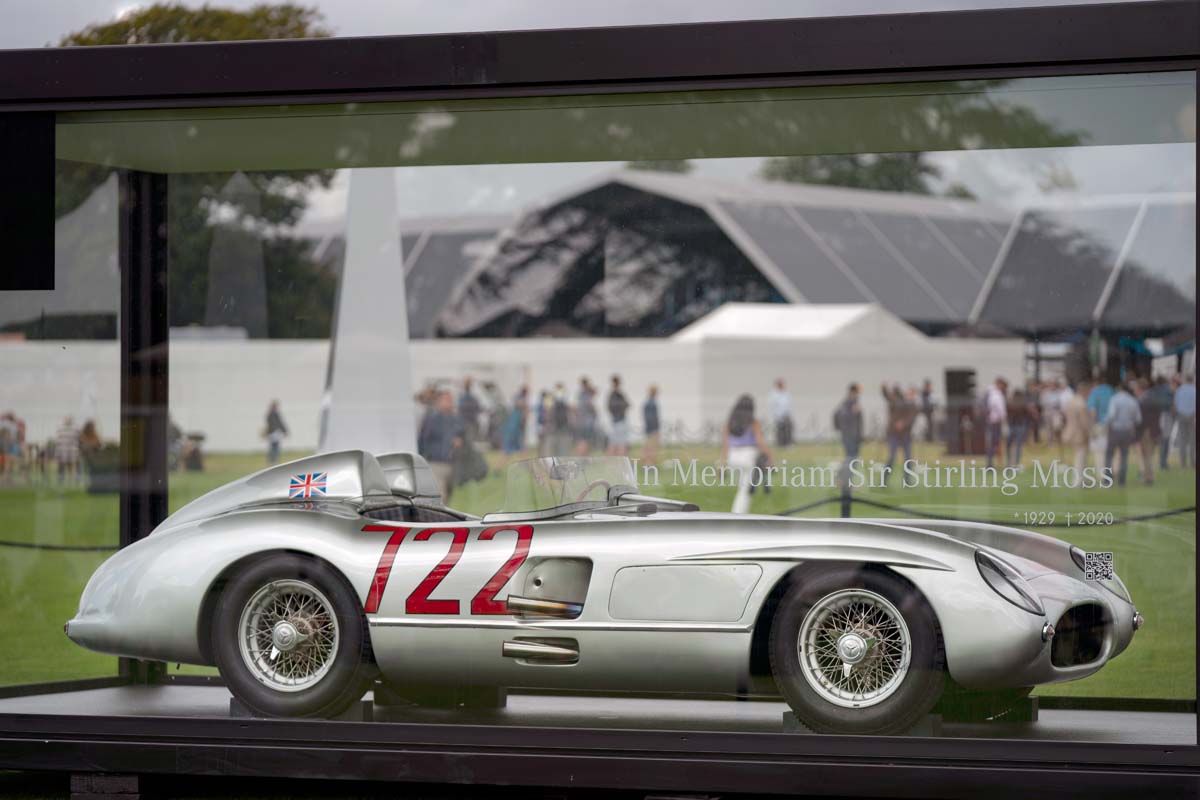 The Mercedes-Benz racing sports car 300 SLR "722" (W 196 S) will commemorate Sir Stirling Moss at the British Grand Prix from 16 to 18 July 2021 at Silverstone. Mercedes-Benz Classic presents the car in the F1® Fan Zone in the infield of the English circuit in a glass display cube, complemented by historical film recordings. It is the original 300 SLR with which Stirling Moss and Denis Jenkinson won the Mille Miglia 1955, in the best time ever achieved – perhaps the greatest triumph in the careers of both motor sportsmen. The British Grand Prix was also won by the legendary English racing driver Stirling Moss – in 1955 (with Mercedes-Benz) and 1957 (Vanwall, together with Tony Brooks).
Visitors to the Formula One race at Silverstone will have access to the Mercedes-Benz Classic digital book of condolence for the racing driver who died in 2020.
Mercedes-Benz World in Brooklands
Directly after the British Grand Prix at Silverstone, the 300 SLR "722" can be experienced at Mercedes-Benz World in Brooklands (planned: 20 July to 12 September 2021). From there, the vehicle will then go to the Goodwood Revival in September (17 to 19 September 2021), where it is expected to participate together with a Mercedes-Benz W 196 R, in a presentation of all of Stirling Moss' racing cars. The Formula One racing car also is part of the Mercedes-Benz Classic collection.
Opened in 2005, Mercedes-Benz World is located directly on the historic Brooklands race track. It offers three floors of attractions and displays, including special historic exhibitions, to driving experiences. Mercedes-Benz World is open throughout the week and weekends – check for further information and opening times at www.mercedes-benzworld.co.uk. Parking and admission are free.
Opened in 1907 and used for competitions until 1939, the Brooklands circuit in Surrey is one of the most important founding locations of motorsport – with banked curves it is considered the first track in the world to be built especially for motorsport races and high speed tests. During the opening event of Brooklands on 6 July 1907, the "Gottlieb Daimler Memorial Plate" was awarded – a Daimler car won the race with almost a lap advantage.
At the "Montague Cup" on the same day, J. E. Hutton crossed the finish line first with a Mercedes 120 hp, followed by Dario Resta in a vehicle of the same type. Although there was no official timekeeping, the average speed of the winning car was presumably 132 km/h (82 miles per hour). Similar Mercedes-Benz successes were repeated in the 32 years of Brooklands' existence as a track for races and records. Among other things, on 8 November 1909 Victor Hémery set a world record over one kilometre with a flying start at 202.648 km/h in a Benz 200 hp record car, later named "Blitzen Benz".
Mercedes-Benz and Silverstone
The Silver Arrows and the Silverstone circuit have a long and successful connection. Still, Stirling Moss did not celebrate his Mercedes-Benz victory in the 1955 British Grand Prix there. At that time, the race was held alternately at Silverstone and Aintree. On 16 July 1955, Moss led a quadruple victory for the Stuttgart-based brand at Aintree with the Mercedes-Benz Formula One racing car W 196 R with free-standing wheels, followed by Juan Manuel Fangio, Karl Kling and Piero Taruffi. At the end of the 1980s and the beginning of the 1990s, Group C racing sports cars from Sauber-Mercedes and Mercedes-Benz were successful at Silverstone. In the FIA GT World Championship in 1998, Bernd Schneider and Mark Webber won the race at Silverstone with a Mercedes-Benz CLK-GTR racing touring car. In 1997, Schneider and Alexander Wurz came in 2nd place.
In 1994, the Silver Arrows returned to grand prix racing. Since 1999, they have so far recorded a total of twelve Formula One victories at the British Grand Prix, which has been held exclusively at Silverstone since 1987. David Coulthard won in 1999 (McLaren-Mercedes MP4/14) and also in 2000 (McLaren-Mercedes MP4/15), Mika Häkkinen took the victory in 2001 (McLaren-Mercedes MP4-16) and Juan Pablo Montoya in 2005 (McLaren-Mercedes MP4-20). Reigning Formula One World Champion Lewis Hamilton won the 2008 British Grand Prix (McLaren-Mercedes MP4-23). After the brand re-entered the premier class of motorsport in 2010 with its own factory team, Nico Rosberg won at Silverstone in 2013 (MERCEDES AMG PETRONAS F1 W04).
Since 2014, Lewis Hamilton has won the British Grand Prix a total of six times: 2014 (MERCEDES AMG PETRONAS F1 W05 Hybrid), 2015 (MERCEDES AMG PETRONAS F1 W06 Hybrid), 2016 (Mercedes-Benz F1 W07 Hybrid), 2017 (Mercedes-AMG F1 W08 EQ Power+), 2019 (Mercedes-AMG F1 W10 EQ Power+) and 2020 (Mercedes-AMG F1 W11 EQ Performance).
At the Mercedes-Benz Museum in Stuttgart, the seven Mercedes-AMG Formula One championship cars from the years 2014 to 2020 can currently be experienced in a special presentation until 22 July 2021. It was in this time that the Silver Arrows have won seven world championship doubles in a row – unique in the history of Formula One.