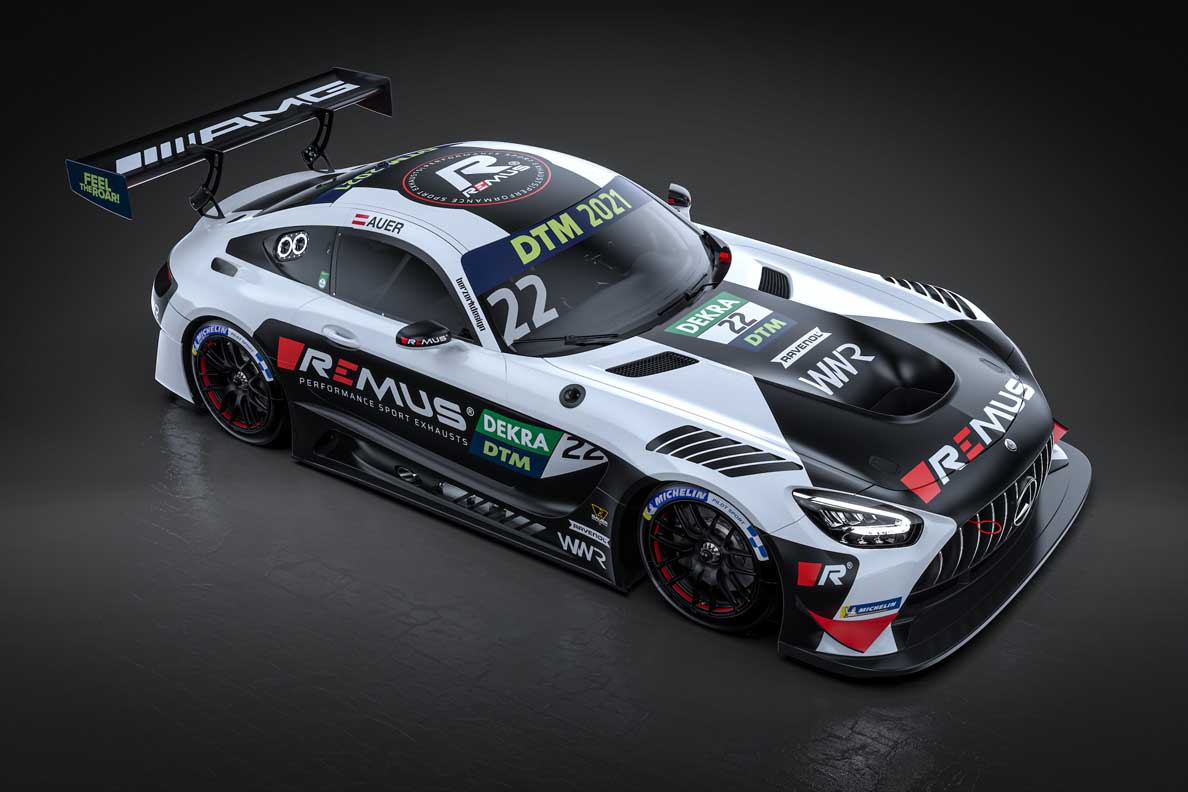 In a little over two months, Mercedes-AMG is starting a new chapter in its motorsport history: with five teams and a total of seven Mercedes-AMG GT3s, the performance and sports car brand from Affalterbach will be racing in DTM. With Vincent Abril (FRA), Lucas Auer (AUT), Philip Ellis (SUI), Maximilian Götz (GER), Daniel Juncadella (ESP), Arjun Maini (IND) and Gary Paffett (GBR), a strong driver line-up will be filling the seats. Featuring GT3 cars for the first time in 2021, the race series includes 16 sprint races at eight different tracks in Germany, Italy, Belgium, Austria and The Netherlands. The season starts at the Autodromo Nazionale di Monza on 18th June 2021. It is obvious that the goals are high, because with eleven drivers', 14 teams' and seven manufacturers' titles, Mercedes-AMG is the number one by a large margin in the all-time statistics of the long-standing motorsport series.
DTM series with 16 sprint races at eight European race tracks
Five teams with seven Mercedes-AMG GT3s in the field of the 2021 DTM
Mercedes-AMG wants to continue its DTM success story with high-class driver line-up
While pre-season preparation is in full swing for the participating teams, motorsport fans are also eagerly anticipating the start of the 2021 DTM. After all, the popular series is held in different conditions this year: for the first time, cars to the GT3 regulations from motoring's global governing body, the FIA, are competing for DTM points and race wins. The race schedule has been modified as well; it comprises eight race weekends, each of them with two races of 55 minutes plus one lap. The season opener on 18th June marks the series' first visit to the Autodromo Nazionale di Monza, one of the world's most famous and longest-standing race tracks. In the course of the season, the teams will also be racing at the sprint circuit of the legendary Nürburgring, Circuit Zolder in Belgium, the TT-Circuit Assen in The Netherlands and at the Red Bull Ring in Austria. The season will be concluded with the 16th race on 3rd October at the Hockenheimring.
Five Mercedes-AMG teams on the grid
In 2018, Mercedes-AMG concluded its last DTM season to date with a historic triple title win: in an exciting finale, Gary Paffett drove his Mercedes-AMG C63 DTM to his second drivers' title ahead of teammate Paul di Resta, who raced the sister car. As a result, both drivers also sealed the teams' title for Mercedes-AMG Motorsport PETRONAS while contributing significantly to the manufacturers' title win at the same time. This year, five teams will be doing their utmost to continue Mercedes-AMG's success story in DTM. Haupt Racing Team (HRT) and WINWARD Racing will be running two Mercedes-AMG GT3s each. GruppeM Racing, Mücke Motorsport and GetSpeed Performance will all be participating with one car from Affalterbach.
Already having scored numerous achievements in the GT World Challenge and the Intercontinental GT Challenge, GruppeM Racing is relying on Mercedes-AMG Driver Daniel Juncadella behind the wheel of its GT3 car. The Spaniard has comprehensive experience of racing in DTM and is firmly established in this competition with 94 participations since 2013.
#4 Mercedes-AMG GT3, Mercedes-AMG Team HRT
#4 Mercedes-AMG GT3, Mercedes-AMG Team HRT
Haupt Racing Team has entered a pair of Mercedes-AMG GT3s for the DTM season. Mercedes-AMG Drivers Maximilian Götz and Vincent Abril will race the two cars. Götz, most recently successful in ADAC GT Masters, Intercontinental GT Challenge and Nürburgring Endurance Series in particular, will be making his comeback in DTM after 2016. His teammate, DTM newcomer Vincent Abril, also has several years of experience from racing in various GT series.
The WINWARD Racing team also has experienced GT3 drivers on board, having already proven their skills on numerous occasions. Five-time DTM race winner Lucas Auer, making his comeback with Mercedes-AMG in DTM after a two-year hiatus, will race one of the team's two cars. With the team's second GT3, Philip Ellis will be making his DTM debut. Most recently, during the Rolex 24 At Daytona in January 2021, he and his WINWARD Racing teammates secured the maiden win by a Mercedes-AMG Customer Racing Team in the GTD class of the long-standing endurance race.
The Mücke Motorsport Mercedes-AMG GT3, meanwhile, will have the 2018 DTM champion Gary Paffett as its driver. The London-born driver will be making his comeback to the series with the experience of 15 DTM seasons and will be aiming at his third drivers' championship title after 2005 and 2018.
For the GetSpeed Performance GT3, there will be a premiere: Arjun Maini will be the first driver from India to race a DTM car. Maini started his career in karting and single-seaters and raced, among others, in the FIA Formula 2 Championship. Since two years, he has been competing in endurance races in the European Le Mans Series and the Asian Le Mans Series while he also showed his driving skills in the legendary Le Mans 24-hour race in 2019.
Christoph Sagemüller, head of Mercedes-AMG Motorsport: "It is great and of course also a huge challenge that Mercedes-AMG Motorsport will now be racing in DTM with the Mercedes-AMG GT3 as well. By becoming involved in this long-standing race series, we are adding another pillar to our successful Mercedes-AMG Customer Racing Programme. For our customer sports segment and the Mercedes-AMG GT3, this is a major and familiar platform to expand the presence of our brand. It is all the more enjoyable that, together with our customer teams, we have been able to put in place such a comprehensive programme with a total of seven Mercedes-AMG GT3s run by five teams and a strong driver line-up straight away."
Stefan Wendl, head of Mercedes-AMG Customer Racing: "We are all very much looking forward to the new DTM season and Mercedes-AMG's return to the race series. Since becoming involved over 30 years ago, Mercedes-AMG has been able to celebrate countless achievements in DTM that always had strong teams and drivers. These include many unforgettable moments, from the maiden DTM title win in 1992 and the numerous records of our current brand ambassador Bernd Schneider up to the highly emotional triple title win in our farewell season 2018. I am convinced that, together with our teams and the high-quality driver line-up, we will be successful this year, too. We are already very curious to find out what the next chapter of Mercedes-AMG's success story in DTM will look like and we wish all the teams and drivers a good start."
Mercedes-AMG Teams with the Mercedes-AMG GT3 in the 2021 DTM1:
| | | |
| --- | --- | --- |
| Nr. | Team | Driver |
| 2 | Mercedes-AMG Team GetSpeed | Arjun Maini (IND) |
| 4 | Mercedes-AMG Team HRT | Maximilian Götz (GER) |
| 5 | Mercedes-AMG Team HRT | Vincent Abril (FRA) |
| 8 | Mercedes-AMG Team GruppeM Racing | Daniel Juncadella (ESP) |
| 18 | Mercedes-AMG Team Mücke Motorsport | Gary Paffett (GBR) |
| 22 | Mercedes-AMG Team WINWARD | Lucas Auer (AUT) |
| 57 | Mercedes-AMG Team WINWARD | Philip Ellis (SUI) |
1 the partners and liveries of the #4 HRT and #8 GruppeM Racing cars haven't been finalised yet, but will be announced shortly.
Race schedule 2021 DTM season (Duration: 55 minutes + 1 lap)2:
| | | |
| --- | --- | --- |
| Circuit | Date | Event |
| Autodromo Internazionale Monza / ITA | 18th-20th June | Races 1 & 2 |
| Norisring / GER | 2nd-4th July | Races 3 & 4 |
| Lausitzring / GER | 23rd-25th July | Races 5 & 6 |
| Circuit Zolder / BEL | 6th-8th August | Races 7 & 8 |
| Nürburgring / GER | 20th-22nd August | Races 9 & 10 |
| Red Bull Ring / AUT | 3rd-5th September | Races 11 & 12 |
| TT Circuit Assen / NED | 17th-19th September | Races 13 & 14 |
| Hockenheimring / GER | 1st-3rd October | Races 15 & 16 |
2 subject to last-minute changes.