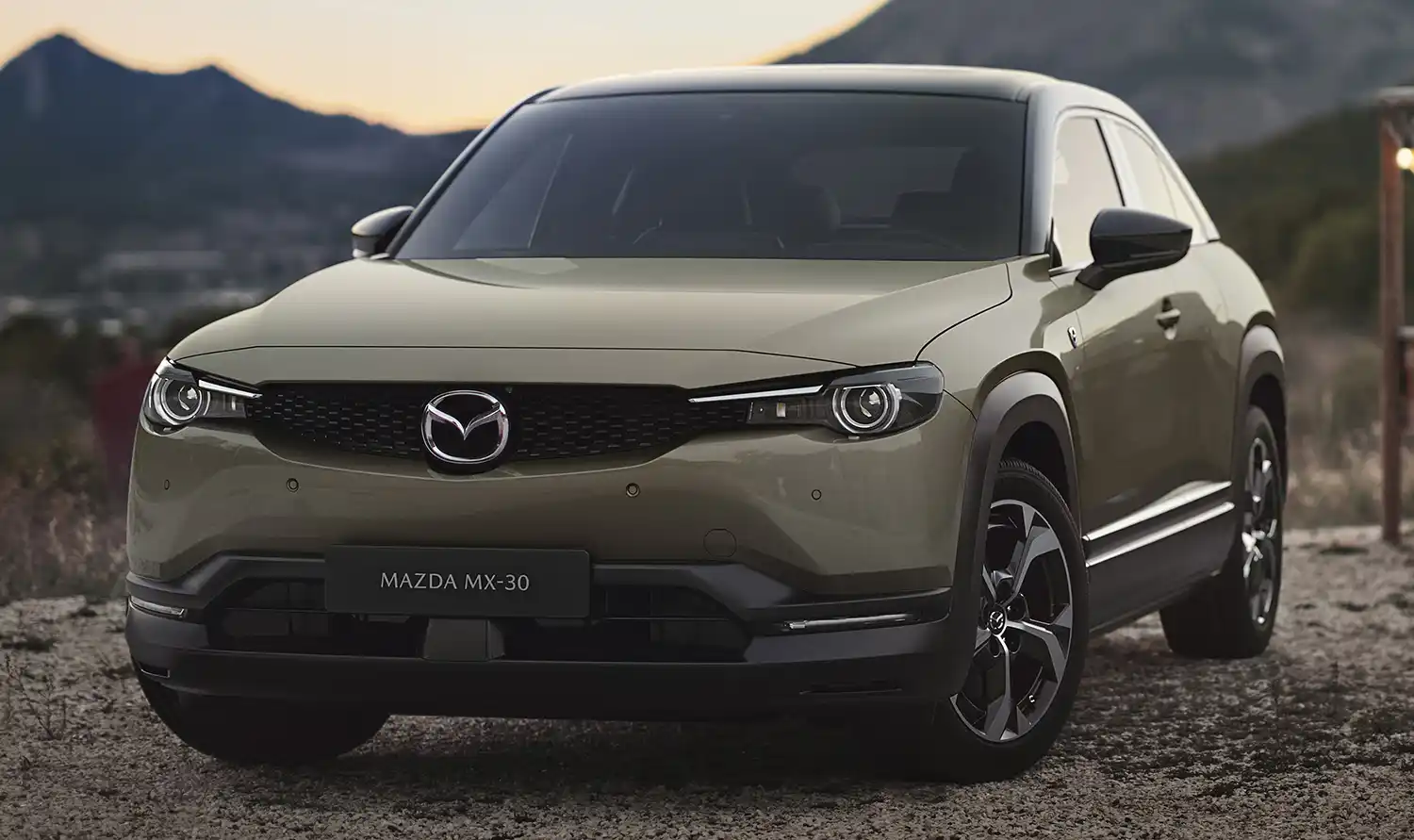 The Mazda MX-30 e-Skyactiv R-EV series plug-in hybrid1 has received a maximum five-star rating by Euro NCAP. The excellent results of the battery-electric MX-30 e-Skyactiv EV2 tested in 2020 now officially apply to its new plug-in hybrid derivative, too.
Both MX-30 derivatives score impressively in all four Euro NCAP test categories: Adult Occupant – 91%, Child Occupant – 87%, Vulnerable Road User (pedestrian safety) – 68% and Safety Assist – 73%.
Moreover, they achieved maximum points in lateral impact tests, as well as full marks for crash test performance based on 6- and 10-year-old children for both frontal and lateral impact.
The MX-30 was the first Mazda to achieve an overall five-star rating under the more stringent 2020 Euro NCAP crashworthiness ratings with a stronger emphasis on occupant protection, post-crash protection, and advanced driver assistance technology.
This excellent performance is a result of three key factors: The latest Skyactiv Vehicle Architecture features a high-rigidity, impact-absorbing yet lightweight bodyshell. A wide range of advanced i‑Activsense safety technologies help drivers identify potential risks and reduce the likelihood of damage or injury. High standards of pedestrian protection mitigate the impact of a collision with vulnerable road users.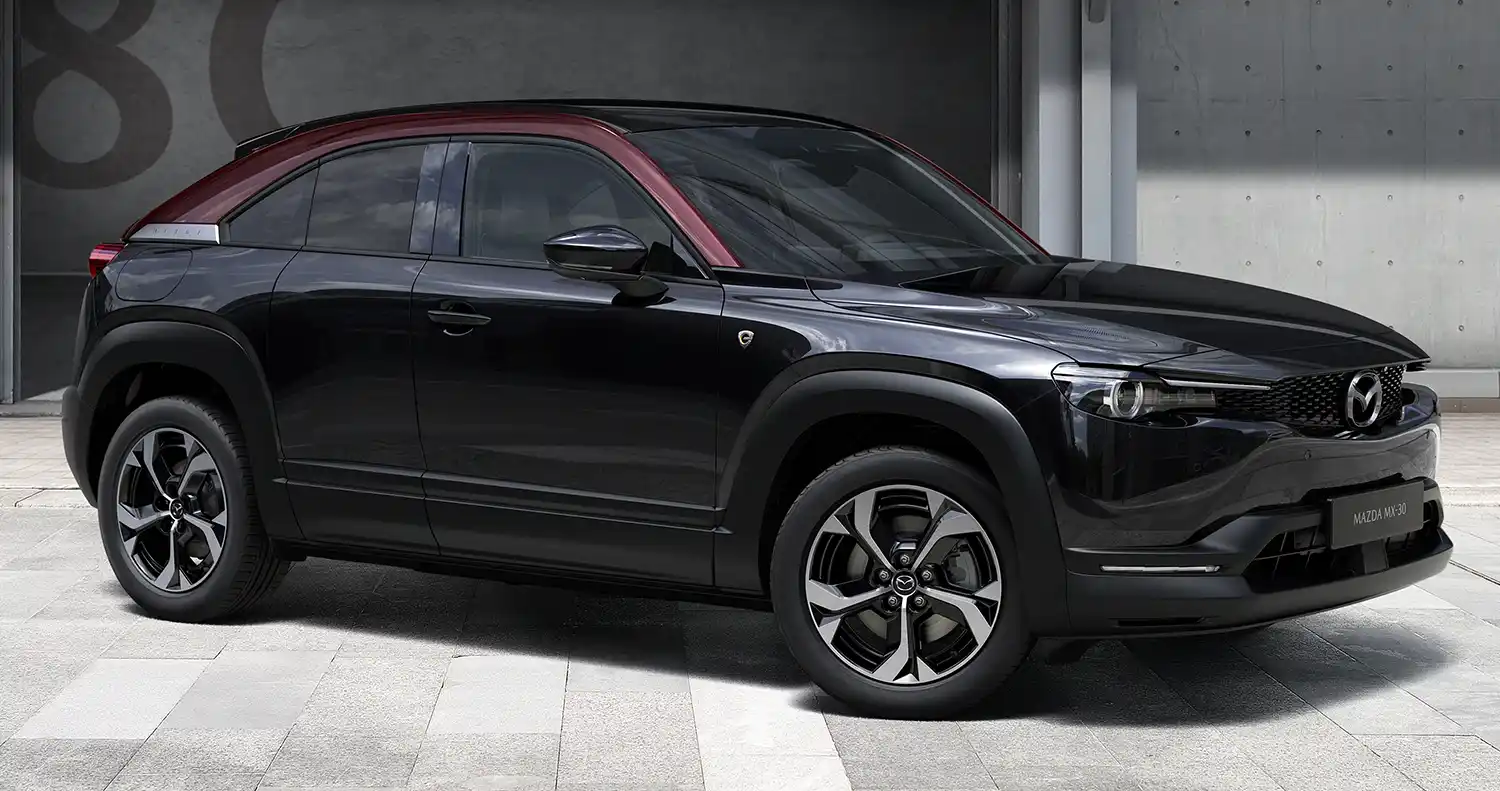 Mazda's new series plug-in hybrid offers the same customer values as the all-electric MX-30, while simultaneously offering new ways of using a car as a battery electric vehicle. With a 17.8 kWh battery, the e-Skyactiv R-EV has an 85 km pure electric range. Using Mazda's unique rotary engine technology, the all-new 830 cm³ single-rotor petrol engine acts as a generator to enable longer distance drives without range or charging anxiety. With no mechanical connection between the engine and the wheels, the rotary unit simply acts as a generator, ensuring the MX-30 e-Skyactiv R-EV always drives via the electric motor to deliver a seamless EV driving experience.
With more than half a century of expertise in the development of rotary engines, Mazda selected the rotary powerplant for this application due to its unique ability to produce the required output from a compact, lightweight, and easily packaged unit. The rotary engine is placed neatly alongside the generator and high-output motor in the engine bay. The combination of a 17.8 kWh battery and a 50‑litre fuel tank creates a unique series plug-in hybrid with a flexible total range of up to 680 km, while a WLTP CO2 output of just 21g/km ensures class-leading environmental performance.
A standout design element of MX-30 is its Freestyle doors, a heritage link to the 2003 Mazda RX-8. This, however, doesn't adversely affect safety. In fact, the 'analysis of the deformed crush element from the offset frontal test indicated that the MX-30's structure did not pose a high risk to the occupants of a colliding vehicle in a frontal offset impact,' testers said. 'In both the side barrier test representing a collision by another vehicle, and the more severe side pole impact, protection of all critical body areas was good, and the car scored maximum points for these two tests'.
Committed to a future society free of car accidents, Mazda works continuously to advance safety performance under the Mazda Proactive Safety philosophy. The superior driving dynamics achieved as a result of Mazda's Skyactiv Technology also contribute to the new Mazda MX-30 e-Skyactiv R-EV's driving safety. By making the car easier to drive, they reduce the potential for accidents without compromising Mazda's traditional fun-to-drive character.
Following its world premiere at the Brussels Motor Show in January, the Mazda MX-30 e-Skyactiv R-EV will go on sale throughout Europe later this year.