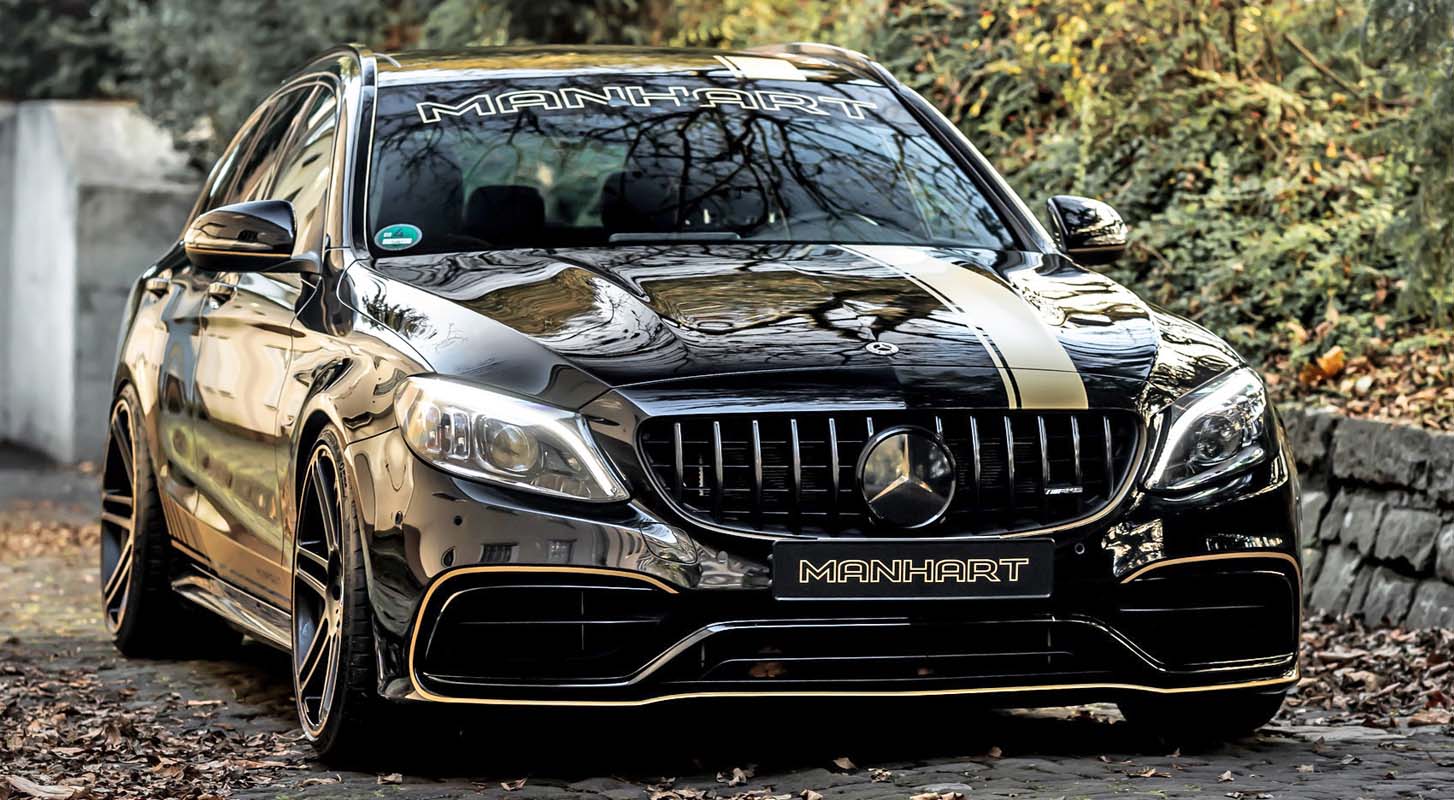 Unfortunately, there is certainty regarding the fact that the 2022 generation of the Mercedes-AMG C 63 / C 63 S, which is in the starting blocks, will no longer be powered by AMG's fabulous 4.0-litre biturbo V8. The number of cylinders and displacement of the "63" in the 206 series will be halved: There are currently rumours of a plug-in hybrid drive system, consisting of a turbocharged 2.0-litre four-cylinder and an electric motor. Even if this is supposed to unleash around 650 hp at its peak, it will undoubtedly not be able to play the keyboard of emotions as impressively as the thundering V8 of the "old" 510 hp C 63 S. The engine's farewell is approaching.
As the end of this engine approaches, MANHART Performance in Wuppertal is now presenting another example of Manhart CR 700 interpretation of the Swabian V8 mid-range – as an estate.
As is customary at Manhart end, this model designation already gives an indication of the power upgrade that has taken place: 700hp it may be – and in this case even a little more! After the installation of an in-house turbo performance kit, including upgraded turbochargers, carbon intake, intercooler upgrade and final ECU remapping, 712hp and 920Nm (standard: 510hp / 700Nm) are available on demand. Thus equipped, the MANHART CR 700 Wagon completes the intermediate sprint from 100 to 200km/h in just 5.5 seconds.
The AMG exhaust system can be combined with either MANHART sports downpipes with 200-cell catalytic converters or catalytic converter-less race downpipes – in each case, however, without TÜV approval and therefore only intended for export. Parallel to the power increase, Manhart technicians also adapt the AMG SPEEDSHIFT MCT 9-speed transmission to the new conditions via an upgrade.
The wheel arches of the station wagon are fitted with Manhart own Concave One wheels in satin black, which – in keeping with the typical MANHART body decor – are decorated with gold rim pinstripes. The 9×20 and 10.5×20 inch double-spoke rims are fitted with 255/30ZR20 high-performance tyres on the steering axle and 275/30ZR20 tyres on the drive axle.
As far as suspension optimisation is concerned, Manhart offer a MANHART coil spring set by H&R, which allows infinitely variable adjustment of the lowering. No changes were made to the braking system or the interior of the AMG C 63 on the vehicle pictured – but Manhart do offer individually configurable upgrades for both on request.
All further facts as well as price and delivery information can be obtained on the product page or directly from the MANHART Performance sales team.