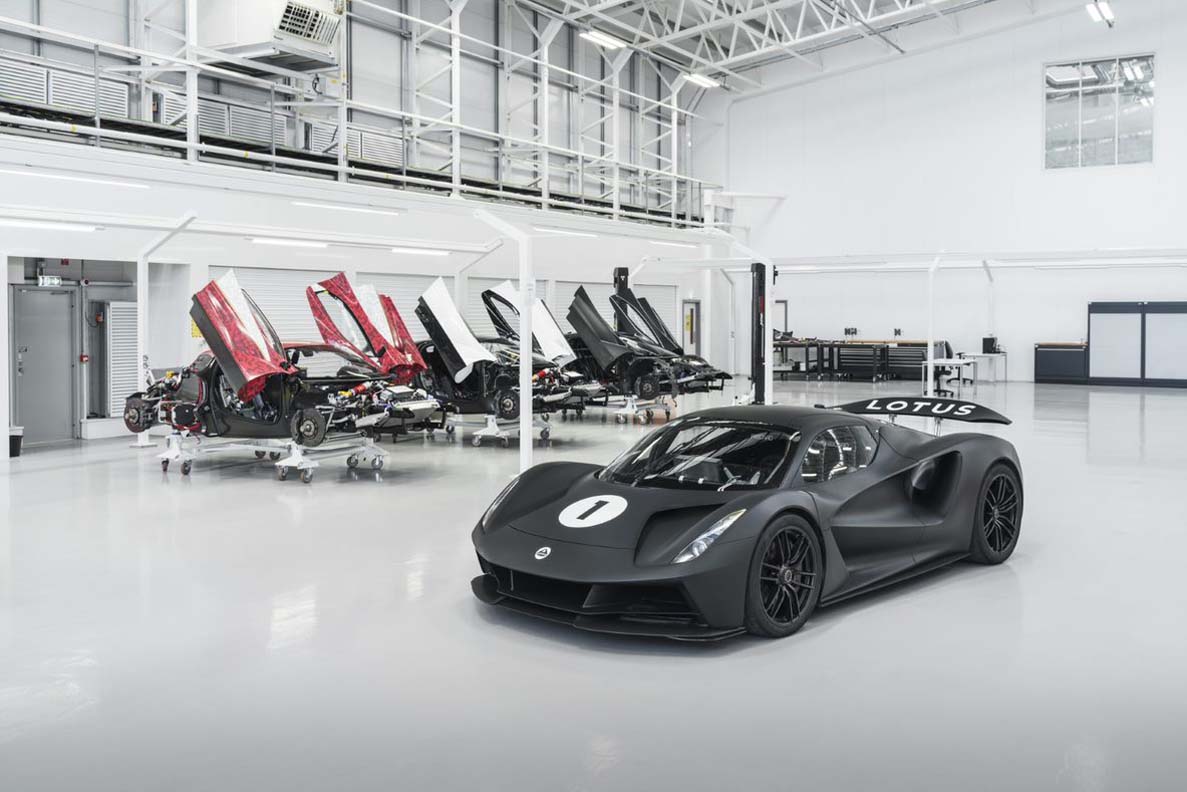 Lotus Engineering, the consultancy side of the Lotus business, is going from strength to strength under the company's Vision80 transformation strategy.
Key to its rebirth as a force in global automotive engineering has been its ongoing transition to a new home. Announced last year, the Lotus Advanced Technology Centre (LATC) is on the Wellesbourne campus of the University of Warwick. The UK's Midlands region is a focal point for automotive and engineering innovation, and is the perfect location for Lotus' high voltage development and testing centre. That makes it the ideal home of the Lotus Engineering consultancy.
As part of the Driving Tomorrow global digital conference, Lotus Engineering has released a new architect's animation what LATC will be like when complete. More than 100 employees will be based there initially, with capacity for another 200 when the facility's development is complete.
Client confidentiality is at the heart of its work, though details of a number of high-profile partnership projects are in the public domain. These include:
JBXE: Lotus Engineering is technical partner to JBXE, the Extreme E race team launched by former F1 world champion Jenson Button. The team will benefit from Lotus Engineering's expertise and motorsport experience.
British Cycling: An innovative aerodynamic profile for the new track bike to be ridden by Team GB athletes at this summer's Tokyo Olympics. The work has been led by Lotus Engineering.
Project LEVA: Short for Lightweight Electric Vehicle Architecture, Project LEVA is a collaboration led by Lotus Engineering that is targeting the acceleration of and innovation behind new lightweight structures for next-generation battery electric vehicles.
Project BattCon: Lotus Engineering has launched a pilot containerised battery testing facility to assess energy storage solutions for the booming EV sector. It means the consultancy can carry out various battery cell, module and pack characterisation tests, performance evaluations, and component and lifetime testing under controlled conditions for its clients.
Uday Senapati, Executive Director, Corporate Strategy and Product Management, Lotus, said: "Lotus Engineering has partnered with some of the best-known companies and created numerous iconic products. These projects are an excellent calling card for the skills, resources and experience of our consultancy – bringing in new partnerships from all around the world, be they OEM, start-ups or special commissions. Such partnerships continue to play a vital role in the journey of Lotus Engineering."
Further growth for Lotus Engineering is being driven by access to the four new Lotus structural architectures. Working collaboratively with colleagues in Europe and China, Lotus engineers have developed a dedicated family of structural platforms for the brand. Exclusive to Lotus within the Geely group, they are available to other OEMs through the Lotus Engineering consultancy.
Sports car architecture: Referred to internally as the Elemental architecture, this is the platform on which the all-new Lotus Emira will be built. Flexible, lightweight and featuring the signature Lotus extruded aluminium technology, this sports car platform is a massive step-change technically.
Hypercar architecture: The Lotus Evija is the first vehicle to be built on this Extreme platform and goes into production later this year at Hethel.
Premium architecture: The first ever truly global automotive architecture from Lotus, the Evolution platform will be the basis for an all-new range of lifestyle vehicles from the company. The architecture has been defined and designed in the UK, supported by collaborative work with teams in China, Sweden and Germany. It is 'born British, raised globally'.
Electric sports car architecture: The Lotus Engineering consultancy is leading development work on a new vehicle platform – known internally as E-Sports – and from that will come new products for Lotus and Alpine. However, it is also commercially available for other OEMs to use.
A new technical roadmap for Lotus will also help guide the work of consultancy. Dubbed EAS-IP – it recognises that demand for technology is a fact of today's automotive landscape.
Electrify: A pure electric future for Lotus, as first demonstrated by the Evija hypercar, has been part of the Vision80 strategy from the start. After the Type 131 product line, every new Lotus car will be electric.
Amplify: Lotus is committed to delivering innovative and engaging technologies. It will dial up the importance and prevalence of technology in its new product range. In tandem with the famed Lotus DNA 'For The Drivers' , this will drive the desirability of future models.
Simplify: It was Lotus founder Colin Chapman who famously said the key to performance was to 'simplify and add lightness'. Nothing has changed. Lotus technology will be an enabler, and will simplify the driving and ownership experience for customers.
Intensify: Lotus is fast developing a reputation as a world leader in Human Machine Interface (HMI), User Interface (UI), and User Experience (UX). With every new product launch, the role of innovative new technology will be intensified.
Personify: Lotus will use technology to give its new models an identity, a brand character that will become part of the company's DNA. Lotus cars will be customisable through technology, mirroring and adapting to each customer's tastes.
Richard Moore, Executive Director, Engineering, Group Lotus, said: "This is a hugely exciting time for Lotus Engineering. News of the transformation of Lotus is  common knowledge across the automotive world, and the consultancy is in great demand from clients eager to tap into the passion, expertise and commitment which has run through this consultancy for more than 40 years."