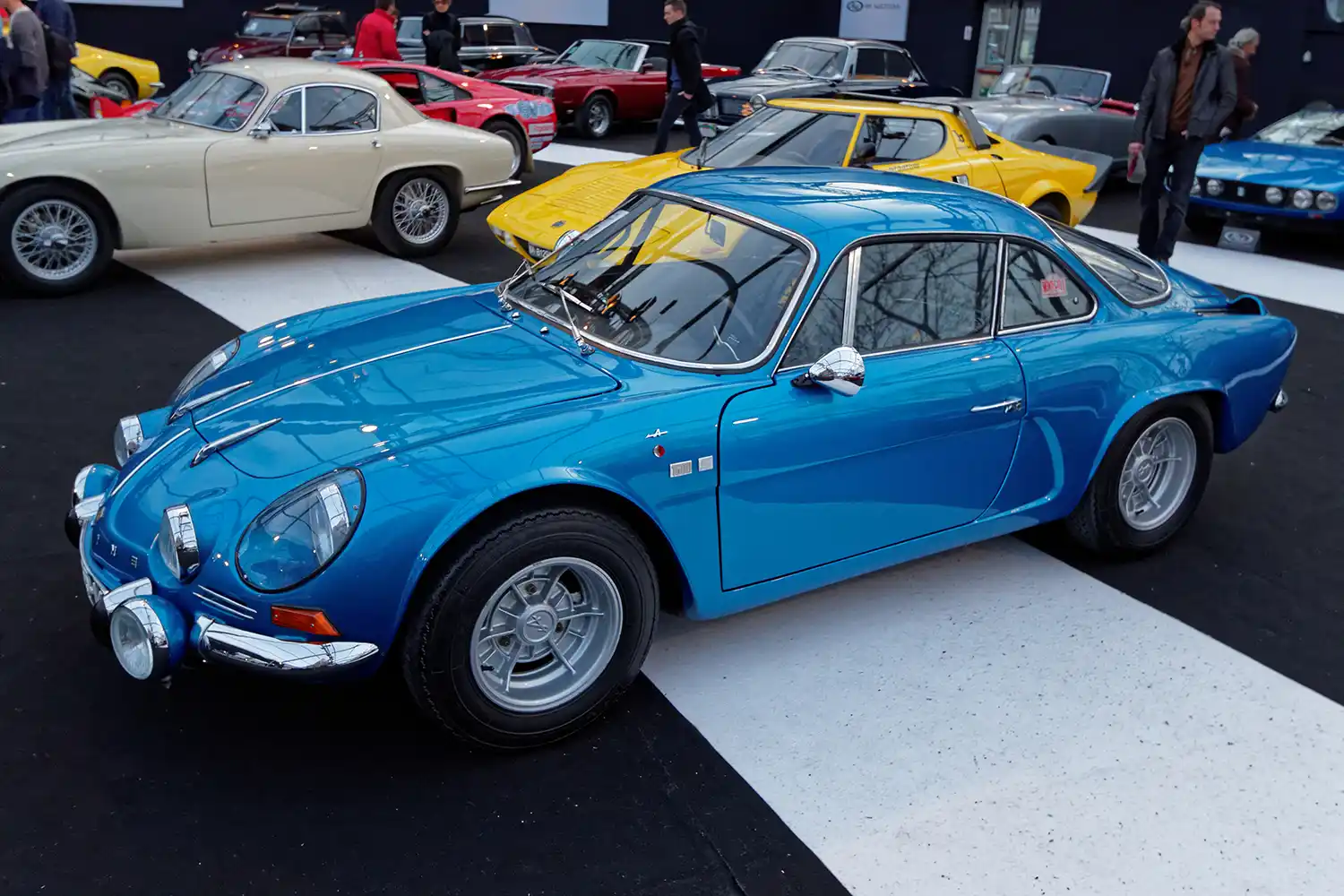 The London Concours, presented by Montres Breguet, is delighted to announce the latest class for June's unmissable event: Grand Tourisme. The carefully curated category will bring together the finest examples of France's ingenious, idiosyncratic automobiles through the decades; cars that do things their own way, often with a dash of madness and always with consummate style. The gallic machines will join a display of close to 100 fabulous privately owned cars in the immaculate grounds of the Honourable Artillery Company, from June 6th-8th, at what is set to be London's best automotive garden party yet.
The class will include one of the most elegant French GT cars of all: the Facel Vega Facel II. Introduced at the Paris Motor Show in 1961, the grand, Chrysler V8 powered machine was billed as the fastest four-seater coupé in the word; the top speed was billed as 150mph for the 390bhp, four-speed manual equipped cars. In its time, the Facel II was not only one of the fastest cars in terms of top speed, but also one of the fastest accelerating; it was quicker from 0-60mph than the Aston Martin DB4 and Mercedes-Benz 300SL Gullwing. Such performance came with an imposing price tag: this car cost fifty percent more than its direct rivals, and three times more than a Jaguar E-Type. Owners in period included Pablo Picasso, Christian Dior and Sir Stirling Moss. It remains one of the greatest – and one of the last – substantial French coupés. Facel Vega declared bankruptcy shortly after the 180-car production run ended, making this the last of an era.
June's show will feature another elegant French coupé, to many, one of the most stylish vehicles of all: the Citroen SM – in particularly desirable 5-speed manual, 2.7 injection form. This variant featured a soulful V6 under the stunning bodywork – sourced from Maserati, who the French marque had bought in 1968. The SM, with an impossibly sleek body and supremely smooth ride was designed to cruise across Europe at high-speeds, in total comfort, thanks to its innovative hydro-pneumatic suspension. The compellingly stylish package proved irresistible to many famous faces; a Citroen SM owners' club might have counted football star Johan Cruyff, Soviet leader Leonid Brezhnev, musician Carlos Santana, and the Shah of Iran as members. Ugandan dictator Idi Amin was perhaps the most committed SM enthusiast of all though, at one point reportedly owning seven of the sleek French machines.
Some of France's more sporting, lightweight coupé offerings will also star this June, including the delightful Alpine A110, in high-performance 1600S trim. The long serving A110 was in production from 1963 until 1977, using diminutive dimensions and featherlight weight to deliver superb performance, whether on road or on a rally special stage. The sub-700kg 1600S variant launched in 1969, and featured a feisty twin-Weber carb equipped 4-cylinder motor, sending 138bhp to the rear wheels via a 5-speed manual 'box – enough for 0-60mph in under 7 seconds and over 130mph flat out. Another special example of French engineering ingenuity.
The Honourable Artillery Company will also welcome the modern incarnation of the A110, the very latest variant, in ultimate 'Légende GT' form. The A110 has won over enthusiasts alike since its introduction in 2017, with a driving experience defined by refreshing lightness and fluid handling. Many consider the GT Légende to be the sweet-spot of the range, combining the softer suspension of the standard A110 with the punchier, 'S' spec, 296bhp version of the 1.8-litre turbocharged four. Mounted amidships, it drives through a snappy dual-clutch 'box. With only 1,134kg to motivate performance is serious: 0-60mph in 4.2 seconds and a top speed of 155mph. June's show will offer a great opportunity to examine this modern Alpine alongside its ancestor.
The display of French icons will also include a contender for the coolest '80s car of all: the Renault 5 Turbo. Introduced in 1980 the wild, mid-engined rear wheel drive machines bore little resemblance to the cooking Renault 5s. A true homologation special, the Turbo was extensively reworked with one goal in mind: success on the fearsome special stages of Group B rallying. Aluminium was used for the Turbo's roof and doors, while the shell was strengthened and widened to give a cartoonish stance. The 1.4-litre boosted motor put out 160bhp on road trim, and with just 900kg to shift, gave the pugnacious looking hatch a real turn of pace: it could hit 0-60mph in just 6.6 seconds, at a time when a conventionally quick car, the Golf GTI, took 9 seconds.
The 5 Turbo will be joined by its mad spiritual successor, the Clio V6, which arrived on the scene in 2001. The V6 again shared little with the standard Clio supermini on which it was technically based, transformed with a widened shell, rear wheel drive and a sweet, mid-mounted 227bhp 3.0-litre V6. The first 'Phase 1' cars were built in Britain by Tom Walkinshaw Racing, while the later Phase 2 machines were assembled by Renault Sport in Dieppe. Today the V6 stands out as another shining beacon of French automotive independent thinking, as well as one of the wonderful flashes of madness that, for many, rendered the early 2000s a high-water mark for the car industry.
This is just a taste of what to expect from this June's event which will feature a spectacular range of machinery from a range of exotic marques. Further class announcements will follow in the coming weeks and months, as we build towards the 7th edition of this unmissable event.
Andrew Evans, London Concours Director, said: "We're delighted to announce that our event this June will celebrate the most fabulous French cars ever produced. The Grand Toursime line-up, carefully curated by our team, will highlight the consistently idiosyncratic genius of the French automotive industry, machines that delight with both their engineering ingenuity and stunning looks. They're going to add real colour and gallic charm to our show which is now under two months away. It's going to be our most spectacular yet! Stay tuned in the coming weeks for further exciting class announcements."
In addition to a fantastic selection of cars – the best yet assembled – guests to the Honorary Artillery Company will be treated to a decadent range of food and drink options – including a brand-new Club Concours hospitality experience, engaging live stage discussions, as well as a carefully selected line-up of luxury brands and boutiques. London Concours 2023 is set to be another occasion of total automotive indulgence.