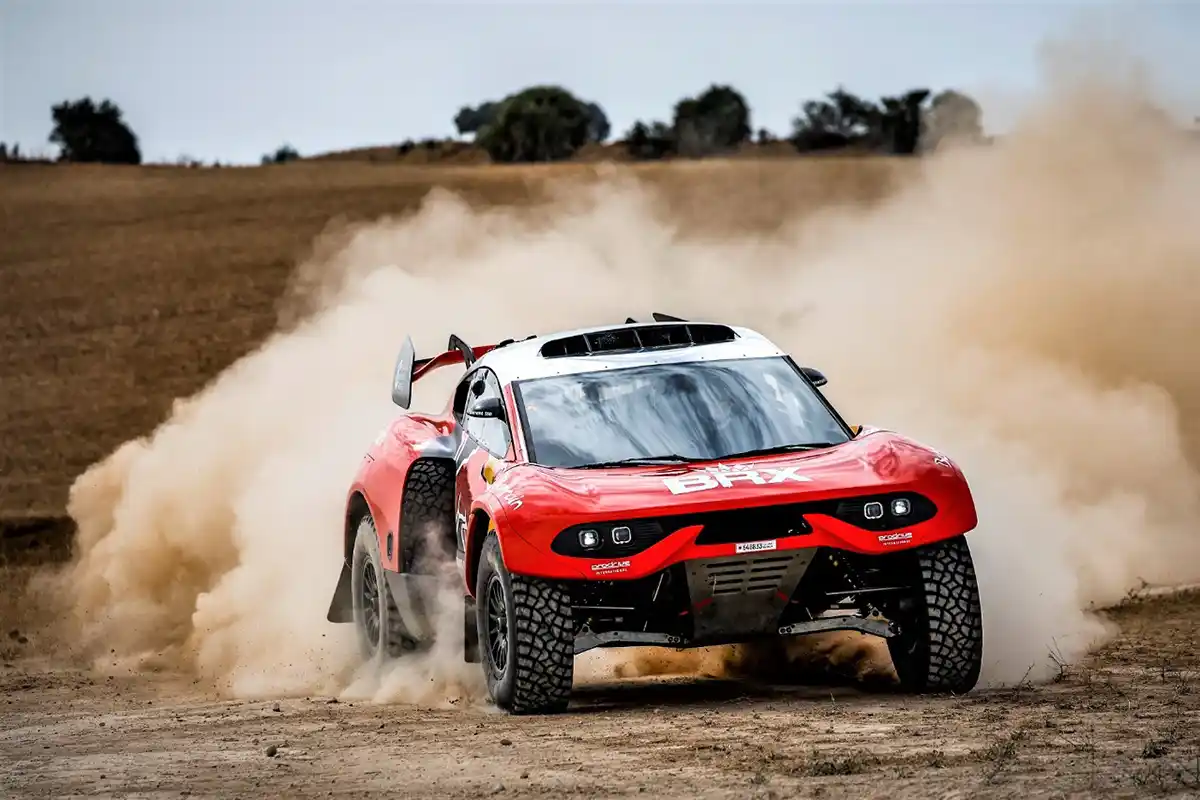 Sebastian Loeb recorded a stunning stage victory for Bahrain Raid Xtreme to take the lead in the Andalucia Rally today and set up a thrilling finish to the inaugural World Rally-Raid Championship.
Partnered by Fabian Lurquin in the BRX Prodrive Hunter, Loeb wiped out Nasser Al Attiyah's 11 mins 20 secs overnight lead to ensure the drivers' title race will go all the way to finish tomorrow.
The nine-time World Rally Champion will go into the final leg of the series holding a slender 28 seconds advantage over the Qatari championship leader in a Toyota Hilux.
Saudi Arabia's Yazeed Al Rajhi holds third place in another Toyota, with Guerlain Chicherit, winner of the penultimate round in Morocco earlier this month, lying fourth in his Prodrive Hunter.
While Loeb still has a 21-point gap to make up on Al Attiyah, the uncertainties of rally raid which have been so evident this season suggest there could still be a dramatic climax in southern Spain.
After a masterful display today at the wheel of the impressive Prodrive Hunter, Loeb will be going flat out for a repeat performance on the final special stage of the 2022 World Rally-Raid Championship.
After bad weather wiped out the previous day's stage, fog at the rally base in Dos Hermanas caused an hour's delay before today's special sent the cars away on sandy tracks through pine and eucalyptus groves into the Andalusian province of Huelva.
Loeb was looking for a strong start to begin slicing away at Al Attiyah's lead, which was increased by a minute after the rally stewards wiped out an earlier penalty given to the Qatari for speeding in a neutralised zone.
If anything, that seemed to inspire the Frenchman as he set a blistering pace over the opening 71 kilometres, gaining 3 mins 37secs on Al Attiyah and almost a minute on second-placed Al Rajhi.
Loeb's lead over his Qatari rival was up to 5 mins 45 secs by the 102-km mark, and there was no letting up as he increased his advantage in the Prodrive Hunter to 9 mins 39 secs after 212-km.
The pace from Loeb was relentless, and at 246-km he had slashed Al Attiyah's overall advantage to just 11 seconds, eventually grabbing the outright rally lead over the final sprint to the finish.
End of stage comments
Sebastien Loeb said: "I was hoping to have a good day. I know that this kind of stage suits my driving. There were a lot of corners, and you have to attack like in the WRC so I was trying hard. I was thinking it would take some time to catch Yazeed, but I caught Nasser first so that was good news.
"So I tried to continue with the same rhythm until the end to open as big a gap as possible. We did nearly no mistakes, we turned around one or two times, but nothing really bad. No punctures, a good drive. It was a great day. I overtook Nasser very early in the stage and I was trying to increase the gap."