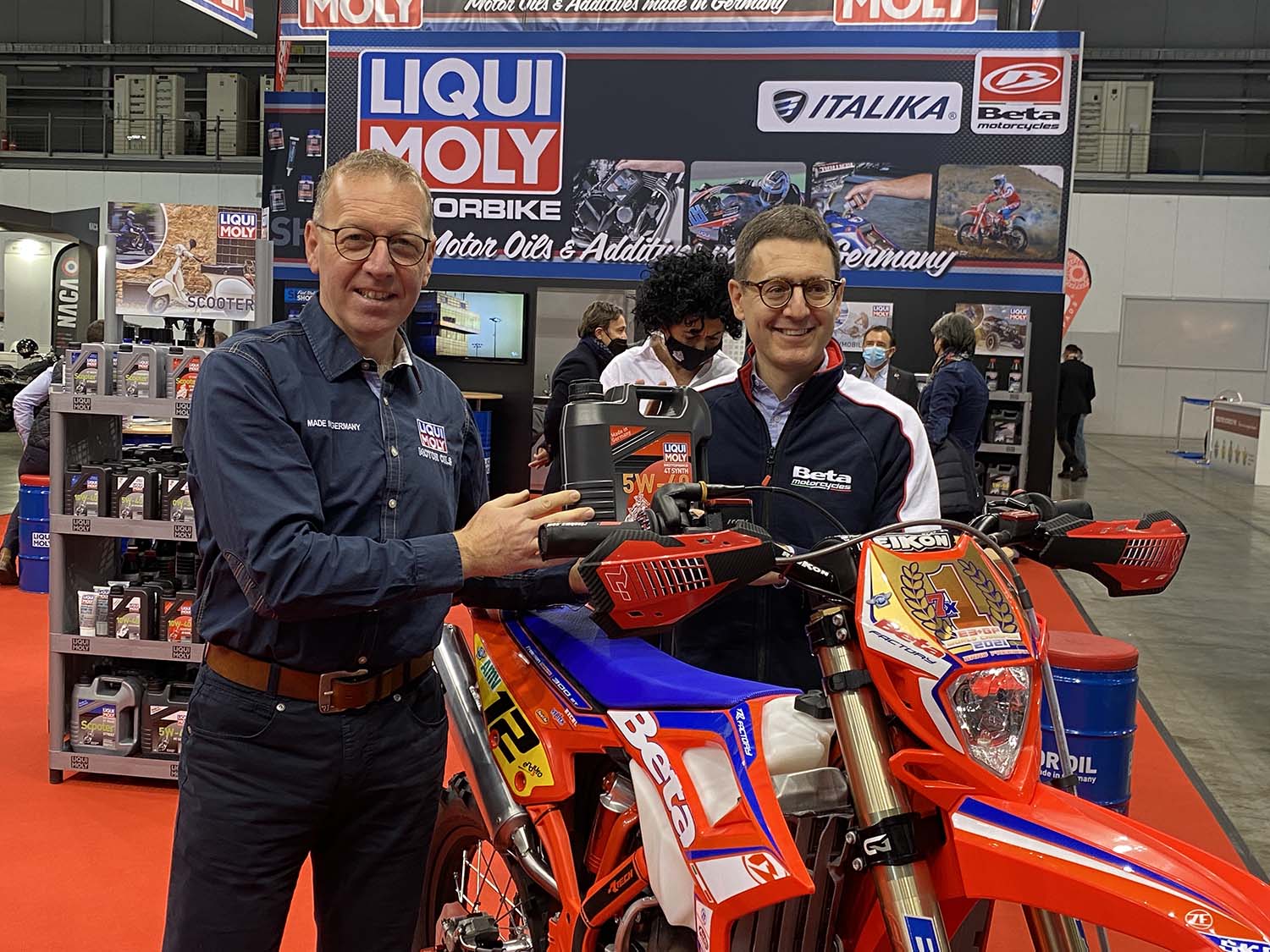 The German oil and additive specialist LIQUI MOLY is continuing its collaboration with the Italian motorcycle manufacturer Betamotor. Since 2014, all new motorcycles have been delivered with oil from LIQUI MOLY. That will remain the case for the next three years. "This underlines our expertise in motorcycles and helps us to further expand this business area," says Salvatore Coniglio, Director Export at LIQUI MOLY.
Betamotor primarily manufactures enduro and trial motorcycles. Their driving profile puts the engine under a heavier load than a road motorbike that cruises steadily. Protecting the machine reliably under these conditions while at the same time enabling the maximum power yield is not possible for every motor oil. Here LIQUI MOLY can fully exploit the breadth of its product range. It not only has many different motor oils especially for motorcycles, but also separate oils specifically for off-road use.
"That really pays off – we have been seeing this for seven years," says Stefano Soldani, Sales & Marketing Manager at Betamotor. "We are delighted that buyers of our motorcycles will continue to benefit from motor oil made in Germany in the future."
Both companies see further synergies in road bikes: Betamotor is the official importer of the Zontes brand. The oil guide at www.liqui-moly.com helps to find out which oil is the right one for a particular motorcycle. All you have to do is select the make, model and engine and you will not only receive a list of the right oils, but also suitable fork and gear oils, brake fluids, radiator antifreeze and much more besides.
In addition to motor oils, LIQUI MOLY offers a wide range of chemical products especially for motorcycles: There are additives, fork oils, chain sprays, brake fluids, and cleaning and care products, also for leather suits and helmets. For workshops, there is also equipment such as drum racks, pumps and more. The motorcycle range includes over 100 products.
LIQUI MOLY's motorcycle business is growing rapidly. "This year we will generate three times the turnover we did five years ago," says Salvatore Coniglio, Director Export at LIQUI MOLY. "This shows that more and more motorbikers are convinced of our quality." And they are not the only ones: Professional racers also rely on the quality from Germany. For years now, all teams in the Moto2 and Moto3 racing series have been riding with LIQUI MOLY oil.