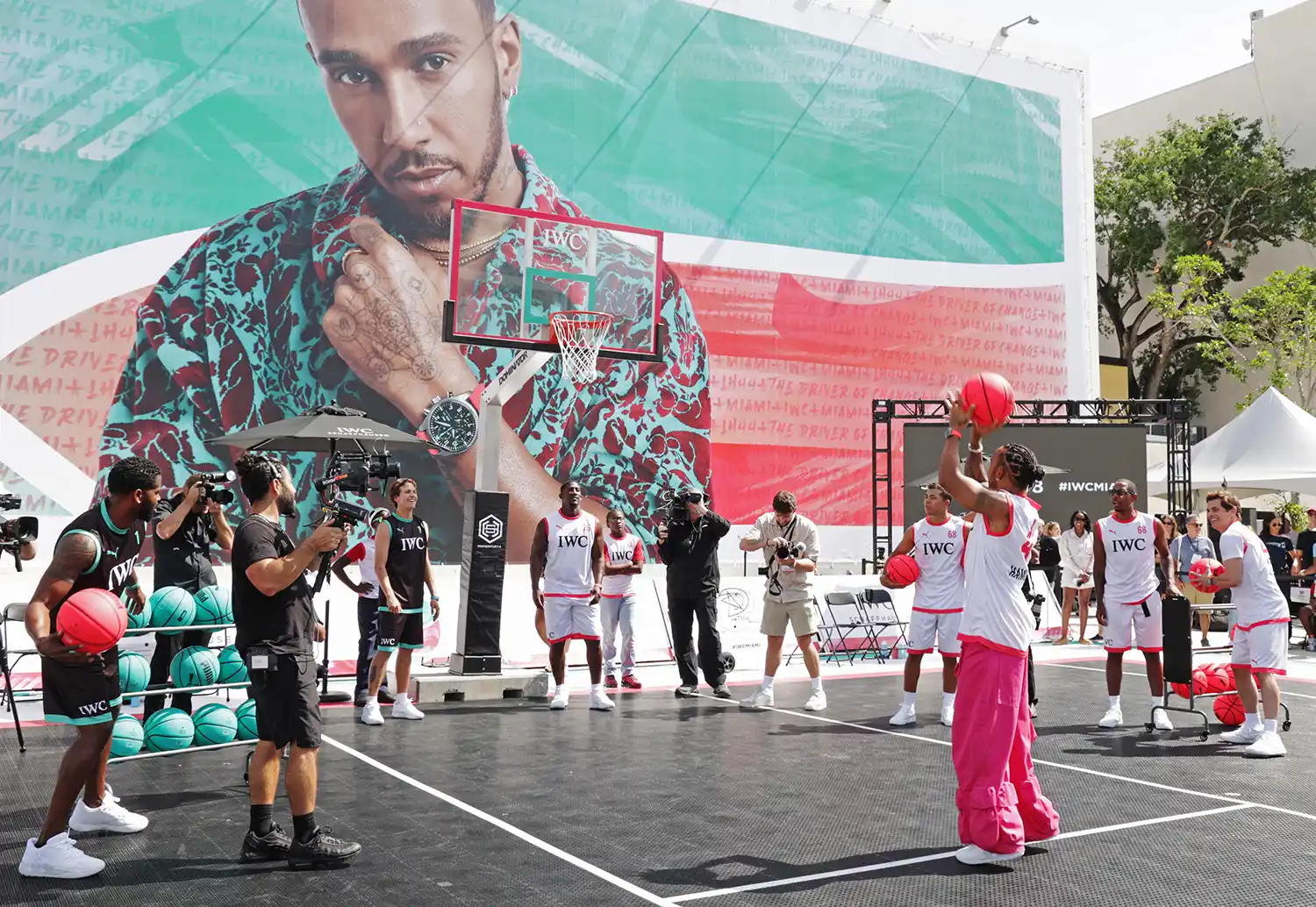 Ahead of the second Miami Grand Prix™, IWC Schaffhausen invited a group of famous athletes and celebrities to compete with seven-time Formula One™ world champion Lewis Hamilton on the basketball court. The "IWC Chrono Challenge" organized in collaboration with Miami-based non-profit charity, Dibia DREAM, marked the first of several events during IWC's three-day takeover of Jungle Plaza in the heart of the iconic Miami Design District.
The "IWC Chrono Challenge" saw two teams competing against each other in three different basketball skill challenges. "Team Pink" was led by seven-time Formula One™ world champion Sir Lewis Hamilton, who was joined by Hollywood actor James Marsden and former professional football player Antrel Rolle. Canadian actor and 'Barbie Movie' star Simu Liu, American Olympic skateboarder Jagger Eaton and Dibia DREAM founder and CEO Brandon Okpalobi formed the opposing "Team Green."
Discussing the IWC Chrono Challenge event Lewis Hamilton said "I think it's really really great that and we've got all these kids here and I think it's great what IWC is doing. It is so important to be supporting the future of the world." He continued, "I love basketball, I've always been a huge fan. It's probably my favourite sport, so to have an event where that's incorporated in it is pretty cool."
THREE BASKETBALL SKILL CHALLENGES
In the first challenge, players had to dribble and jump towards the basket, trying to achieve as many layups as possible in 60 seconds. Next, the competitors attempted to score as many free throws as they could in a 30-seconds beat-the-buzzer challenge. Finally, two players took turns shooting from several defined spots on the court. For each ball landing in the basket, they received one letter to spell out the word "Chrono" – a playful reference to the recently-launched chronograph. F1TM legend David Coulthard hosted the event, supported by former college basketball athlete and Laureus USA Program Officer Tiffany Aidoo. Hollywood actress Monica Barbaro was responsible for keeping the score and the exact timekeeping of the challenges.