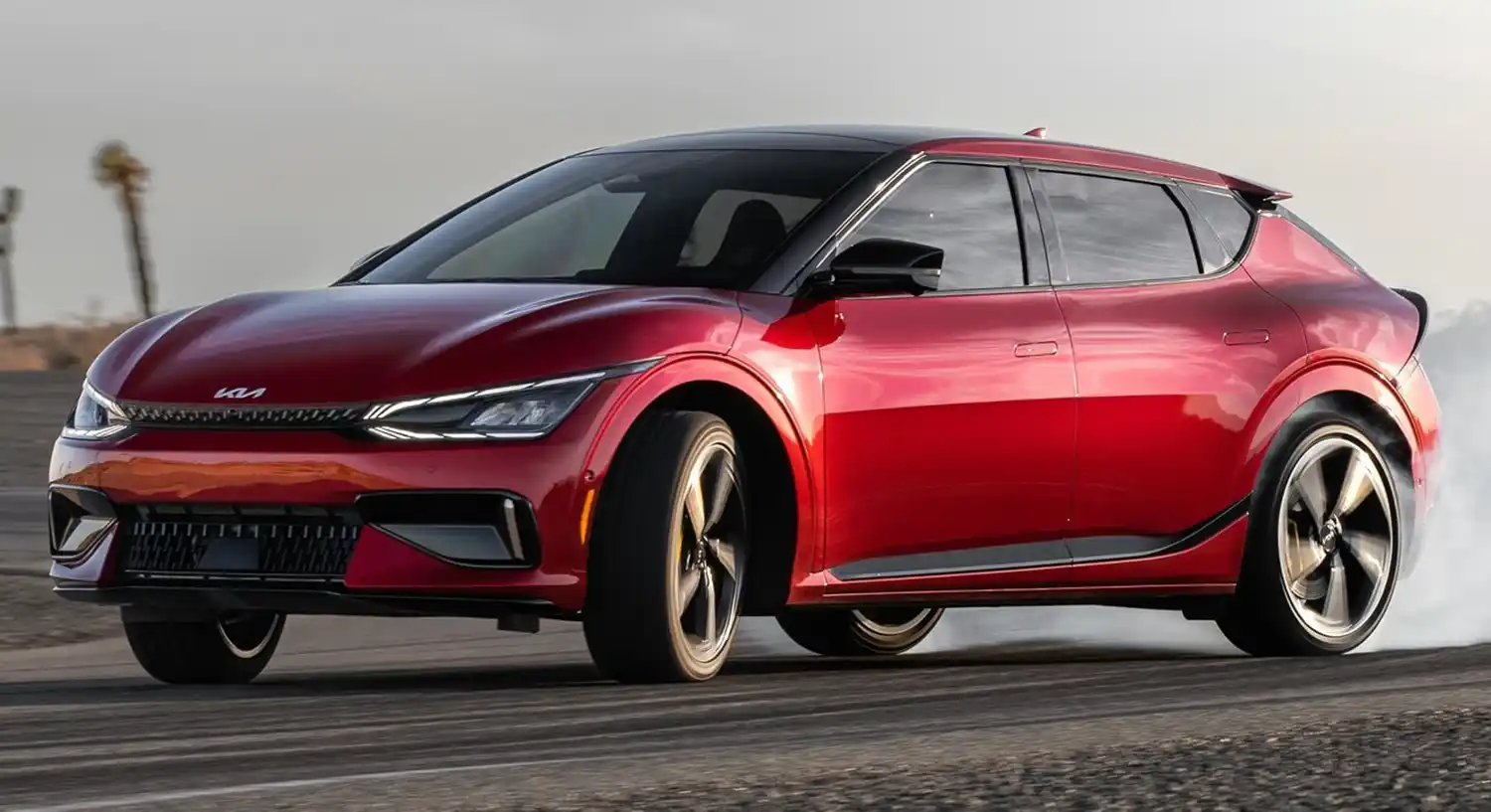 Kia's all-new EV6 GT is an all-electric high-performance crossover created for the new sustainable mobility era. Kia's most powerful production car ever and a new halo model for the brand, the EV6 GT combines exhilarating performance; first-class long-distance travel capabilities; ultra-fast charging tech; and a highly impressive real-world driving range for effortless cross-country touring.
Based on Kia's advanced Electric-Global Modular Platform (E-GMP), the EV6 GT delivers segment-defining performance and touring credentials. Performance has increased significantly over the standard AWD dual-motor EV6, thanks to the installation of a new high-output rear motor that delivers a remarkable 63% increase in overall power compared to the rear motor in the standard model.
The Kia EV6 GT can cover the 0-100 km/h sprint in a blistering 3.5 seconds – making this the most rapid production Kia and Hyundai Motor Group vehicle to date – and it has a top speed that peaks at 260 km/h. Despite the crossover's enhanced performance potential, driving range is an impressive 424 km and it can be charged from 10-80% in just 18 minutes.
While drivers can be assured of spirited performance, the EV6 GT also delivers enhanced ride and handling characteristics for a rewarding and truly connected feel out on the road. Performance brakes, optimised steering and reworked suspension increase control and confidence, while an updated Drive Mode Select system with a new GT Mode allows drivers to customise the driving experience.
Sjoerd Knipping, Vice President of Marketing and Product at Kia Europe, commented: "As Kia continues its mission to become a leading sustainable mobility solutions provider, the new EV6 GT is the clearest sign yet of how all-electric cars can offer truly unparalleled levels of engagement and excitement behind the wheel. Here is a crossover that expertly combines the power, performance and agility of a sports car with the comfort, range and ultra-fast charging capabilities befitting of a modern-day GT."
Muscular exterior hints at performance potential
The EV6 GT's design delivers something different in the all-electric crossover class, with a distinctive, impactful exterior complete with subtle high-tech features. Influencing all aspects of the EV6 GT's styling is Kia's 'Opposites United' design philosophy, which takes inspiration from the contrasts found in nature and humanity. The philosophy's 'Power to Progress' design principle perfectly suits the GT's sporting character by expressing the crossover's dynamic power and speed alongside contrasting elements, resulting in a truly innovative aesthetic.
At the front, the Kia EV6 GT instantly creates a lasting visual impression. Kia's signature 'Digital Tiger Face' includes adaptive LED high-beam headlights and dynamic sequential turn indicators, while muscular fenders and a new clamshell bonnet featuring pronounced character lines lend the EV6 GT a powerful look. A new front bumper, unique to the GT, helps to emphasise the vehicle's width and a stable, planted stance.
The EV6 GT's aerodynamic side profile features a set of prominent character lines that add strength and definition, while the 'fast' roofline and sloping C-pillars create a sleek crossover silhouette. The vehicle's sporty character is also communicated via a set of five-spoke 21-inch alloy wheels unique to the Kia EV6 GT, while striking neon brake calipers signal awesome stopping power. At the rear, an aero spoiler, statement LED taillights and a unique bumper and diffuser complete the GT transformation.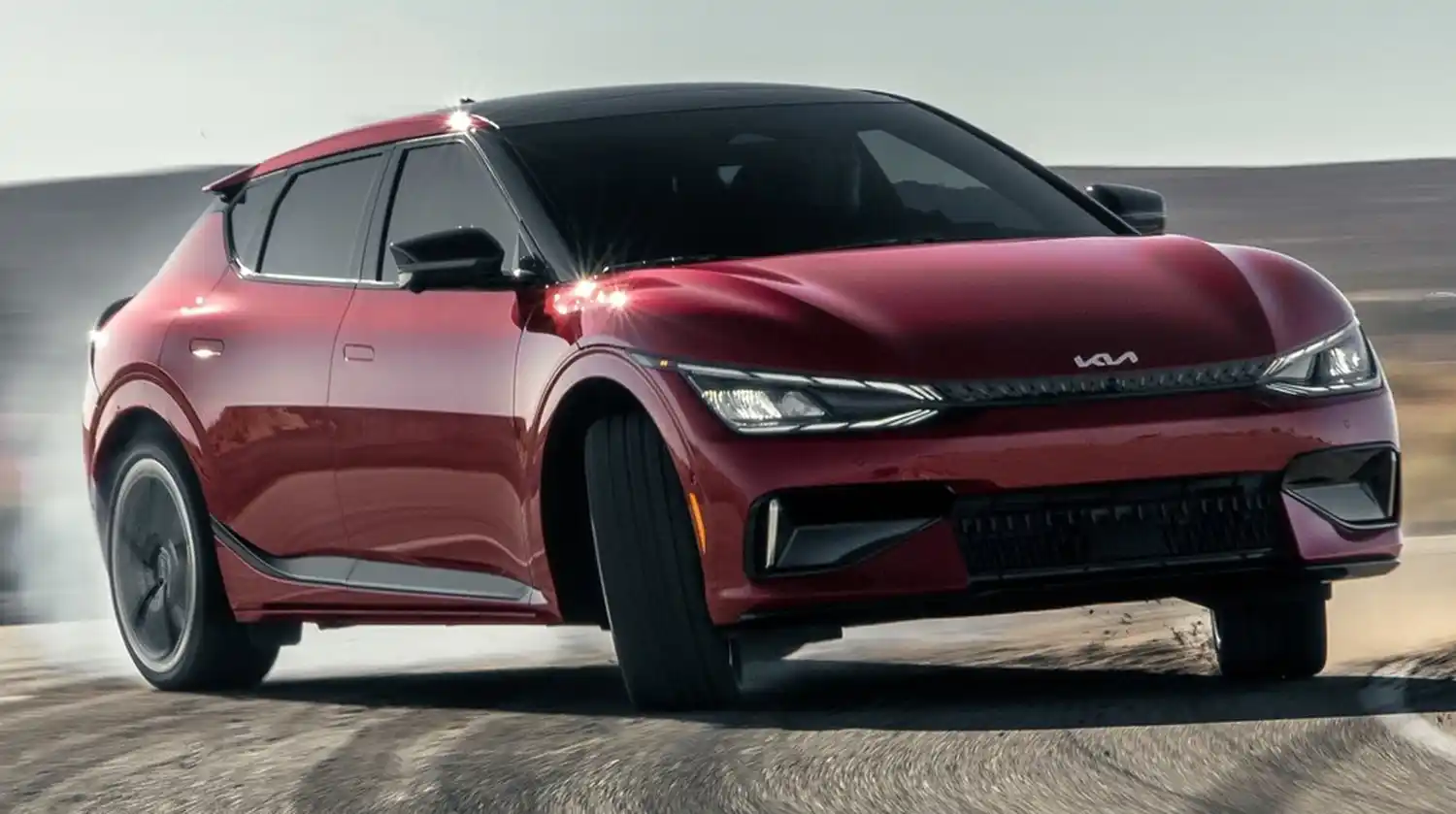 Driver-focused interior is a haven for grand-touring adventures
The EV6 GT features a cabin that combines sporting intent with comfort and practicality. Occupants are greeted by a set of suede-trimmed bucket seats that provide full support during spirited driving, as well as long-distance comfort for extended journeys. Metal inserts inscribed with the 'GT' moniker and neon green piping add to the seats' contemporary and technical appearance. The cabin is finished throughout with premium materials, while sports-inspired touches create a purposeful ambience. A striped motif adorns the upper fascia and front centre armrest, while ambient lighting across the GT's door panels, centre console and dashboard delivers a soothing glow during night-time driving.
Dual curved 12.3-inch infotainment displays deliver all driving, connectivity and entertainment functions in pin-sharp clarity, and the simple form language of the wide screens and horizontally aligned dashboard give the interior a cosseting and high-tech feel. An ergonomic two-spoke steering wheel includes a dedicated new GT Drive Mode selector, enabling drivers to easily access and customise their driving experience.
The electric-only powertrain means the EV6 GT is an inherently quiet car in operation, even at higher speeds. With no sounds emanating from an internal combustion engine, Kia's engineering teams worked hard to quell noise that would otherwise go unnoticed. However, to give driver and occupants a ened sense of the car's performance capabilities, the EV6 GT gains an Active Sound Design feature that provides synthesised augmentation of selected sounds via the standard-fit Meridian high-performance audio system. Occupants can adjust the character and volume of the sound generated to suit their preferences.
The interior benefits from the application of Kia's dedicated electric vehicle architecture, E-GMP. Despite the Kia EV6 GT's compact exterior dimensions, its 2,900mm wheelbase and flat floor results in cabin space similar to that of many mid-size SUVs, providing exceptional long-distance touring capabilities. The EV6 GT offers intelligent and flexible interior packaging and an abundance of cabin storage areas, including 480 litres (VDA) of trunk space with the second-row seats in place – ideal for family trips. With the second-row seats folded down, stowage capacity increases to 1,260 litres. The car also features a front trunk, which provides an additional 20 litres of storage.
Fastest Kia ever thanks to unique dual-motor powertrain
The EV6 GT's high-performance, high-tech all-electric dual-motor powertrain has been specifically engineered to deliver a powerful and progressive driving experience. Drive is channelled to all four wheels to optimise traction and deploy power smoothly, even in the most challenging weather conditions.
A front-axle-mounted motor – the same as that found in the standard AWD EV6 – delivers 160 kW (218 PS) from 4,400 to 9,000 rpm. This is paired with a powerful new rear-mounted motor producing 270 kW (367 PS) from @ 6,800 to 9,400 rpm, to deliver a combined power output of 430 kW (585 PS) and 740 Nm of torque.
The total power output of the EV6 GT is a remarkable 80% higher than that of the next most powerful EV6 variant, the AWD dual-motor model, which has 239 kW / 325 PS and 605 Nm of torque (front and rear motors combined).
The power and traction generated by the Kia EV6 GT's dual-motor, all-wheel drive layout allows for truly scintillating performance. The GT can accelerate from 0-to-100 km/h in just 3.5 seconds – making this the quickest Kia ever – and reach a top speed of 260 km/h (versus 5.2 seconds and 185 km/h for the standard AWD EV6).
Contributing to that prodigious performance are a range of innovative technical features within the rear motor, including the new 'hairpin' winding technology in the coil pack that reduces losses and improves high-speed response. The breakthrough design – unconventional due to the dual-stage inverter for the rear motor – helps to unleash exceptional power and torque. The motor is controlled by the inverter power module, which adopts silicon carbide (SiC) semiconductors, and enhances system efficiency by around 2-3 percent.
The standard EV6 electric motor has exterior water cooling, which only influences the temperature of the motor housing. For the EV6 GT, cooling performance is supplemented by the coil pack being flushed with oil, maintaining stable temperatures even in extreme conditions and during sustained high-speed operation.
Further measures manage the increases in heat, centrifugal forces, noise and vibration that can be generated when the high-performance rear motor operates at its upper limits. For example, Kia engineers improved the distribution of forces throughout the motor's structure by reinforcing the bearing cage and permanent magnet arrangement, and by optimising the layout of the rotor core. Noise, vibration and harshness (NVH) has been further mitigated with the introduction of a new dual-piece rotor shaft.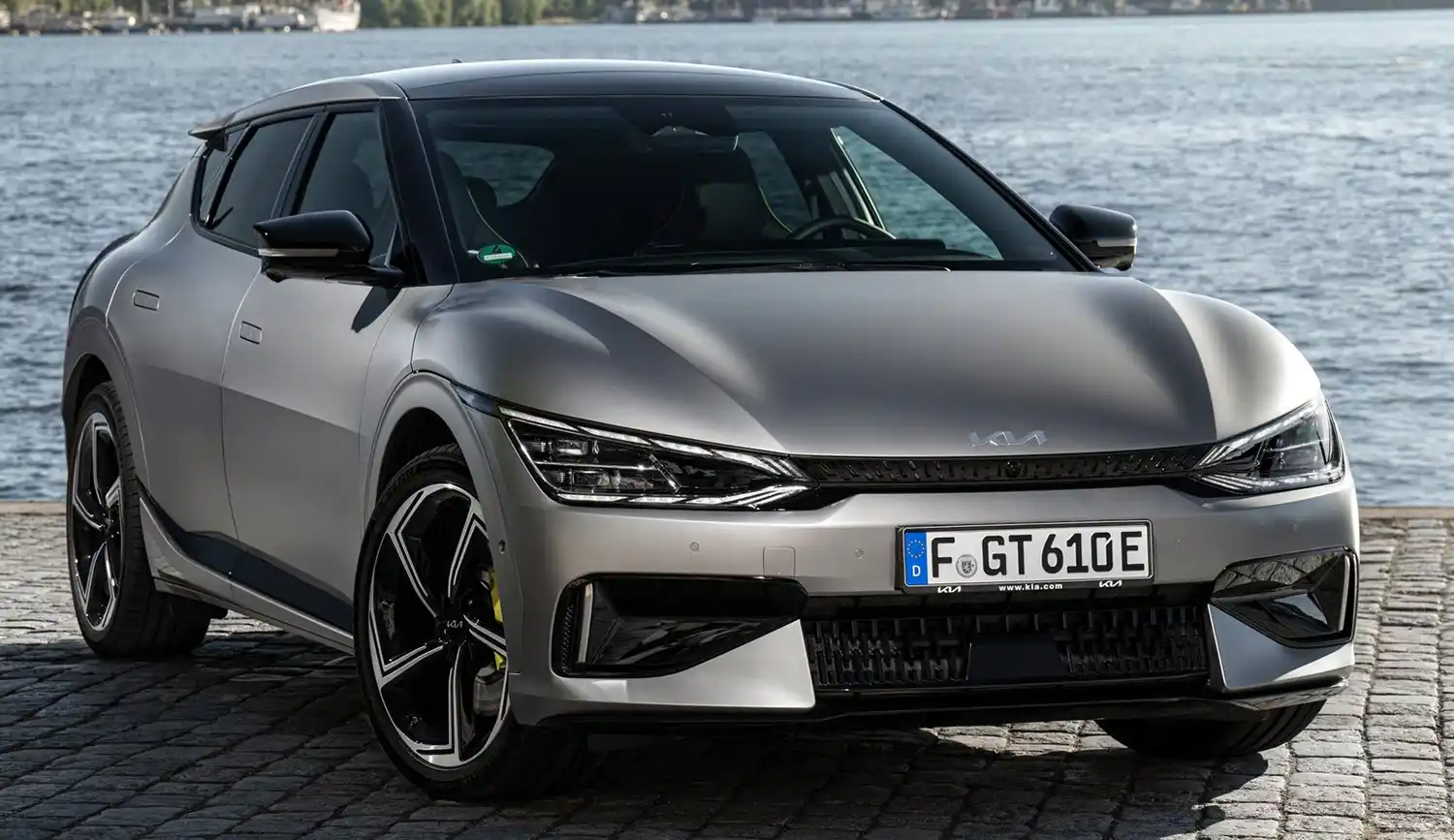 All-new suspension components underpin a broad dynamic repertoire
Compared with the standard EV6, the all-new EV6 GT benefits from comprehensive changes to its suspension components and electronic control systems that transform the driving experience. By giving the car an even more sporty character while retaining a quiet and refined demeanour, the EV6 GT has been engineered to offer a breadth of dynamic capabilities to rival the best sporting grand tourers.
The Kia EV6 GT's unique suspension package ensures the car's ride remains flat in all situations – mitigating roll when cornering or when doing lane changes at high speed, as well as limiting squat during rapid acceleration and dive under braking. At the same time, Kia's engineering team have ensured the ride retains a high degree of fluidity and compliance whichever drive mode is selected, so that it remains an enjoyable place to be for all occupants, even over long distances.
The EV6 GT gains its own variable gear ratio steering system, a highly communicative set-up that builds weight progressively as speeds increase. There are 2.3 turns lock-to-lock, compared to 2.67 for the standard EV6. In its most focused GT Mode setting, the EV6 GT's steering system has been specially calibrated for dynamic driving by increasing sensitivity to inputs and delivering more immediate responses.
The EV6's dynamic development was aided by the vehicle's platform. Set to underpin up to seven all-electric Kia models, E-GMP ensures the EV6 GT benefits from optimal driving characteristics thanks in part to a balanced weight ratio of 49:51 front to rear. This has been achieved by placing the battery pack across the floor of the vehicle, spreading the mass and giving the Kia EV6 GT a low centre of gravity, enabling superior handling and performance, especially on captivating twisty roads.
Performance variants of Kia's electrified models were envisaged at the outset of the E-GMP design and engineering process, which has meant that structural changes to the chassis of the EV6 GT are minimal, limited only to reinforcement of suspension mounting points front and rear to facilitate precise axle articulation.
At the rear, the five multi-link type suspension is carried over from the standard car, but at the front the suspension has been heavily modified for the EV6 GT, with new geometry and kinematics. The stabilising lower arm of the MacPherson strut-based suspension is replaced with a new, two-arm set-up to better manage vertical movements and maintain consistent contact with the road surface under increased cornering loads and over variable-quality surfaces – particularly important for maintaining traction at higher speeds.
The EV6 GT's suspension also features entirely new springs – softer by 9% at the front and stiffer by 11% at the rear compared to the standard EV6 – to manage body movement and aid agility. The new springs also result in the ride being lowered by 5 mm.
The GT's rear anti-roll bar is stiffer by 15% compared to the one used on the standard car. It helps to keep the car more planted on the road, limiting excess roll and enabling the Kia EV6 GT's tailor-made suspension components to behave as intended as cornering forces build.
Drive Modes unlock full capability of new semi-active suspension
The new suspension hardware provides the perfect foundations for the EV6 GT's software chassis systems. An electronic-Limited Slip Differential (e-LSD), unique to the EV6 GT, ensures the car's abundant power is harnessed effectively, enhancing traction and stability when cornering by automatically shuffling torque to the wheels with most grip. The e-LSD includes Smart Traction and Smart Yaw Damping functionality that carefully balances road-holding and comfort in line with the car's long-legged GT brief.
The GT's Electronic Control Suspension (ECS) delivers agility and comfort through continuous management of the semi-active High-Performance Dampers, which are unique to the EV6 GT.
Accessing the Drive Modes allows the driver to tailor the overall dynamic character of the EV6 GT to their own tastes. In Eco, Normal and Sport drive modes, unwanted body movements are already well controlled for an EV, thanks to the inherent sporting character and low centre of gravity of the EV6. However, at the heart of the Kia EV6 GT's driving experience lies a new dedicated GT Drive Mode, accessed via a neon button conveniently located within the lower right portion of the two-spoke steering wheel.
The new GT Drive Mode automatically configures the vehicle's e-motors, braking, steering, the semi-active dampers, e-LSD and Electronic Stability Control (ESC) systems into their most dynamic settings (Sport or Sport+), transforming the character and response of this sporting crossover, and providing a highly engaging experience behind the wheel.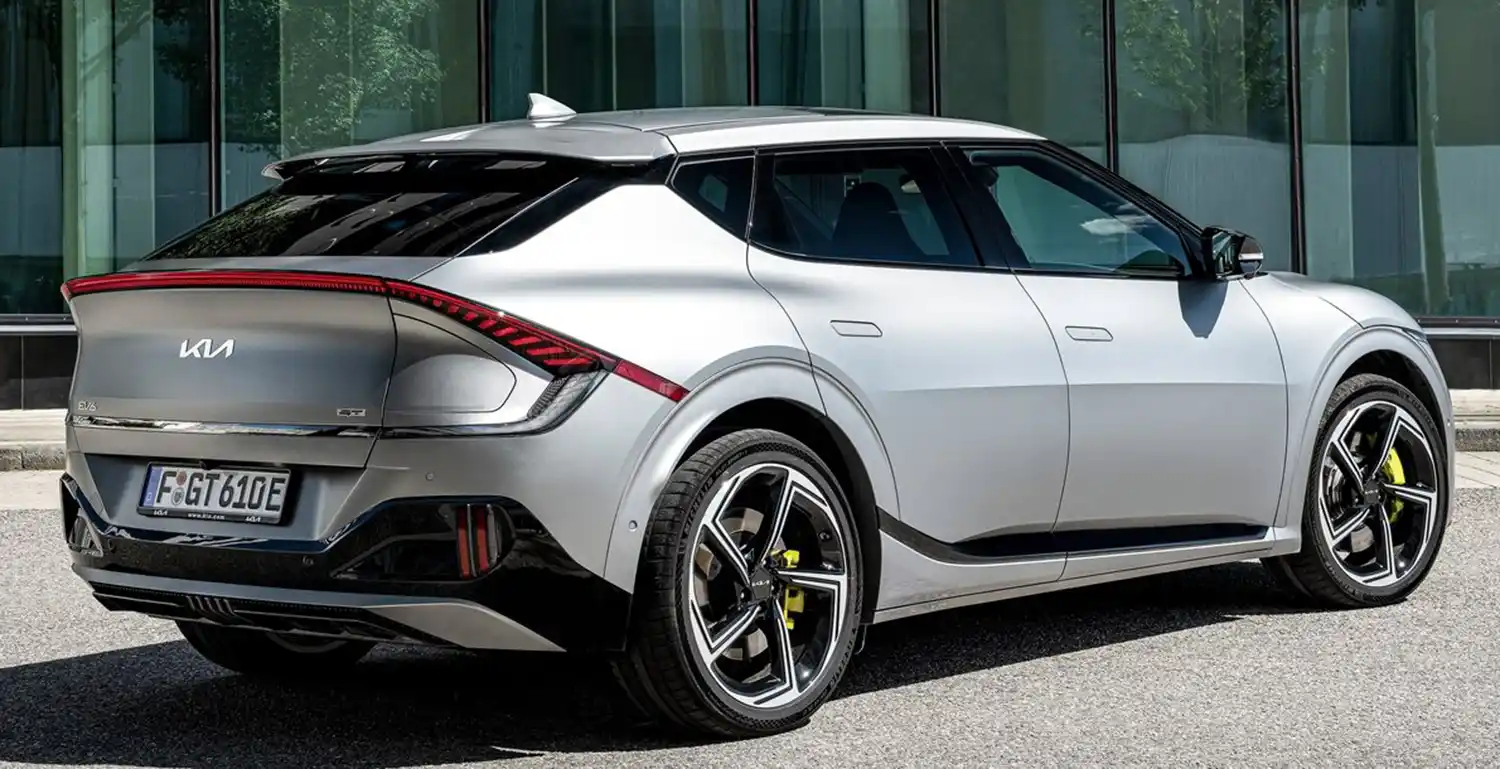 In GT Mode the ESC allows a greater level of tyre slip for a more intimate, tuneable connection with the road and, if preferred, drivers can even deactivate the ESC system altogether for ened oversteer potential. To take this a step further and deliberately provoke oversteer, a selectable Drift Mode sends a greater proportion of power to the rear wheels – up to 100% – for unconstrained sideways action, while power can be distributed to the front wheels again when exiting a curve to improve acceleration.
Drivers can further tailor the various power and suspension control systems to suit their individual driving preferences by accessing the My Drive Mode. This allows precise adjustment of all system settings for maximum dynamic response.
Contact with the road surface is entrusted to Michelin Pilot Sport 4S tyres especially designed for Kia, available only with the GT variant and chosen specifically for their ability to deliver exceptional grip and traction when fitted to high performance vehicles. The Michelins fitted to the EV6 GT are 255/40 R21 compared to the 255/45 R20 Michelin Pilot Sport 4 SUV tyres available on the standard AWD EV6, delivering even better road-holding and translating into even greater accuracy to driver inputs.
Larger, high-performance brake package boosts stopping power
An uprated, highly responsive performance braking system enhances the feeling of confidence and security behind the wheel of the EV6 GT. As well as providing exceptional and consistent deceleration from high speeds, a recalibrated pedal offers improved modularity and response for added reassurance.
Large, ventilated discs feature front (380mm) and rear (360mm) – compared to 345 mm ventilated front and 345 mm solid rear discs on the standard car – and are combined with new four-piston high performance calipers at the front. One of the reasons the new 21-inch wheels were chosen was to accommodate the enlarged and uprated brake package.
In addition, an Integrated Electric Booster (IEB) contributes to a reduction in braking distances, and the selectable brake mode ('Normal' or 'Sport') allows the driver to tailor the sensitivity of the brake pedal for a more responsive feel.
The new high-performance brake hardware integrates seamlessly with the regenerative brake system, which is officially calibrated to peak at 150 kW recuperation. When combined with active braking, the EV6 GT peaks at over 300 kW recuperation. As with the standard EV6, drivers can choose from six regenerative braking levels (none, 1 to 3, 'i-PEDAL', or auto mode), depending on the desired level of energy recuperation. The 'i-PEDAL' driving mode allows the car to harvest the maximum amount of energy from its brakes, enabling the driver to bring the car to a gentle halt without needing to push the brake pedal.
Ultra-fast charging maximises grand-touring credentials
The grand-touring credentials of the EV6 GT are boosted by its impressive driving range and fast-charge capabilities. The 77.4 kWh long-range lithium-ion battery pack delivers a 424 km driving range, and it can be charged from 10-80% in just 18 minutes. The combination of sports car performance, long range and ultra-fast charging means the Kia EV6 GT is a truly exciting and capable GT for the electric era.
The EV6 GT makes it quick and convenient to cover long distances with easy access to a dedicated charging network. Kia's investment in IONITY, Europe's comprehensive high-power charging network, means drivers can look forward to a carefree charging experience. With access to over 400 charging stations powered by 100% clean energy across 24 European countries and a charge point at every 120 km of the European highway network, drivers can enjoy the freedom and convenience associated with regular, reliable and sustainable fast charging.
Kia's partnership with Digital Charging Solutions (DCS) also gives drivers access to over 360,000 further charge points. Users can easily manage tariffs and payments for both IONITY and DCS providers via the easy-to-use Kia Charge App.
To assist with speedy charging of the EV6 GT, new Navigation Based Battery Conditioning functionality optimises the temperature of the battery whenever a high-speed charger is set as the destination. This ensures that the EV6 GT can be charged at the optimum rate in colder temperatures.
Further enhancing usability, the EV6 GT's Integrated Charging Control Unit (ICCU) features a Vehicle-to-Device (V2D) function, which is capable of discharging energy from the vehicle's battery. The V2D function can supply up to 3.6kW of power and is capable, as an example, of operating a 55-inch television and air conditioner simultaneously for more than 24 hours. The system is also able to charge another EV, if needed.
Proven at the limit for European customers
From the outset of the EV6's development, a high-performance GT derivative was planned. The Kia EV6 GT was subjected to its own development schedule, beginning in early 2020, with chassis fine-tuning commencing in April 2021.
Much of the real-world test and development work took place in Europe, with handling and stability tuning completed in Germany, on proving grounds and surrounding rounds at Rodgau-Dudenhofen, Boxberg, Mendig and Pferdsfeld. The EV6 GT has also been tested on the fabled Nurburgring Nordschleife circuit, though the vehicle has been developed very specifically for road use.