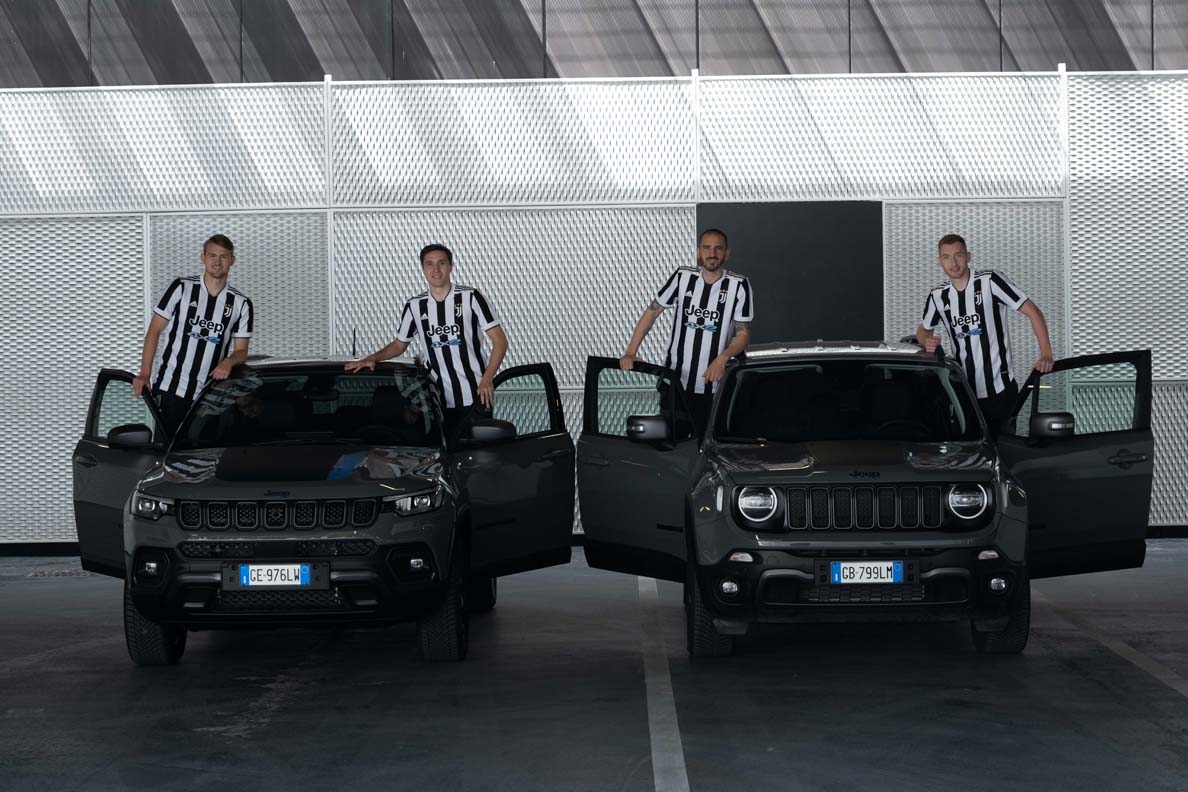 n the 2021-2022 season, the 4xe logo will feature prominently on the Black and Whites' new jersey alongside the Jeep® brand logo: 4xe highlights the Jeep plug-in hybrid electric technology's synthesis of off-road capability and green evolution. The new jersey will make its debut at the final of the Coppa Italia against Atalanta, to be played on Wednesday, May 19th.
The pairing of the Jeep® brand and Juventus continues. In the 2021-2022 season, the Black and Whites' new jersey will feature the historic black-and-white vertical stripes, with graphics that are in line with tradition. It will also feature the 4xe logo alongside the Jeep brand logo, in order to emphasize the brand's evolution toward sustainable mobility.
4xe is the new Jeep 4×4, as it evolves the concept of capability, adding sustainability, efficiency, and even more safety and fun. The new 4xe technology is fitted to the Compass and Renegade 4xe – the best-selling plug-in hybrid SUVs in Italy, and to the new, iconic Wrangler 4xe, the most powerful, efficient, sustainable and technologically advanced Wrangler ever.
The new jersey will make its first appearance at the final of the Coppa Italia on May 19th, and will be featured this weekend at the final fixtures of the Championship, when Juventus will play against Bologna and Juventus Women will face Inter Milan Women.
4xe technology: the evolution of Jeep 4×4
Electrification is a fundamental step of the Jeep brand's development and represents its commitment to becoming a leader in technologies for an increasingly sustainable mobility, while maintaining its core values of adventure, authenticity, freedom and passion.
Courtesy of the plug-in hybrid technology, Jeep 4xe plug-in hybrid models offer the best performance and driving dynamics of any Jeep SUV ever.
They are literally capable of "going anywhere and doing anything," to quote the brand's well-known claim ("Go Anywhere, Do Anything"). At the same time, they are ideal cars for everyday driving in the city, including a zero-emissions full-electric mode, and are very easy to use and charge.
80 years of history, 10 seasons with Juventus
This year, the Jeep brand celebrates its 80th birthday: an important anniversary celebrating freedom, the desire to surpass itself, to set new records and to embrace new technologies, without dwelling on past successes yet constantly looking forward to the next one.
This philosophy unites Jeep and Juventus, a winning combination established in the 2012-2013 season, in the name of shared values such as authenticity and passion. The union has resulted in 17 titles in 9 seasons – including the championships, Coppa Italia and Supercoppa Italia – and has written unforgettable pages in the history of Italian soccer. After all, the Jeep brand and Juventus share a glorious history, increasing their appeal all round the world.