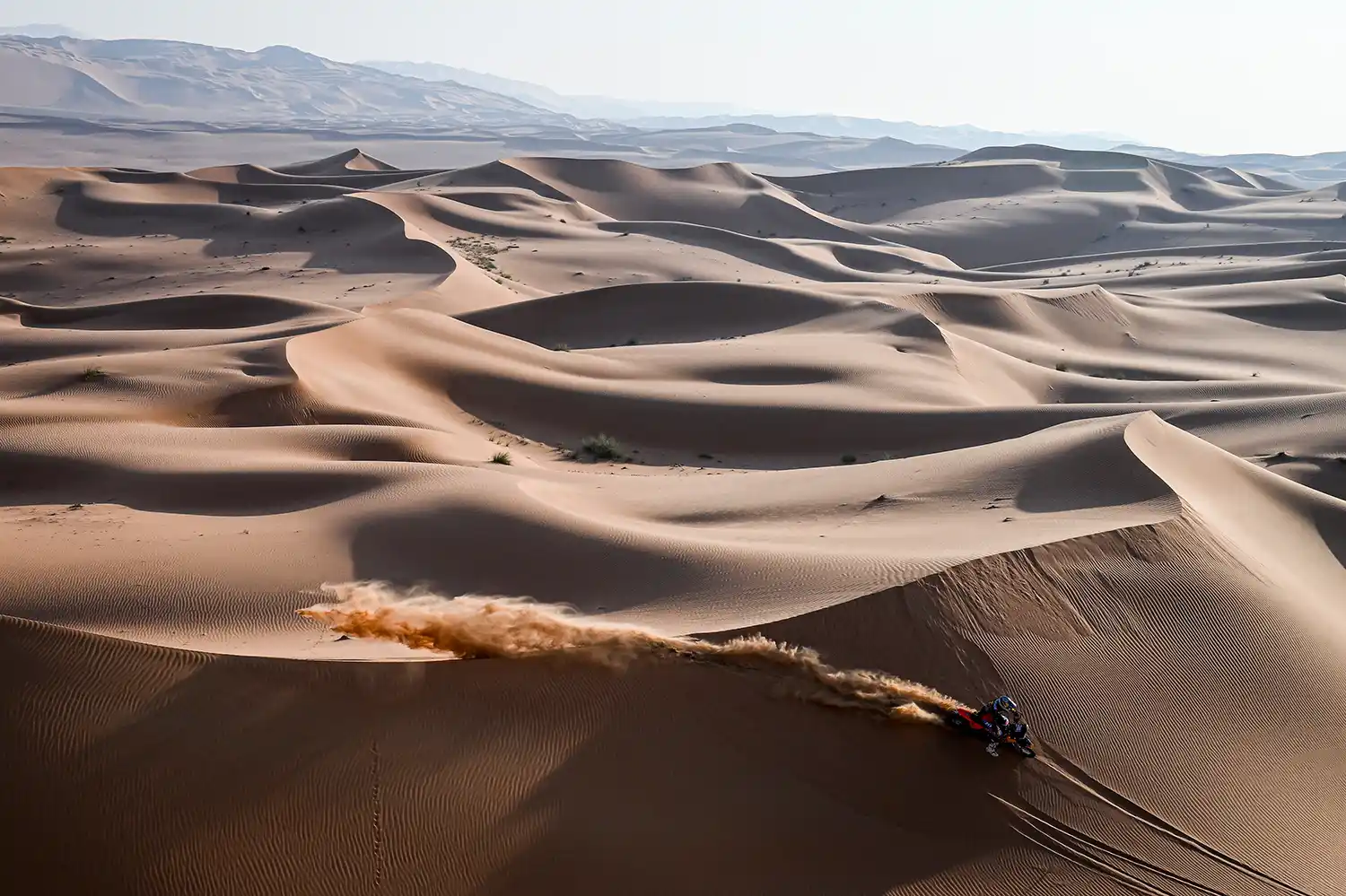 Thursday saw the remaining 2023 Dakar Rally competitors take on the first part of the Marathon Stage with the T3 and bike podium places shuffling around over the relentless sand dunes.
– Stage 11 took the convoy deep into the Empty Quarter with the 274km timed route taking competitors over every type of desert sand and asking questions of their mechanical abilities as Guillaume De Mevius and co-driver François Cazalet fell foul in their OT3.
– They had worked together brilliantly to lead up until Thursday when they came to a standstill for more than 90 minutes, leaving Red Bull Off-Road Junior Team USA presented by BFGoodrich duo AJ Jones and co-driver Gustavo Gugelmin in the lead. Jones said: "That's the kind of racing that we do, especially on the Dakar, everything changes fast."
– Now up to second overall are Jones' team-mates Seth Quintero and co-driver Dennis Zenz with the 20-year-old holding a cushion of over 30 minutes to Belgian De Mevius, who has dropped down to third place.
– Keeping his cool in T4 was Rokas Baciuška, the 23-year-old Lithuanian and co-driver Oriol Vidal of the Red Bull Can-Am Factory Team winning the stage to extend their lead over Eryk Goczal to 4m 17s, while Sébastien Loeb won his fourth car stage in a row to leave him third nine minutes behind Brazilian Lucas Moraes as Nasser Al-Attiyah leads.
– Nine-time WRC winning Frenchman Loeb, 48, said: "We had to change one wheel in the dunes, so it was a bit tricky to find a good place to do it and we lost a bit of time for it. For the rest, I had a good rhythm."
– The bike order was shuffled again with Husqvarna rider Skyler Howes leading Toby Price of Red Bull KTM Factory Racing by just 28 seconds as Argentine Kevin Benavides slipped to third 2m 44s back.
– Competitors will have zero outside assistance tonight with any repairs before Friday's Stage 12 that sees another dune battle over 185km heading to the bivouac at Shaybah.