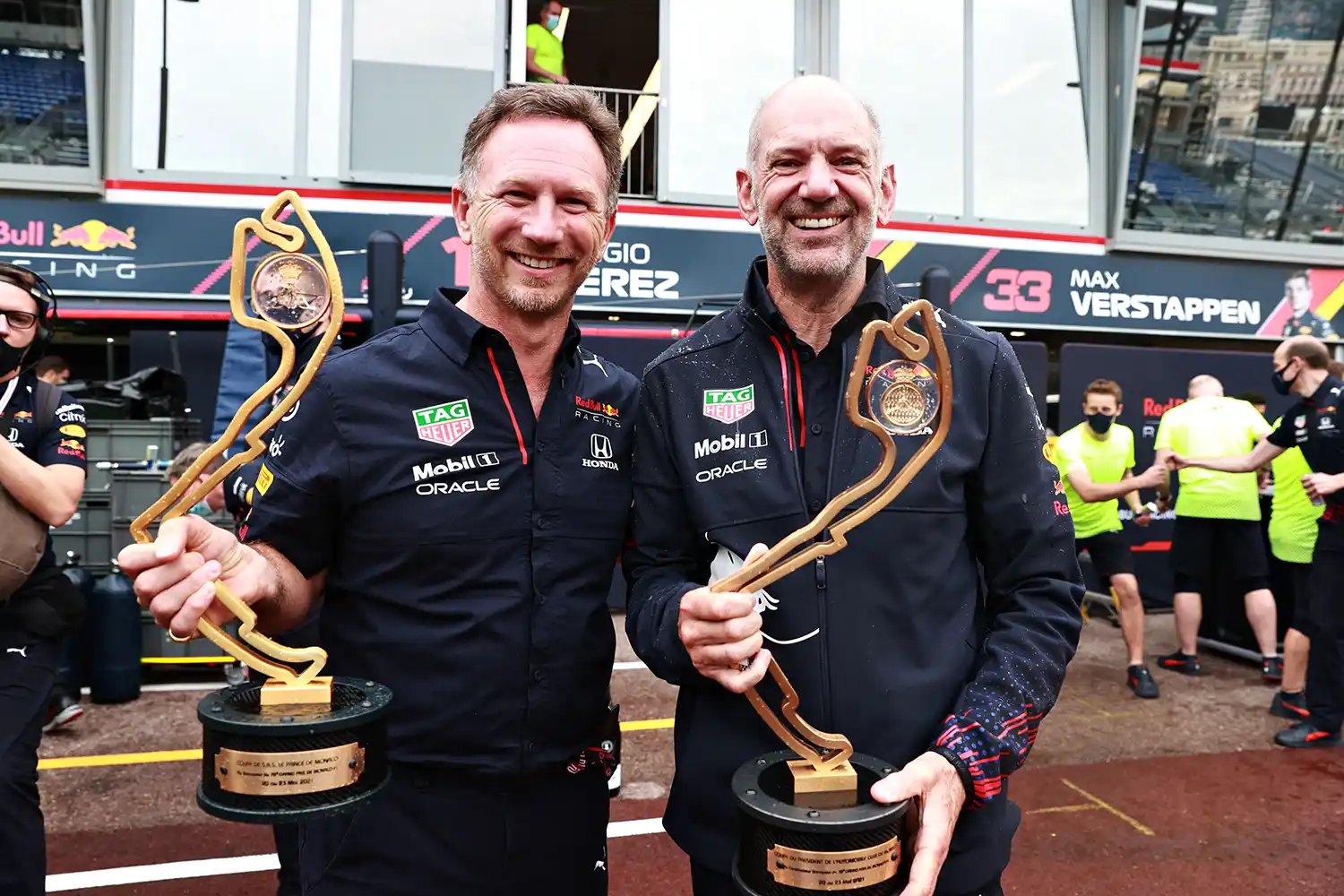 Oracle Red Bull Racing's "conductor of the technical orchestra" reveals all with Horner.
After Max Verstappen sealed his second FIA Formula One World Championship Drivers' title in Japan, Oracle Red Bull Racing wrapped up their fifth Constructors' Championship title with a big debt of gratitude towards technical mastermind Adrian Newey who developed several iterations of the triumphant car.
Having designed championship-winning F1 cars for Williams and McLaren, Newey moved to Red Bull Racing in 2006 under Team Principal Christian Horner and provided the platform for the four consecutive titles that both German Sebastian Vettel and the team won in 2010, 2011, 2012 and 2013.
Horner and Newey combined for many Grand Prix victories in the years between 2014 and 2020, then Newey's RB16B design propelled Dutchman Verstappen to his first Drivers' title in 2021, and the RB18 car became the dominant force behind the team's two 2022 titles.
Oracle Red Bull Racing's team principal and chief technical officer talk about everything from titles and triumphs to learning from losing, how their partnership began and why Christian says Adrian "lives in the Matrix". Here's all you need to know:
Christian, you've described Adrian's move to Red Bull as a litmus moment. What do you mean by that?
CH: "I think the general consensus was that Red Bull was there to have a good time with parties, the energy station and a whole vibe. I think what was missing was a clear technical direction. I'd always been a fan of Adrian and his cars going way back to Leyton House times in the late 1980s, and Adrian was the very best that's ever been in Formula One. So it was a question of how we could entice Adrian to join the Red Bull team?"
Adrian, was there any scepticism about joining a team led by, dare I say, an inexperienced team principal?
AN: "Yes, there was a bit of nervousness on my part. I'd been lucky enough to work for two great teams, and I'd been fortunate enough to win several races, championships and so forth, but I just felt it was starting to get a bit stale at McLaren. Like Leyton House, it felt like unfinished business that there was a team to be involved in right from the start. Winning championships seemed a very distant dream. Just trying to win races was something that really intrigued me."
What were your first impressions of Sebastian Vettel?
CH: "Sebastian was a product of the junior team, so we could see how he was developing in Formula Three or even in Formula BMW before that, and then he went off to be a test driver at BMW, and Toro Rosso provided that opportunity to give some of these Red Bull juniors a chance to step up. As soon as Sebastian got that opportunity, it was clear that he was an outstanding talent. Sebastian worked incredibly hard and was incredibly dedicated. He left no stone unturned. He was often the last guy in the engineering office at the end of a Friday or Saturday."
AN: "A legend. For somebody who is not English by birth, his understanding of English humour was, on top of his ability to recall and imitate English humour, incredible. He was very methodical in his approach, and he drove himself hard. If he made a mistake, then he would want to understand how it was a mistake, why he made it and what he could do better. He very rarely made the same mistake twice. He spent lots of time on the driving simulator, testing our theories and working out what it was we needed to try to achieve, so that dedication helped us from an engineering side to make the car better."
How instrumental has Adrian been to the success?
CH: "Hugely. Adrian is the only bloke that can see air. He lives in The Matrix, and he's been the conductor of the technical orchestra for all these years now, but he's still very hands-on and at his drawing board. I had to argue with Ron Dennis to wrestle him out of McLaren. We've obviously had highs and lows during all these years, but it's always been fun. We've always had great support from the group, from Dietrich [Mateschitz] and from Helmut [Marko], and that's enabled us to just focus on being the best race team that we can be."
What did you both learn during that period of Mercedes's dominance?
AN: "Have a decent engine. We went into the hybrid era, and Renault got it wrong, so that was pretty depressing because you realised that in your foreseeable future if you do a spectacular job, you might snatch the odd win, but you're never going to win a championship. That was a reset. I think one of the strengths of the team is that we put our heads down and got through that period so that when once we had a good power unit again with a partnership with Honda, we were able to respond."
CH: "The most important thing was keeping the team together, focusing on the things we could control. We had great loyalty during that period. Honda shared the same passion, we took that risk, and we were then able to really start to get the foundations in place for a championship challenge."
How did the RB18 evolve into such a dominant car this season?
AN: "Statistically, obviously, RB18 has been our best car. It's a car I think we can be very proud of in as much as we had a tight championship battle through 2021, and arguably we put too much resource into that, so you're not putting it into this brand new car with the new regulations we knew were coming. It's a difficult balancing act. We focused on trying to get the fundamentals right, including front and rear suspension, the layers, and the radiators. We kind of struggled a little bit with the bounce (porpoising) in pre-season testing. We'd already done a little bit of research and knew roughly what we needed to do to improve it, so when we put the race package on in Bahrain, that catapulted us from definitely behind Ferrari to broadly level. After that, it was a matter of developing it and certainly the second half, we had a fully competitive package."
Where does winning the titles this season rank among your career achievements?
CH: "It was a very tough year. When you look at the statistics, it looks like we totally dominated it but certainly – in the first half of the season – Ferrari had their chances and probably a quicker package. But Max was outstanding throughout the year, particularly in that first half.
How do you think the reduction of aerodynamic testing will impact the 2023 season?
AN: "There's no testing, is it's very difficult to put an answer that will cost us so many tenths of a second per lap. And the reduction of internal testing means we can therefore evaluate less, less different components, less different ideas if we're really smart and always puts on the right things on the model; then it doesn't make much difference. But that's not how it works; there are always some parts that you hope will work and don't and vice versa. So, it's difficult. It's a restriction for sure that will affect us.
I think then there's a regulation, a small regulation change over the winter, which is lifting of the floor edge by 50 millimetres, which of course, sounds tiny, but in reality, it's quite a significant aerodynamic change. So, like all teams were working to reduce the deficit from that in addition to the normal development that goes on from year to year, I think we've obviously had a good year, particularly in the second half of the season. We do have the best car.
But Ferrari won't be resting, and they will be kind of sorting out where the weak areas that they had a couple of reliability problems, and they made a couple of pitfall mistakes. So, they'll be right back. And then, of course, Mercedes. They were quite a long way off the pace and evolving. It's the point that we the one of the last race for one, so we know they will be right there. So, it's going to be a tough year for sure."