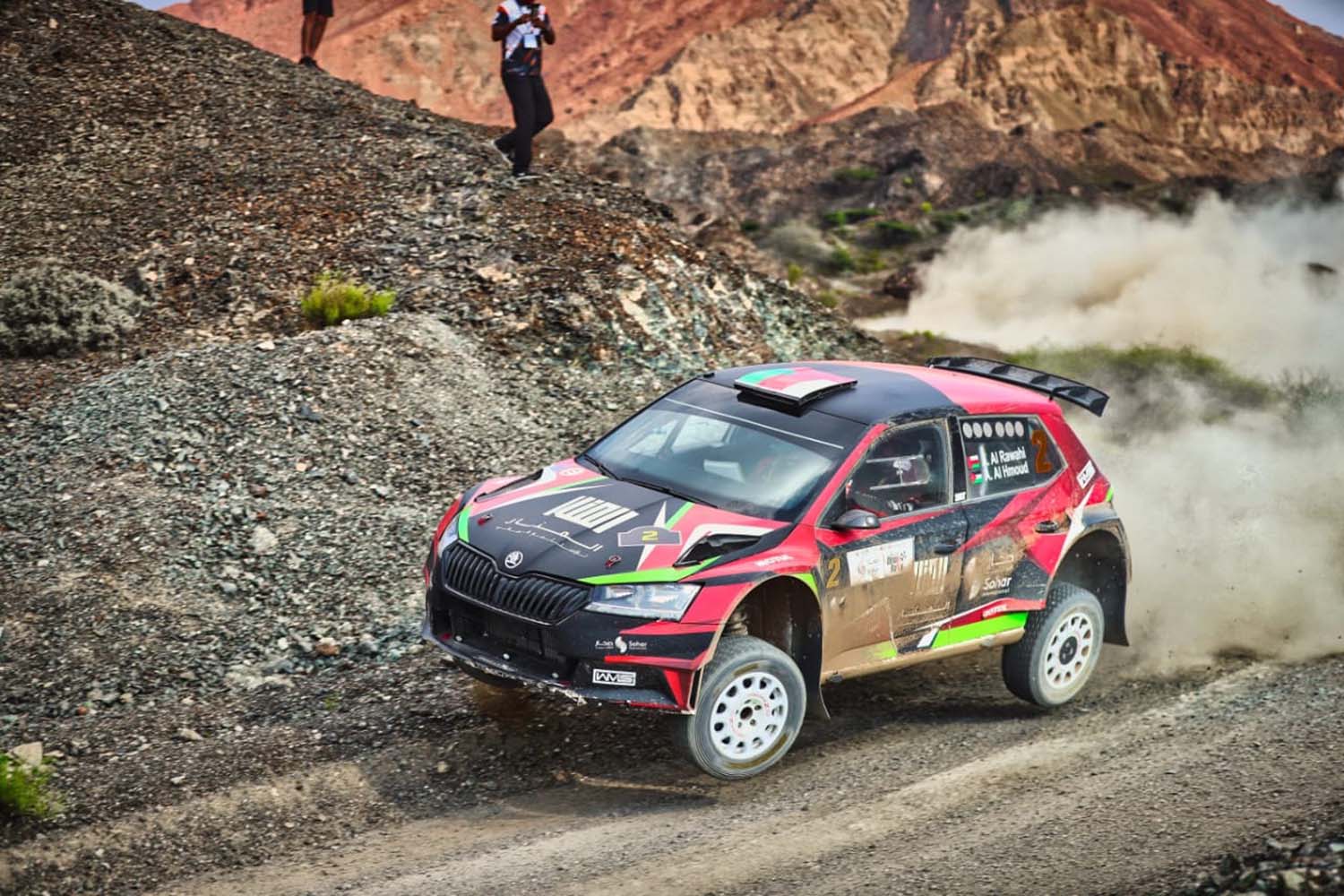 Abdullah Al-Rawahi became the first Omani in motor sport history to claim victory at the Oman Rally Sohar International 2021 on Saturday.
Partnered by Jordanian co-driver Ata Al-Hmoud, Al-Rawahi guided his SRT Škoda Fabia Evo to a stunning start-to-finish victory with a winning margin of 21min 22.5sec.
In so doing, the talented youngster joined veteran Nizar Al-Shanfari (Qatar Rally – 1999) as one of only two Omanis in history to have won a round of the FIA Middle East Rally Championship (MERC) since its inception in 1984.
Al-Rawahi won all of the event's 12 demanding gravel special stages and gained valuable time behind the wheel of his new car before embarking upon a full MERC campaign in 2022.
The feat means that the Omani becomes the 41st winner of a MERC event on the 221st ever round of the regional series. Al-Hmoud duly became the second Jordanian co-driver in the history of the championship to win a round of the series: fellow countryman Khaled Zakaria claimed six victories during a short spell sitting alongside Mohammed Ben Sulayem and a solitary win in Jordan with Amjad Farrah.
"This is a fantastic result for me and the whole team on my first event in the car," said a delighted Al-Rawahi. "It was a perfect opportunity to gain more experience before next season and to secure a first MERC win. I thank my sponsors, everyone at the Oman Automobile Association for their efforts and the team at SRT for their support."
Qatar's Nasser Khalifa Al-Atya and Italian co-pilot Giovanni Bernacchini overcame a time-consuming first day puncture to snatch second place in a Ford Fiesta R5. The former MERC runner-up set a string of second fastest times on the final day to overhaul Zakariyah and Mohammed Al-Amri. Al-Amri's consolation was guiding his Subaru Impreza to success in the MERC2 section and finishing on the last step of the podium in third overall, despite delays with mechanical issues in SS12.
Jordanian driver Ihab Al-Shorafa teamed up with Emad Juma to claim fourth place and Asem Aref, partnered by Ahmad Jankhout, stayed clear of trouble in his little two-wheel drive Renault Clio RS to confirm the 2021 MERC3 title in the absence of rival and defending champion Henry Kahy. Aref finished a fine fifth.
Oman's Faisal Al-Rashdi rounded off the finishers in the international field in sixth place with Yaqdhan Al-Rashdi and his Subaru Impreza.  Jarah Al-Touqi was forced to retire his Subaru Impreza after mechanical problems in stage nine.
Haitham Al-Soomar was not able to start the third round of the Oman Rally Championship after the issues that had plagued his Mitsubishi Lancer on Friday.
Hamed Al-Qasmi had been fastest over the six stages on day one, but an eighth stage accident side-lined his Mitsubishi and that opened the door for Waheeb Al-Khuraisi and Musaab Al-Soomar to fight for National Rally honours, with the former securing a comfortable win in his Toyota Yaris.
The official calendar for the 2022 FIA Middle East Rally Championship will be released after the FIA World Council meeting later this month.
Oman Rally Sohar International 2021 – positions after SS12:
Abdullah Al-Rawahi (OMN)/Ata Al-Hmoud (JOR) Škoda Fabia Evo 2hr 29min 02sec
Nasser Khalifa Al-Attiyah (QAT)/Giovanni Bernacchini (ITA) Ford Fiesta R5 2hr 50min 24sec
Zakariya Al-Amri (OMN)/Mohammed Al-Amri (OMN) Subaru Impreza STi 3hr 07min 50sec
Ihab Al-Shorafa (JOR)/Emad Juma (JOR) Mitsubishi Lancer Evo IX 3hr 09min 30sec
Asem Aref (JOR)/Ahmad Jankhout (JOR) Renault Clio RS 3hr 48min 20sec
Faisal Al-Rashdi (OMN)/Waleed Al-Rashdi (OMN) Subaru Impreza WRX 3hr 48min 38sec
Oman National Rally – result after SS11:
Waheeb Al-Kharusi (OMN)/Wadeea Al-Kharusi (OMN) Toyota Yaris 3hr 30min 38sec
Musab Al-Soomar (OMN)/Bassam Al-Qassimi (OMN) Kia Rio 4hr 56min 23sec